Looking for the best Siquijor Tourist Spots?!
Siquijor Island in the Philippines is a mystical paradise with many awesome things to do including epic waterfalls, white sand beaches, iconic landmarks, awesome cliff jumps, and much more!
If you're an outdoor enthusiast like myself, you'll be spoiled for adventures to add to your list of must-see Siquijor tourist spots!
Commonly referred to as the 'Isla del Fuego' or 'the island of fire', it's widely known for its witchcraft, healers, and spiritual rituals which is not something that you come across every day.
As spooky as this sounds, there is no need to be alarmed as Siquijor is a completely safe and normal island in the Philippines, just like the rest!
In this post, I have put together the ultimate guide of the 13 Best Tourist Spots in Siquijor and other useful information on how to get here, where to stay, getting around, and the best time to visit!
WHERE IS SIQUIJOR ISLAND?
Siquijor Island is located in the Central Visayas region of the Philippines.
It's very close to the neighboring islands of Cebu, Bohol, and Dumaguete which can be easily reached by plane or ferry.
Click here to see the location on Google maps.
HOW TO GET TO SIQUIJOR
There are two ways to get here, one is by plane and the other by ferry.
BY PLANE:
There are weekly flights to Siquijor connecting domestic travelers coming from Manila, Cebu, and Dumaguete.
BY FERRY:
Dumaguete to Siquijor ferry
One of the most common routes is the ferry from Dumaguete to Siquijor which takes approximately 1.5 hours and the cost is around 500-600 pesos depending on the star rating of the ferry. There is also an additional 20 pesos terminal fee.
There are daily ferries departing from Dumaguete Port in Negros Oriental and arriving at Larena Port in Siquijor.
Cebu to Siquijor ferry
If you happen to be in the very south of Cebu and heading to Siquijor from here, there is only one ferry departure per day leaving from Liloan Port in Cebu at 10 am, bound for Larena Port in Siquijor. The ferry from Cebu to Siquijor takes approximately 1-2 hours and the cost is around 200 pesos.
You can purchase your tickets at the Liloan Port at least one hour before departure.
Bohol to Siquijor ferry
The ferry from Bohol to Siquijor is another common route for travelers and this is the exact route that I took. The cost for this journey is around 900 pesos plus an additional 20 pesos terminal fee.
There are daily ferries departing from Tagbilaran Port in Bohol around 10 am and it takes approximately 2 hours to reach Larena Port in Siquijor.
WHERE TO STAY IN SIQUIJOR
Siquijor has hundreds of accommodation options to choose from, so I have narrowed it down to a few of the best places to stay to fit the needs of budget backpackers, luxury travelers, and everyone in between.
See the list of accommodations below that I personally recommend: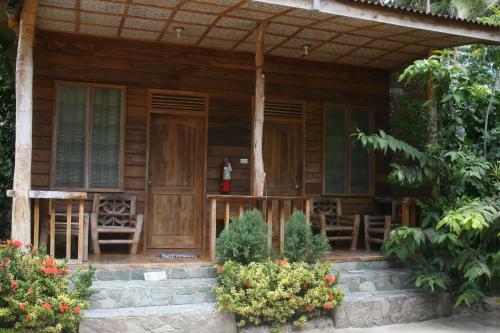 GETTING AROUND SIQUIJOR ISLAND
There are a couple of options for getting around the island and they are by scooter, habal habal, tricycle, or Jeepney.
You can rent a scooter for as little as 250 pesos per day and make your own way around the island at your own pace.
When you arrive on the island by ferry, you'll find that there are half a dozen scooter rental stores located at the Larena ferry terminal which is super convenient. You can pick up a set of wheels for the time you plan to spend on the island.
If you are not confident driving a scooter, the other option is to hail down a Jeepney, tricycle, or habal habal (motorbike taxi) along the main road in Larena and get a ride to San Juan, the main tourist hub on the island.
The cost depends on how good your bartering skills are, though for a 40-minute drive from Larena to San Juan in a Jeepney should be around 100 pesos, in a tricycle 500 pesos and habal-habal 350 pesos.
Have you got travel insurance for your trip?!
We all know accidents can happen and having Heymondo Insurance will save you thousands of dollars if something goes wrong.
Heymondo offers low-cost Travel Insurance to keep you covered on all your adventures.
BEST TIME TO VISIT SIQUIJOR
The best time to visit, weather-wise, is between April and July when temperatures are hot and there is barely any rainfall. This is also high season, so expect to see many tourists during these months.
I recommend visiting on the shoulder months of the high season between November and March which sees a bit of rainfall but usually only lasts for a couple of hours and the rest of the day is sunny.
Try to avoid the typhoon season which is between August and October.
13 BEST SIQUIJOR TOURIST SPOTS
Now that you've got all the information on how to get here, where to stay, the best time to visit, and all the logistics, let's get to the fun stuff!
So without further ado, here is the ultimate guide of the 13 Best Siquijor Tourist Spots!
PALITON BEACH
The first thing that should be on the top of your list of things to do is to hit the beach! Paliton Beach is rated as one of the best beaches in Siquijor for its glistening white sands and palm tree-fringed shoreline.
This is one tourist spot in Siquijor you do not want to miss!
Paliton Beach is located in the main tourist area of San Juan. Most accommodations are dotted along the main road in San Juan so no doubt Paliton Beach will be within walking distance from your hotel.
Paliton Beach faces west making it the perfect spot to watch the sunset on the sand with your mates!
There are a few oceanside cafes and beach bars dotted along Paliton Beach serving up cold brews and delicious meals. Most usually have happy hour between 4 pm and 6 pm, so make sure to get there around this time if you want to score some cheap drinks.
If you visit Paliton Beach during the day it's just as good. You can find a number of tree swings tied to bent palms that you can have a turn on and swing out over the water's edge!
Apart from that, there isn't a whole lot more to do on Paliton Beach other than going swimming in the ocean, laying in a hammock underneath the coconut palms, or reading a book by the beach.
Paliton Beach really is the best beach on the island and I highly recommend adding this epic spot to your itinerary.
Pssst! Check out this AWESOME travel bag!
The Nomatic 40L is the best travel bag on the market, perfect for weekend trips or month-long adventures!
Featuring multiple compartments for clothes, shoes, laptop, water bottle, RFID-protected pocket, and more.
It's designed to fit the maximum size allowed for carry-on luggage, so you'll never have to spend money on check-in baggage again!
CAMBUGAHAY FALLS
Cambugahay Falls is arguably the best waterfall on the island! Cambugahay Falls is most famous for its tiered levels and freshwater cascades that are surrounded by lush rainforest which is why it's one of the most popular tourist spots in Siquijor!
Cambugahay Falls is located in Lazi which is approximately a 30-minute drive from San Juan to reach the falls and the entrance fee is 20 pesos. You may also have to pay a donation fee for parking.
From the jump-off point, it takes around 5-minutes to walk down a set of concrete steps to reach the first level of Cambugahay Falls. This epic location features a large natural swimming hole and some man-made structures including rope swings, bamboo rafts, and a wide set of falls.
Unfortunately, when I visited Cambugahay Falls the water was brown, and not that inviting due to heavy rains the night before. I was a little disappointed when I didn't get to experience the true beauty of these falls, but hey, that's just mother nature.
Besides the bottom swimming hole, there are a few more levels of Cambugahay Falls to explore.
Follow the trail upstream and across the bamboo bridges to where you will find more freshwater swimming holes, flowing rock pools, and several cliff jumping spots.
SALAGDOONG BEACH & CLIFF JUMP
Salagdoong Beach is hands down one of the best beaches on the island which is most popular for snorkeling around the colorful reefs, relaxing on the secluded beaches and epic cliff jumping!
I highly recommend adding Salagdoong Beach to your list of things to do in Siquijor!
Salagdoong Beach is attached to Salagdoong Beach Resort on the far east corner of the island in the town of Maria.
From San Juan, it's approximately a 50-minute drive to reach Salagdoong Beach and the entrance fee is 30 pesos per person plus an additional 20 pesos for parking.
Salagdoong Beach boasts two beautiful coves lined with coconut palms and white sand shorelines. Just off the shore is a colorful reef that is great for snorkeling and swimming.
I would have to say the slippery slide and cliff jumping at Salagdoong Beach is the main attraction and one for the thrill-seekers! Make sure you must visit during high tide to do these activities.
There are two diving boards here, one is around 5 meters and the other is 10 meters. Jumping from the top of the cliff into the turquoise waters below is one of the most adrenaline-fuelled activities to do during your visit.
The BEST Affordable Camera For Travel
If you're on the hunt for a professional camera for traveling, check out the Canon G7 X Mark II.
This tiny camera fits in your pocket, captures high-quality photos and videos, and has Wi-Fi so you can instantly transfer to your phone!
CENTURY OLD BALETE TREE
The Century Old Balete Tree is one of the most visited tourist spots on the island and it's easy to see why!
Century Old Balete Tree is located in Lazi on the south coast of Siquijor Island Philippines. From San Juan, it's approximately a 20-minute drive and the entrance fee is only 10 pesos.
The 400-year-old Enchanted Balete Tree has a very mystical and spiritual background. It's a place that local shamen use for sacred rituals. However, I didn't see any witchcraft when I visited.
At the base of the Century Old Balete Tree is a small freshwater pond filled with fish that will nibble the dead skin off the soles of your feet if you dip them in.
Enjoy your fish foot spa while marveling up at the thick canopy and huge vines that hang from the Old Enchanted Balete Tree.
Next to the Century Old Tree is a two-story restaurant where you can grab a meal with drinks and also a souvenir store selling all sorts of gifts.
LUGNASON FALLS
Lugnason Falls, also known as Zodiac Falls, is up there with one of the top 3 waterfalls in Siquijor that I highly recommend adding to your itinerary!
Lugnason Falls is located in the main tourist area of San Juan, From Paliton Beach, it's approximately a 15-minute drive inland from the coast. The entrance is free though you may be asked to pay a small parking fee of 10 pesos.
From the jump-off point, It takes around 15-minutes to walk along a dirt trail through the forest to reach Lugnason Falls.
Lugnason Falls features a 5-meter waterfall and a large spring filled with blue Gatorade-colored water. It's an adventurer's playground and reminded me of the blue-ass water that I found at Kawasan Falls in Cebu.
Lugnason Falls is a great spot to hang out and go swimming under the falls to cool off. For the thrill-seekers, jumping from the top of the falls into the catch basin below is a lot of fun too!
Don't end the adventure here as there are more unique spots to be found in the same valley as Lugnason Falls. Follow the jungle trail downstream to where you will find man-made aqua ducts and an epic cold spring perfect for swimming!
The BEST reusable water bottle for travel!
The GRAYL GeoPress is a top-rated reusable water bottle perfect for backpacking, hiking, and traveling.
It allows you to purify water from anywhere and keeps you safe from all waterborne diseases.
Get a GeoPress today and never buy single-use plastic bottles again. Mama Earth will thank you for it!
VISIT THE LAZI CHURCH
Lazi Church, also known as San Isidro Labrador Parish Church, is the island's oldest, largest, and most significant Roman Catholic Church.
San Isidro Labrador Parish Church is located in Lazi on the island's south coast. From San Juan, it's approximately a 20-minute drive
The construction of Lazi Church was completed in 1884 and was built mainly with stone and hardwood. The bell tower attached to one side of the church was built one year later, the most dominant feature on the outside.
Next to the church, you can also find a silent convent that acts as a museum that holds many old artifacts and antiques. The entrance fee at the museum is around 20 pesos.
Lazi Church also plays home to large masses and it's possible to take a tour inside of this century-old church with a priest.
QUISOL MOUNTAIN VIEW
Quisol Mountain View boasts one of the best panoramic viewpoints which overlooks the island and its pristine coastlines! This epic viewpoint is an off-the-beaten-path adventure that is easy to find and far away from the crowds that you will find at other Siquijor tourist spots.
Quisol Mountain View is located at the top of the hill between Lazi and Larena. It is approximately a 40-minute drive from San Juan to Quisol Mountain View.
Here is the exact location on Google Maps.
There is no official parking lot or tourist desk at this location, so you will have to park your scooter on the side of the road and find the entry point which isn't too hard to find.
You will see a large sign with the words 'Quisol Mountain View' written on it and make-shift stairs cut into the land leading up to the viewpoint. See the image below for reference.
It takes around 5 minutes to walk to the top of the mountain and you'll be rewarded with extensive views of the island.
Unfortunately, it was a bit cloudy on the day I visited, but on a nice clear day, you will be able to see the neighboring islands of Cebu, Negros, and Bohol.
Get off the typical tourist trail and add the Quisol Mountain View to your list of things to do in Siquijor!
Take Your Photos & Videos To New Heights!
The DJI Mini 3 Pro is the most affordable, user-friendly drone camera suitable for all levels!
This travel-sized drone captures 4K/60fps video, 48MP photo, and has 34 minutes flight time.
LAGAAN FALLS
Lagaan Falls is one of the best waterfalls on the island and a must-visit. Swimming holes, rope swings, rock jumps, and small caves are just some of the things you can expect to find at this epic Siquijor tourist spot!
Lagaan Falls is located in Lazi on the south coast of the island. From the main tourist area of San Juan, it's approximately a 30-minute drive to reach Lagaan Falls.
The Lagaan Falls entrance fee is 30 pesos and parking is free. At the entrance, local guides will offer to take you down to the falls but this is not necessary as the trail is clearly marked.
However, I visited these falls on my own and decided to take a guide for good company and tipped him 100 pesos at the end.
It takes around 15-minutes to walk along a dirt trail underneath a dense rainforest canopy to reach the first level of this waterfall.
Some of the features you will find here are a large swimming hole, rope swings, small caves, rock jumps, and a wide set of falls.
Don't forget to follow the jungle trail upstream to where you will find small freshwater rock pools and natural jacuzzis. You could easily spend a few hours here jumping from pool to pool, swinging from the tree swings, and not getting bored.
The lush jungle surrounding Lagaan Falls makes this place so tranquil, and I highly recommend adding this spot to your list of things to see in Siquijor.
MAN-MADE FOREST SIQUIJOR
The Man-Made Forest is similar to the Bilar Man-Made Forest in Bohol, though on a smaller scale. A visit to this tourist spot is worthy of a quick stop for a photo during your adventures around the island.
The man-made forest can be found in Maria on the southeastern corner of the island. From San Juan, it is approximately a 45-minute drive.
This enchanting stretch of road is around 2kms long and lined with beautiful mahogany trees between the towns of Minalulan and Liloan.
When you enter this parallel tunnel of trees, you'll feel like you've just entered another realm. You will also notice the temperature drop drastically as you drive through the man-made forest because the canopy above almost completely cuts out the sun.
I recommend stopping by the man-made forest on your way to Salagdoong Beach.
TALISAY BEACH
Talisay Beach is not as crowded and popular as Paliton Beach, which is why you should definitely find the time to visit this underrated destination.
Talisay Beach can be found between Lazi and Maria, which is also in the same direction as Salagdoong Beach.
There is no official entry point for Talisay Beach, you can park your scooter on the side of the road and follow one of the dirt trails down to the shoreline.
Emerging out of the jungle trail, you'll step foot onto a white sand and coral cove that is stunning, to say the least.
Talisay Beach is best visited on high tide when the water comes right up to the palm-fringed shoreline, making it easier to go for a swim. At low tide, you will have to walk across the rocky reef to find deeper water for a refreshing dip.
Talisay Beach is also a renowned spot for snorkeling, so make sure to bring a mask and snorkel set with you down to the beach.
Check Out This Must-Have Travel Accessory!
When arriving in a new country, not being able to charge your phone and gadgets is a nightmare.
Equip yourself with a Universal Travel Adapter which works in 150+ countries around the world.
DAY TRIP TO APO ISLAND
Apo Island is a volcanic island located 30km off Siquijor's southern coastline. Notorious for its dive sites and snorkeling, an Apo Island day trip is one of the top-rated things to do!
To book an Apo Island Tour you can pop into one of the many dive shops and resorts located along Paliton Beach in San Juan and organize your trip through them at least one day in advance.
A barbeque lunch and cold refreshments are usually included with the Apo Island tour.
Apo Island is the longest-lasting community-led marine protected area in the Philippines since 1986.
Apo Island is so aesthetically pleasing to the eyes that you won't want to close them! We anchored up the boat on the outer edge of the reef near the main beach port of Apo Island.
Shortly after anchoring, we all jumped off the side of the boat and were snorkeling with turtles in no time!
The Apo Island tour is an entire day of snorkeling with sea turtles, fish, sea snakes, and hundreds of colorful corals. There are also a few small mountain peaks on Apo Island that you can hike.
Capture All Your Adventures!
I'm sure y'all know by now that GoPro's are arguably the best action cameras on the planet!
The new GoPro HERO 11 boasts 5.3K video, 27MP photo, HyperSmooth stabilization, and waterproof up to 10m!
TUBOD MARINE SANCTUARY
Tubod Marine Sanctuary is a protected reef making it one of the best snorkeling and dive sites on the island.
Tubod Marine Sanctuary can be found in front of Coco Grove Resort and just off the shore from Tubod Beach in San Juan. From Paliton Beach, it's approximately a 10-minute drive to reach Tubod Marine Sanctuary.
Colorful corals and an abundance of marine life flourish within this protected marine sanctuary so you are in for a real treat!
You can bring your own mask and snorkel with you or rent one from the resort and it's a short distance swim out to the reef.
There are minimal currents and waves at Tubod Marine Sanctuary and the waters are incredibly clear. I recommend setting aside at least one hour of your day to enjoy this epic location.
BUTTERFLY SANCTUARY
Last but not least on this guide is the beautiful butterfly sanctuary in Siquijor.
The Butterfly Sanctuary is located close to the highest point on the island at Cang-apa village between Lazi and Larena. From San Juan, it is approximately a 40-minute drive.
The butterfly park is run by a local man who welcomes guests to walk around the gardens and interact with the butterflies and other bugs inside his sanctuary.
It's worthy of a quick stop to have a poke around and grab a fresh buko (coconut) before continuing on to the next spot!
You can also visit the Quisol Mountain Viewpoint which is right around the corner from the butterfly sanctuary.
WHAT TO PACK FOR THE PHILIPPINES
When visiting the Philippines, here is a list of items I highly recommend bringing with you:
Must-Have Travel Essentials
Keep your cash and other valuables safe with this anti-theft hidden money wallet!
---
The GRAYL GeoPress is the best reusable bottle that allows you to purify water from anywhere!
---
---
---
FINAL THOUGHTS – SIQUIJOR TOURIST SPOTS
I hope you enjoyed reading this article and if you have any questions at all about Siquijor Tourist Spots, please leave me a comment below this post and I will get back to you as soon as I can.
For a quicker response, be sure to join Jonny Melon's Travel Tribe on Facebook and post your questions or recommendations to our awesome community.
TRAVEL RESOURCES FOR YOUR NEXT TRIP
Whether you're a seasoned traveler or it's your first trip overseas, here are some useful travel resources to help you kick-start your next adventure!
THANKS FOR READING
Hey friend, thanks for reading this guide!
Please know this post may contain affiliate links. When making a purchase through one of my links, I earn a small kickback at no extra cost to you and it's a big help to keep the site up and running. Rest assured, I only promote products and services that I personally use and recommend.
Many thanks!
PIN IT FOR LATER