I spent 3 days on Siquijor Island and have put together this guide of the Top 3 Siquijor Falls including where to find them and what to expect at each one.
Siquijor Island is one of my favorite destinations in the Philippines offering loads of adventurous things to do such as beaches, caves, cliff jumps, and of course, waterfalls!
I have also added some other useful information at the bottom of this post including how to get around Siquijor, where to stay, and a list of other Siquijor tourist spots worth visiting!
THE TOP 3 SIQUIJOR FALLS
The 3 must-visit Siquijor Falls that you will find in this post are:
Lugnason Falls
Lagaan Falls
Cambugahay Falls
All three of these Siquijor Waterfalls can be visited on a single day (if you wake up early enough) in the order that I have listed above.
So without further ado, here is the ultimate guide to the 3 best waterfalls in Siquijor!
Have you got travel insurance for your trip?!
We all know accidents can happen and having Heymondo Insurance will save you thousands of dollars if something goes wrong.
Heymondo offers low-cost Travel Insurance to keep you covered on all your adventures.
LUGNASON FALLS
Lugnason Falls, also known as Zodiac Falls, is one of the more popular waterfalls in Siquijor that boasts vibrant blue water, cliff jumping, and cold springs!
Lugnason Falls is located in San Juan on Siquijor Island. From the main tourist area of San Juan, it's approximately a 15-minute drive to reach these falls and the entrance fee is FREE, although you may be asked to pay a small parking fee of 10 pesos.
From the jump-off point, It takes around 15-minutes to walk along a dirt trail through the forest to reach Lugnason Falls.
Lugnason Falls features a 5-meter waterfall and a large spring filled with blue Gatorade-colored water. It's an adventurer's playground and reminded me of the blue ass water that I found at Kawasan Falls in Cebu.
It's a great spot to hang out and go swimming under these Siquijor falls to cool off. For the thrill-seekers, jumping from the top of the falls into the catch basin below is a lot of fun too!
Don't end the adventure here as there are more unique spots to be found in the same valley as Lugnason Falls. Follow the jungle trail downstream to where you will find man-made aqua ducts and an epic cold spring perfect for swimming!
I have never seen anything like these concrete water chutes and they made for the perfect photo opportunity under the shade of the coconut palm trees.
Instead of heading back to the entrance the same way you came, you can find a set of steep wooden stairs near the cold spring that lead up and out of the valley to the main road.
When you reach the top, turn right and this will take you back to where you parked your scooter.
Pssst! Check out this AWESOME travel bag!
The Nomatic 40L is the best travel bag on the market, perfect for weekend trips or month-long adventures!
Featuring multiple compartments for clothes, shoes, laptop, water bottle, RFID-protected pocket, and more.
It's designed to fit the maximum size allowed for carry-on luggage, so you'll never have to spend money on check-in baggage again!
LAGAAN FALLS
Next on this list of the best Siquijor Falls is Lagaan Falls which is one of the best waterfalls in Siquijor and a must-visit during your travels around the island.
Swimming holes, rope swings, rock jumps, and small caves are just some of the things you can expect to find at these epic falls!
Lagaan Falls is located in Lazi on Siquijor Island. From the main tourist area of San Juan, it's approximately a 30-minute drive to reach this Siquijor waterfall.
The entrance fee is 30 pesos and parking is free. At the entrance, local guides will offer to take you down to the falls but this is not necessary as the trail is clearly marked.
However, I visited these falls on my own and decided to take a guide for good company and tipped him 50 pesos at the end.
It takes around 15-minutes to walk along a dirt trail underneath a dense rainforest canopy to reach the first level of this Siquijor waterfall.
Some of the features you will find here are a large swimming hole, rope swings, small caves, rock jumps, and a wide set of falls.
Don't forget to follow the jungle trail upstream to where you will find small freshwater rock pools and natural jacuzzis. The lush jungle that surrounds Lagaan Falls is what makes this place so tranquil
You could easily spend a few hours here jumping from pool to pool and swinging from the tree swings and not get bored.
There are plenty of tables, hammocks, and chill-out spaces around the edges of Lagaan Falls Siquijor to set down your belongings before going for a dip. There's also a make-shift change room for visitors to use if need be.
The BEST Affordable Camera For Travel
If you're on the hunt for a professional camera for traveling, check out the Canon G7 X Mark II.
This tiny camera fits in your pocket, captures high-quality photos and videos, and has Wi-Fi so you can instantly transfer to your phone!
CAMBUGAHAY FALLS
Last but not least is Cambugahay Falls which is arguably the best waterfall in Siquijor!
Cambugahay Falls is most famous for its tiered levels, strikingly blue-colored water, and freshwater cascades that are surrounded by lush rainforest.
Cambugahay Falls is also located in Lazi on Siquijor Island. From the main tourist area of San Juan, it's approximately a 35-minute drive to reach the falls
The entrance fee is 20 pesos and also a parking fee which is by donation only. To use the rope swings and rubber tubes, there is an additional cost of 50 pesos.
From the jump-off point, it takes around 5-minutes to walk down a set of concrete steps to reach the first level of Cambugahay Falls.
This epic Siquijor waterfall features a large natural swimming hole and some man-made structures including rope swings, bamboo rafts, and a wide set of falls.
Besides the bottom swimming hole, there are a few more levels of these Siquijor falls to explore.
Follow the trail upstream and across the bamboo bridges to where you will find more freshwater swimming holes, flowing rock pools, and several cliff jumping spots.
Dozens of sheltered huts are available to rent around the cascades if you wish to set your belongings down away from the water's edge. There are also some make-shift change rooms for visitors to use if need be.
If you have a drone camera, I highly recommend sending it up at Cambugahay Falls to capture the tiered cascades from above!
Take Your Photos & Videos To New Heights!
The DJI Mini 3 Pro is the most affordable, user-friendly drone camera suitable for all levels!
This travel-sized drone captures 4K/60fps video, 48MP photo, and has 34 minutes flight time.
SIQUIJOR FALLS MAP
WHERE TO STAY IN SIQUIJOR
Siquijor has hundreds of accommodation options to choose from, so I have narrowed it down to a few of the best places to stay to fit the needs of budget backpackers, luxury travelers, and everyone in between.
See the list of accommodations below that I personally recommend: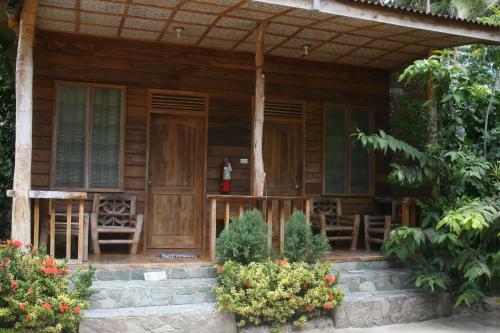 WHAT TO PACK FOR THE PHILIPPINES
When visiting the Philippines, here is a list of items I highly recommend bringing with you:
Must-Have Travel Essentials
Keep your cash and other valuables safe with this anti-theft hidden money wallet!
---
The GRAYL GeoPress is the best reusable bottle that allows you to purify water from anywhere!
---
---
---
FINAL THOUGHTS – SIQUIJOR WATERFALLS
I hope you enjoyed reading this article and if you have any questions at all about Waterfalls Siquijor, please leave me a comment below and I will get back to you as soon as I can.
For a quicker response, be sure to join Jonny Melon's Travel Tribe on Facebook and post your questions or recommendations to our awesome community.
TRAVEL RESOURCES FOR YOUR NEXT TRIP
Whether you're a seasoned traveler or it's your first trip overseas, here are some useful travel resources to help you kick-start your next adventure!
THANKS FOR READING
Hey friend, thanks for reading this guide!
Please know this post may contain affiliate links. When making a purchase through one of my links, I earn a small kickback at no extra cost to you and it's a big help to keep the site up and running. Rest assured, I only promote products and services that I personally use and recommend.
Many thanks!
PIN IT FOR LATER