Siquijor Island is one of my favorite destinations in the Philippines offering loads of adventurous things to do such as beaches, caves, cliff jumps, and of course, waterfalls!
I spent 3 days on Siquijor Island and have put together this guide of the Top 3 Siquijor Falls including where to find them and what to expect at each one.
I have also added some other useful information at the bottom of this post including how to get around Siquijor, where to stay, and a list of other Siquijor tourist spots worth visiting!
Want cheap flights to Siquijor? Check out CheapOair to book now and travel for less!
Have you got travel insurance for the Philippines? We all know accidents can happen and having World Nomads Insurance will save you thousands of dollars if something goes wrong.

THE TOP 3 SIQUIJOR FALLS
The 3 must-visit Siquijor Falls that you will find in this post are:
Lugnason Falls
Lagaan Falls
Cambugahay Falls
All three of these Siquijor Waterfalls can be visited on a single day (if you wake up early enough) in the order that I have listed above.
So without further ado, here is the ultimate guide to the 3 best waterfalls in Siquijor!
Cambugahay Falls – Photo: Jonas Hornehoj
LUGNASON FALLS
Lugnason Falls, also known as Zodiac Falls, is one of the more popular waterfalls in Siquijor that boasts vibrant blue water, cliff jumping, and cold springs!
Lugnason Falls is located in San Juan on Siquijor Island. From the main tourist area of San Juan, it's approximately a 15-minute drive to reach these falls and the entrance fee is FREE, although you may be asked to pay a small parking fee of 10 pesos.
From the jump-off point, It takes around 15-minutes to walk along a dirt trail through the forest to reach Lugnason Falls.
Lugnason Falls features a 5-meter waterfall and a large spring filled with blue Gatorade colored water. It's an adventurer's playground and reminded me of the blue ass water that I found at Kawasan Falls in Cebu.
It's a great spot to hang out and go swimming under these Siquijor falls to cool off. For the thrill-seekers, jumping from the top of the falls into the catch basin below is a lot of fun too!
Lugnason Falls in Siquijor
Hiking down to Lugnason Falls
Luganson Falls
Don't end the adventure here as there are more unique spots to be found in the same valley as Lugnason Falls. Follow the jungle trail downstream to where you will find man-made aqua ducts and an epic cold spring perfect for swimming!
I have never seen anything like these concrete water chutes and it made for the perfect photo opportunity under the shade of the coconut palm trees.
Instead of heading back to the entrance the same way you came, you can find a set of steep wooden stairs near the cold spring that lead up and out of the valley to the main road. When you reach the top, turn right and this will take you back to where you parked your scooter.
Aqua ducts at Zodiac Falls
Cold springs
LAGAAN FALLS
Next on this list of the best Siquijor Falls is Lagaan Falls which is one of the best waterfalls in Siquijor and a must-visit during your travels around the island.
Swimming holes, rope swings, rock jumps, and small caves are just some of the things you can expect to find at these epic falls!
Lagaan Falls is located in Lazi on Siquijor Island. From the main tourist area of San Juan, it's approximately a 30-minute drive to reach this Siquijor waterfall.
The entrance fee is 30 pesos and parking is free. At the entrance, local guides will offer to take you down to the falls but this is not necessary as the trail is clearly marked. However, I visited these falls on my own and decided to take a guide for good company and tipped him 50 pesos at the end.
It takes around 15-minutes to walk along a dirt trail underneath a dense rainforest canopy to reach the first level of this Siquijor waterfall. Some of the features you will find here are a large swimming hole, rope swings, small caves, rock jumps, and a wide set of falls.
Lagaan Falls
On the way down to the falls
Jungle scenes at these Siquijor falls
Don't forget to follow the jungle trail upstream to where you will find small freshwater rock pools and natural jacuzzis. The lush jungle that surrounds Lagaan Falls is what makes this place so tranquil
You could easily spend a few hours here jumping from pool to pool and swinging from the tree swings and not get bored.
There's plenty of tables, hammocks, and chill-out spaces around the edges of Lagaan Falls Siquijor to set down your belongings before going for a dip. There's also a make-shift change room for visitors to use if need be.
Rope swing at Lagaan Falls
Freshwater rockpools
Natural rock slides
CAMBUGAHAY FALLS
Last but not least is Cambugahay Falls which is arguably the best waterfall in Siquijor! Cambugahay Falls is most famous for its tiered levels, strikingly blue-colored water, and freshwater cascades that are surrounded by lush rainforest.
Cambugahay Falls is also located in Lazi on Siquijor Island. From the main tourist area of San Juan, it's approximately a 35-minute drive to reach the falls
The entrance fee is 20 pesos and also a parking fee which is by donation only. To use the rope swings and rubber tubes, there is an additional cost of 50 pesos.
From the jump-off point, it takes around 5-minutes to walk down a set of concrete steps to reach the first level of Cambugahay Falls. This epic Siquijor waterfall features a large natural swimming hole and some man-made structures including rope swings, bamboo rafts, and a wide set of falls.
Unfortunately, when I visited Cambugahay Falls the water was brown, dirty, and not that attractive due to heavy rains the night before. However, I give thanks to friends of mine for providing some images of their own.
Prior to visiting Siquijor, I had seen pictures of this waterfall on Instagram boasting turquoise blue waters and I have to say, I was a little disappointed when I didn't get to experience its true beauty. But hey, that's just mother nature.
The falls on a nice day – Photo: Jonas Hornehoj
Cambugahay Falls – Photo: A Break In A Journey
Besides the bottom swimming hole, there are a few more levels of these Siquijor falls to explore. Follow the trail upstream and across the bamboo bridges to where you will find more freshwater swimming holes, flowing rock pools, and several cliff jumping spots.
Dozens of sheltered huts are available to rent around the cascades if you wish to set your belongings down away from the water's edge. There are also some make-shift change rooms for visitors to use if need be.
If you have a DJI Mavic Drone Camera, I highly recommend sending it up at Cambugahay Falls to capture the tiered cascades from above!
Cambugahay Falls – Photos: Jonas Hornehoj
SIQUIJOR FALLS MAP
WHERE TO STAY IN SIQUIJOR
Siquijor has hundreds of accommodation options to choose from, so I have narrowed it down to a few of the best places to stay to fit the needs of budget backpackers, luxury travelers, and everyone in between.
See the list of accommodations below that I personally recommend:
Luxury: Aloha Seaside Resort
Aloha Seaside Resort is one of the best places to stay on the island which is located in the main tourist area of Paliton Beach, San Juan! Featuring a swimming pool, hot tub, restaurant, room service, tour desk, and free wifi. There are deluxe family rooms and deluxe bungalows available which are fitted with a flat-screen tv, free toiletries, private bathroom, sun terrace, seating area, large bed, and incredible ocean views! Continental, à la carte, English breakfast is included for all guests. Recommended place to stay for families, couples, and friends.
Mid Range: Glamping By The Beach
Glamping By The Beach is the most unique accommodation on the island! Epic tee-pee style tents situated under the palms on Paliton Beach is seriously hard to beat! Featuring free wifi, a bar, a garden, a private beach area, BBQ facilities, and a terrace. The luxury tents are fan-cooled and fitted with comfortable beds and power sockets. Simple but effective! Perfect place to stay for couples and friends.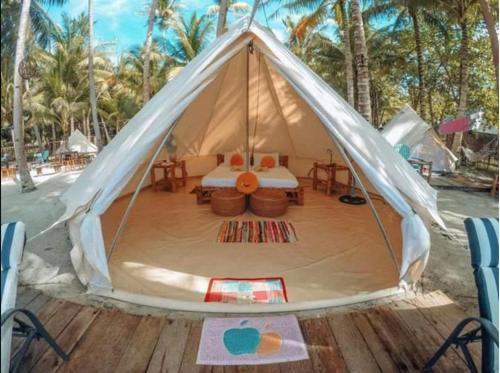 Budget: JJS Backpackers Village
JJS Backpackers Village is the best budget accommodation on the island! Located on Paliton Beach in San Juan, this property features a restaurant, bar, shared lounge, gardens, and ocean views. There are twin rooms, double rooms, triple rooms, and dorms available which is suitable for solo travelers, couples, and friends. Continental breakfast is also available daily at this hostel.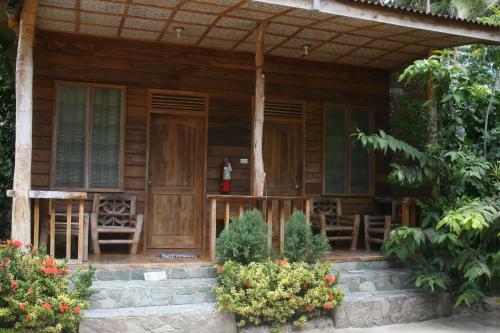 AIRBNB SIQUIJOR
Another option for accommodation is to stay at an Airbnb, which generally has some great deals.
LONELY PLANET PHILIPPINES
One of the best books to take on your trip is the Lonely Planet Philippines Guide!
BUY NOW ON AMAZON → LONELY PLANET PHILIPPINES
MORE PHILIPPINES TRAVEL GUIDES
ONLINE ENGLISH TEACHING
Do you want to travel full-time and get paid along the way?
Teaching English online is one of the easiest and most flexible jobs out there! Become a Digital Nomad, choose your own hours, and work remotely from anywhere in the world by teaching English online. All you need is a laptop, good WiFi connection, a TEFL certificate and you're good to go!
JOIN MY FACEBOOK COMMUNITY
Do you have any questions about Siquijor Falls?
Join my Facebook Community and send me a message at any time for a quick response!
MY SHOP
Before you go, don't forget to check out My Online Shop!
I've got a wide range of digital products for sale and I'm sure you'll find something that will come in handy during your travels!
FINAL THOUGHTS
I hope you enjoyed reading this article and if you have any questions at all about Waterfalls Siquijor, please leave me a comment below and I will get back to you as soon as I can.
Happy Travels!
PIN IT FOR LATER