Lugnason Falls (also known as Zodiac Falls) is one of the top 3 waterfalls in Siquijor that you must visit during your adventures on Siquijor Island in the Philippines!
I have put together this ultimate adventure guide to visiting Lugnason Falls Siquijor including how to get there, how much it costs, and what to expect when you arrive.
QUICK ANSWERS – LUGNASON FALLS IN SIQUIJOR
Let's start this guide with the essentials you should know about Lugnason Falls, from the location to how to get there and more.
WHERE IS LUGNASON FALLS?
Lugnason Falls is located in San Juan on Siquijor Island.
From the main tourist area of Paliton Beach, it's approximately a 15-minute drive to reach these falls.
Click here to see the location on Google maps.
HOW TO GET TO LUGNASON FALLS SIQUIJOR?
There are a couple of options for reaching the beautiful falls in Siquijor, and they are by scooter, habal habal, or tricycle.
You can rent a scooter in Siquijor for as little as 250 pesos per day and make your own way over to the falls.
When you arrive in Siquijor by ferry, you'll find that there are half a dozen scooter rental stores located at the ferry terminal which is super convenient. You can pick up a set of wheels for the time you plan to spend on Siquijor Island.
If you are not confident driving a scooter, the other option is to hail down a tricycle or habal habal (motorbike taxi) along the main road in San Juan and get a ride to Zodiac Falls.
The cost depends on how good your bartering skills are, though for a 15-minute drive you can expect to pay around 100-150 pesos.
Last but not least, an excellent option to get here is to join a tour from Dumaguete, and you'll find more information below!
BEST TOUR TO LUGNASON FALLS
The best way to discover Lugnason Falls is to join a Tour To Siquijor From Dumaguete!
It includes accommodation for 2 nights, breakfast, hotel transfers, and a fun guide to spend the trip with!
HOW MUCH IS LUGNASON FALLS ENTRANCE FEE?
The Lugnason Falls entrance fee is FREE, though you may be asked to pay a small parking fee of 10 pesos.
ARRIVING AT THE ZODIAC FALLS
When you arrive at the Google maps pin location, you'll have to park your scooter on the side of the road and head down the trail from here.
Note that, in case you need to ask directions to locals, some people call them "Lugnasan Falls" so keep that in mind.
Sometimes at the entrance, local guides will offer to take you down to the falls but this is not necessary as the trail is clearly marked.
It takes around 15-minutes to walk along a dirt trail through the forest to reach the falls.
Have you got travel insurance for your trip?!
We all know accidents can happen and having Heymondo Insurance will save you thousands of dollars if something goes wrong.
Heymondo offers low-cost Travel Insurance to keep you covered on all your adventures.
WHAT TO EXPECT AT LUGNASON FALLS
Lugnason Falls features a 5-meter waterfall and a large spring filled with blue Gatorade-colored water. It's an adventurer's playground and reminded me of the blue-ass water that I found at Kawasan Falls in Cebu.
It's a great spot to hang out and go swimming under the falls to cool off. For the thrill-seekers, jumping from the top of the falls into the catch basin below is a lot of fun too!
The lush jungle that surrounds the falls is what makes this place so tranquil and I highly recommend adding this amazing attraction to your Siquijor itinerary!
OTHER POINTS OF INTEREST
Don't end the adventure here as there are more unique spots to be found in the same valley as Lugnason. Follow the jungle trail downstream to where you will find man-made aqua ducts and an epic cold spring perfect for swimming!
I have never seen anything like these concrete water chutes and they made for the perfect photo opportunity under the shade of the coconut palm trees.
Instead of heading back to the entrance the same way you came, you can find a set of steep wooden stairs near the cold spring that lead up and out of the valley to the main road.
When you reach the top, turn right and this will take you back to where you parked your scooter.
I also recommend checking out Lagaan Falls and Cambugahay Falls on the same day.
The BEST Hotel in Siquijor
Need a place to stay? Aloha Seaside Resort is conveniently located in the heart of Siquijor.
Whether you're here to explore the sights or relax in comfort, Aloha Seaside Resort is an excellent option!
WHERE TO STAY IN SIQUIJOR
Siquijor has hundreds of accommodation options to choose from, so I have narrowed it down to a few of the best places to stay to fit the needs of budget backpackers, luxury travelers, and everyone in between.
See the list of accommodations below that I personally recommend: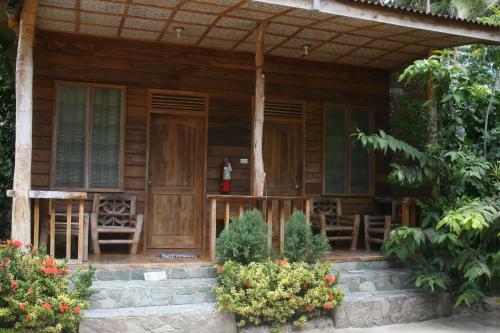 WHAT TO PACK FOR THE PHILIPPINES
When visiting the Philippines, here is a list of items I highly recommend bringing with you:
Must-Have Travel Essentials
Keep your cash and other valuables safe with this anti-theft hidden money wallet!
---
The GRAYL GeoPress is the best reusable bottle that allows you to purify water from anywhere!
---
---
---
FINAL THOUGHTS – LUGNASON FALLS IN SIQUIJOR
I hope you enjoyed reading this Lugnason Falls description article and if you have any questions at all about Lugnason Falls in Siquijor, please leave me a comment below and I will get back to you as soon as I can.
For a quicker response, be sure to join Jonny Melon's Travel Tribe on Facebook and post your questions or recommendations to our awesome community.
TRAVEL RESOURCES FOR YOUR NEXT TRIP
Whether you're a seasoned traveler or it's your first trip overseas, here are some useful travel resources to help you kick-start your next adventure!
THANKS FOR READING
Hey friend, thanks for reading this guide!
Please know this post may contain affiliate links. When making a purchase through one of my links, I earn a small kickback at no extra cost to you and it's a big help to keep the site up and running. Rest assured, I only promote products and services that I personally use and recommend.
Many thanks!
PIN IT FOR LATER