The beaches in Uluwatu are rated as some of the BEST beaches in all of Bali. The Bukit Peninsula in Bali's south not only boasts magnificent beaches but also features rugged limestone cliffs, world-class surf breaks, insane sunset viewpoints, clifftop bars, hipster cafes, skate parks, traditional temples, and much more!
I have put together this Ultimate Guide of the 11 Best Beaches In Uluwatu including where to find them, best times to visit, and what to expect at each one.
Want cheap flights to Bali? Check out CheapOair to book now and travel for less!
Have you got travel insurance for Bali? We all know accidents can happen and having World Nomads Insurance will save you thousands of dollars if something goes wrong.

ULUWATU BEACHES OVERVIEW
Here is a quick overview of the 11 Best Beaches In Uluwatu that you will find in this post:
Suluban Beach
Padang Padang Beach
Thomas Beach
Bingin Beach
Balangan Beach
Tegal Wangi Beach
Green Bowl Beach
Nyang Nyang Beach
Karang Boma Beach
Pandawa Beach
Jaran Cliff Beach
ULUWATU TOUR
Planning a trip to Uluwatu? Why not book a full-day tour to experience the best beaches in Uluwatu and other popular attractions in the Bukit Penisula.
This Full-Day Uluwatu Tour includes a pick-up and drop-off from your hotel and the places you'll get to visit are Pandawa Beach, Melasti Beach, Padang Padang Beach, Uluwatu Temple, Kecak Fire Dance, and a seafood dinner on Jimbaran Beach.
11 BEST ULUWATU BEACHES
Without further ado, here is my Ultimate Guide to the 11 Best Beaches In Uluwatu that are not to be missed on your next visit to Bali.
SULUBAN BEACH ULUWATU
Suluban Beach (also known as Blue Point Uluwatu and Pantai Suluban) is the most popular among all of the other Uluwatu beaches. Suluban Beach is world-renowned for its left-hand point break, but there are plenty more fantastic things to do at Pantai Suluban other than surfing!
Upon arrival, you'll see a large parking lot and the fee for parking is 5,000 IDR for scooters and 15,000 IDR for a car.
From the parking lot, it's approximately a 10-minute walk down a set of concrete stairs that zigzag past dozens of clifftop bars, small cafes, souvenir stores, and surfboard rental shops before it eventually emerges on the shoreline.
You can hang out on the beach here though I recommend crawling through the Suluban Beach cave and find yourself on the sandy shores of Hidden Beach.
Not only is Suluban Beach one of the top places to visit in Uluwatu, but it's also where the famous Single Fin Bar resides at the top of the cliffs. Every day of the week Single Fin Uluwatu offers beers, snacks, live music, and the best views overlooking the Indian Ocean.
Single Fin Bar is best renowned for its famed 'Sunday Sessions' where resident and international DJs play hourly long live sets. It has people flocking here from all around the island just to experience a Sunday session at Single Fin.
Single Fin Uluwatu is by far my favorite spot to watch the sunset on the Bukit Penisula, though you have to get there early as it gets super crowded and it's hard to find a seat.
Suluban Beach
Suluban Beach in Uluwatu
Sunset at Pantai Suluban
PADANG PADANG BEACH
Padang Padang Beach (Pantai Padang Padang) is a famous surf spot and beach bumming paradise.
There are a number of awesome things to check out during your visit to this stunning beach such as unique rock caves, tidal swimming pools, secluded beaches, and world-class waves.
When you arrive, you'll see a ticket booth on the side of the road and the entrance fee is 10,000 IDR. From here, a narrow staircase leads down from the top of the cliffs and through a limestone cave that emerges on the shoreline.
Padang Padang Beach features a semicircular cove with golden sands which is surrounded by lush vegetation and verdant cliffs. There is plenty of space to perch up in the shade of the cliffs or in the middle of the beach if you want to work on that summer tan!
At low tide, there is lots of exploring to be had around the foot of the cliffs. Natural rock formations and secluded beaches make for the perfect spot to go for a dip or simply relax and read a book.
Padang Padang Beach in Uluwatu also plays home to a world-renowned surf break which is typically a left-hand barreling wave.
The best months to surf at Padang Padang Beach is in the dry season between May and October. This particular reef break works best in offshore winds from the east and the ideal swell direction is from the south-west.
If you're keen on a wave, you can rent a surfboard down on the beach from one of the surf shacks. The going rate is around 100,000 IDR for 2 hours. For beginner surfers, you can ask one of the locals to take you out for some surf lessons.
Pantai Padang Padang
Beautiful beach in Uluwatu
THOMAS BEACH
Thomas Beach is one of the most beautiful and most underrated beaches in Uluwatu. Boasting a 200 meter stretch of soft white sand, rolling turquoise waves, and shady beach umbrellas, this is the perfect spot for a day of swimming and beach bumming on the Bukit Peninsula.
Keep an eye out for a black and yellow sign that reads 'Thomas Bali Guesthouse', turn off the main road here and follow the white chalky driveway down to the parking lot located on top of the cliffs. There is no fee for parking and it's a short 10-minute walk down the steps to reach the shoreline.
Thomas Beach fly's under the radar compared to some other beaches in the region meaning you'll most likely have this beautiful beach almost entirely to yourself.
On occasion, Pantai Thomas picks up the swell that rolls in from the more southern beaches, and when it does, it's a great spot to surf some uncrowded waves.
If you need to rent a surfboard you can do so from a small surf shack located on the north end of the beach. The cost of a surfboard rental is around 50,000 IDR for two hours.
At low tide, you can discover some of the rocky outcrops, secluded beaches, and small caves along the coastline nearby to the main beach. To check the tide times in advance, click here.
For all the beachgoers who simply like to relax and unwind, Thomas Beach is the perfect spot for exactly that. Rent out an umbrella on the sand for the day for only 50,000 IDR and watch the world go by all the time while sipping on a Kelapa (fresh coconut).
The way down to Thomas Beach
Thomas Beach
Secluded beach at Pantai Thomas
BINGIN BEACH
Bingin Beach (Pantai Bingin) is a surfers paradise featuring world-class waves and a pristine shoreline for the everyday beachgoers! But it's not just the waves that have people flocking to Bingin Beach, there are a number of other things to do and see at one of the more popular Uluwatu Beaches.
There are no roads that lead directly down to Pantai Bingin so you'll have to park your scooter at the top of the cliffs in the designated parking lot and the cost of parking is 2,000 IDR.
From the parking lot, follow the signs and you'll find a paved alleyway that leads past some hilltop accommodations to a set of stairs and this will take you all the way down to the sand at Bingin Beach.
Bingin Beach is a hotspot for surfing and if you would like to rent a surfboard there are a few surf shacks dotted across the main beach that have a wide selection of boards to choose from.
The cost of surfboard rental is 50,000 IDR for two hours. Surf lessons are also available, just inquire with the guys at the surfboard rental shacks.
If you're not a keen surfer, no worries because there is lots of exploring to be had. Head south along the sand and around the rocky outcrops to find smaller secluded beaches and abandoned beach shacks at the base of the cliffs.
Pantai Bingin Beach In Uluwatu
BALANGAN BEACH
Balangan Beach (Pantai Balangan) in Uluwatu is one of the most picturesque beaches in Bali and it's easy to see why!
This stunning beach became very popular when a photo taken on the cliffs went viral on Instagram and it's now one of the most visited beaches.
When you arrive at the parking lot on the edge of the cliffs at Pantai Balangan, you'll be stopped by a local Indonesian man to pay a small parking fee of 5,000 IDR.
Once you have parked up, follow the dirt trail around to the right which leads you to the Instafamous viewpoint overlooking the beach.
To get down to the shoreline from the top of the cliffs, there is a set of concrete stairs that lead straight down to the beach from the main parking lot.
Some of the best things to do at Balangan Beach include:
Take an Instagrammable photo on the cliffs
Explore the caves and small hidden temples on the rocky headland
Hang out with the local fisherman on the north-end cliffs
Surf some waves at the popular Balangan Surf Point
Drink a coconut under the shade of an umbrella
Watch the sunset from the cliffs
Keen for a paddle? Surfboards can be rented from one of the many surf shacks located along the shoreline for as little as 50,000 IDR for two hours.
One of my personal favorite spots to surf in Uluwatu is right here at Balangan Surf Point. Whether it is low tide or high tide, the Balangan surf break has a long left-hand wave that breaks off the point and right into the bay.
Post surf, you can sit under the shade of a beach umbrella along the beach which costs around 50,000 IDR for a couple of hours, or the whole day if you wish. Believe me, it gets very hot down on Pantai Balangan and you'll want to retreat out of the sun and rehydrate with a fresh coconut!
Pantai Balangan
Balangan Beach in Uluwatu
Balangan Beach – Best Uluwatu Beaches
TEGAL WANGI BEACH
Tegal Wangi Beach is a slice of paradise and one of my personal favorite beaches.
Pantai Tegal Wangi is a popular spot for tourists and locals alike who flock here to watch the sunset from the cliffs or to go swimming in the rock pools along the pristine shoreline below.
There is a small parking lot on the left-hand side when you arrive at Tegal Wangi Beach. Sometimes the gates for the parking lot are open and you can park inside for a small fee of 2,000 IDR. If the gates are locked you can park up anywhere outside the gates on the gravel patches.
The viewpoint at the top of the cliffs offers spectacular views of the rugged coastline and the stunning blue waters along the southern beaches.
Take the stairs down to the beach and discover the natural rock pools and caves that can be found beneath the cliffs. At sunset, you can put your photography skills to the test and try to get a reflection photo along the edge of the rock pools or get some shots from within the cave.
Rockpools at Tegal Wangi Beach
The caves at Tegal Wangi Beach
Tegal Wangi Beach in Uluwatu
GREEN BOWL BEACH
Green Bowl Beach, also known as Pantai Green Bowl, is one of the most secluded beaches on the Bukit Peninsula. Perched at the base of verdant cliffs, this beautiful white sand beach surrounded by a coral reef and turquoise waters is not to be missed.
You will arrive at a large parking lot at the top of the cliffs and it's here where you will have to pay a small parking fee of 2,000 IDR.
From the parking lot, you will have to descend around 300 concrete steps to reach the shoreline. Going down is the easy part, it's coming back up from that can be unforgiving.
A small patch of glistening white sand, no more than fifty meters long, welcomes you at the bottom of the stairs. The turquoise water to go with will have you in disbelief that this stunning beach actually exists.
Wander through the shallow waters and discover how incredibly crystal clear the water is. It's practically see-through and it seems as if the water isn't even there at all.
Apart from the pristine sandy shores, it's a popular spot for die-hard surfers. The reef break just offshore produces excellent swell and it is far less crowded than the more popular beaches such as Uluwatu Point and Padang Padang.
At low tide, you can wander around the caves and further down the coastline to discover other secluded sandy areas and dozens of rock pools.
Pantai Green Bowl
Green Bowl Beach
Crystal clear water at Pantai Green Bowl
NYANG NYANG BEACH
Nyang Nyang Beach is one of the cleanest and most beautiful beaches on the Bukit Peninsula. The glistening white sand and turquoise waters make this beach a must-see location during your visit.
The jump-off point at Nyang Nyang Beach is located in front of a hotel and you can safely park your scooter in the parking lot free of charge. From here, follow the path along the right-hand side of the hotel and when you come to a fork in the track, take the path down to the right which eventually emerges on the shoreline.
The trek down the cliffside to get to the beach takes around fifteen to twenty minutes. The stairs are quite steep in areas and some parts are very rocky so make sure to wear suitable footwear.
The first thing we did as soon as we arrived on the beach was run straight for the ocean to cool off in the calm waters.
If you decide to go for a swim, I invite you to look back towards where you just trekked down and marvel at the dense greenery that covers the monolithic cliff walls.
A shipwreck can also be found on the main beach which is half-buried in the sand. It's a very popular spot to take photos sitting or standing on the boat.
I recommend visiting Nyang Nyang Beach earlier in the morning before it gets too hot in the midday sun and you can enjoy a few hours down on the beach to yourself before it gets crowded.
If you do decide to visit Nyang Nyang Beach later in the day, I highly recommend sticking around for sunset which is generally around 6 pm. The sunsets down here in the Bukit Peninsula light up the skies like I have never seen before!
Nyang Nyang Beach
The Shipwreck on Nyang Nyang Beach
Pantai Nyang Nyang
KARANG BOMA BEACH & CLIFFS
Karang Boma is without a doubt one of the best sunset viewpoints on the island of Bali. The Karang Boma Cliff overlooks one of the most picturesque beaches on the Bukit Peninsula.
There is an entrance fee of 10,000 IDR to visit Karang Boma Beach which is to be paid upon arrival to a ticket officer.
The rocky cliffs at Karang Boma tower high above a stunning beach below and Uluwatu Temple can be spotted on the peak of a nearby cliff in the distance.
It's possible to walk out to the very edge of the cliff but do so at your own risk. It's approximately a 100-meter drop to the shoreline so please be very careful when exploring this location.
Visiting Karang Boma Cliff is truly an exhilarating experience and marveling at the panoramic views overlooking the Bali Sea is what makes this place so unique.
Karang Boma Cliff
Karang Boma
PANDAWA BEACH
Pandawa Beach is one of the most up-and-coming beaches in the region! Featuring a picture-perfect white sand beach dotted with beach umbrellas and milky blue waters, it's no wonder why Pandawa Beach is becoming more and more popular.
A unique feature of Pandawa Beach is the towering white-stone chalky cliffs that surround this location. The entrance fee at Pandawa Beach is 10,000 IDR.
Pandawa Beach is a popular spot for surfing out on reef breaks about 50 meters from the shore where you will see a left-hand and a right-hand wave on a decent swell. You can rent a board on the beach for around 50,000 IDR for 1 hour if you want to go for a paddle.
Other than surfing, there is a safe place for swimming closer to the shore in the shallow waters which is the perfect opportunity to go for a dip to cool off.
As of late, there are a few restaurants, cafes, and beach clubs that line the beachfront where you can grab a bite to eat and drink while beach bumming for a few hours or an entire day!
Safe to say that Pandawa Beach is not to be missed on your list of beaches to visit.
Pandawa Beach
Pandawa Beach in Uluwatu
JARAN HILL BEACH
Last but not least is Jaran Hill which boasts an incredible viewpoint that overlooks one of the best beaches and surf breaks.
The curvature of the limestone cliffs, the colorful coral reef, and the infamous surf spot known as 'Secrets' are what make Jaran Hill a top place to see on the Bukit Peninsula
The road to Jaran Hill turns from asphalt, to paved and then eventually to a rocky dirt trail that will lead you right down to the Uluwatu lighthouse where the trail ends.
You can park your scooter here at the Uluwatu Lighthouse and then follow the walking trail through some small bushes towards the Jaran Hill cliffs.
There are three viewpoints at Jaran Hill:
Uluwatu Lighthouse
There is a hole in the fence that surrounds the Uluwatu lighthouse and it is easy to climb to the top via the internal stairs to the first tier and then up the ladder to the viewing platform on the top.
If you have never experienced a sunset from the top of a lighthouse before, this is your chance.
Jaran Hill Cliffs
Directly in front of Uluwatu lighthouse, there is a viewpoint that overlooks the curving limestone cliffs and the 'Secrets' surf break beneath Jaran Hill. Not a bad spot for a cold Bintang while you watch the sunset!
Jaran Hill
Walk down to the very tip of Jaran Hill to experience panoramic views of the Bukit Penisula coastline. If you look to the left you can spot the Uluwatu Temple and to the right-hand side, you can see as far down as Uluwatu Point.
Jaran Hill Beach
Drone shot of Jaran Hill Beach
Jaran Hill Uluwatu – Best Uluwatu Beaches
WHERE TO STAY IN ULUWATU
Uluwatu has hundreds of accommodations to choose from so I have narrowed it down to a few of my personal favorite places to stay to suit the needs of luxury travelers, budget backpackers, and everyone in between.
See the list of accommodations below that I personally recommend:
Luxury: Canang Sari Villas
I've stayed at Canang Sari Villas a few times and it's one of the best 4-star accommodations in Uluwatu! Featuring 2-bedroom and 3-bedroom villas with private swimming pools, beautiful gardens, equipped kitchens, large living space, indoor and outdoor bathrooms, free wifi, and ocean views. There is also a spa center and squash court for guests to use. Close to beaches, cafes, and shops. Perfect for families, friends, and couples.
Mid Range: Bukal Sari Villas Uluwatu
Awesome 3-star accommodation boasting a swimming pool, restaurant, gardens, and outdoor swimming pool. There is free wifi and each room is spacious and modern with private bathrooms. Continental or à la carte breakfast is included for all guests. Close to Uluwatu Temple and beaches. Great for couples, families, and friends.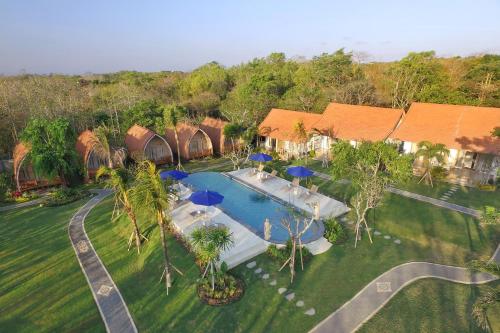 Budget: Bali Beats Guesthouse Uluwatu
One of the best budget accommodations in Uluwatu. Bali Beats features an outdoor swimming pool, garden terrace, and free wifi. There are a restaurant and bar as well as a shared kitchen for guests to use. Close to beaches, cafes, and restaurants. Perfect for solo travelers and friends on a budget.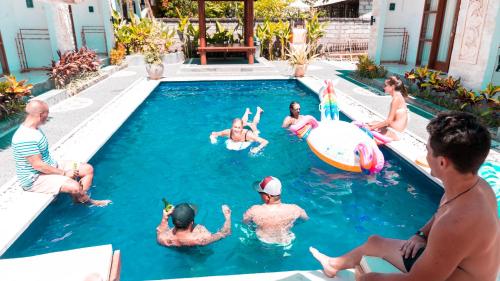 HOW TO GET AROUND
The best way to get around Uluwatu is by car or by scooter.
If you are staying in the Uluwatu region, I recommend renting a scooter for a few days and exploring the Bukit Peninsula at your own pace
Don't feel confident riding a scooter? Another great option for getting around Uluwatu is to hire a private car and a driver for the day and experience all that the Bukit Peninsula has to offer.
Includes:
Experienced Driver
Hotel pick-up & drop-off
Mineral water
Petrol
Exploring Uluwatu
ULUWATU MAP
BEST TOURS IN BALI
MORE BALI TRAVEL GUIDES
LONELY PLANET BALI
One of the best books to take on your trip is the Lonely Planet Bali Guide!
BUY NOW ON AMAZON → LONELY PLANET BALI
ONLINE ENGLISH TEACHING
Do you want to travel full-time and get paid along the way?
Teaching English online is one of the easiest and most flexible jobs out there! Become a Digital Nomad, choose your own hours, and work remotely from anywhere in the world by teaching English online. All you need is a laptop, good WiFi connection, a TEFL certificate and you're good to go!
JOIN MY FACEBOOK COMMUNITY
Do you have any questions about these stunning Uluwatu beaches?
Join my Facebook Community and send me a message at any time for a quick response!
MY SHOP
Before you go, don't forget to check out My Online Shop!
I've got a wide range of digital products for sale and I'm sure you'll find something that will come in handy during your travels!
FINAL THOUGHTS
I hope you enjoyed reading this article and if you have any questions, please drop me a comment below this post and I will get back to you as soon as I can.
Happy Travels!
PIN IT FOR LATER