Pandawa Beach, locally known as 'Pantai Pandawa' or formerly referred to as 'Secret Beach', is a one-of-a-kind beach in the Bukit Peninsula, South Bali.
Beaches in Bali are known for being stunningly beautiful, but Pantai Pandawa is truly a special gem. White sand, crystal clear blue water and frothy surf are hidden by an enormous limestone cliff.
Before making your way down the well-developed road, make sure you stop at the top to enjoy the breathtaking view over the Indian Ocean.
I have put together this complete guide for visiting including how to get here, the best time to visit, things to do when you arrive, and much more!
Want cheap flights to Bali? Check out CheapOair to book now and travel for less!
Have you got travel insurance for Bali? We all know accidents can happen and having World Nomads Insurance will save you thousands of dollars if something goes wrong.

WHERE IS PANDAWA BEACH?
Pandawa Beach is located near Kutuh Village in the Bukit Peninsula, South Bali.
Click here to see the location on Google maps.
The location is perfect to make it part of a day trip around the southern tip of Bali. There are plenty of beautiful beaches waiting to be explored such as Nyang Nyang Beach, Suluban Beach, Padang Padang Beach, Bingin Beach, Melasti Beach and Green Bowl Beach.
The big road leading down to the beach splits into a right and left turn at the bottom.
If you take a left turn, it will lead you to the less touristy part of the beach, by the local restaurants and closest to the surf breaks. A right turn leads to the main tourist area.
HOW TO GET HERE
If you are staying in the Uluwatu region, I recommend renting a scooter and making the short drive over to Melasti Bali.
For those of you who are coming from Kuta, Seminyak, or Canggu, it's approximately a 1-hour to 1.5-hour journey, depending on traffic.
Don't feel confident riding a scooter? Another great option for getting around Bali is to hire a private car and a driver for the day and experience all that the island has to offer.
Includes:
Experienced Driver
Hotel pick-up & drop-off
Mineral water
Petrol
PANTAI PANDAWA ENTRANCE FEE
The entrance fee is 15,000 IDR which is to be paid at the ticketing booth right at the Pandawa Beach turnoff.
The parking fee is 2,000 IDR per scooter and 5,000 IDR per car. Make sure to bring some cash with you.
BEST TIME TO VISIT PANDAWA BALI
The two seasons in Bali are dry and wet. Dry season is between May and September, warm sunny days with an average temperature of 30ºC guaranteed.
The wet season lasts from December through March and while it's still warm and sunny it's defined by occasional downpours that often appear seemingly out of nowhere.
How you time your visit to Pantai Pandawa Bali is completely up to you and your preferences. Early morning sunrise strolls, sunbathing in the hot sun during the day, late afternoon for sunset, anytime is a good time really.
Tip: Like with most popular spots in Bali, if you are trying to avoid being somewhere at the same time as the tour busses, the earlier you get to a place the better.
FACILITIES
Pandawa Bali is very well developed. There are toilets, showers, and changing rooms on site. There is also a convenience store, multiple restaurants, food stalls, a spa and plenty of parking spaces for all visitors.
Bring some cash to purchase drinks and snacks, pack your camera, swimmers, a towel and plenty of sunscreen.
THINGS TO DO AT PANDAWA BEACH
Pandawa is one of the few beaches in Bali that actually offers a wide range of activities.
You are an intermediate to advanced surfer looking for some fun waves? You will find them at Pandawa. It's one of the breaks that works well even during the rainy season as it doesn't tend to get much offshore wind.
You are keen to paddle out in a canoe? This is your beach. Just looking to relax in the sun? Perfect rent a chair and an umbrella and enjoy. Swimming without a life-threatening current? Pandawa has got you covered.
You can even get a mani/pedi and/or a traditional Balinese massage, then go shopping for some souvenirs once you're done.
Whatever your heart desires, I highly doubt Pantai Pandawa will disappoint!
WHERE TO EAT
There are multiple different Warungs (small local restaurants) dotted all along the shoreline.
Oka Warung Pandawa on the left side of the beach is one of the most local restaurants, offering traditional Balinese food for very cheap prices.
Check out Pandawa Breeze for a little snack or refreshing juice. Or visit Iga Pandawa Restaurant if you are looking for western cuisine.
ROOSTER FISH BEACH CLUB
There is only one beach club located right down at Pandawa and that is Roosterfish Beach Club. It's about a quarter of the way along the main beachfront.
The generous grassy area and big pool are hard to miss. The architecture of the beach club is more traditional Balinese style than other clubs on the island and gives it a very chilled, local vibe.
For a beach club, it's reasonably priced with a wide variety of different foods, delicious cocktails and even some craft beer options.
SUMMARY
Even though it's not a secret beach anymore, Pandawa Bali is still one of the most beautiful white sandy beaches and deserves a spot on your list of places to see on the Island of Gods.
The limestone cliffs make it uniquely gorgeous, and that combined with all the different options of activities and restaurants makes it the perfect destination to visit for a couple of hours, a full day.
How long you stay is obviously up to you. All I can tell you is, don't miss it!
OTHER POINTS OF INTEREST IN ULUWATU
The Bukit Peninsula boasts many other awesome locations that are definitely worth checking out.
Click on the links below to see all other points of interest near Pantai Pandawa Bali.
ULUWATU TOUR
Another alternative when planning a trip to Uluwatu is to book a full-day tour to experience the best beaches in Uluwatu and other popular attractions in the Bukit Penisula.
This Full-Day Uluwatu Tour includes a pick-up and drop-off from your hotel and the places you'll get to visit are Pandawa Bali, Melasti Beach, Padang Padang, Uluwatu Temple, Kecak Fire Dance, and a seafood dinner on Jimbaran Beach.
WHERE TO STAY IN ULUWATU
Uluwatu has hundreds of accommodations to choose from so I have narrowed it down to a few of the best places to stay to suit the needs of luxury travelers, budget backpackers, and everyone in between.
See this list of accommodations in Uluwatu that I personally recommend:
Luxury: Canang Sari Villas
I've stayed at Canang Sari Villas a few times and it's one of the best 4-star accommodations in the Bukit. Featuring 2-bedroom and 3-bedroom villas with private swimming pools, beautiful gardens, equipped kitchens, large living space, indoor and outdoor bathrooms, free wifi, and ocean views. There is also a spa center and squash court for guests to use. Close to beaches, cafes, and shops. Perfect for families, friends, and couples.
Mid Range: Bukal Sari Villas Uluwatu
Awesome 3-star accommodation boasting a swimming pool, restaurant, gardens, and outdoor swimming pool. There is free wifi and each room is spacious and modern with private bathrooms. Continental or à la carte breakfast is included for all guests. Close to Uluwatu Temple and beaches. Great for couples, families, and friends.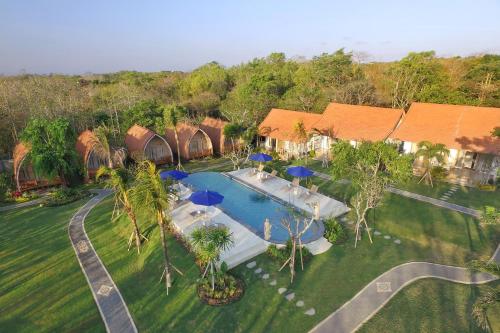 Budget: Bali Beats Guesthouse Uluwatu
One of the best budget accommodations. Featuring an outdoor swimming pool, garden terrace, and free wifi. There are a restaurant and bar as well as a shared kitchen for guests to use. Close to beaches, cafes, and restaurants. Perfect for solo travelers and friends on a budget.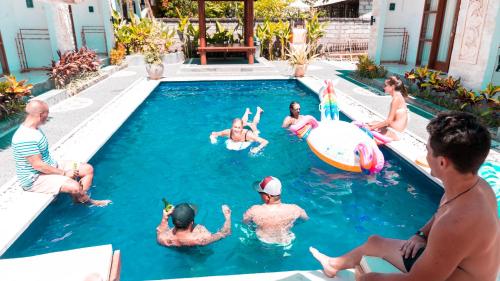 BEST TOURS IN BALI
MORE BALI TRAVEL GUIDES
LONELY PLANET BALI
One of the best books to take on your trip is the Lonely Planet Bali Guide!
BUY NOW ON AMAZON → LONELY PLANET BALI
JOIN MY FACEBOOK COMMUNITY
Do you have any questions about this post?
Join my Facebook Community and send me a message at any time for a quick response!
ONLINE ENGLISH TEACHING
Do you want to travel full-time and get paid along the way?
Teaching English online is one of the easiest and most flexible jobs out there! Become a Digital Nomad, choose your own hours and work remotely from anywhere in the world by teaching English online. All you need is a laptop, good WiFi connection, a TEFL certificate and you're good to go!
MY SHOP
Before you go, don't forget to check out My Online Shop!
I've got a wide range of digital products for sale and I'm sure you'll find something that will come in handy during your travels!
FINAL THOUGHTS
I hope you enjoyed reading this article and if you have any questions, please leave me a comment below this post and I will get back to you as soon as I can.
Happy Adventuring!