Balangan Beach (Pantai Balangan) in Uluwatu is one of the most picturesque beaches in Bali and it's easy to see why!
This stunning beach became very popular when a photo taken on the cliffs went viral on Instagram and it's now one of the most visited beaches in Uluwatu.
I have put together this complete guide of Pantai Balangan including how to get there, the best time to visit, and what to expect when you arrive.
Beautiful beach scenes
Want cheap flights to Bali? Check out CheapOair to book now and travel for less!
Have you got travel insurance for Bali? We all know accidents can happen and having World Nomads Insurance will save you thousands of dollars if something goes wrong.

WHERE IS BALANGAN BEACH?
Balangan Beach can be found on the southwest coastline of the Bukit Peninsula in Uluwatu, South Bali.
It lies roughly halfway between two other very popular beaches known as Dreamland Beach and Tegal Wangi Beach.
Click here to see the location on Google maps.
HOW TO GET HERE?
If you are staying in the Uluwatu region, I recommend renting a scooter and making the short drive over to this location.
For those of you who are coming from Kuta, Seminyak, or Canggu, it's approximately a 1-hour to 1.5-hour journey to reach Pantai Balangan.
Don't feel confident riding a scooter? Another great option for getting around Bali is to hire a private car and a driver for the day and experience all that the island has to offer.
Includes:
Experienced Driver
Hotel pick-up & drop-off
Mineral water
Petrol
Aerial perspective
ULUWATU TOUR
Another alternative when planning a trip to Uluwatu is to book a full-day tour to experience the best beaches in Uluwatu and other popular attractions in the Bukit Penisula.
This Full-Day Uluwatu Tour includes a pick-up and drop-off from your hotel and the places you'll get to visit are Pandawa Beach, Melastic Beach, Padang Padang, Uluwatu Temple, Kecak Fire Dance, and a seafood dinner on Jimbaran Beach.
ARRIVING AT BALANGAN BEACH
When you arrive at the parking lot on the edge of the cliffs at Pantai Balangan, you'll have to pay a small parking fee of 5,000 IDR for a scooter and 10,000 IDR for a car.
Once you have parked up, follow the dirt trail around to the right which leads you to the Instafamous viewpoint overlooking the beach.
To get down to the shoreline from the top of the cliffs, there is a set of concrete stairs that lead straight down to the beach from the main parking lot.
The parking lot
The stairs to the beach
THINGS TO DO AT PANTAI BALANGAN
I have visited this beautiful beach on several occasions and have put together this list of fun things to do on your next visit to this awesome location.
Take an Instagrammable photo on the cliffs
Explore the caves and small hidden temples on the rocky headland
Hang out with the local fisherman on the north-end cliffs
Surf some waves at the popular Balangan Surf Point
Drink a coconut under the shade of an umbrella
Watch the sunset from the cliffs
Photo spot on the cliffs
Golden sands
Rocky caves
Enjoying the view
SURFING AT BALANGAN BEACH BALI
Keen for a paddle? Surfboards can be rented from one of the many surf shacks located along the shoreline for as little as 50,000 IDR for two hours.
One of my personal favorite spots to surf in Uluwatu is right here at Balangan Surf Point.
Whether it is low tide or high tide, the Balangan surf break has a long left-hand wave that breaks off the point and right into the bay.
Post surf, you can sit under the shade of a beach umbrella along the beach which costs around 50,000 IDR for a couple of hours, or the whole day if you wish.
Believe me, it gets very hot down on Pantai Balangan and you'll want to retreat out of the sun and rehydrate with a fresh coconut!
The point break at Balangan Surf
Drone shot of Balangan
Left-hand point break
Pantai Balangan
BALANGAN BEACH WEDDING LOCATION
Balangan is not only a popular spot for keen surfers and landscape photographers, but it's also a location where hundreds of wedding shoots are held.
Each time I have visited I have witnessed many wedding photoshoots on top of the cliffs using props such as old muscle cars and flowered archway arrangements.
If you are looking to get some photos of the beach from the cliffs, you need to be swift as to not get in the way of these wedding shoots.
A wedding shoot at Pantai Balangan
Aerial shot of Balangan
BEST TIME TO VISIT
Thanks to Bali's tropical warm climate, this beach can be visited year-round. The months between April to June are usually the ones with the least rain, making them the best but also the busiest time to visit.
The best time of day to visit is early to mid-morning once the sun is already up and it reaches this side of the Bukit Peninsula.
It's busiest during the middle of the day and early afternoon. Sometimes it can be hard to find a nice spot along the beach to settle down because it gets quite crowded, so just keep this in mind when planning your visit.
You can also consider visiting in the late afternoon during sunset hours as most of the day-trippers would have come and gone by this time. Because of its west-facing location, it's low-key one of the best spots to watch the sunset in South Bali.
But no matter when you are visiting or what you are coming for, you won't be disappointed by all that Pantai Balangan and the surrounding area have to offer.
Early morning shadows
Incredible sunset
OTHER POINTS OF INTEREST
The Bukit Peninsula boasts many other awesome locations that are worth checking out after visiting Pantai Balangan.
Click on the links below to see all other points of interest in Uluwatu:
Dreamland Beach Uluwatu
WHERE TO STAY IN ULUWATU
Uluwatu has hundreds of accommodations to choose from so I have narrowed it down to a few of my personal favorite places to stay to suit the needs of luxury travelers, budget backpackers, and everyone in between.
See the list of accommodations below that I personally recommend:
Luxury: Canang Sari Villas
I've stayed at Canang Sari Villas a few times and it's one of the best 4-star accommodations. Featuring 2-bedroom and 3-bedroom villas with private swimming pools, beautiful gardens, equipped kitchens, large living space, indoor and outdoor bathrooms, free wifi, and ocean views. There is also a spa center and squash court for guests to use. Close to beaches, cafes, and shops. Perfect for families, friends, and couples.
Mid Range: Bukal Sari Villas Uluwatu
Awesome 3-star accommodation boasting a swimming pool, restaurant, gardens, and outdoor swimming pool. There is free wifi and each room is spacious and modern with private bathrooms. Continental or à la carte breakfast is included for all guests. Close to Uluwatu Temple and beaches. Great for couples, families, and friends.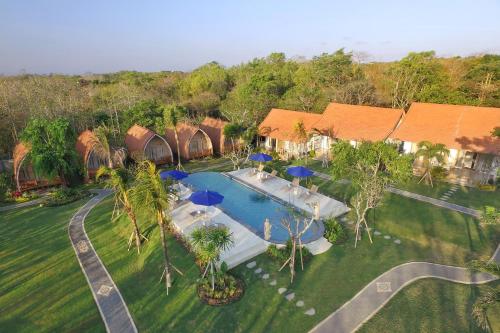 Budget: Bali Beats Guesthouse Uluwatu
One of the best budget accommodations in Uluwatu! Bali Beats features an outdoor swimming pool, garden terrace, and free wifi. There are a restaurant and bar as well as a shared kitchen for guests to use. Close to beaches, cafes, and restaurants. Perfect for solo travelers and friends on a budget.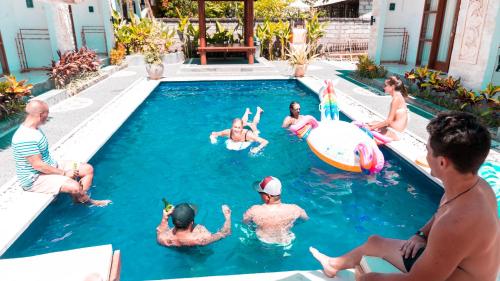 AIRBNB BALI
Another option for accommodation when visiting Bali is to stay in an Airbnb, which has some great deals!
BEST TOURS IN BALI
MORE BALI TRAVEL GUIDES
Bali Travel Guide: 2 Week Bali Itinerary
Bali Waterfalls Guide: 7 Best Bali Waterfalls
Bali Beaches Guide: Best Beaches In Uluwatu
Nusa Penida Guide: 15 Things To Do In Nusa Penida
Nusa Lembongan Guide: 5 Things To Do In Lembongan
Nusa Ceningan Guide: 3 Things To Do In Nusa Ceningan
LONELY PLANET BALI
One of the best books to take on your trip is the Lonely Planet Bali Guide!
BUY NOW ON AMAZON → LONELY PLANET BALI
ONLINE ENGLISH TEACHING
Do you want to travel full-time and get paid along the way?
Teaching English online is one of the easiest and most flexible jobs out there! Become a Digital Nomad, choose your own hours and work remotely from anywhere in the world by teaching English online. All you need is a laptop, good WiFi connection, a TEFL certificate and you're good to go!
JOIN MY FACEBOOK COMMUNITY
Do you have any questions about this post?
Join my Facebook Community and send me a message at any time for a quick response!
MY SHOP
Before you go, don't forget to check out My Online Shop!
I've got a wide range of digital products for sale and I'm sure you'll find something that will come in handy during your travels!
FINAL THOUGHTS
I hope you enjoyed reading this article and if you have any questions, please drop me a comment below and I will get back to you as soon as I can.
Happy Adventuring!