Rovinj (pronounced ro-veen) is known as the tiny jewel of the Istria region and it's absolutely a must-see during your visit to Croatia.
To get the most out of your visit, I have put together this ultimate travel guide featuring 20 incredible things to do in Rovinj.
The architectural history dates back to the Middle Ages and Baroque times, so it's not surprising that Rovinj is one of the most visited places in the country.
Whether you already spent some time exploring other cities like Split and its incredible sights or experiencing the heart of Croatian culture in Zagreb, I'm confident you'll also have a wonderful time in Rovinj.
WHERE IS ROVINJ?
This characteristic fishing port is located on the west coast of Croatia on the Istrian peninsula.
The old town stands on the headland, tightly crowded down to the seafront.
The port's archipelago consists of 14 islands that you'll find directly off the mainland.
Click here for an interactive map of Rovinj Croatia.
HOW TO GET TO ROVINJ CROATIA
There are multiple ways to get to Rovinj including by bus, car, plane, or ferry.
BY BUS:
If you plan on traveling to Rovinj by bus, there are various cities within Croatia offering bus routes to Rovinj.
When traveling by bus in Croatia, the best place to search and book tickets is Bookaway.com which has a range of local bus companies and private transportation options to choose from.
How to get from A to B, stress-free!
Compare and easily book buses, ferries, trains, or private transfers around the world on Bookaway!
With discounted ticket prices and a free app, Bookaway is a one-stop shop for all your ground transportation needs!
BY PLANE:
Whether you are arriving domestically or internationally by plane, there are plenty of airlines offering direct flights to Pula International Airport which is the closest airport to Rovinj.
I do advise renting a car from Pula Airport as it's approximately a 40-minute drive to Rovinj from here.
Other large airports include Zagreb and Venice. From Zagreb Airport to Rovinj, it's a 3.5-hour drive, and from Venice Airport, it's a 3-hour drive to Rovinj.
Car Rental – Search, Compare & Save!
Discover Cars are one of the world's largest online car rental platforms with vehicles in 10,000+ locations.
Find the right car, in the right place, for the best price guaranteed!
BY FERRY:
Alternatively, you can take a ferry that connects Venice to Rovinj but please note this route only operates in the high season and there are only 1 or 2 journeys per day from Venice.
This route is served by two companies, Venezia Lines and Adriatic Lines and the journey time is around 3 hours.
HOW TO GET AROUND IN ROVINJ
Rovinj is especially great to explore on foot because the old town is car-free and the majority of the Rovinj tourist spots are located close to each other which makes it quite easy.
You are also able to rent a bicycle or electric scooter if you prefer to move around town a bit faster.
You'll find multiple rental companies in the town where you can choose your preferred mode of transport to help get you on your way!
Ditch Your Backpack, Get a Suitcase!
The Nomatic Check-In is the only luggage you'll need with 90L capacity for those extended trips.
It's sleek, it's durable, and it will save your shoulders from pain by not having to carry any weight.
BEST TIME TO VISIT ROVINJ CROATIA
With many great things to do in Rovinj the whole year round, you can visit anytime, however, I'd highly recommend visiting anywhere between April and September.
During Spring and Summer months, the water temperatures are great for swimming and Rovinj comes alive to welcome its visitors.
While Spring is a quiet period to visit Rovinj, you can expect heavy crowds in July and August.
If you're looking for a more laid-back environment yet still wish to enjoy the warm ocean and affordable places to stay, June and September are just perfect.
HOW MANY DAYS IN ROVINJ
When planning your trip to Rovinj, I'd recommend staying at least 5 to 7 days, that way you can go do all the fun-fuelled activities in town and also have the time to explore the surrounding areas.
If your visit to Rovinj is part of a shorter trip throughout Croatia, I'd say 2 to 3 days should be enough.
Due to its size, you'll have plenty of time to do everything on this list of what to do in Rovinj.
If you really want to maximize your time and to make sure you don't miss any of the best spots, you might like to join a Rovinj walking tour with a local guide who will take you off the beaten tourist trail.
20 THINGS TO DO IN ROVINJ CROATIA
As small as this fisher port may be, there are countless awesome things to do in Rovinj to suit all types of travelers.
So, without further ado, and to make sure you enjoy your stay to the fullest, here is my complete Rovinj travel guide to help you plan your trip ahead of time.
VISIT THE CHURCH OF ST. EUPHEMIA
Firstly, you can't miss paying a visit to the church of St. Euphemia, whose towering steeple dominates the skyline.
It's ranked one of the most gorgeous representations of the Baroque period in Istria and a sight to behold.
A tangle of cobbled streets leads to the hilltop church, located in the historic heart of Rovinj. Otherwise known as the Basilica of St. Euphemia, the church's bell tower strongly resembles the Venetian St. Mark's Basilica.
Entrance to the church is free but you'll need to pay a fee to climb the tower.
Expect a greatly detailed decorated interior and some spectacular aerial views when you ascend the eye-catching tower.

The BEST Affordable Camera For Travel
If you're on the hunt for a professional camera for traveling, check out the Canon G7 X Mark II.
This tiny camera fits in your pocket, captures high-quality photos and videos, and has Wi-Fi so you can instantly transfer to your phone!
GO SWIMMING AT BALOTA BEACH
If you're in the mood for some refreshment, I'd recommend taking a dive at Balota Beach, one of the best beaches in Rovinj.
Otherwise known as Monta Beach, it's located just a few minutes away from St. Euphemia.
The beach is around 200 meters long and most known for its rocky stones that are great for sunbathing.
You can get a good view of the island of St. Catherine and enjoy a stunning sunset from this side of the peninsula.
Keep in mind that there is no shade on the beach, so make sure you are well-equipped with sunscreen and something to protect your skin.
TAKE A WALK UP UL. GRISIA (WALKING STREET WITH SHOPS)
Sooner or later your explorations will lead you to Grisia street. This pedestrian-only street is the heart of Rovinj and is made up of hundreds of ancient marble stepping stones.
It's a treat to walk here as you experience the more artisan side of town. You'll find numerous local artists' shops where you can score some great souvenirs.
Be sure to add this spot to your list of what to do in Rovinj.
GET LOST IN ROVINJ OLD TOWN
As Rovinj is largely pedestrianized, I'd highly recommend spending time walking and getting lost in Rovinj old town – it's simply one of the best things to do in Rovinj Croatia.
There is a lot to see, such as pastel buildings, clock towers, and cute hidden spots.
Rovinj consists of small twisting alleyways with restaurants, local cafes, shops, and seafront viewpoints, which makes it great for mindless wandering.
TAKE A PHOTO OF BALBI'S ARCH
While getting lost in the old town, you'll probably find yourself walking under Balbi's Arch. This arch used to function as the main town gate and was built in 1679.
The famous arch is ornamented with a Venetian head carved on the inside and a Turkish head on the outside.
There's the winged lion on top of the arch, the symbol of Venice. All in all, an incredible piece to photograph.
HAVE A CROISSANT & COFFEE BY THE SEA
If you want to take a short break from exploring, make sure to spend some time by the sea.
All along the Rovinj port, you'll find many seaside cafes where you can take a breath and enjoy some people-watching.
You can get a good cup of coffee and croissant for just $5 which will give you enough new energy for the day.
The BEST reusable water bottle for travel!
The GRAYL GeoPress is a top-rated reusable water bottle perfect for backpacking, hiking, and traveling.
It allows you to purify water from anywhere and keeps you safe from all waterborne diseases.
Get a GeoPress today and never buy single-use plastic bottles again. Mama Earth will thank you for it!
WATCH THE SUNRISE IN ROVINJ CROATIA
Another great activity to do is to watch the sunrise. To start your day bright and early, the best place to watch a good sunrise is on the north side of Rovinj old town.
You'll notice it by the free motorcycle parking area. This spot is incredible to get the best views of the old town and the Mediterranean.
WATCH THE SUNSET IN ROVINJ
If you're more of a sunset lover, there are also great spots to enjoy a good sunset while you're there. Honestly, anywhere along the waterfront offers spectacular views.
However, the best place to watch the sunset is from Bar La Moura which is located on the south side of the old town.
Remember to go here if you want to watch the sunset while having a beer or a cocktail with some free snacks and good music.
Take Your Photos & Videos To New Heights!
The DJI Mini 3 Pro is the most affordable, user-friendly drone camera suitable for all levels!
This travel-sized drone captures 4K/60fps video, 48MP photo, and has 34 minutes flight time.
VISIT THE OLD BUNKER
Another spot to visit is the old bunker on top of the rocks overlooking the Mediterranean. It's an old observation bunker, built during WWII by the Germans.
The bunker served as a lookout point to defend the city from attacks. Currently, the bunker is deserted and surrounded by trees.
The rocks around the bunker are great for a relaxing afternoon, sitting in the sun and overlooking the sea.
BOOK A BOAT TOUR TO LIM FJORD
A great way to explore the surrounding area of Rovinj is to take a boat tour to Lim Fjord.
There are multiple companies offering boat excursions located all along the port and you can find a good one for around 400 Kuna per person (€50).
Lim Fjord is a protected national area and reserve for different fish species. A boat tour will take you through the narrow channel with high mountains on either side – an absolutely picturesque scene.
CHILL OUT AT MULINI BEACH BAR
A perfect place to enjoy a fine breakfast or lunch and swim in the crystal clear waters of Lone Bay is Mulini Beach Bar.
The bar is the place to be for sunbathing and relaxing on their comfortable lounge chairs. It's great if you want to spend your day in a tranquil atmosphere during your vacation.
Upon entering you'll find their current price list (below) for renting parasols or sun loungers. The list also includes prices for several water activities.
Forget plastic SIM Cards… Get an eSIM!
Say hello to eSIM – a virtual SIM card pre-loaded with mobile data so you can get online and stay connected around the world.
OneSimCard is the best eSIM for travel, with low-cost data packages available in 150+ countries.
Simply buy online, install it on your smartphone, and you're good to go!
TAKE A PHOTO OF THE CLOCK TOWER
Next up on this list of things to do in Rovinj is to take a photo of the gorgeous clock tower located in the center of the town square.
As with most of the historical artifacts in this town, this is a perfect remnant of a Venetian past. You'll spot a Venetian lion on the clock tower, which is of late-Renaissance style.
The clock tower once represented one of the former town walls' towers and still is an interesting feature of the old town.
EAT SOME GELATO FROM GELATERIA ITALIA
Experiencing hot temperatures? Go taste some of the best ice creams in town. Eating ice cream at Gelateria Italia is a whole experience!
The gelateria is run by an Italian family from Brescia and their gelato is crafted right in front of you. It tastes absolutely divine, as it's freshly made and naturally flavored.
This makes for one of the top things to do in Rovinj Croatia during the day to beat the heat.
SIP ON A COCKTAIL AT MEDITERRANEO COCKTAIL BAR
Drinking a cocktail at Mediterraneo Cocktail Bar is an absolute must. This cocktail bar is small and located just at the waterfront with several tables perched on the rocks.
Not only are the cocktails amazing, but you'll also be able to drink them while enjoying the view. It's a colorful place with good vibes, friendly staff, and fair prices.
Visit this place if you want to end the day with good drinks and a perfect sunset.
STROLL AROUND ROVINJ PORT
When descending from the old town down to the waterfront, you'll enter the port of Rovinj. The port is well worth a stroll, as you'll find plenty of good restaurants and bars.
The Rovinj port is a great place to be if you want to stop for a bite to eat or grab a cold beer and people-watch.
ENJOY A SEAFOOD LUNCH AT RESTORAN LAMPO
When visiting Rovinj, I highly recommend getting a seafood lunch at Restoran Lampo. The place is very cozy and has a very nice view of the sea.
The service is good, making sure you'll enjoy your lunch to the fullest at one of the next-to-the-water tables.
POP INTO THE HERITAGE MUSEUM
Make sure to pay a visit to the Rovinj Heritage Museum if you want to dive into the town's history. This museum was founded in 1954 and houses Istria's prime collection of Italian art from 1400+.
Think about numerous Renaissance gems and Baroque masterpieces. The museum also displays Croatian art and dedicated a section to Rovinj artists from the late 20th century.
Keep Yo' Sh*t Organized!
Packing cubes are a traveler's best friend, perfect for organizing your shirts, pants, underwear, and more!
Shacke Pak Cubes make packing easier and leaves extra space in your bag to fit more essentials.
GO SHOPPING IN ROVINJ
To score some gifts for friends and family, you'll definitely find all you need in Carrera UI.
This street is the main shopping street in Rovinj with many retail stores, bookshops, and shops with local products and items.
CHECK OUT THE LOCAL MARKET
The local market, or 'green' market, in Rovinj, is situated in the center of the old town. Just a few meters north of Marshall Tito Square and near the parking Valdibora.
When visiting this market, you can really find anything you like including fresh and local fruits, vegetables, cheese, fish, and other products.
I'd advise you to spend some time here and take in all the sounds, smells, and colors.
WALK AROUND THE HEADLAND
Last but not least when planning your holiday to Rovinj Croatia, I invite you to take a walk around the coastal headland in the old town and enjoy the peaceful serenity.
Once you've completed your walk around the waterfront, head deeper into the old town and get lost in the countless narrow streets where you'll stumble upon all sorts of colorful houses, bars, and restaurants along the way.
BEST DAY TRIPS FROM ROVINJ
Even though there is enough to explore in Rovinj, it also is a great place to take a day trip to any surrounding location.
Take for instance a day trip to the Istrian hilltop village Motovun or one of the lesser-visited national parks Brijuni.
There are many amazing tours and day trips in and around Rovinj which you can find on Viator.com and book online in advance to get the best deals!
WHERE TO STAY IN ROVINJ
Rovinj has hundreds of accommodation options to choose from, so I have narrowed it down to a few of the best places to stay to fit the needs of budget backpackers, luxury travelers, and everyone in between.
See the list of accommodations below that I personally recommend:
LUXURY: GRAND PARK HOTEL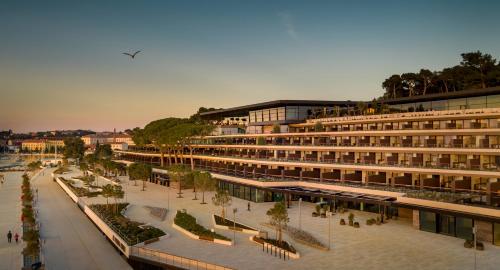 MID-RANGE: RESIDENCE LA CARERA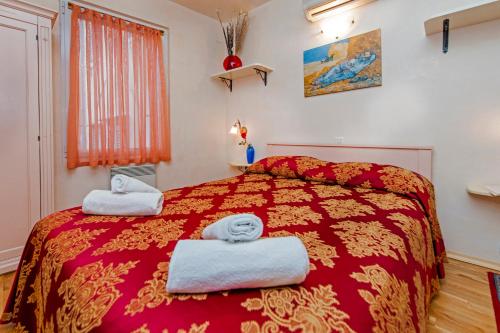 BUDGET: LA CASA DI LORETO
WHAT TO PACK FOR CROATIA
When visiting Croatia, here is a list of items I highly recommend bringing with you:
Must-Have Travel Essentials
Keep your cash and other valuables safe with this anti-theft hidden money wallet!
---
The GRAYL GeoPress is the best reusable bottle that allows you to purify water from anywhere!
---
---
---
FINAL THOUGHTS – ROVINJ OLD TOWN
With Rovinj being your final destination or the location as part of your trip through Croatia, I cannot recommend visiting this place enough.
It has so much to offer and the activities are extremely diverse. This makes it great if you travel solo, with your partner, or with friends and family.
Exploring this charming little town has never been easier and you're ensured of an unforgettable experience!
If you have any questions at all about planning your visit to Rovinj in Croatia, please leave a comment below this post and I will get back to you as soon as I can.
For a quicker response, be sure to join Jonny Melon's Travel Tribe on Facebook and post your questions or recommendations to our awesome community.
TRAVEL RESOURCES FOR YOUR NEXT TRIP
Whether you're a seasoned traveler or it's your first trip overseas, here are some useful travel resources to help you kick-start your next adventure!
THANKS FOR READING
Hey friend, thanks for reading this guide!
Please know this post may contain affiliate links. When making a purchase through one of my links, I earn a small kickback at no extra cost to you and it's a big help to keep the site up and running. Rest assured, I only promote products and services that I personally use and recommend.
Many thanks!