Looking for the best things to do in Split, Croatia?
Full of history and culture, Split is one of the most popular cities in Croatia that lies on the eastern shore of the Adriatic Sea.
There are so many awesome things to do in Split Croatia to suit all types of travelers, and I can't wait for you to discover everything there is to know about this charming medieval town!
QUICK ANSWERS: BEST THINGS TO DO IN SPLIT CROATIA
Before I dive into all the details about what to do in Split Croatia, here are some quick answers to the most frequently asked questions from first-time visitors.
WHERE IS SPLIT?
Split is located in southeast Europe in Croatia, a crescent-shaped country south of Slovenia and borders the Adriatic Sea.
The city lies along the southern tip of the country, with the international airport situated just 19km to the west of the town.
Surrounded by tall mountains, Split also boasts a multitude of small islands off its beautiful coastline such as Hvar, Brac, and Vis Island.
HOW TO GET TO SPLIT CROATIA?
BY PLANE:
Flying into Split is the most popular way to get to the city from outside of Croatia.
Because it has become a popular holiday destination, a lot of low-budget airlines are now chartering flights, making it relatively low-cost if you are flying from inside Europe.
Split International Airport is located just a 30-minute drive outside of the city and there is an airport shuttle bus that runs frequently from the airport to the main ferry port in Split for just 35 Kuna per person.
Click here to see the bus timetable and book online in advance.
PRIVATE TRANSFER:
If you would prefer a private transfer from Split International Airport to your hotel, you can search on Viator for all available transfer options.
BY BUS:
Split is also very well connected by bus routes if traveling to the city from inside Croatia, with regular bus routes from all other major cities, including Zagreb, Dubrovnik, Zadar, and Sibenik.
Flixbus is the most popular and affordable bus company in Croatia with an easy online booking system.
You can also search on Bookaway.com which has a range of local bus companies and private transportation options to choose from when traveling in Croatia.
BY TRAIN:
The city is also on a train route, which is cheaper than the bus, however, it's not as reliable as the bus routes and doesn't offer a regular service.
BY FERRY:
And lastly, the oldest and most popular way to reach Split is by ferry, with both domestic and international connections from Italy and any of the Central Dalmatian Islands.
HOW TO GET AROUND IN SPLIT?
To tick off all the things to do in Split, the easiest way to get around is on foot as the town is quite small and most accommodations are located within walking distance of the city center.
It is not advised to use a car to get around as parking is very difficult, especially in the city center. If you do want to drive, I recommend jumping in a taxi or an Uber instead.
If you are planning on doing some overland day trips to nearby towns such as Zadar or Sibenik, it's possible to rent a car in Split for around $70 per day.
Car Rental – Search, Compare & Save!
Discover Cars are one of the world's largest online car rental platforms with vehicles in 10,000+ locations.
Find the right car, in the right place, for the best price guaranteed!
BEST TIME TO VISIT SPLIT?
The best time to visit Split is during its summer months of June to September, with temperatures hitting between 19°C and 30°C, these temperatures are perfect for boating, swimming, and enjoying the cobblestoned city.
The summer months, however, are also the busiest tourist times so if you are looking to visit the city when it's a little quieter then September and October are recommended as temperatures are still up before the winter drop.
This is also the season with fun things to do in Split and you'll surely want to experience that.
HOW MANY DAYS IN SPLIT CROATIA?
Split is the perfect city to visit with any itinerary in mind.
Due to its central location, you could do the main Split sightseeing points in just two days but spending around five days would really allow you to enjoy all that the city has to offer.
If it's a longer break you are after, there is plenty to see and do including the nearby surrounding islands.
You can also travel further inland to explore some of Croatia's stunning national parks such as Plitvice Lakes National Park and Krka National Park.
SHOULD I GET THE SPLIT CARD?
When you arrive in Split, I recommend getting your hands on a Split Card which you can use to enjoy the very best of the city – from free museum admissions to discounts at some of the city's best restaurants, retail shops, and rental car providers.
Split Card is completely FREE and you can head to one of the tourist information centers located at TIC Peristil, TIC Riva, and TIC Stobreč, to pick one up.
The card is valid for 3 days (72 hours) and to be eligible you need to be staying in Split for 5 nights or more in any accommodation if you are visiting during summer from April to the end of September.
Or if you are staying in Split for 2 nights or more in any type of accommodation during winter from October to the end of March.
Click here for more info about the Split Card and see the Split must see activities included.
25 BEST THINGS TO DO IN SPLIT CROATIA
Now that we've got all the logistical information out of the way, let's get to the fun stuff!
So, without further ado, here is your complete guide to the 25 Best Things To Do In Split Croatia!
BEST TOUR IN SPLIT
Looking for an awesome day trip? The best tour in Split is the Island Hopping Tour With the Blue Cave!
It includes hotel transfers, the boat tour, all fees, and a fun guide to share the day with!
EXPLORE DIOCLETIAN'S PALACE
First up on this extensive list of what to do in Split is Diocletian's Palace, an ancient palace built for the Roman emperor Diocletian at the turn of the fourth century AD.
The palace is located in Split Old Town and covers about half of the town.
It's one of the best-preserved monuments of Roman architecture in the world and the substructures can still be explored today, showcasing Roman architecture at its finest.
Walking the palace could easily be an activity that fills your whole day if you enjoy architecture and learning the history, especially surrounding the later added Gothic and Medieval fortifications.
JOIN A SPLIT WALKING TOUR
During your visit, there are many Split walking tours that can be easily booked online, each offering very reasonable rates that can be upgraded to include wine and food tasting.
Most Split walking tours last between one and two hours and can be selected on what areas of the city you would like to visit including the palace and the port.
See below the most top-rated walking tour in Split and book online in advance to be guaranteed the best rates.
JOIN AN ECO CITY TOUR
If there's one activity in Split that you don't want to miss, it's probably this one. Get on an electric rickshaw (also called tuk tuk) and explore the city from a different angle.
The eco city tour lasts about 2 hours and you'll get to see the most popular spots, from Diocletian's Palace, Bacvice Beach, Grgur Ninski Statue, and many more.
The best part? This is a private tour, which means it's going to be for your group only, as opposed to sharing the moment with strangers.
The guides are very accommodating too, and they'll be happy to change the schedule to add anything you have in mind.
Note that since this tour was introduced in Split, it got very popular and they often sell out, so I recommend booking as soon as possible.
STEP INSIDE ST DUJE'S CATHEDRAL
Built in the 7th century AD, St. Duje's Cathedral is the oldest Catholic cathedral in the world that remains in use in its original structure.
The wooden doors of the cathedral are regarded as some of the best examples of Romanesque sculpture in Croatia, carved by the Croatian sculptor Andrija Buvina around 1214.
This breathtaking cathedral is a must-see on your list of things to do in Split Croatia.
GO CANYONING ON CETINA RIVER
Get ready for the adventure of a lifetime with this half-day canyoning tour on the Cetina River!
Step out of your comfort zone and dive right into the canyon, filled with hidden caves, tumbling waterfalls, and natural pools.
After a pickup from your hotel in Split, your guide will drive you to the Cetina Canyon where you will gear up in a life jacket and helmet for your journey.
Get ready to explore subterranean tunnels and caves, swimming in natural pools, and feeling the thrill as you dive into 50-meter-high waterfalls.
Are there even more active, unique, and thrilling things to do in Split Croatia?
TAKE A PICTURE IN PERISTIL SQUARE
Located in the heart of the palace, Peristil Square is the perfect photo opportunity spot.
The architecture of the surrounding palace and the towering views flanked by two colonnades make this one of the top Split attractions worth visiting on your tour of the palace.
Hot tip: The earlier you visit Peristil Square the better, as this way you'll avoid the midday crowds and won't have anybody photobombing your shot!
The BEST Hotel in Split
Need a place to stay? Radisson Blu Resort & Spa is conveniently located in Split City Center.
Whether you're here to explore the sights or relax in comfort, Radisson Blu Resort offers the best of both worlds.
JOIN A TOUR TO MOSTAR AND HERZEGOVINA FROM SPLIT
While taking a holiday in the Balkans, Mostar is one of the best places to visit, and what better place than Split to start a tour?
On the way to Mostar, you'll learn about the Christian and Muslim history in town and you'll review the schedule before getting there.
It's worth noting that the UNESCO-listed bridge of Mostar is included and you can jump from it if you're daring enough!
Apart from that, you'll also discover Počitelj and Kravica Waterfall, which are 2 other nice places you shouldn't miss when coming to the Balkans.
Last but not least, transportation, a knowledgeable guide, and WiFi onboard are included.
SIGN UP FOR AN ATV QUAD SAFARI
If you're up for some action, joining an ATV tour is an excellent option.
You'll get to choose between a morning or afternoon trip, and it's a small group which means a more personalized experience when joining.
Once you get to the ATV spot, you'll receive a short training from a certified instructor and then start the ride with the mountains in the background.
After enjoying the ride, you'll enjoy a delicious picnic-style lunch with your guide and newly made friends.
CLIMB THE BELL TOWER
Towering over Peristil Square is the bell tower, a 57-meter tall belfry that offers spectacular views of the city from the top whilst displaying some of the city's finest architecture on the climb up.
The cost to climb the stairs to the top of the Split bell tower is 40 Kuna. From here, you'll see all the must see Split activities and landscape, which is something not to miss out on.
GO SEA KAYAKING IN SPLIT
Next up on this Split travel guide, and one of the more fun-fuelled activities in Split is to go sea kayaking!
There is a range of sea kayaking options available, from hitting the waves yourself to guided tours taking in the coastline and hidden gems.
There are also sunset kayaking tours on offer which allow you to experience the breathtaking sunsets over the Adriatic Sea.
Split kayaking tours can be easily booked online with a range of trip lengths available and most are around the $50 price range.
VISIT THE SPLIT CITY MUSEUM
Located inside the center of Old Town, the Split City Museum is home to paintings, sculptures, weapons, and armor documenting the city's cultural history from its beginnings.
The museum is one of the best things to see in Split and offers beautiful views across the palace from its windows whilst displaying Roman architecture on the inside, as well as the incredible collection of artifacts on display.
Split City Museum is open six days a week to the public, closed on Sundays.
CHECK OUT THE MUSEUM OF FINE ART
Founded in 1931, Splits Museum of Fine Art contains works of art from the 14th century up to the present day, housing a private collection of over 3,500 pieces.
The old master's collections feature work from artists including Paolo Veneziano, Andrija Alesi, Girolamo Brusaferro, and Matej Ponzoni.
The contemporary collection includes works by Croatian artists including Ivo Dulčić, Ljubo Ivančić, Slavko Kopač, Ivan Kožarić, and Đuro Seder.
This is a must-visit place in Split for art historians or general art lovers.
Closed on a Monday, the museum is open every other day from 10 am – 6 pm, except Sunday when it closes at 2 pm.
GO ISLAND HOPPING
When searching for what to do in Split Croatia, island hopping is always a good choice!
With the ferry service in Split being very affordable and very well run, it's super easy to hop on and off and enjoy the local islands off the coast of the city.
With over 15 locations to choose from on the nearby islands, you can plan a whole day and night of hopping from place to place to take in what each one has to offer.
Ubli, Vela Luka, Hvar, Vis, Grad, and Rogac are all on the main route out of Split so these are the easiest to access, however, other routes can be accessed and planned from each of these locations.
These tours get very popular and I recommend booking online before coming to secure your spot!
HIKE TO MARJAN HILL VIEWPOINT
Next up on this list of things to do in Split Croatia is Marjan Hill which sits nearly 600 feet above the city and can be accessed by hiking the 314 steps to its viewpoint.
Marjan Hill is a green oasis near the center of the Old Town and is surrounded at its base by the city's beautiful architecture.
From the top, you can enjoy panoramic views of the city of Split which is perfect for enjoying hiking, walking, and rock climbing.
Take Your Photos & Videos To New Heights!
The DJI Mini 3 Pro is the most affordable, user-friendly drone camera suitable for all levels!
This travel-sized drone captures 4K/60fps video, 48MP photo, and has 34 minutes flight time.
RUB THE GOLDEN TOE ON THE GRGUR NINSKI STATUE
This statue is 8.5 meters tall and was first erected in 1929 on the outer walls of Diocletian's Palace.
Created by sculptor Ivan Mestrović, the statue of Grgur who was the bishop of the Croatian town of Nin from 900-929, is now believed to bring good luck to anyone who rubs his toe.
Today, the toe has been worn smooth and is shiny as a result. It's one of the most unique Split things to do when in town.
MARVEL AT THE CHAPEL OF HOLY ARNIR
This Benedictine monastery located outside the northern walls of Split was built in 1069.
The main building was devastated by fire in 1888 and all that remains today is the bell tower and a small chapel.
The Chapel of Holy Arnir, located in a beautiful corner of the city, is a worthy addition to your list of things to see in Split.
CHECK OUT JUPITER'S TEMPLE
Located in the western part of Diocletian's Palace near the square is the temple originally dedicated to the Roman God Jupiter.
Built between 295 and 305, the temple shows off exquisite carvings of Roman Gods around the doors, tomb, and vault.
Inside the temple, there is a large bronze statue of St. John the Baptist made by Croatian sculptor Ivan Meštrović.
As you tour the palace, Jupiter's Temple is an ideal place to stop and marvel at the history and culture this city has to offer.
SNAP A PHOTO OF THE GOLDEN GATE
Originally built as the Emperor's entrance to the palace, the Golden Gate is one of the most famous Split attractions due to the magnitude and elegance of the structure.
Highly decorated and sculptured, including works from some of Croatia's most famous artists, this is a must-visit tourist spot in Split to snap your photos.
SIP ON A COCKTAIL AT MISTRAL BEACH CLUB
Located right on the oceanfront, this bar and restaurant offer spectacular views out over the waves from the open-air tables on the deck.
Offering a range of cocktails and an extensive seafood menu, whether you are looking for a few afternoon drinks or a meal, Mistral Beach Club is a beautiful location to pause and enjoy the views out to sea with the ancient city looming behind you.
It's safe to say that it's one of the best things to do Split has to offer and you'll want to stay until sunset!
WANDER AROUND REPUBLIC SQUARE
Often compared to St Mark's Square in Venice, this beautiful open space in the city is a must-see in Split to take in the wonder of the city's architecture and culture.
On the south side, you are greeted with views of the harbor and Riva, and throughout the year the square is host to many cultural events, including the pop festival.
The square is also filled with local restaurants and bars, making it a popular spot for both locals and tourists to grab something to eat and drink.
STROLL ALONG THE RIVA PROMENADE
The Riva Promenade runs the length of the harbor and a not to be missed on your list of what to do in Split.
With its wide-open pathways and beautifully decorated outlays the views of the harbor and out across the sea make this the perfect spot for an early morning or evening stroll.
The promenade is dotted with little boutiques for gelato, street food, and drinks to enjoy on your walk, as well as many restaurants if you fancy stopping for a meal.
In short, it's a great idea of Split what to see and you'll definitely pass by the Promenade while in town!
VISIT THE OUTDOOR MARKET
Despite the growing number of supermarkets in the city, the open markets still remain a firm favorite with both locals and tourists alike in Split Croatia.
Offering an array of seafood, local fruit and veg, clothing apparel, and souvenirs, the outdoor markets are full of color and character.
A visit to these markets is one of the top things to do in Split to really experience all of the local produce the city has to offer.
GO SWIMMING AT BACVICE BEACH
Located near the center of the city's coastline, Bacvice Beach is a beautiful sandy beach, perfect for that afternoon dip or early morning swim looking for the Split things to do.
During the summer months, the beach can be quite crowded, but between September and October, it is a lot quieter, whilst still maintaining temperatures suitable for swimming.
Bacvice Beach is lined with restaurants and bars, the perfect place to spend the day enjoying the sand, sea, and cocktails.
GET LOST IN THE OLD TOWN
Known as the historical and cultural center of the city, the Old Town of Split is home to the palace, bell tower, and temple.
It displays the richest of the city's architecture, sculpture, design, and heritage.
It is the perfect place to spend the day just wandering and taking in all the sights as there will always be something new to be found and seen.
BOOK A SUNSET CRUISE
A sunset cruise is one of the absolutely must-do Split activities during your visit, and because it's one of the top things to do in Split Croatia, I highly recommend booking online in advance to save your spot!
Set off from Split Harbor on a beautiful yacht in the early evening, see the city from a different perspective, and sit back, relax, and enjoy the serenity as you cruise along the coastline.
Oh, and to make this experience even better, you can enjoy complimentary champagne, wine, beer, and soft drinks, all accompanied by live music onboard.
WHERE TO STAY IN SPLIT CROATIA
Split has hundreds of accommodation options to choose from, so I have narrowed it down to a few of the best places to stay to fit the needs of budget backpackers, luxury travelers, and everyone in between.
See the list of accommodations below that I personally recommend.
LUXURY: RADISSON BLUE RESORT & SPA
MID-RANGE: APARTMENTS TUDOR
BUDGET: T-HOSTEL SPLIT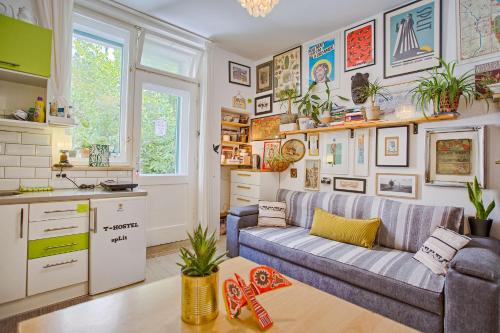 BEST DAY TRIPS FROM SPLIT
Apart from what to see in Split Croatia, you'll also want to take a day trip outside of the city to explore the Croatian countryside and other cities.
Read on to know the best things to do near Split!
HVAR ISLAND
A day trip from Split to Hvar Island is the perfect way to spend a day whilst vacationing in Croatia.
This small island off the coast of the city offers amazing scenery and breathtaking views.
Ferries from Split to Hvar run throughout the day, but also catamaran tours to the island can be booked on the Get Your Guide website.
Hvar town offers a beautiful harbor, pristine beaches, a gorgeous old town, and a range of local restaurants and seaside bars. What more could you ask for?!
OMIS
Omis is located on the mainland just 45 minutes drive to the south of Split.
It's perfect for a day trip to this beautiful town that is set on the seaside and surrounded by a hilly backdrop.
This is a fun-fuelled getaway if you are looking to do some hiking or rock climbing.
Some of the most insane coastal views can be seen from the hilltops stretching out over the town and the Adriatic Sea.
Buses from Split to Omis run throughout the day and it's easiest to book your bus ticket online in advance on Bookaway.com.
How to get from A to B, stress-free!
Compare and easily book buses, ferries, trains, or private transfers around the world on Bookaway!
With discounted ticket prices and a free app, Bookaway is a one-stop shop for all your ground transportation needs!
VIS ISLAND
Vis Island is famed for its blue cave and pocket beaches and it's the perfect day trip from Split if you are looking to experience the magic of my personal favorite island in Croatia.
Boasting crystal clear waters, wineries, and two Old Towns, Vis Island is best explored by scooter, car, or even boat tours around the island.
Ferries from Split to Vis run throughout the day.
PLITVICE LAKES
Plitvice Lakes National Park is located north of Split, about a 3-hour bus ride but this day trip is absolutely worth the travel time.
This beautiful national park is full of lakes and mesmerizing waterfalls, and it's a great addition to other Split activities.
You can plan a visit DIY or guided tours are available to take you on the best routes and to get the best sights and views within the park.
If you book the Plitvice Lakes day tour from Split, transportation, entrance tickets, and lunch are included, all for around $100. All in all, it's a great response to what to see in Split Croatia!
KRKA WATERFALLS
When looking for Split what to do, Krka National Park is a great option, it's famed for its seven waterfalls and is located just a couple of hours north up the coast from Split.
From Split to Krka Waterfalls, you can visit DIY or book a guided tour to see the falls and then be shown around the national park for the best photo opportunity spots.
Air-conditioned bus trips operate to Krka National Park from Split, making this the perfect way to spend a day whilst in Croatia.
TROGIR
Located to the west of Split, just a short bus or ferry ride away lying on a small island connected to the mainland and the island of Čiovo by bridges is the town of Trogir.
This beautiful old town is known for its mix of Renaissance, Baroque, and Romanesque buildings. If you enjoy the architecture and culture of Split then Trogir is definitely worth a visit.
With its stunning skyline against the backdrop of the Adriatic Sea, and filled with local shops, restaurants, and bars, the town of Trogir is a must-see during your travels.
DUBROVNIK
Day trips to Dubrovnik, an amazing city further down the coast of Croatia run from Split on a daily basis.
The 4-hour bus ride runs right down the coastal path so you can enjoy outstanding views out over the Dalmatian Islands.
The city itself offers amazing architecture, culture, and history with so much to see and plenty of wonderful restaurants and bars.
Also, when thinking about what to visit in Split if you're a Game of Thrones fan, you'll definitely want to come as it's famed as the main setting for Kings Landing in the series.
Day trips from Split to Dubrovnik cost around $75 and include a return bus trip, a guided tour in the morning, and free time to explore in the afternoon before returning to Split.
WHAT TO PACK FOR SPLIT CROATIA
When visiting Split, here is a list of items I highly recommend bringing with you:
Must-Have Travel Essentials
Keep your cash and other valuables safe with this anti-theft hidden money wallet!
---
The GRAYL GeoPress is the best reusable bottle that allows you to purify water from anywhere!
---
---
---
FINAL THOUGHTS – WHAT TO DO IN SPLIT CROATIA
So as you can see, Split is one of the most beautiful cities along the Croatian coastline that holds so much history and culture.
The beauty of Split is that it's home to some of the most spectacular beaches and a beautiful old town where you can get the best of both a city and beach holiday in one.
Furthermore, when looking at places to visit on your Croatia itinerary, Split is definitely not to be missed!
I hope you enjoyed reading this travel guide, and if you have any questions, please leave a comment below this post and I will get back to you as soon as I can.
For a quicker response, be sure to join Jonny Melon's Travel Tribe on Facebook and post your questions or recommendations to our awesome community.
TRAVEL RESOURCES FOR YOUR NEXT TRIP
Whether you're a seasoned traveler or it's your first trip overseas, here are some useful travel resources to help you kick-start your next adventure!
THANKS FOR READING
Hey friend, thanks for reading this guide!
Please know this post may contain affiliate links. When making a purchase through one of my links, I earn a small kickback at no extra cost to you and it's a big help to keep the site up and running. Rest assured, I only promote products and services that I personally use and recommend.
Many thanks!