Looking for the best things to do in Zagreb?!
Zagreb is not only the capital of Croatia but it's the country's heart of culture, art, history, sports, politics, and vibrant events.
One thing you can be sure of is that there are plenty of fun-fuelled things to do in Zagreb!
It's commonly described as a contemporary city, due to its diversity of museums, coffee shops, art exhibitions, workshops, retail shops, and markets that are at your disposal to explore.
However, the medieval Upper Town of Zagreb cannot be forgotten as it's the home of unique buildings, monuments, churches, and cute little streets worth visiting.
QUICK ANSWERS: THINGS TO DO IN ZAGREB
Before I dive into more details about the best Zagreb tourist attractions, here are some quick answers to the most frequently asked questions.
WHERE IS ZAGREB?
Croatia is part of central and southwest Europe, and Zagreb in its turn is located in the northwest part of Croatia, just 30km away from the border with Slovenia.
The city lies on the southern slopes of Medvednica, along the beautiful Sava River.
Click here for an interactive map of Zagreb.
HOW TO GET TO ZAGREB?
Zagreb Croatia can easily be reached by car, bus, train, and plane. The capital welcomes both domestic and international travelers.
If you are traveling from a country which borders Croatia, like Slovenia, Hungary or Serbia, it's really easy and fast to get to Zagreb by car or public transport.
For those of you arriving from further away destinations, your best bet is to fly into Zagreb International Airport.
BY BUS:
If you plan on traveling to Zagreb by bus, there are various cities within Europe offering bus routes to Zagreb.
One of the most popular bus companies to travel with is FlixBus, which offers international routes and arrives at Zagreb Bus Terminal (Autobusni Kolodvor Zagreb).
On top of that, if you're planning to visit Zagreb from other parts of Croatia such as Split, you'll be able to jump on a domestic bus and arrive in the capital within just a few hours.
When traveling in Croatia, the best place to search and book tickets for buses is on Bookaway.com which has a range of local bus companies and private transportation options to choose from.
How to get from A to B, stress-free!
Compare and easily book buses, ferries, trains, or private transfers around the world on Bookaway!
With discounted ticket prices and a free app, Bookaway is a one-stop shop for all your ground transportation needs!
BY TRAIN:
Arriving by train is another great option for reaching Zagreb. Daily trains operate in and out of the capital, connecting Zagreb to other major cities in Europe.
Traveling around Europe by train is one of the best ways to get around at an affordable cost.
I highly recommend purchasing a Eurail Pass online in advance which gives you access to the majority of trains, buses, and boats throughout 31 countries in Europe!
BY PLANE:
Whether you are arriving domestically or internationally by plane, there are plenty of airlines offering direct flights to Zagreb International Airport.
From Zagreb International Airport to the city, it's a short 25-minute drive, and you have the option to take a taxi or Uber, or you can even book a private transfer directly to your hotel.
HOW TO GET AROUND IN ZAGREB?
You can simply get around the city on foot as the majority of the Zagreb attractions are located in the main upper town and are within walking distance of each other.
You also have the option to use public transport such as the tram network and local buses, which is quite reliable and affordable.
However, if you are planning on using the network more than once a day, you should probably opt to buy a day ticket for just 4 Euros.
You can purchase tickets at the tram/bus stations or at the Tisak Kiosks.
WHEN IS THE BEST TIME TO VISIT ZAGREB?
The best time to visit Zagreb is during the spring and summer months, from April to September. During these months the weather is warm and there are more hours of sunlight.
However, if you are not really prepared to experience high temperatures, you should aim for the months of April, May, and September when the weather is nice, but not too hot, and when there are fewer tourists around.
Though visiting Zagreb during June, July, and August has its own advantages because although it can be too hot and too busy, there are more festivals, workshops, events, and music shows for everyone to enjoy.
Also, before you take off on your trip, be sure to check out these handy tips for Croatia.
HOW MANY DAYS IN ZAGREB?
If you really want to fully enjoy what this charming city has to offer, you should stay for at least two days.
It's a city full of things to see and do, so you will find plenty of Zagreb tourist attractions to entertain you for at least a week.
However, if you don't have many days to spend there, 4 days are probably the perfect number of days you should spend in Zagreb to be able to see and experience at least the main spots which I have mentioned in this guide.
If you are heading down the Croatian coast after Zagreb, I highly recommend spending some time on Vis Island which is arguably one of the most amazing places to visit in Croatia.
BEST TOURS IN ZAGREB CROATIA
17 AWESOME THINGS TO DO IN ZAGREB
Now that we've got all the questions and logistical information out of the way, let's get to the fun stuff.
So, without further ado, here is my complete guide on 21 Awesome Things To Do In Zagreb in Croatia!
VISIT ZAGREB'S CATHEDRAL
The famous Cathedral of Zagreb, also known as the Cathedral of Assumption of the Blessed Virgin Mary, is one of the top attractions in Zagreb.
Built in the 11th century, the Cathedral is considered a symbol of Zagreb due to its relationship with Croatia's independence.
Inside the Cathedral lies the grave of Kardinal Stepinac, Zagreb's Archbishop from 1946 to 1960, which is considered the father of independent Croatia, after having spent 15 years in prison, fighting for his country.
This majestic Cathedral was partially destroyed by an earthquake in 1880 and rebuilt by Hermann Bolle, an Austrian architect, who was responsible for adding the two big towers which make the Cathedral even more unique and admired by the locals and tourists who visit it every year.
Ditch Your Backpack, Get a Suitcase!
The Nomatic Check-In is the only luggage you'll need with 90L capacity for those extended trips.
It's sleek, it's durable, and it will save your shoulders from pain by not having to carry any weight.
INDULGE IN SOME DELICACIES AT THE DOLAC MARKET
The Dolac Market is so gorgeous it has been called a living museum. The market is located near the Gornji Grad, Zagreb´s main square, and it offers the best products which enable you to experience "the real" Croatia.
With a vibrant atmosphere, this market is distributed indoors and outdoors, with dozens of locals selling their local products.
Whether you are looking for vegetables, fish, flowers, art and crafts, street food, and so on, this is the place to be.
You will be amazed that you will find anything you may be looking for, with the certainty that they are the best products in the region.
Due to its variety, expect the market to be busy, especially during the weekend, because that is when the locals from nearby villages, come to do their weakly grocery shopping.
However, don't let it stop you from visiting it, as it will be one of the main experiences you will have when sightseeing in Zagreb.
WANDER AROUND ZAGREB'S OLD TOWN
The Old Town of Zagreb is the oldest part of the city and lies in the scopes of Kaptol and Gradec, two hills.
In this part of the city, you will find calm, narrow streets, and fascinating spots that seem to have stepped back in time.
Known as the Upper Town – Gornji Grad – in Croatian, this area of Zagreb is also full of cute cafés, restaurants, and bars, where you can sit and enjoy the amazing medieval surroundings.
The architecture is also one of the main attractions of the old town, let yourself be amazed by the Gothic architecture which dominates many of the medieval buildings in the area.
So, when looking for what to do in Zagreb, simply start exploring, wander around, and get lost in the network of tiny, charming streets of the Old Town – you will not regret it.
VISIT BAN JOSIP JELAČIĆ SQUARE
Ban Jelačić Square is Zagreb's main square located in the heart of the city.
It's home to many fairs, markets, and events and a place where locals like to sip on their morning coffee at one of the many cafés dotted around the square.
An interesting fact is that the square is called this way, due to the impressive sculpture of Ban Josip Jelačić, which stands dominantly in the center of the square.
There is also a fountain, which is believed to have magical powers, so throw a coin into the Manduševac Fountain and fingers crossed for your wish to come true.
The BEST Affordable Camera For Travel
If you're on the hunt for a professional camera for traveling, check out the Canon G7 X Mark II.
This tiny camera fits in your pocket, captures high-quality photos and videos, and has Wi-Fi so you can instantly transfer to your phone!
VISIT THE MUSEUM OF BROKEN RELATIONSHIPS
The Museum of Broken Relationships is one of the main things to do in Zagreb, as you will not find anything similar anywhere else in the world.
Located in the Upper Town, this museum offers a unique journey through various break-ups.
The idea behind this museum started off when a couple broke up, and they started collecting objects from other people who had their love affairs ended as well.
The initiative was so successful that in 2010 they managed to open the Museum of Broken Relationships with objects which have been donated by the local residents.
The museum is open between 10 am – 9 pm all year round, except for Christmas Eve, New Year's Day, Easter, and All Saints Day.
The ticket costs approximately 5.30 Euros for adults and 4 Euros for children and people over 64.
RIDE ONE OF THE WORLD'S SHORTEST FUNICULARS
Next on this list of what to do in Zagreb is riding the famous funicular which happens to be one of the shortest funiculars in the world, with its track being only 66 meters.
The funicular has two cars that can accommodate up to 28 people and the cost is 5 Kuna (0.67 Euros). It runs every 10 minutes, and it takes just over a minute to complete its commute.
This singular funicular was built in 1890 at the request of D. W. Klein. However, it is known that the funicular had so many mechanical issues that it was always being repaired. So, it was only in 1974 that it properly started working again.
With such an interesting history, you cannot forget to visit this unique feature of Croatia's capital.
Never Lose Your Luggage Again!
Are you sick and tired of airlines constantly losing your luggage?
Be one step ahead with the Tracki GPS Luggage Tracker and get real-time updates so you know where your luggage is if it gets lost.
CLIMB THE LOTRŠČAK TOWER (BEST THINGS TO DO IN ZAGREB FOR VIEWS)
The Kula Lotrscak Tower is a 13th-century construction and the only well-preserved medieval tower that remains in Zagreb.
Besides the unique view that you will have of the city from the top of the tower, there are also other aspects that make it a worthy addition to your list of what to see in Zagreb.
According to legend, a cannon shot was fired from the tower, reaching Pasha's tent, an important Ottoman individual.
Due to this, the Turkish army gave up on attacking the city, because they associated the cannon shot with a backoff message.
As all this happened at noon, every day a cannon shot takes place at the same time.
Opening times are Tuesday to Sunday from 11 am to 8 pm and the ticket costs approximately 1.3 Euros.
MARVEL AT ST. MARK'S CHURCH
Erected in the 13th century, St Mark's Church may be one of the most unique buildings in the city. Its original and emblematic roof makes it hard not to admire it.
St Mark's Church roof has the emblem of Zagreb on its right side and the medieval coat of arms of Croatia, Slavonia, and Dalmatia on its left side.
Besides the magnificent details on the outside, the inside of the church is also full of characters displaying sculptures made by Ivan Meštrović.
This is one of the sites you should not miss out on while visiting Zagreb, especially if you're a history, art, and architecture lover.
Luckily for the public, the church is open from Monday to Sunday from 7.30 am to 6 pm and the entrance is free!
CHECK OUT PARK ZRINJEVAC
Park Zrinjevac not only offers a chilled and peaceful atmosphere to sit and relax, but it is also the home of the first fountain in Zagreb, which is known as 'The Mushroom.'
The park is without any doubt one of the top Zagreb attractions and is the perfect escape from the city's hustle and bustle.
There are usually open-air concerts every weekend in the summer and food and drink spots for you to try.
Park Zrinjevac is very well located, being just a few meters away from the main square and it's surrounded by many museums and galleries.
Take Your Photos & Videos To New Heights!
The DJI Mini 3 Pro is the most affordable, user-friendly drone camera suitable for all levels!
This travel-sized drone captures 4K/60fps video, 48MP photo, and has 34 minutes flight time.
TAKE A PHOTO OF THE ART PAVILION BUILDING
There is no way you will not stop and take a picture of the massive and impressive yellow building which is known as the Art Pavilion Building.
Besides its beauty, the Art Pavilion Building is also recognized for being the oldest gallery in Southeast Europe, open since 1898.
This gallery was built with intuit to accommodate large-scale art events and has accommodated exhibitions from many renowned artists.
So, don't miss the opportunity to take a picture of this extremely beautiful building. Perhaps, you'll be lucky to explore a unique exhibition that may be on at the time of your visit.
VISIT FONTANA IMPORTANNE
Visiting the Fontana Importanne, a majestic fountain, is another one of the best things to do in Zagreb.
This amazing fountain lies in the heart of a circle of trees and it's the place to go if you are looking for some peace and quiet, and it's also a photogenic spot to take some pictures.
There is a café right in the fountain area, where you can sit, grab a beer and enjoy a sunset admiring the fountain, the park in which it lies, and the surrounding old buildings.
ENJOY AFTERNOON TEA AT ESPLANADE ZAGREB
Esplanade Zagreb Hotel is home to arguably the best afternoon tea in the city.
After a long day of sightseeing in Zagreb, there is no better escape than having a fantastic afternoon tea at one of the most emblematic lounges and sun terraces in the capital.
At Esplanade Zagreb you'll find a luxury list of 15 classic Ronnefeldt teas, open-faced sandwiches, and delicious pastries that are to die for.
The Orient Express afternoon tea, which is its principal offer, costs only 21 Euros, so there is no excuse for you not to give it a try!
Keep Yo' Sh*t Organized!
Packing cubes are a traveler's best friend, perfect for organizing your shirts, pants, underwear, and more!
Shacke Pak Cubes make packing easier and leaves extra space in your bag to fit more essentials.
STROLL AROUND ART PARK
The Art Park is one of the places you need to visit during your stay as it is a vivid part of Zagreb's culture.
Although it was not initially known for the best reasons, this park has become one of the most frequented and vibrant parks in the city.
The Art Park is full of exciting activities and sports for children, young adults, and older people.
There are playgrounds for the kids, loads of workshops and yoga classes which are on especially during the summer months, picnic spots, football pitches, and cafés to grab something to eat and drink.
SIP ON AN APEROL SPRITZ AT JOHANN FRANCK CAFÉ
Dating back to 1892, the Johann Franck Café, bistro, and lounge bar is one of the most well-known places in the city!
Johann Franck is known for having the best coffee in the city, which has been prepared for many years according to unique recipes.
Alternatively, if you are not a coffee lover, you can perch up here in the afternoon and sip on a chill Aperol Spritz while people-watching in the main square.
SEE THE VIEW FROM ZAGREB'S 360° OBSERVATION DECK
Exploring Zagreb's 360° Observation Deck is not to be missed on your list of what to do in Zagreb, as it is for a reason the first most visited attraction in the capital.
At the top of the tower on the 16th floor, you can enjoy a breathtaking 360º view of Zagreb.
From the top, you will be able to spot some of the most famous budlings, squares, and monuments of the city, and if you are lucky enough with the weather, it's possible to see Slovenia from the tower.
Besides the magnificent view, which is more than a sufficient reason for you to visit, there's also a bar at the top, which offers a 360º view of the city.
WALK THROUGH THE GRIC TUNNEL
Gric Tunnel is one of the most well-kept secrets of Upper Town Zagreb. Built in 1943, the Gric Tunnel is part of a network of underground tunnels which lay under the city.
It was originally built as a refuge with the purpose of keeping civilians safe from the frequent bombings that happened at that time, but it was also home years later to Zagreb's underground rave parties.
Nowadays, it's open to the public, and the tunnel even hosts different small events, however, it will always continue to be one of Zagreb's most mystical places.
BAR HOP ON ULICA IVAN TKALCICA (MAIN WALKING STREET)
Ulica Ivana Tkalcica is one of the main streets of Zagreb's city center and known for its historical 18th-century surrounding buildings.
Its diverse offer of bars, pubs, and restaurants, makes it the perfect place for a bar hop. So, it's safe to say that if you are looking for some fun and entertainment this is the place to be.
The street goes from Ban Jelacic Square to Little Street and is full of spots for you to stop and try some local beers and food and enjoy a good night out.
BEST PLACES TO EAT & DRINK IN ZAGREB
If you are looking for the best restaurants in Zagreb to experience some unique flavors, these are some of the best options:
The Bombay Grill Indian Restaurant is located in Tkalcieva and is one of the most well-known restaurants in Zagreb.
The food is cooked by experienced chefs, and it uses ingredients from the season, which means you will never know what you will find, but you can be sure it will be a pleasant and tasty surprise.
Price: $$
Johann Franck Café as mentioned before is one of the most important and famous places in the whole city.
Although it was first known for its unique coffee, it's now also a place where you can enjoy some delicious food and drinks, right in the main square of Zagreb.
Price: $$
If you're looking for something a bit different then you need to stop at Submarine. This place offers outstanding gourmet burgers and truffle fries.
Besides being extremely tasty, they are also homemade burgers, made with organic vegetables and locally produced dairy and meat.
So, if you are trying these burgers, you are not only emerging yourself into a delicious experience, but you are also supporting the local industry.
Price: $$
Heritage is also another restaurant that you should give a try. It's the place to go if you are looking for traditional Croatian food.
This remarkable snack bar/restaurant offers Croatian dishes where you can experience the flavors of Croatia. The food is amazing, the prices are very affordable, and the staff is known for being very kind and helpful.
Price: $$
BEST DAY TRIPS FROM ZAGREB
WHERE TO STAY IN ZAGREB
Zagreb has hundreds of accommodation options to choose from, so I have narrowed it down to a few of the best places to stay to fit the needs of budget backpackers, luxury travelers, and everyone in between.
See the list of accommodations below that I personally recommend:
I personally spent 2 nights at Esplanade Zagreb Hotel and can't recommend this luxurious accommodation enough!
The staff were very welcoming, the service was 5-star, and the view from the bedroom window of the old buildings, the fountain, and the square was amazing!
The central location made it easy to explore the upper and lower town on foot and public transport options are just a stone's throw away.
The buffet breakfast was delicious and I enjoyed afternoon tea on the terrace, too. 10 out of 10 stay!
MID-RANGE: TIMEOUT HERITAGE HOTEL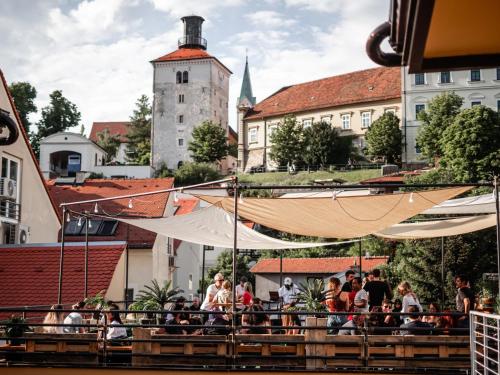 BUDGET: CHILLOUT HOSTEL
WHAT TO PACK FOR ZAGREB
When visiting Zagreb, here is a list of items I highly recommend bringing with you:
Must-Have Travel Essentials
Keep your cash and other valuables safe with this anti-theft hidden money wallet!
---
The GRAYL GeoPress is the best reusable bottle that allows you to purify water from anywhere!
---
---
---
FINAL THOUGHTS – WHAT TO DO IN ZAGREB
So now that you know what to do in Zagreb and where to find all of the top Zagreb attractions, there is no excuse for you not to visit the capital of Croatia soon.
This city offers the best of both worlds – historic and quiet places for you to get to know more about the city's past and time to visit vibrant cultural parks, bars, cafés, restaurants, events, and activities for you to have some fun.
It is without any doubt a city full of charm with plenty of things to see and explore.
If you have any questions at all about planning your visit to Zagreb in Croatia, please leave a comment below this post and I will get back to you as soon as I can.
For a quicker response, be sure to join Jonny Melon's Travel Tribe on Facebook and post your questions or recommendations to our awesome community.
TRAVEL RESOURCES FOR YOUR NEXT TRIP
Whether you're a seasoned traveler or it's your first trip overseas, here are some useful travel resources to help you kick-start your next adventure!
THANKS FOR READING
Hey friend, thanks for reading this guide!
Please know this post may contain affiliate links. When making a purchase through one of my links, I earn a small kickback at no extra cost to you and it's a big help to keep the site up and running. Rest assured, I only promote products and services that I personally use and recommend.
Many thanks!