Switzerland is hands-down one of the most beautiful and picturesque countries that you could ever dream of exploring!
This 8 Day Switzerland Itinerary includes a complete route guide and everything you need to know before you go, how to get around, the best places to visit, where to stay, and much more!
Most famous for its cheese and chocolate, and in addition to this, the verdant landscapes, turquoise lakes, and enormity of the Swiss Alps are just some of the reasons why I love this country so much… and guarantee you will too!
I've been to Switzerland on two separate occasions, once during summer and the other in winter, so I think it's safe to say that this is the only guide you'll need.
OVERVIEW – SWITZERLAND ITINERARY
Here is a quick overview of an ideal Switzerland 8 Day Itinerary that starts in Zurich and also finishes in Zurich.
Day 1: Zurich
Day 2: Luzern
Day 3: Interlaken & Lauterbrunnen
Day 4: Montreux
Day 5: Zermatt
Day 6: Glacier Express
Day 7: St. Moritz
Day 8: Zurich
HOW TO GET TO SWITZERLAND
Arriving in Switzerland by plane is the easiest and most convenient way to begin your adventures in this picturesque country.
If you plan on following this exact itinerary, then your best bet is to fly into Zurich International Airport and begin your trip around Switzerland from here.
HOW TO GET AROUND SWITZERLAND
I have put together this 8 Day Switzerland Itinerary based on my trip around the country by train using the all-in-one Swiss Travel Pass which includes the majority of trains, buses, and boats throughout the whole of Switzerland.
Once you have purchased the Swiss Travel Pass, you'll receive an email with your tickets that you will have to print and keep with you at all times.
I also recommend downloading the SBB Mobile app from the App Store. You can use this app to check all train, bus, and boat timetables in Switzerland when you're on the move.
Be sure to purchase an eSIM online in advance and enjoy unlimited data throughout Switzerland during your trip!
Switzerland by train itinerary
BEST TIME TO VISIT SWITZERLAND
The best time to visit Switzerland depends on what you plan to do. I personally prefer the spring and summer months in Switzerland (April – September) when temperatures are warm and the landscapes are vividly green.
However, visiting Switzerland in winter (December – March) is absolutely magical because the landscapes are completely covered in glistening white snow. Visiting Switzerland in winter means you have to opportunity to go skiing in the Swiss Alps.
All in all, it's a year-round destination suitable for all types of travelers in every season!
Lauterbrunnen in Winter
THINGS TO KNOW BEFORE YOU GO
The currency in Switzerland is Swiss Francs (CHF) and the exchange rate is approximately $1 USD = $1 CHF.
Purchasing a sim card in Switzerland is very simple. You can do this at the airport on arrival or find a phone store close to your accommodation. For approximately $40 USD, you can get a local sim card that comes with 10GB of data.
Need a travel money card?

Wise

offers multi-currency debit cards which can be used worldwide and you'll save hundreds on transaction fees.

Get your Wise card today for free!
DAY 1: ZURICH TO LUCERNE
The first leg of this itinerary begins in Zurich, where I recommend boarding a morning train at Zurich International Airport or Zurich Hauptbahnhof Train Station bound for Lucerne, which is a short one-hour journey.
There is no validation required for your Swiss Travel Pass, just simply jump on board the train.
When onboard, a ticket inspector will do the rounds and will most definitely ask to see your Swiss Travel Pass as well as your passport, so make sure to have these documents handy on the train.
3 THINGS TO DO IN LUCERNE
#1 CHAPEL BRIDGE
When you arrive in Lucerne on day 1 of your Switzerland itinerary, I recommend checking out Chapel Bridge. It's the most iconic attraction in Lucerne and the oldest wooden bridge in Switzerland, dating back to the 14th century.
Chapel Bridge Lucerne stretches 200 meters across the Reuss River and attached to the bridge is an old water tower that served as a dungeon, an archive, and a treasury vault in medieval times.
It's free to walk over Chapel Bridge and remember to look up to discover the colorful old paintings on the underside of the roof.
Chapel Bridge Switzerland
Chapel Bridge Luzern
#2 BOAT TRIP ON LAKE LUCERNE
A boat trip on Lake Lucerne is a must on your 8 days in Switzerland. With the Swiss Travel Pass, you can take a round-trip boat ride on Lake Lucerne which is the best way to see the region at a slow pace.
There are daily departures on Lake Lucerne, usually every hour during the day. Just head down to the ferry terminal located across the road from the Lucerne Train Station and jump on board when a boat arrives.
Before boarding, you'll be asked to show your Swiss Travel Pass and possibly your passport as well, so make sure to have these documents handy.
Lake Lucerne – Swiss itinerary for 8 days
Cruising on Lake Lucerne
#3 MOUNT RIGI
Mt Rigi, also known as the queen of the mountains, is a large mountain range in the Lucerne region and a must-visit during your stay.
The best way to get to Mt Rigi, using the Swiss Travel Pass, is to take the one-hour boat ride from the Lucerne Ferry Terminal and get off at Vitznau.
From here, there is a special cog-wheel train that will take you up to the summit of Mount Rigi. This was my favorite part of the adventure as I was able to hang outside the windows of the cog-wheel train to take photos!
Panoramic views await at the summit of Mt Rigi, overlooking three lakes and phenomenal alpine peaks in the distance.
If you want to grab lunch or a beer you can simply pop into one of the hotel restaurants on the mountain and most have outdoor terraces with stunning views.
WHERE TO STAY IN LUCERNE
Luxury: Lucerne Lake View Apartments
Offering stunning lake views, free wifi, and just walking distance to the center of the city, this 5-star accommodation is hard to beat! Each apartment is fitted with a balcony, fully-equipped kitchen, dishwasher, sofa, tv, dining room, washing machine, private bathroom with a bath, fridge and freezer, microwave, and coffee machine. Convinced yet?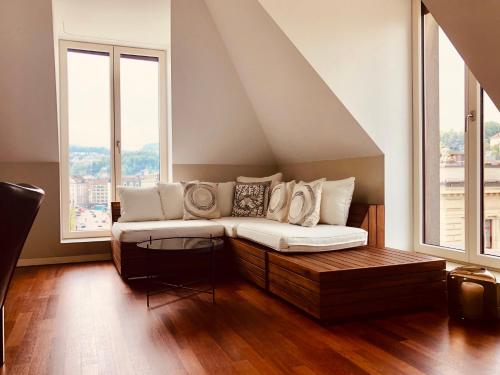 Mid Range: Hotel De la Paix
This 3-star hotel is located right in the heart of town, just a 200m walk to the old quarter in Lucerne. Various restaurants, cafes, bars, and shops are all located in the vicinity of Hotel De la Paix. There are single, double, and triple rooms available and breakfast is included.
Budget: Barabas Hostel
I personally stayed at the Barabas Hostel, located just ten minutes walk from the Lucerne Train Station. The Barabas Hostel is one of the coolest and most unique hostels I have stayed in, the reason being that it was once an old prison. The dorms and private rooms are the same rooms where prison inmates used to sleep back in the day (much cleaner and refurbished of course) and it gives you a real sense of what it would be like to be a prisoner. A buffet breakfast is also included with the room and the staff is overly helpful with their knowledge of the best things to do in Luzern.
DAY 2: LUCERNE TO INTERLAKEN
Continue your 8 day Switzerland itinerary from Lucerne to Interlaken using the Swiss Travel Pass.
Interlaken is the gateway to the Jungfrau Region and a good location to base yourself when visiting Lauterbrunnen Valley, which is also referred to as The Valley Of 72 Waterfalls.
HOW TO GET TO LAUTERBRUNNEN
From Interlaken East Train Station, using the Swiss Travel Pass, you can take a train to Lauterbrunnen Station. The train takes only twenty minutes and you can disembark right in the center of Lauterbrunnen village.
9 THINGS TO DO IN LAUTERBRUNNEN
#1 VISIT STAUBBACH FALLS
Take a morning train on day 2 of your Swiss itinerary from Interlaken to Lauterbrunnen and from the station, it's an easy walk through the village to a number of different scenic viewpoints of Staubbach Falls and upper Lauterbrunnen Valley.
Staubbach Falls is one of the most impressive waterfalls I have ever seen! These glacial falls gush down from the 300m high peaks and emerge into the river that cuts through the village of Lauterbrunnen.
After taking some photos of the falls from Lauterbrunnen village, follow the road down till you reach the base of Staubbach Falls. You can walk up the stairs and into a man-made grotto that leads behind Staubbach Falls.
From inside the grotto, peering out looks like a scene out of Jurassic Park, without the dinosaurs, unfortunately! The view of the distant glacier-filled valley is mesmerizing and so insanely beautiful that you'll feel like you are standing in a real-life postcard
On a clear day, you can spot paragliders and base jumpers soaring around in the skies above and countless waterfalls flowing heavily over the edge of the towering cliffs into Lauterbrunnen Valley.
There is also an easy walking trail to the next village that will take you past several more Lauterbrunnen waterfalls and vast meadows.
Staubbach Falls in Lauterbrunnen
Grotto behind Staubbach Falls
#2 TRÜMMELBACH FALLS
Trümmelbach Falls can be found in the heart of Lauterbrunnen. They are the world's only glacier waterfalls that are accessible underground by lift, tunnels, paths, and platforms.
There is an easy walking trail from Lauterbrunnen Village that will take you through vast meadows in the direction of Trümmelbach Falls.
Trümmelbach Falls carries the water from the glaciers of Jungfrau down to Lauterbrunnen Valley. Up to 20,000 liters of water travel through the falls per second, they are a sight and a sound to behold.
This is one of the top things to see in Lauterbrunnen during your visit!
Trümmelbach Falls
#3 MÜRREN VILLAGE
This delightful village of Mürren lies at the very end of Lauterbrunnen Valley, filled with traditional chalets and idyllic village life.
You can jump on the public bus No. 141 which runs from Lauterbrunnen to Mürren every thirty minutes. The bus departs from outside Lauterbrunnen Railway Station or you can hail it down on the main road near Trümmelbach Falls.
The bus journey time is around twenty minutes. Click Here to see Lauterbrunnen Bus No. 141 timetables.
Mürren offers a peaceful atmosphere with beautiful restaurants and cafes offering traditional Swiss dining and is also a great starting point for hiking, cycling, or skiing trails.
Mürren Village
Have you got travel insurance for Switzerland? We all know accidents can happen and having World Nomads Insurance will save you thousands of dollars if something goes wrong.

#4 MOUNT SCHILTHORN
Once you have visited Mürren, next on the list of places to see in Lauterbrunnen is Mount Schilthorn.
Head to Stechelberg Gondola Station which is located in Mürren at the base of Mount Schilthorn and using the Swiss Travel Pass, you can ride the gondola all the way up to the Piz Gloria revolving restaurant.
Note: Without the Swiss Travel Pass, a return trip on the gondola from Stechelberg to Mount Schilthorn will set you back 105 CHF ($105 USD).
Mount Schilthorn is a popular ski field in Lauterbrunnen if you wish to spend a day skiing in Lauterbrunnen. Though if skiing is not your jam, you can still head up to the famous Piz Gloria viewpoint regardless to enjoy the view.
If you are a fan of James Bond 007, Piz Gloria located on the top of Mount Schilthorn is where one of the original 007 movies was filmed back in 1969. Expect to see James Bond memorabilia galore at Piz Gloria.
Aside from this, there is a 360-degree viewpoint at the summit of Mt Schilthorn, and the Piz Gloria revolving restaurant features floor-to-ceiling glass windows offering extensive views of the Swiss Alps in the Jungfrau Region. Not a bad spot for lunch if you ask me!
Also, if you are not afraid of heights, I dare you to take the knee-jittering thrill walk around the front face of Mount Schilthorn.
Mt Schilthorn
Thrill walk Lauterbrunnen
Top of Mount Schilthorn
View from Mt Schilthorn
#5 WENGEN VILLAGE
Before the day is out, ride the gondola back down to the Stechelberg Gondola Station and jump on the public bus No. 141 to return to Lauterbrunnen Station.
Disembark from the bus and walk down into Lauterbrunnen Railway Station. Ask one of the staff members at the station which platform you need to wait on to take the train to Wengen Village and they will point you in the right direction.
The iconic yellow train will take you up and over the mountainside to Wengen Village which is located in the opposite valley and it's one of the best places to see in Lauterbrunnen!
There is another ski field at Wengen Village if you visit Lauterbrunnen in winter and from the town, you can enjoy another perspective of the Swiss Alps in the Jungfrau Region.
There is an old church in Wengen Village which is a great vantage point to get some photos of the village and surrounding mountains.
I recommend spending an hour or so wandering around Wengen Village seeing how the locals live their lives up here on the mountainside.
Lauterbrunnen to Wengen train
Wengen Village
Epic views in Wengen
#6 PARAGLIDING IN LAUTERBRUNNEN
If you are a thrill-seeker looking for the ultimate experience and the best views of the valley then this activity is one of the best things to do in Switzerland.
Flying over the Lauterbrunnen U-Valley, you can book an all-inclusive tandem paragliding experience. Flying tandem with an instructor allows you to focus purely on the flight, the experience takes care of all other logistics offering pick-up from your Lauterbrunnen hotel to the launch site and even a post-flight drink included.
Full safety equipment and an experienced pilot are part of this must-do activity.
The experience will cost you around $190 and can be booked online in advance. The experience lasts for around 1 hour and 30 minutes where you can expect to take in all of the aerial views of breathtaking Lauterbrunnen.
Paragliding in Lauterbrunnen
Flying high in Switzerland
#7 HIKING IN LAUTERBRUNNEN
There are nearly 400 designated hiking trails in Lauterbrunnen Switzerland catering to every ability!
Some of the best trails to take when hiking in Lauterbrunnen are:
Path to Murren through Blumental takes you through the flower valley.
The iconic Eiger trail, a high route brings you right in front of the famous Eiger Nordwand.
The trail to Wengen ascends most of the way but gives you glimpses of the Breithorn and Staubbach Falls cascading into Lauterbrunnen Valley.
Lauterbrunnen hiking
The hiking trail to Wengen
#8 CYCLING IN LAUTERBRUNNEN
There are nearly 60 cycle routes dotted around Lauterbrunnen with something for every ability and ranging from the peaceful and relaxing to the hair-raising and thrill-seeking kind.
There are trails allowing you to cycle to most of the surrounding villages including Grindelwald, Wengen, and Gimmelwald as well as routes to take in all of the iconic mountains surrounding the valley including Jungfrau, Eiger, and Breithorn.
Lauterbrunnen Valley is a must for any cycling enthusiast.
Cycling in Lauterbrunnen
#9 SKYDIVING IN INTERLAKEN
Skydiving in Interlaken is one of the best experiences you can have during your visit to Switzerland and I guarantee you will remember it for a lifetime!
What better way to finish off your adventures than tandem jumping out of a helicopter from 15,000 feet, freefalling over the magnificent mountains in the Jungfrau Region.
The Swiss skydive masters make sure your safety is their number 1 priority. All tandem instructors are trained, licensed, and experienced to ensure you have the most incredible experience knowing that you are completely safe at the same time.
One of the best parts about skydiving here in the Swiss Alps is the phenomenal view from 15,000 feet in the air! But don't get too comfortable, because your instructor will shortly be opening the doors of the helicopter to take the leap.
Helicopter Skydiving
Skydiving in Interlaken
WHERE TO STAY IN INTERLAKEN
The majority of people visiting Lauterbrunnen choose to stay in Interlaken, a small city located just twenty minutes drive or twenty minutes on the train from Lauterbrunnen Valley.
Luxury: Victoria Jungfrau Grand Hotel & Spa
This 5-star hotel is centrally located in between two beautiful lakes in the picturesque town of Interlaken. Victoria Jungfrau Hotel features a spa, swimming pool, sauna, and steam room. The spacious rooms have elegant interiors and marble bathrooms, boasting views of the snowcapped mountains in the Jungfrau region. Wifi is free and breakfast is included.
Mid Range: Hotel Interlaken
Hotel Interlaken is where I based myself for one night because it's conveniently located just five minutes walk from Interlaken East Train Station and a twenty-minute train ride to Lauterbrunnen Valley. Hotel Interlaken is the perfect accommodation for couples, families, solo travelers, and friends. Featuring large rooms, mountain views, and a delicious buffet breakfast.
Budget: Valley Hostel
If you are traveling solo the Valley Hostel is your best option for cheap accommodation. Located in the heart of Lauterbrunnen Valley, this hostel is within walking distance to nearby waterfalls, retail shops, restaurants, and the main train station. Valley Hostel offers dorms and private rooms for every sort of traveler!
DAY 3:

INTERLAKEN TO MONTREUX
On day three of your itinerary, check out of your hotel in the morning and find your way to Interlaken East Station to take the train bound for Montreux.
I highly recommend taking the Belle Epoque train on the Golden Line for an unforgettable experience on your Swiss itinerary. The Belle Epoque is an absolute charm that will take you on a timeless journey between Zweisimenn and Montreux.
THINGS TO DO IN MONTREUX
Montreux is a beautiful little town located at the eastern end of Lake Geneva. There is a strong French influence in Montreux, from the architecture to the people and a pleasant vibe fills the air.
One of the most relaxing things to do in Montreux is to take a stroll along the promenade that lines the water's edge of Lake Geneva and enjoy the calmness of the lake and the impressive mountainous hills that surround it.
Dozens of bars and restaurants are dotted along the promenade, perfect for lunch or dinner with a view.
If you are up for a small adventure, take the local bus south to Chateau De Chillon, just fifteen minutes ride from Montreux. Chateau De Chillon is an island castle located on the waters of Lake Geneva, an old medieval fortress that is now a museum.
The Swiss Travel Pass also gives you access to 500 museums in Switzerland and Chateau De Chillon is one of them. There is the option of an audio headset tour when you visit Chillon Castle or you can just simply explore inside the walls at your own pace.
Belle Epoque train
Chateau De Chillon
Sunset on Lake Geneva – 8 Days in Switzerland
WHERE TO STAY IN MONTREUX
Luxury: Montreux Apartment On The Lake
These 5-star apartments are equipped with two bedrooms, flat-screen TVs, fully equipped kitchens with a dishwasher, fridge, and microwave. If you are wanting to splurge a little in Montreux, this is the perfect accommodation for you!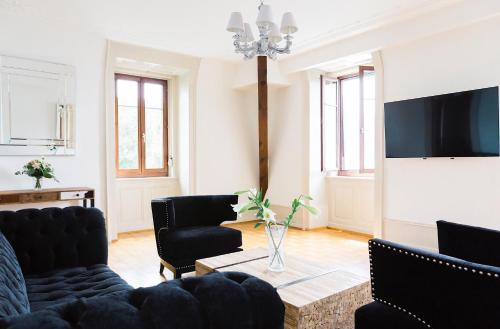 Mid Range: La Rouvenaz Hotel
If you are looking for mid-range accommodation I highly recommend staying at La Rouvenaz Hotel during your visit for its incredible lakeside views, central location, reputable restaurant, and comfortable rooms.
Budget: Montreux Youth Hostel
Only a few steps away from the lakeside promenade and a few hundred meters from the train station. There are dorms, private double rooms, and family-sized rooms available with wifi and breakfast is included. Montreux Youth Hostel is your best bang for buck!
DAY 4 & 5: MONTREUX TO ZERMATT
Continuing on, take the train from Montreux to Zermatt. This train journey takes approximately two hours and thirty minutes, passing by beautiful farmlands, vast mountains, and deep valleys.
THINGS TO DO IN ZERMATT
Zermatt is home to the iconic Matterhorn mountain which stands a dominating 4,478 meters at its highest peak! This place is NOT to be skipped on any Swiss itinerary.
The Matterhorn is known all around the world for its unique pyramid shape and the famous Toblerone chocolate takes inspiration from the Matterhorn mountain.
Apart from the incredible Matterhorn, Zermatt is renowned for skiing, climbing, and hiking all year round.
If you love skiing or snowboarding, Zermatt is the place to do it! If you're not a skier, it's still possible to ride the world's highest gondola to the Glacier Paradise Station at the top of the mountain regardless.
On a clear day, the panoramic views of Zermatt and surrounding mountains are absolutely insane! Unfortunately, it was cloudy and snowing on the day I visited but it was still an awesome experience seeing the Matterhorn up close!
Unfortunately, the Swiss Travel Pass does not cover this gondola ride so you'll have to purchase a ticket at the gondola lift station upon arrival or book online in advance at www.matterhornparadise.ch/en.
I recommend spending one day on the mountain and the second day exploring Zermatt's main street, Bahnhofstrasse, which is filled with retail shops, cafes, bars, restaurants, and an awesome apres-ski scene!
Town of Zermatt
Glacier Paradise Gondola
The iconic Matterhorn
WHERE TO STAY IN ZERMATT
As Zermatt is one of the most popular destinations in Switzerland there are hundreds of hotels, resorts, chalets, and lodges to choose from. However, I have narrowed it down to a few of my recommended places to stay in Zermatt.
Luxury: Grand Hotel Zermatterhof
Absolute luxury can be found at the Grand Hotel, boasting three restaurants, a spa, a swimming pool, and a sauna. The perfect way to warm up after a day on the slopes! The rooms and suites are beautifully furnished and most have a phenomenal view of the Matterhorn. The best part is the free wine and fruits upon arrival!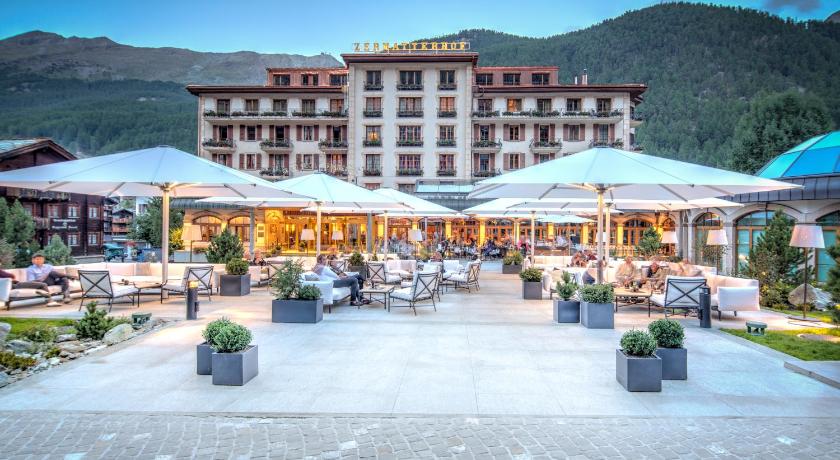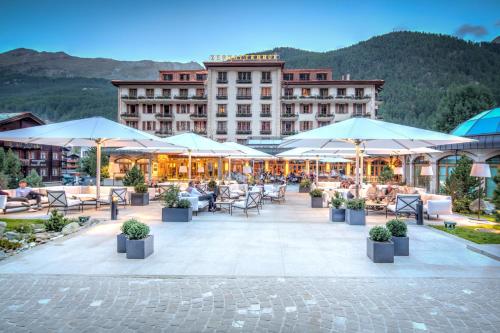 Mid Range: Schlosshotel Life & Style Zermatt
One accommodation I can highly recommend in Zermatt is the Schlosshotel, a short two-minute walk from Zermatt Train Station. I spent two nights at the Schlosshotel and it was honestly one of the best places I stayed. The staff members were super lovely and genuine throughout my stay, the room was very cozy and had an incredible view of the Matterhorn. The hotel also features a sauna, spa, and heated swimming pool and the buffet breakfast is to die for!
Budget: The Matterhorn Hostel Zermatt
Enjoy easy access to the ski slopes and hiking when you stay at The Matterhorn Hostel. A fun and friendly hostel with clean, comfortable rooms and a bar/restaurant to enjoy a nice meal and something to drink. This is one of the best hostels in Zermatt.
DAY 6: ZERMATT TO ST. MORITZ
This leg of the Switzerland travel itinerary is an experience you will never forget. The Glacier Express is an unforgettable eight-hour journey through the Swiss Alps, connecting Zermatt to St. Moritz and it is by far one of the most scenic train rides in the world.
Top to bottom glass windows offer panoramic views, lunch is served to you in your seat and there is also a bar for refreshments on board the Glacier Express.
Note: The Glacier Express is included in the Swiss Travel Pass though you must make a seat reservation at an additional cost which you'll have to book online in advance. Visit the Glacier Express website to choose your desired day of travel, make seat reservations, and get a discount using the Swiss Travel Pass.
You'll most likely arrive late into St. Moritz and there won't be much daylight left to explore so my recommendation is to head straight to a hotel and rest up and feel fresh for the following day.
The Glacier Express
Onboard the Glacier Express
LANDWASSER VIADUCT
If you're up for an adventurous detour, disembark the Glacier Express at Filisur Station, which is before St. Moritz, and head over to the famous limestone bridge known as the Landwasser Viaduct.
This impressive 6-arch curved bridge boasts 65-meter tall pillars and a freshwater stream runs right beneath it.
From Filisur station, it's approximately a forty-minute walk to get to the Landwasser Viaduct and there are a few good viewpoints to take photos.
One is down by the freshwater stream directly beneath the bridge and the other can be found up a dirt trail to the very top of the mountain to get a birds-eye view of the bridge.
The top viewpoint is by far the best spot to take photos of the train as it passes over the Landwasser Viaduct.
See the map below for the exact directions from Filisur Station to the Landwasser Viaduct.
Directions to Landwasser Viaduct
Landwasser Viaduct
WHERE TO STAY IN ST. MORITZ
Luxury: Badrutt's Palace Hotel
A luxurious 5-star resort located in the center of St. Moritz, featuring six restaurants, an indoor pool, and free shuttle services. Elegant rooms overlook the surrounding mountains, each with its own flat-screen TV, private bathroom, comfortable beds, and even a butler upon request! In summer there is a tennis court for guests to enjoy that, funnily enough, turns into an ice skating rink in the winter. How freaking cool is that?!
Mid Range: Hotel Piz St. Moritz
Both stylish and elegant, Hotel Piz is a 3-star hotel located close to the city center that features a pizzeria, free wifi, sauna, and steam room. The rooms are spacious, each with its own TV, lock safe and private bathroom. Guests staying longer than two nights at Hotel Piz in summer will receive free tickets for the cable car, cog railway, and funicular!
Budget: St. Moritz Youth Hostel
Offering panoramic views of St. Moritz, the best feature of this hostel is the games room offering billiards and table tennis. There are dorm rooms and private double rooms available that are bright and modernly furnished. This is the best place to stay in St. Moritz on a budget!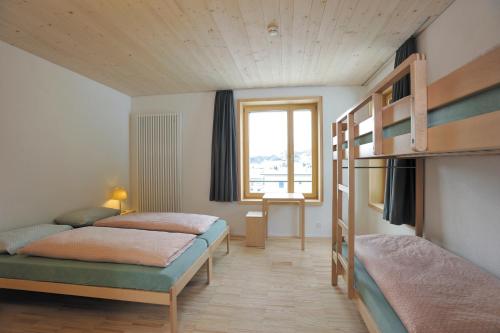 DAY 7: ST. MORITZ
St. Moritz is a dreamy city located on the far eastern end of Switzerland. It is here where the notion of winter holidays was born and its stunning imagery is jaw-dropping.
This place is as good as it gets and one of my favorite places I visited!
I am impressed by how active all the locals are here – mountain bike riding, hang gliding, skiing, snowboarding, kite surfing, and sailing on the lake. It seems St. Moritz is a place where the adventure never stops!
One of the best things to do in St. Moritz is to ride the famous Bernina Express train through the snowy mountains to a place called Alp Grum. The journey takes approximately one hour until it reaches the top of the Bernina Pass at Alp Grum.
Note: The Bernina Express is included in the Swiss Travel Pass though you must make a seat reservation at an additional cost which you'll have to book online in advance. Visit the Bernina Express website to choose your desired day of travel, make seat reservations, and get a discount using the Swiss Travel Pass.
There is not much more than a restaurant and bar up here at Alp Grum, but the views of nearby glaciers in the mountains are stunning!
Take the Bernina Express back down to St. Moritz to spend the second last day of your Switzerland vacation exploring this beautiful lakeside town.
The Bernina Express
The picture-perfect St. Moritz
The Bernina Express
DAY 8: ST. MORITZ TO ZURICH
The last leg of the journey is taking the train from St. Moritz to Zurich, which takes approximately three to four hours depending on which connection you take.
Zurich offers a great street scene in the old town with dozens of shops, cafes, and small cobblestone laneways and there are also a number of historical sites to visit if you have the time on the last day of your Switzerland trip.
If you are interested in seeing all the sites in one day, click here to view the best Zurich City Tours.
Zurich city tour
WHERE TO STAY IN ZURICH
Luxury: Park Hyatt Zurich
A contemporary 5-star hotel located in the heart of Zurich's commercial district and within walking distance to the Bahnhofstrasse shopping street. The rooms are very spacious with high-speed internet and there are restaurants, bars, and lounges inside the Park Hyatt. Perfect for couples wanting an unforgettable experience in Zurich.
Mid Range: Motel One Zurich
An excellent 3-star hotel located in one of the best areas of the city. There is free wifi, private rooms with bathroom ensuites, flat-screen TVs and all of this is just within walking distance to Zurich's main attractions.
Budget: Budget Youth Hostel
The name says it all! Budget but also one of the best hostels in Zurich for solo travelers. The rooms are air-conditioned, the wifi is free and there is a garden terrace for guests to enjoy. There are 4-bed and 8-bed dorms available to choose from at Budget Youth Hostel.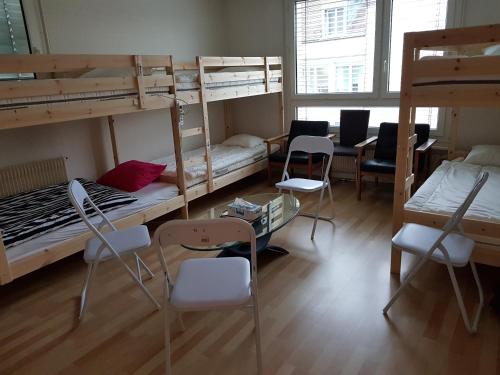 MAP OF SWITZERLAND
WHAT TO PACK FOR SWITZERLAND
When visiting Switzerland, here is a list of items I highly recommend bringing with you;
If you're interested in taking awesome photos and videos on your travels, this is the camera gear that I use and recommend;
GoPro HERO10 – the most popular camera on the planet for action-packed adventures.
Canon EOS R – perfect for traveling, this is the most affordable, compact camera on the market.
DJI Mini 3 Pro – take your photos and videos to new heights with this user-friendly drone camera.
TRAVEL RESOURCES FOR YOUR NEXT TRIP
Whether you're a seasoned traveler or it's your first trip overseas, here are some useful travel resources to help you kick-start your next adventure!
BOOKING.COM – search and book accommodation worldwide
SKYSCANNER – compare and book cheap flights to anywhere
VIATOR – find tickets, tours, and experiences around the world
BOOKAWAY – book buses, trains, and transfers online in advance
RENTAL CARS – search all rental cars in your next destination
GROUP TRIPS – join one of my epic small group trips
TRAVEL INSURANCE – purchase World Nomads travel insurance
TRAVEL MONEY CARD – get a Wise card today for free
Looking for more? Check out my Travel Resources page for further help with your trip planning!
FINAL THOUGHTS
I hope you enjoyed reading this article and if you have any questions at all about this Switzerland Itinerary, please leave me a comment below this post and I will get back to you as soon as I can.
For a quicker response, be sure to join Jonny Melon's Travel Tribe on Facebook and post your questions or recommendations to our awesome community.
THANKS FOR READING
Hey friend, thanks for reading this guide!
Please know this post may contain affiliate links. When making a purchase through one of my links, I earn a small kickback at no extra cost to you and it's a big help to keep the site up and running. Rest assured, I only promote products and services that I personally use and recommend.
Many thanks!
PIN IT FOR LATER