Are you looking for the best things to do in Lucerne?
Considered one of the most beautiful cities in Switzerland, Lucerne is a must-see on any Swiss itinerary!
I've been to Lucerne on several occasions and have put together this complete guide to 15 Awesome Things To Do In Lucerne to help you plan your trip!
QUICK ANSWERS: THINGS TO DO IN LUCERNE
Before I dive into all the best things to do in Lucerne, here are some quick answers to the most frequently asked questions.
WHERE IS LUCERNE?
Lucerne is located 53 km south of Zurich, and 110 km east of Bern.
The best way to get to Lucerne is by train or by car, which is a short journey from other major cities in Switzerland.
Click here to see the location on Google Maps.
HOW TO GET TO LUCERNE SWITZERLAND?
If you are planning a trip around Switzerland, I highly recommend purchasing the all-in-one Swiss Travel Pass which includes trains, buses, and boats throughout the whole of Switzerland.
Get the all-in-one Swiss Travel Pass!
Get unlimited rides on trains, buses, and boats throughout Switzerland with an all-in-one Swiss Travel Pass!
Simply show your Swiss Travel Pass e-ticket on your smartphone to instantly start your rail adventure.
BEST TIME TO VISIT LUCERNE?
The best time to visit Lucerne depends on what you plan to do.
I personally prefer the spring and summer months in Switzerland (April – September) when temperatures are warm and the landscapes are vividly green.
However, visiting in winter (December – March) is absolutely magical because the landscapes are completely covered in glistening white snow.
Visiting in winter also means you have to opportunity to go skiing in the Swiss Alps.
15 AWESOME THINGS TO DO IN LUCERNE
Now that we've covered the essentials, let's jump right into the main section to explore the best activities in Lucerne, the best museums, day trips, and much more!
VISIT THE CHAPEL BRIDGE
Chapel Bridge is the most iconic attraction in Lucerne and the oldest wooden bridge in Switzerland, dating back to the 14th century.
The Chapel Bridge Lucerne stretches 200 meters across the Reuss River and attached to the bridge is an old water tower that served as a dungeon, an archive, and a treasury vault in medieval times.
It's free to walk over Chapel Bridge and remember to look up to discover the colorful old paintings on the underside of the roof.
Definitely add Chapel Bridge to your itinerary as it is one of the best places to visit in Lucerne.
Related Article: Best Winter Destinations In Europe
WANDER AROUND LUCERNE OLD TOWN
Lucerne Old Town is a picturesque area with narrow streets, colorful houses, and historic landmarks.
The town's medieval architecture is well-preserved, and you can easily spend hours exploring its many alleys and squares.
One of the highlights of the Old Town is the Chapel Bridge, which we covered here above, and where you'll take awesome photos from.
The bridge spans the Reuss River and is decorated with paintings that depict the city's history.
Needless to say, while here, you'll get to explore Lake Lucerne, take in the Lucerne culture, and much more.
Another must-see attraction in the Old Town is the Jesuit Church, a baroque masterpiece that boasts an impressive interior with frescoes, stucco work, and marble columns.
All in all, if there's one thing that I couldn't recommend enough when coming over, it's to spend some time in the stunning Lucerne old town.
TAKE A WALKING TOUR
A walking tour of Lucerne Switzerland is a great way to explore the city's rich cultural heritage and learn about its fascinating history.
You can choose from a variety of guided tours that take you through the city's narrow streets, picturesque squares, and historic landmarks.
Some of the highlights of a walking tour include the Chapel Bridge, the Jesuit Church, and the Lion Monument.
You can also discover many shops and cafes that only locals know, which offer a unique blend of Swiss and international cuisine.
Out of all the walking tours, I recommend this 3-hour trip that includes a boat tour, which is a nice addition to an already amazing tour.
BOAT TRIP ON LAKE LUCERNE
A boat trip on Lake Lucerne is one of the most unforgettable things to do in Lucerne Switzerland, and although it's much smaller than Lake Geneva, it's equally as impressive!
With the Swiss Travel Pass, you can take a round-trip boat ride on Lake Lucerne which is the best way to see the region at a slow pace!
There are daily departures on Lake Lucerne, usually every hour during the day.
Just head down to the ferry terminal and jump on board when a boat arrives and you'll be asked to show your Swiss Travel Pass.
Alternatively, if you don't plan to buy the Swiss Travel Pass, you can book a cruise on Lake Lucerne for only $30 per person – definitely worth it!
Have you got travel insurance for your trip?!
We all know accidents can happen and having Heymondo Insurance will save you thousands of dollars if something goes wrong.
Heymondo offers low-cost Travel Insurance to keep you covered on all your adventures.
MOUNT RIGI – TOP THINGS TO DO IN LUCERNE
Next on this list of things to do in Lucerne is Mt Rigi, also known as the queen of the mountains, which is a large mountain range in the Lucerne region.
The best way to get to Mt Rigi, using the Swiss Travel Pass, is to take the one-hour boat ride from Lucerne Ferry Terminal and get off at Vitznau.
From here there is a special cog-wheel train that will take you up to the summit of Mount Rigi.
This was my favorite part of the adventure as I could hang outside the windows of the train to take photos!
Panoramic views await at the summit of Mt Rigi, overlooking three lakes and phenomenal alpine peaks in the distance.
If you want to grab lunch or a beer you can simply pop into a hotel restaurant and most have outdoor terraces with stunning views.
Be sure to add Mt. Rigi to your list of things to do in Luzern.
Pssst! Check out this AWESOME travel bag!
The Nomatic 40L is the best travel bag on the market, perfect for weekend trips or month-long adventures!
Featuring multiple compartments for clothes, shoes, laptop, water bottle, RFID-protected pocket, and more.
It's designed to fit the maximum size allowed for carry-on luggage, so you'll never have to spend money on check-in baggage again!
VISIT MOUNT PILATUS
Mount Pilatus is one of the most popular attractions in Lucerne and for a good reason.
Rising 2,128 meters above sea level, this stunning mountain offers breathtaking views of the city and the surrounding landscape.
You can reach the top of the mountain by taking a cogwheel train from the Alpnachstad station.
The train ride itself is a thrilling experience as it climbs up the steep mountain slope through tunnels and bridges.
At the top of the mountain, you can enjoy panoramic views of the Alps, visit the summit restaurant, or hike one of the many trails that lead through the alpine landscape.
CHECK OUT THE LION MONUMENT
The Lion Monument is an iconic yet pretty sad tribute to the Swiss Guards who were killed during the French Revolution.
Carved into a sandstone cliff, the dying lion monument depicts a wounded lion resting his paw on a shield bearing the fleur-de-lis, the symbol of the French monarchy.
The statue was designed by Bertel Thorvaldsen, a Danish sculptor, and is considered one of the finest examples of monumental sculpture in the world.
The Lion Monument is located near the Old Town, about a 15-minute walk from Lucerne Railway Station, and it represents the sacrifices made by those who fought for their country's freedom.
EXPLORE THE GLACIER GARDEN
The Glacier Garden is a unique geological park located in the heart of Lucerne. The park features glacial potholes, rock formations, and fossils that date back over 20,000 years.
One of the highlights of the park is the Mirror Maze, which is made up of over 90 mirrors and offers a fun and interactive experience for visitors of all ages.
The park also has a museum that explores the history of the region and the geological processes that shaped the landscape.
JOIN A TOUR OF MOUNT TITLIS
Mount Titlis is another must-see attraction in Lucerne that offers stunning views of the surrounding alpine landscape.
And what better way to explore around than by booking a tour with an expert guide?
Leave from Lucerne and make your way to Titlis. Once here, you can reach the top of the mountain by taking a cable car from Engelberg, a nearby town.
The cable car ride is an experience in itself, as it passes over steep cliffs and offers panoramic views of the valley below – how fun!
At the top of the mountain, you can visit the Glacier Cave, a stunning place with ice sculptures and frozen waterfalls.
You can also take a walk on the Titlis Cliff Walk, a suspension bridge that hangs over a 500-meter drop and offers breathtaking views of the mountains.
Once you're done, you'll get to go back to Lucerne with a comfortable van and newly-made friends.
GO PARAGLIDING
If you're looking for an adrenaline rush, paragliding is a thrilling activity, offering unparalleled views of the mountains and lakes.
You can take a tandem paragliding flight with a professional instructor who will guide you through the experience and ensure your safety.
The tour lasts 2 and a half hours and takes off from nearby mountains such as Mount Rigi and Mount Pilatus.
You can also choose from a variety of paragliding packages that include transport, equipment rental, and photography.
SWISS TRANSPORT MUSEUM
The Swiss Museum of Transport is the most visited museum in Lucerne, and it showcases the country's rich transportation history.
The museum has an extensive collection of exhibits, including vintage cars, locomotives, planes, and ships, and you'll have so much fun exploring around!
You can also take a ride on a full-scale replica of the world's first steam locomotive, or try your hand at driving a simulated Formula 1 car.
The museum is located near the lake and is a must-visit attraction for anyone interested in technology and transportation.
Tickets sell out quickly during the summer due to being the most unique museum here, and I recommend booking it online using Viator here below.
CHECK OUT THE SPREUER BRIDGE
The Spreuer Bridge, also known as the Mühlenbrücke, is one of Lucerne's most picturesque landmarks and you can't miss it while roaming around the city center.
Built in 1408, it is one of the oldest wooden bridges in Switzerland and is adorned with 67 paintings depicting the Dance of Death.
The paintings were added in the 17th century and are the work of Kaspar Meglinger, a local painter.
The bridge offers beautiful views of the Reuss River and is a popular spot for photographers.
RICHARD WAGNER MUSEUM
The Richard Wagner Museum is a must-see for music lovers and fans of the famous composer.
The museum is located in Wagner's former residence, Villa Tribschen, which overlooks Lake Lucerne.
The museum features exhibits of Wagner's life and work, including manuscripts, photographs, and personal belongings.
Visitors can also explore the beautiful gardens surrounding the villa, which offer stunning views of the lake and mountains.
VISIT JESUIT CHURCH
One of the most impressive Lucerne sightseeing spots is the Jesuit Church, also known as the Church of St. Francis Xavier, which is one of Lucerne's most impressive Baroque buildings.
It was built in the 17th century by the Jesuits, who came to Lucerne to spread Catholicism.
The church's interior is adorned with impressive frescoes and stucco work, and its altar is made of marble and features a beautiful statue of the Virgin Mary.
The church also houses an organ that is considered one of the finest in Switzerland, and you'll easily see why once you get inside!
STROLL ALONG RIVER REUSS
Lucerne is situated on the banks of the Reuss River, which offers stunning views of the city's skyline and surrounding mountains.
Visitors can take a leisurely stroll along the river's banks and enjoy the picturesque scenery.
The river is also home to several historical landmarks, including the Chapel Bridge and the Water Tower, which offer unique perspectives of the city and its rich history.
BEST TOURS IN LUCERNE
If you've got a few days up your sleeve to explore this wonderful city, see the list below for some of the best tours in Lucerne that you might like to check out.
WHERE TO STAY IN LUCERNE
Offering stunning lake views, free wifi, and just walking distance to the center of the city, this 5-star accommodation is hard to beat!
Each apartment is fitted with a balcony, fully equipped kitchen, dishwasher, sofa, tv, dining room, washing machine, private bathroom with a bath, fridge and freezer, microwave, and coffee machine.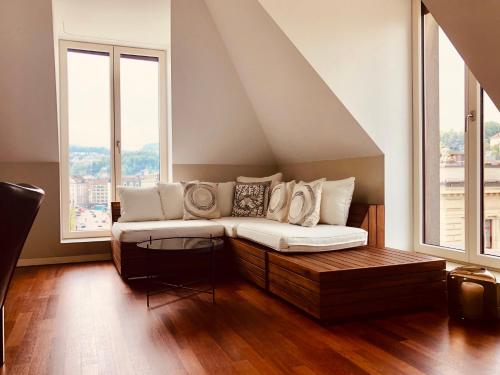 This 3-star hotel is located right in the heart of town, just a 200m walk to the old quarter in Lucerne.
Various restaurants, cafes, bars, and shops are all located in the vicinity of Hotel De la Paix.
There are single, double, and triple rooms available and breakfast is included.
I personally stayed at the Barabas Hostel in Lucerne City, located just 10 minutes walk from Lucerne Train Station.
The Barabas Hostel is one of the coolest and most unique hostels I have stayed in because it was once an old prison.
The dorms and private rooms are the same rooms where prison inmates used to sleep back in the day (much cleaner and refurbished of course) and it gives you a real sense of what it would be like to be a prisoner.
A buffet breakfast is also included with the room and the staff are overly helpful with their knowledge of the best things to do in Luzern.
LUCERNE SWITZERLAND – THINGS TO KNOW BEFORE YOU GO
CURRENCY:
The currency in Switzerland is the Swiss Francs (CHF) and the exchange rate is approximately $1 USD = $1 CHF.
All businesses accept debit and credit cards, and there are plenty of ATM machines around the country should you wish to withdraw any cash.
MOBILE DATA:
When you arrive in Switzerland, you're going to want to get online, and purchasing a sim card is very simple. You can do this at the airport on arrival at one of the retail stores.
Alternatively, I recommend purchasing an eSIM in advance with pre-loaded mobile data so you can get online as soon as you land and stay connected on your Switzerland trip.
WEATHER:
The weather in Switzerland can be very sporadic so be sure to pack suitable clothes for all seasons and be prepared for unexpected changes.
Forget plastic SIM Cards… Get an eSIM!
Say hello to eSIM – a virtual SIM card pre-loaded with mobile data so you can get online and stay connected around the world.
OneSimCard is the best eSIM for travel, with low-cost data packages available in 150+ countries.
Simply buy online, install it on your smartphone, and you're good to go!
WHAT TO PACK FOR LUCERNE
When visiting Lucerne, here is a list of items I highly recommend bringing with you:
Must-Have Travel Essentials
Keep your cash and other valuables safe with this anti-theft hidden money wallet!
---
The GRAYL GeoPress is the best reusable bottle that allows you to purify water from anywhere!
---
---
---
FINAL THOUGHTS – WHAT TO DO IN LUCERNE
I hope you found this article useful and if you have any questions about Lucerne things to do, please drop me a comment below this post and I'll get back to you as soon as I can.
For a quicker response, be sure to join Jonny Melon's Travel Tribe on Facebook and post your questions or recommendations to our awesome community.
TRAVEL RESOURCES FOR YOUR NEXT TRIP
Whether you're a seasoned traveler or it's your first trip overseas, here are some useful travel resources to help you kick-start your next adventure!
THANKS FOR READING
Hey friend, thanks for reading this guide!
Please know this post may contain affiliate links. When making a purchase through one of my links, I earn a small kickback at no extra cost to you and it's a big help to keep the site up and running. Rest assured, I only promote products and services that I personally use and recommend.
Many thanks!
PIN IT FOR LATER