Looking for the best Sayulita tours?
With so many things to do in Sayulita, it can be hard to decide what to do or where to go, and this is why you'll want to book a tour to make the most of your time during your visit.
In this blog post, I'll walk you through the most exciting tours in Sayulita for every budget and for all interests, from snorkeling trips to hiking to tequila tasting and much more!
Sayulita, a vibrant coastal town in Mexico, is a paradise for nature lovers, surfers, and culture enthusiasts.
Its stunning landscapes include pristine beaches and lush jungles, while its rich cultural scene is reflected in colorful houses, artisan shops, and bustling markets.
From surfing and jungle trekking to yoga classes and tacos, there are many fantastic Sayulita tours that you'll want to join, and the best ones are in this guide!
QUICK PICKS: 3 BEST SAYULITA TOURS
If you don't have time to read this entire guide, here are the three best tours in Sayulita Mexico that I highly recommend.
Best Overall Sayulita Tour
See Marietas Islands with a fun group
Lunch, snacks, and unlimited drinks provided
Transportation, kayak, and equipment included
Best Tour In Sayulita For Activities
Snorkeling time included
See the whales by boat
Fun guide with many stories
Best Private Sayulita Excursion
Best choice for families and couples
A cool guide that knows the best photos spots
Affordable tour with great locations
15 BEST SAYULITA TOURS
Let's jump right in and discover the best Sayulita tours to consider during your visit!
This is a comprehensive list with surfing trips, snorkeling tours, and even hiking Sayulita excursions.
🕛 Duration: 6 Hours | ⭐ Rating: 5/5 | Group Tour
Starting this list of best tours in Sayulita is the must-do boat trip to the Marietas Islands, which is an adventure you simply can't skip.
There are a number of options for you to choose from, whether you fancy soaking up the sun or sitting in the shade, this Sayulita tour has got you sorted.
Get wet and wild on the waterslide or enjoy a refreshing drink from the open bar.
Feeling brave? Take a dip with snorkeling or kayaking, and explore the underwater world.
The best part? No need to bring snacks because breakfast and lunch are served on board. Keep your belly full while you're soaking up the pure sunshine vibes.
This unforgettable tour will leave you with beachy photos, a happy tummy, and a sea of amazing stories.
Book your spot while spaces last and discover some of the best islands off the coast of Sayulita Mexico!
Great experience! We had the opportunity to watch whales, enjoy the Marietas Islands and have fun under the sun! Highly recommend this trip that is suitable for children and adults.

A TripAdvisor Traveler
WHAT'S INCLUDED:
Breakfast
Lunch and snacks
All-Inclusive activities
Unlimited drinks onboard
Use of snorkel equipment, kayaks, etc.
🕛 Duration: 2 Hours | ⭐ Rating: 4.5/5 | Small Group Tour
While Sayulita is known for its stunning beaches, one excursion you shouldn't miss here is a horseback riding tour.
With the wind in your hair and the sun on your back, this is one of the best tours in Sayulita that will take you through rainforests, rivers, and waterfalls before ending up on the beach.
There's plenty of time to stop along the way to take pictures or simply admire the lush landscapes of Sayulita.
You'll have the chance to observe local flora and fauna up close in the jungle, and you can cool off with a refreshing tequila tasting after your ride.
Choose from different tour lengths or opt for a sunset ride for an extra dose of romance. Plus, with a small group size, you'll get lots of attention from your knowledgeable guide.
Can you think of a better place to be a cowboy or cowgirl for the day?
Amazing ride on the beach and through the jungle! Didn't have experience with horses but had an awesome time. Carlos was our guide and made it really fun.

Elizabeth M, Viator
WHAT'S INCLUDED:
Tequila tasting
Free transportation
Safety equipment and briefing
All taxes, fees, and handling charges
🕛 Duration: 3 Hours | ⭐ Rating: 5/5 | Group Tour
Ready to sail into the sunset on a yacht like a boss and leave everything behind for a few hours?
If so, this sunset boat trip aboard a luxurious yacht is what you need.
As you cruise along the gorgeous Bay of Banderas, you'll see the Puerto Vallarta coastline transform before your very eyes into a vibrant palette of yellows, oranges, and pinks.
And the view isn't the only thing that'll leave you speechless, the open bar includes everything from snacks to fresh juices and sodas to margaritas, beer, wine, and more.
With the tunes of live music and performances in the background, you'll definitely have the time of your life.
This is truly the perfect way to unwind after a long day of sightseeing, which is excellent if you want to join another tour in the morning.
Watching the sun set on the water was an amazing experience. The crew was very attentive and professional. This was an awesome cruise.

Mary B, Viator
WHAT'S INCLUDED:
Snacks
Unlimited drinks
Live music and dance performance
🕛 Duration: 4 Hours | ⭐ Rating: 5/5 | Small Group Tour
While we covered the Marietas Islands at the start of this guide, this Sayulita excursion has something different that you'll want to consider – scuba diving!
Jump into the crystal-clear waters of Marietas Islands National Park and swim with the stars of the show which are the puffer fish and dolphins.
You might even be lucky enough to catch a glimpse of the endangered blue-footed boobies while diving.
From Sayulita, you'll board a boat to Punta de Mita, a charming fishing village where you'll meet like-minded snorkelers and divers.
Then, it's off to Marietas Islands National Park where you'll discover the beauty of this protected oasis in the middle of Banderas Bay.
This is a small group tour, and you'll particularly like it as you can decide on a customizable itinerary to tailor your day to your interests.
Dive deep to explore the volcanic rock reef and its inhabitants, or stay closer to the surface, snorkeling with the serene tropical fish.
Lastly, the tour guides and instructors will make you feel safe, and you simply can't go wrong with this tour!
All the guys were very friendly, knowledgeable, and accommodating! I would definitely recommend this if you want to snorkel and dive together. We saw lots of fish, eels, and an octopus. The water was nice and warm in September. Had a great time!

Julie G, Viator
WHAT'S INCLUDED:
Bottled water
2 dives
Boat transportation
Professional guide
Use of dive equipment
🕛 Duration: 3.5 Hours | ⭐ Rating: 5/5 | Small Group Tour
Next on this list of best Sayulita tours is this snorkeling trip off the Marietas Islands, where you'll see pufferfish, manta rays, and even seahorses!
But wait, there's more! You'll get to see the mysterious volcanic reef and spot the blue-footed booby – a rare and multicolored bird with webbed feet that you won't see anywhere else.
This tour is perfect for families and small groups who are looking for the ultimate underwater adventure.
Plus, the knowledgeable and passionate guides will ensure that you receive individual attention and have an epic time.
That being said, this is a very popular tour that sells out quickly, and you'll want to book it as soon as possible!
Sebastian and his crew were fantastic. Very welcoming and accommodating and they showed us very unique and wonderful wild treasures the area has to offer. I am so glad I signed up for a snorkeling trip to the Marietas!

Garin P, Viator
WHAT'S INCLUDED:
Local guide
Light snacks
Bottled water
Snorkeling equipment
🕛 Duration: 2.5 Hours | ⭐ Rating: 5/5 | Group Tour
Sayulita is a great place to hike and chill and this is what this trip is all about.
Join this small group to venture through the lush forest, taking in the breathtaking scenery. Once at the secluded beach, you'll start a yoga session to unwind and stretch your body.
Of course, don't worry if you've never had yoga before, as the instructors know how to make you feel comfortable.
After that, take some time to explore the picturesque beach before hiking back to the city.
This combination tour is the perfect way to escape the crowds of the city center, and the intimate group setting ensures you'll have a personalized experience.
What else could you possibly need, this is one of the better tours Sayulita has to offer!
Beautiful hiking and yoga experience: the walk through the jungle was perfect with breathtaking views. We went to a secluded beach with no one else around for a relaxing yoga session. Highly recommend if you want to get away from the touristy area!

Dylan H, Viator
WHAT'S INCLUDED:
Local guide
Yoga mats
Small group tour
Epic views for great photos
🕛 Duration: 5 Hours | ⭐ Rating: 5/5 | Group Tour
Scuba diving is cool, but for an authentic trip in Sayulita, this whale-watching journey is easily one of the books!
With 3 hours of exploration, you'll see the UNESCO-protected Marietas Islands from a totally different perspective.
But it's not just about the natural beauty – you'll get you up close to the incredible marine life that calls this place home. Spot giant turtles, vibrant fish, and maybe even a few curious dolphins!
And when visiting between December and April, keep an eye out for humpback whales! These majestic creatures migrate to the area to mate and breed, making the best Sayulita tours!
The tour operator provides you with a snorkeling kit, so you don't need to carry anything apart from your GoPro to take stunning underwater shots!
Edgar and Manuel were very friendly and explained with much detail about the whales, the birds and fishes of the islands. We were lucky to observed the whales jumping and hiting the tails on the water. It was spectacular.

Jorge G, Viator
WHAT'S INCLUDED:
Transportation
Lunch and drinks
Snorkeling equipment
Certified guide on board
🕛 Duration: 5 Hours | ⭐ Rating: 4.5/5 | Group Tour
While Marietas Islands are the most popular place to visit, Los Arcos is the best alternative, and I highly recommend booking a tour here!
This protected bay is home to some of the most impressive sea creatures you'll ever lay eyes on, and you'll have 2 tank dives to give you the best possible experience.
Once in the water, be on the lookout for the eagle rays, octopuses, and sea turtles, both will surely make the highlight of this trip!
On top of the diving part, you'll also stop in Los Arcos to visit a waterfall, and that is the perfect addition to an already epic trip!
Incredible! Went with my family of 4 (teens 2 adults) and we had a blast. Highly recommend Andres and Tasha as instructors. They supplied great food and drinks.

A TripAdvisor Traveler
WHAT'S INCLUDED:
Bottled water
Snacks and drinks
Professional guide
Transport by boat
Use of dive equipment
2 tank dives
🕛 Duration: 3 Hours | ⭐ Rating: 5/5 | Group Tour
Looking for an adventure that will leave you breathless and feeling alive? Then skip the other Sayulita tours and hop on this zip-line adventure!
This thrilling tour takes you on a 2-kilometer zip-line journey through the lush jungles in the region.
Not for the faint of heart, you'll go over the trees, overlooking the sparkling crystalline waters of Sayulita's beaches all while reaching heights up to 125 meters above sea level.
Of course, safety is a priority, and all the equipment is included, with helmets, gloves, and harnesses.
Glide down 13 zip lines, including 2 double ones, and cross 4 suspension bridges as you take in panoramic views of Sayulita's stunning coastal landscape.
It was so fun and the guides were great. They had lots of jokes and teased the new guy. I would definitely do it again.

Coree, GetYourGuide
WHAT'S INCLUDED:
Bottled water
Ranch entrance
Tequila tasting
Hotel pickup in Sayulita
All equipment necessary
🕛 Duration: 2 Hours | ⭐ Rating: 5/5 | Group Tour
In case exploring the underwater world isn't your cup of tea, this ultimate ATV and beach tour is the alternative!
Starting from Sayulita, you'll get through rivers, mild streams, and rugged mountain paths on your ATV before venturing onto the sandy beaches of Higuera Blanca for an exhilarating ride.
After the thrilling adventures, enjoy a tequila-tasting experience at the ranch.
With tours available three times daily, you can pick a time that suits your schedule – How convenient!
You can enjoy this incredible adventure whether you're traveling solo or with a group! Regardless, you'll make friends on the road, and you'll love these Sayulita tours!
We had a great experience. Such a fun way to tour around Sayulita. Ricky was fantastic and such a great guide. After the ATV ride, we had a tequila tasting experience, which was also fantastic. I HIGHLY recommend this experience to anyone coming to Sayulita!

Meghan W, Viator
WHAT'S INCLUDED:
ATV Rental
Tequila tasting
Free transportation
Safety equipment and briefing
All taxes, fees, and handling charges
🕛 Duration: 3 Hours | ⭐ Rating: 5/5 | Small Group Tour
It's time to spice up your Sayulita vacation with this Tacos and Tequila tour!
Start the tour in downtown where you'll meet a local guide who will take you through seven of the best restaurants in Sayulita.
Of course, you'll try traditional Mexican delicacies and various spirits, including the renowned tequila, mezcal, and raicilla.
Not only will you sample these authentic spirits, but you'll also discover the art of producing them, and learn to differentiate between them like a pro!
Of course, when in Nayarit state, food is of utmost importance, and you'll have the best tacos you've ever had here!
By the end of the tour, you'll have all the insider know-how for ordering like a local in any restaurant, bar, or food stand in town! What else do you need when coming to Mexico!?
Amanda was an amazing tour guide! She showed us some gems of Sayulita. We thought the food and town was so good. She was very knowledgeable, couldn't have asked for a better experience!

Valerie H, Viator
WHAT'S INCLUDED:
Snacks
Bottled water
Alcoholic beverages
Knowledgeable guide
🕛 Duration: 3 Hours | ⭐ Rating: 5/5 | Private Tour
With so many Sayulita excursions, it can be difficult to find the right one, but if you want to get a private tour, then this is a no-brainer.
This Ecohike goes through the jungle, mountains, and hidden beach, and it's perfect for the whole family.
You don't need to be a seasoned hiker to join the fun, as all levels are welcome!
During this 3-hour tour, you'll have the chance to practice your bird-watching skills with the help of the professional guide, and binoculars are provided.
You'll learn about the diverse flora and fauna of the area and uncover all the hidden secrets of the jungle.
Nothing beats taking a break on a magnificent, secluded beach surrounded by nature's beauty, and this is one of the best day trips from Sayulita you can book!
The guide Aleo was the best ever. So interesting learned a lot, great workout, lots of fun, great views.

Liz S, Viator
WHAT'S INCLUDED:
Binoculars
Hiking poles
A local, fun guide
Endless photo opportunities
🕛 Duration: 3 Hours | ⭐ Rating: 4.5/5 | Private Tour
Grab your sunscreen and join this private surf lesson in Sayulita, the ultimate surfer's paradise.
That's right, you'll see a ton of surfers around town, and this is your chance to be one of them!
Start by learning the basics of surfing, including board positioning, how to stand up, and what to do once you catch a wave.
And don't worry if you're feeling a little nervous, as the instructors will be right by your side every step of the way.
But it's not all work and no play – it's all about good vibes and having a great time. The instructors are fun and know exactly how to put you at ease.
And once you're done riding the waves, relax in their chic beach-style rest area and catch some rays.
Don't waste any more time and on top of other Sayulita excursions, make sure to come and learn how to surf!
Alessandro was very patient and made this a great experience! My son was up and surfing by the time the lesson was over. He can't wait to get back out there! Shop was clean and staff were friendly. We'd highly recommend this tour!

Laura H, Viator
WHAT'S INCLUDED:
Surfboard for beginners
Outdoor shower station
Changing room and storage
Rashguards, booties, and towels
🕛 Duration: 8 Hours | ⭐ Rating: 5/5 | Small Group Tour
Another snorkeling trip to consider in Sayulita is this one that takes you right to Yelapa.
Yelapa, a tiny yet stunning gem, is only reachable by boat, and trust me, it's worth the journey.
Here, you'll find an irresistible white sandy beach, perfect for you to chill out with a refreshing margarita and snorkeling.
The first stop sets the tone for the entire day, Los Arcos de Mismaloya, where you can stay snorkeling for up to 1 hour!
Once in Yelapa, your guide will lead you to the hidden waterfall, a steep but short climb in the forest. You'll also get free time to explore around at your own pace.
What I particularly like about this trip is that it's a small group tour, so you'll get personalized attention, and that is priceless.
The price was reasonable and included transport to La Cruz where the boat was docked, transport to a dingy that took us to the Yelapa beach and back, and then transport back to Sayulita. Super friendly staff and a pleasurable experience overall. Their communication was clear and concise. Would highly recommend!

A TripAdvisor Traveler
WHAT'S INCLUDED:
Bottled water and snacks
Alcoholic beverages
Local guide
Use of snorkeling equipment
🕛 Duration: 4 Hours | ⭐ Rating: 5/5 | Private Tour
Last but not least on this list of best tours in Sayulita is this private photography tour.
You'll learn not only to find the best angles but you'll also go to hidden gems.
Led by a professional photographer with an eye for stunning visuals, this tour will take you to three different locations that will make you feel like you've stepped into a postcard.
From the lush jungle viewpoint to the little-known waterfall and palm-lined beach, you'll be snapping photos that will make all your friends back home jealous.
But this tour isn't just about getting the perfect shot, it's also about improving your own photography skills!
You'll spend the day snapping photos and chatting about the philosophy behind what makes a great picture.
All in all, it's the perfect addition to other tours in Sayulita, and you'll be prepared to take the best photos you've ever shot!
JP put together an amazing workshop! I had such a blast spending the afternoon with him. He is extremely knowledgeable in a variety of different forms of photography and loves sharing his knowledge and teaching others. I loved the photos that I walked away with from my trip. I absolutely recommend this tour to anyone interested!

A TripAdvisor Traveler
WHAT'S INCLUDED:
Snacks
Bottled water
A ton of angles for photos
A professional guide and photographer
TOURS IN SAYULITA – FAQ
Now that you know everything about the tours Sayulita has to offer, and the best day trips from Sayulita, let's answer some frequently asked questions from first-time visitors.
IS IT WORTH TAKING A TOUR IN SAYULITA?
Absolutely! Taking a tour in Sayulita is worth it.
With its stunning natural beauty, vibrant culture, and a plethora of activities, a tour in Sayulita offers an immersive experience of this Mexican paradise.
And while you can visit most spots on your own, what better way to learn about each place than with a tour guide?
HOW LONG TO STAY IN SAYULITA?
While being a small town, there are many activities to enjoy, so if you're wanting to experience it fully, I recommend spending at least 5 or 6 days.
However, should you only have a little free time, 2 to 3 full days will allow you to scratch the surface and join a tour.
With that in mind, you can even stay longer from 2 weeks to 1 month and I guarantee you won't get bored as it's simply one of the best travel destinations in Mexico.
It's also worth noting that most visitors stay in both Puerto Vallarta and Sayulita during their holidays.
If that's a possibility for you, 5 days in Sayulita and 3 to 4 days in Puerto Vallarta would make the perfect travel itinerary.
WHERE TO STAY IN SAYULITA?
Sayulita has hundreds of accommodations to choose from so I have narrowed it down to a few of the best places to stay to suit the needs of luxury travelers, budget backpackers, and everyone in between.
See the list of Sayulita accommodations below that I personally recommend:
LUXURY: YSURI HOTEL SAYULITA
MID RANGE: HOTEL VISTA OCEANA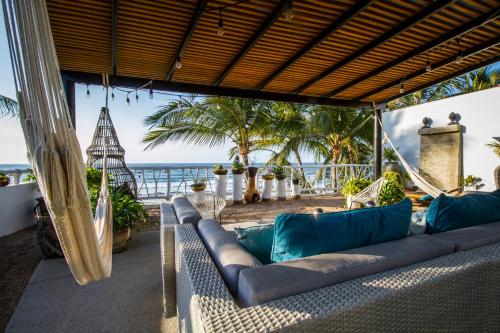 BUDGET: SELINA HOSTEL
WHAT IS THE BEST TIME TO VISIT SAYULITA?
The best time to visit Sayulita is generally between December and April.
During these months, the weather is pleasant, with less humidity, making it ideal for outdoor activities and beach relaxation.
The town is also less crowded compared to the rainy season, which typically falls between June and October.
However, if you're looking for a warmer temperature, the hottest months are June, July, and August.
HOW TO GET TO SAYULITA?
Getting to this hippy-chic town is fairly easy. Simply fly into Puerto Vallarta Airport (PVR), and from here it's a short 45-minute drive.
The decision between using public transport, booking a private transfer, or renting a car will depend on how long you will be staying in the region as well as how much exploring outside of town you have planned while you are here.
It's super easy to get around town on foot, but if you want to explore further, you will need a vehicle and your best bet is to rent a car at the airport when you arrive.
Alternatively, you can book a private transfer from the airport in Puerto Vallarta to Sayulita.
This is the most stress-free option where your driver will meet you at the airport and take you directly to your accommodation in the Sayulita area.
Another option is to take a taxi from the airport which costs around 1000 MXN ($50 USD).
And lastly, taking the public bus from Puerto Vallarta Airport is also an option. The bus usually has a windshield sign displaying 'Sayulita' or 'Compostela' and the cost is around $5 USD.
Car Rental – Search, Compare & Save!
Discover Cars are one of the world's largest online car rental platforms with vehicles in 10,000+ locations.
Find the right car, in the right place, for the best price guaranteed!
WHAT TO PACK FOR SAYULITA?
When visiting Sayulita, here is a list of items I highly recommend bringing with you:
Must-Have Travel Essentials
Keep your cash and other valuables safe with this anti-theft hidden money wallet!
---
The GRAYL GeoPress is the best reusable bottle that allows you to purify water from anywhere!
---
---
---
FINAL THOUGHTS – TOURS SAYULITA
I hope you found this article useful and if you have any questions about these Sayulita excursions, please leave me a comment below this post and I will get back to you as soon as I can.
For a quicker response, be sure to join Jonny Melon's Travel Tribe on Facebook and post your questions or recommendations to our awesome community.
TRAVEL RESOURCES FOR YOUR NEXT TRIP
Whether you're a seasoned traveler or it's your first trip overseas, here are some useful travel resources to help you kick-start your next adventure!
THANKS FOR READING
Hey friend, thanks for reading this guide!
Please know this post may contain affiliate links. When making a purchase through one of my links, I earn a small kickback at no extra cost to you and it's a big help to keep the site up and running. Rest assured, I only promote products and services that I personally use and recommend.
Many thanks!