For such a small little coastal town in Mexico, this place sure has a lot to offer. Whether you're looking for the best things to do in Sayulita or searching for the best restaurants in Sayulita, I've got you covered!
There are so many cute little taco bars, cafes, juice bars, and Sayulita restaurants offering delicious local food, it can be quite overwhelming to decide where to go – especially if you don't have enough time to try them all.
That's why I have put together this guide with the 21 best restaurants in Sayulita, to keep your body fueled up for all your adventures.
To make the search for where to eat in Sayulita even easier for you, I have divided this guide into 3 categories – the best places to eat for breakfast, lunch, and dinner.
BEST RESTAURANTS IN SAYULITA FOR BREAKFAST
ANCHOR CAFE
Anchor Café is one of the most beloved restaurants in Sayulita and for a good reason. They offer a variety of healthy, fresh, organic foods. Their coffee is one of the best in Sayulita and the smoothie bowls are mouthwateringly delicious.
It's the perfect spot to sit down and enjoy breakfast, brunch, lunch, or just have a quick snack in between all your exploring and adventuring.
They have fast free Wi-Fi available for their guests, making it a great place to combine work with delicious, affordable, and let me tell you, very 'instagrammable' food.
Open daily from 8:00 am – 4:30 pm
Instagram: @anchorsayulita
MISCELANEA SAYULITA
Miscelanea is another super cute café in Sayulita that I absolutely love. They offer brunch all day and their patio to dine on is adorable. There are lots of different tea and coffee options to choose from (see the menu on the picture below).
Open daily from 8:00 am – 3:00 pm
Website: www.miscelaneacafe.com
YAH-YAH CAFE
Yah-Yah is a hip, modern café in the heart of Sayulita. The atmosphere is rather quiet and relaxing with both indoor and outdoor seating. They take pride in only using fresh, never frozen ingredients.
They are renowned for their range of delicious bagels, tuna bowls, and other baked goods.
Air conditioning, fast Wi-Fi, and plugs by every table make it an ideal place for digital nomads to get their work done while enjoying very reasonably priced yummy meals.
Open Tuesday – Sunday from 7:00 – 3:00 pm. Takeaway food is available from 8:00 am – 2:00 pm.
Instagram: @yah.yah.cafe
Have you got travel insurance for your trip?!
We all know accidents can happen and having Heymondo Insurance will save you thousands of dollars if something goes wrong.
Heymondo offers low-cost Travel Insurance to keep you covered on all your adventures.
DON BONITO CAFE
Another one of my favorite Sayulita restaurants for brekky is Don Bonito. A beautiful, elegant boutique hotel featuring a Café just as divine as the rest of the hotel.
It's open to the public and offers healthy grab-and-go food, delicious smoothies, acai bowls, and hand-crafted coffees to fuel your days in Sayulita.
It's a little bit further away from the main plaza than other places but the big airy, modern space is well worth the 10-minute walk to get there.
Website: www.donbonito.com
ANOTHER ONE COFFEE ROASTERS
Another One Coffee Roasters is a cute, pretty new coffee shop in downtown Sayulita. They have a variety of coffee drinks as well as delicious smoothies and frappuccinos on their drink menu.
Food wise you can choose between bagels, croissants, sandwiches, or fresh, healthy salad bowls. Lots of vegan and vegetarian options are available.
Another One Coffee Roasters is digital nomad friendly, with fast Wi-Fi and plugins at every table.
Open daily, Tuesday – Sunday 9:00 am – 4:00 pm and Mondays from 8:00 am – 9:00 pm
Website: www.anotheronecoffeeroasters.com
TIERRA VIVA
Tierra Viva is one of the most authentic brekky spots in Sayulita. The restaurant's objective is to create a truly unique dining experience by innovating the menu with international, tropical, and Caribbean flavors as well as providing a quiet atmosphere surrounded by nature and offering a superb service.
The brunch, lunch, and dinner menu are delicious too. It's simply a must-visit restaurant in Sayulita.
Open daily from 8:00 am – 10:00 pm. Saturdays from 7:30 am.
Website: www.tierravivasayulita.com
The BEST Affordable Camera For Travel
If you're on the hunt for a professional camera for traveling, check out the Canon G7 X Mark II.
This tiny camera fits in your pocket, captures high-quality photos and videos, and has Wi-Fi so you can instantly transfer to your phone!
BEST SAYULITA RESTAURANTS FOR LUNCH
ORGANI-K
Organi-K is the place in town to get the best acai and poke bowls. This Sayulita restaurant is conveniently located right at the town entrance and even though it is quite small, it's really easy to spot.
The ingredients used are always fresh, delicious and every meal is prepared with love. Most things on their menu are raw and vegetarian or vegan.
Organi-K is a sustainable business and completely plastic-free. They highly encourage their customers to bring their own takeaway thermos and tumblers. Their sustainable products are very innovative like their straws that are made from avocado scraps, how cool is that?!
The owners are super lovely and the staff speaks very decent English, making ordering easier if your Spanish is a little rusty.
Open daily from 8:00 am – 6:00 pm
Instagram: @ooorganik
MARY'S TRADITIONAL CUISINE
Looking for the best traditional burrito in Sayulita? After all, eating an authentic Mexican burrito should be on top of any travel bucket list!
Look no further because Mary's Traditional Cuisine is exactly what the name states, a place where you will find exquisite traditional Mexican food in an authentic, familiar atmosphere and very affordable prices even if you are extra hungry.
They also offer curbside dining which is an experience in itself.
Open daily from 8:00 am – 11:00 pm
PUBLIC HOUSE
Another great restaurant in Sayulita you shouldn't miss out on is Public House. All their food is made from fresh, local, and sustainable products and prepared with care to create a unique dining experience.
Their menu is dynamic and changes with the seasons, though they are most famous for their burgers. They also love their Tequila, but so will you once you have tasted one of their delicious drinks.
Public House is located on the edge of the main plaza featuring an upstairs seating area with great views. You can also use their co-work space on the top floor for 200 MXN per day. The Wi-Fi is lightning fast compared to some other cafes in town.
Open daily from 11:00 am – midnight (closes at 11:00 pm on Thursdays)
Website: www.sayulitapublichouse.com
TACOS AL PASTOR TAL IVAN
Come to Tacos Al Pastor Ivan for a true Mexican experience. Enjoy traditional taco recipes with a variety of spicy and/or flavorful sauces and salsas.
They are located in two locations, one at the main plaza and the other one right by the bridge in Sayulita.
Open daily from 5:00 pm – 2:00 am
Pssst! Check out this AWESOME travel bag!
The Nomatic 40L is the best travel bag on the market, perfect for weekend trips or month-long adventures!
Featuring multiple compartments for clothes, shoes, laptop, water bottle, RFID-protected pocket, and more.
It's designed to fit the maximum size allowed for carry-on luggage, so you'll never have to spend money on check-in baggage again!
MARISCOS PURILLO'S
Mariscos Purillo's fish tacos, their fried fish or fried prawns, combined with good quality and a cold beer make a great meal.
The location is super convenient, the service is very friendly and the prices are adequate. Highly recommend checking this Sayulita restaurant out either for lunch or dinner.
Open daily from 9:00 am – 10:00 pm
BARRACUDA SAYULITA
Barracuda is one of the restaurants on the most touristy street of Sayulita and is always pretty busy, but their food is top-notch and the service is amazing.
It is one of the fancier restaurants in Sayulita but still reasonably priced. The fish is always a fresh catch of the day and cooked to just the right degree of doneness.
No matter what you order, every dish at Barracuda will be a highlight. Be sure to also check out the music schedule for their live music and DJ sessions.
Open daily from 11:00 am – 11:00 pm. The bar is open 11:00 am – 2:00 pm and 5:00 pm – 11:00 pm.
Website: www.barracuda.lk
NAMI SUSHI
Nam Sushi is a little Japanese restaurant offering delicious sushi, prepared with fresh locally caught fish. The poke bowls are incredible too.
It's not very Mexican, I know, but if you feel like mixing it up a little this is the place to go.
Open Thursday – Tuesday from 1:00 pm – 10:00 pm (Closed Wednesdays)
BEST RESTAURANTS IN SAYULITA FOR DINNER
LA RUSTICA
La Rustica offers a bar and restaurant atmosphere with a wood-fired kitchen, an amazing team, and a prime location.
The motto here is Surf, EAT, Siesta, Fiesta, Sleep and Repeat. This restaurant in Sayulita is always busy which proves how awesome the food and service here are.
They serve a full-day breakfast till 5:00 pm and in addition to the diverse menu full of delicious Italian meals such as pizza and pasta, they have a special hangover section which is a personal highlight.
Open daily from Wednesday to Monday from 9:00 am – 11:00 pm. On Tuesdays, they are only open for dinner from 5:00 pm – 11:00 pm.
Website: www.larusticasayulita.com
The BEST reusable water bottle for travel!
The GRAYL GeoPress is a top-rated reusable water bottle perfect for backpacking, hiking, and traveling.
It allows you to purify water from anywhere and keeps you safe from all waterborne diseases.
Get a GeoPress today and never buy single-use plastic bottles again. Mama Earth will thank you for it!
PIZZA VENEZIA
Arguably the best pizza in Sayulita is served at Pizza Venezia. It's only 99 MXN for a large-size pizza with unlimited toppings.
It's a fantastic place to come for a late lunch or dinner with a couple of friends. It's cozy, cheap, and delicious curbside dining just like we love it.
Open daily from 3 pm – 10:30 pm
LORO CAFE
Loro Café is a little, very friendly, family-owned street-side restaurant with the best and biggest ramen selection in Sayulita.
The staff is always friendly and their cocktails are very yummy too. Great food and amazing cocktails make for the perfect dinner combination if you ask me.
Open on Wednesday – Monday from 12:00 pm – 10:00 pm (closed Tuesday).
Facebook: www.facebook.com/lorocafesayulita
BICHOS
My favorite and simultaneously the most popular local taco joint in Sayulita is Bichos. I literally ate here at least 4 times a week it's that freaking good! The cheapest taco being 25 MXN, it'd be rude not to grab a bite to eat!
The best part is the long table of condiments and toppings you can add to your meal to create your own, perfect taco. They also sell local beers and fresh juice.
Open daily from 5 pm till late.
SANTA SAL
Another great restaurant in Sayulita for a nice dinner is Santa Sal. They offer Modern-Mexican cuisine with a wide variety of dishes and a delicious churro dessert.
The interior is very instagrammable, especially their swinging chairs that make for a great picture prop.
Open daily from 8 am – 11 pm.
Facebook: www.facebook.com/santasalsayulita
ACHARA THAI
You'll find this little gem in the heart of downtown Sayulita. The owner Sam was born and raised in New York City and has worked in the Brooklyn and Manhattan restaurant scene until he fulfilled his dream of moving to the beach in Mexico in 2017.
The only thing Sam was missing was a Thai restaurant offering traditional Thai cuisine so he took it onto himself to create a space like that and opened Achara Thai.
All curry pastes and sauces are made in-house following traditional recipes and using only the freshest ingredients. All Achara cocktails are made with fresh-squeezed juice, garden-fresh herbs, and handcrafted syrups.
Achara is also very committed to shrinking its carbon footprint and they have some cool measurements in place to do that.
Open Wednesday – Sunday from 5:00 pm – 11:00 pm. Closed Monday and Tuesday.
Website: www.acharasayulita.com
Forget plastic SIM Cards… Get an eSIM!
Say hello to eSIM – a virtual SIM card pre-loaded with mobile data so you can get online and stay connected around the world.
OneSimCard is the best eSIM for travel, with low-cost data packages available in 150+ countries.
Simply buy online, install it on your smartphone, and you're good to go!
SAYULITA CAFE CASA DEL CHILE RELLENO
Another must-go-to restaurant in Sayulita is undoubtedly Sayulita Café Casa del Chile Relleno.
Come and enjoy a romantic dinner on their newly built terrace with a view of the main street. It can get quite busy but don't worry, enjoy one of their famous margaritas at the bar until you are seated and you'll forget all about the wait. Margarita Happy Hour is from 4 – 5 pm.
Open daily, Sunday – Friday from 5 pm – 11 pm and Saturday all day from 10:00 am – 10:00 pm.
Facebook: www.facebook.com/chilerellenosayulita
YAMBAK
Last but not least on this list of best Sayulita restaurants is Yambak! This is Sayulita's first and only brewery with a huge selection of in-home beers as well as national craft beer on tap.
Not only the beer is great, but the food is also a highlight as well. The most requested is Hawaiian poke among other options such as the 4:20 hamburger, papanatas, wings, and avocado dippers (slices of avocado in breadcrumbs with a delicious dressing).
All of this is accompanied by live music and DJs creating a fun, unique atmosphere. Come for dinner, stay for the party.
Open daily from 4:30 pm – midnight and 3 am on Fridays.
Instagram: @yambaksayulita
THINGS TO DO IN SAYULITA
Now that you've got all the juicy info on where to eat in Sayulita, be sure to check out my other guide on what to do in Sayulita during your visit.
Sayulita Beach
WHERE TO STAY IN SAYULITA
Sayulita has hundreds of accommodations to choose from so I have narrowed it down to a few of the best places to stay to suit the needs of luxury travelers, budget backpackers, and everyone in between.
See the list of Sayulita accommodations below that I personally recommend: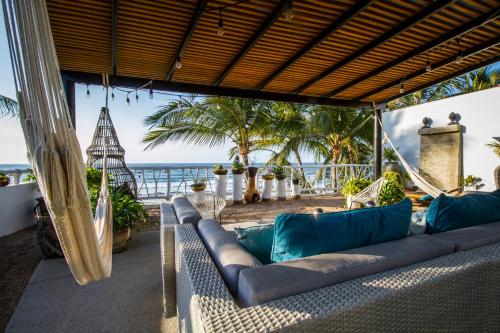 WHAT TO PACK FOR SAYULITA
When visiting Sayulita, here is a list of items I highly recommend bringing with you:
Must-Have Travel Essentials
Keep your cash and other valuables safe with this anti-theft hidden money wallet!
---
The GRAYL GeoPress is the best reusable bottle that allows you to purify water from anywhere!
---
---
---
FINAL THOUGHTS – SAYULITA RESTAURANTS
I hope you enjoyed reading this article and if you have any questions about this article, please leave me a comment below this post and I will get back to you as soon as I can.
For a quicker response, be sure to join Jonny Melon's Travel Tribe on Facebook and post your questions or recommendations to our awesome community.
TRAVEL RESOURCES FOR YOUR NEXT TRIP
Whether you're a seasoned traveler or it's your first trip overseas, here are some useful travel resources to help you kick-start your next adventure!
THANKS FOR READING
Hey friend, thanks for reading this guide!
Please know this post may contain affiliate links. When making a purchase through one of my links, I earn a small kickback at no extra cost to you and it's a big help to keep the site up and running. Rest assured, I only promote products and services that I personally use and recommend.
Many thanks!