Are you looking for a guide of the best things to do in Sayulita 2023?!
Sayulita is a small, laidback town located in Riviera Nayarit on the west coast of Mexico that attracts tourists from near and far.
To ensure you have the best time ever during your visit, I have put together this BIG guide of 30 awesome things to do in Sayulita Mexico.
Also in this guide, I've included everything need to know on how to get here, where to stay, the best time to visit, recommended tours, and much more!
QUICK ANSWERS: THINGS TO DO IN SAYULITA MEXICO
Before I dive into all of the main attractions in Sayulita, here are some quick answers to the most frequently asked questions by travelers.
WHERE IS SAYULITA?
The colorful town of Sayulita Mexico is located on the Pacific Coast side of Mexico, at the south end of the state of Nayarit and north of Banderas Bay.
Puerto Vallarta is the closest major city and from Puerto Vallarta to Sayulita, it's approximately a 45-minute drive.
Click here or on the image below for an interactive map of the region.
HOW TO GET TO SAYULITA MEXICO?
Getting to this hippy-chic town is pretty easy. Simply fly into Puerto Vallarta Airport (PVR) and from here it's a short 45-minute drive.
The decision between using public transport, booking a private transfer, or renting a car will depend on how long you will be staying in the region as well as how much exploring outside of town you have planned while you are here.
It's super easy to get around town on foot but if you want to explore further you will need a vehicle and your best bet is to rent a car at the airport when you arrive.
Alternatively, you can book a private transfer from the airport in Puerto Vallarta to Sayulita.
This is the most stress-free option where your driver will meet you at the airport and take you directly to your accommodation in the Sayulita area.
Another option is to take a taxi from the airport which costs around 1000 MXN ($50 USD).
And lastly, taking the public bus from Puerto Vallarta Airport is also an option. The bus usually has a windshield sign displaying 'Sayulita' or 'Compostela' and the cost is around $5 USD.
Car Rental – Search, Compare & Save!
Discover Cars are one of the world's largest online car rental platforms with vehicles in 10,000+ locations.
Find the right car, in the right place, for the best price guaranteed!
HOW TO GET AROUND?
The township and beaches are very easily explored on foot or another fun way to get around is with a golf buggy.
You can also hail a cab to get from A to B, or simply rent a car.
Renting a car is advisable when you are planning on venturing to nearby towns such as San Pancho, Punta de Mita, La Cruz, and Puerto Vallarta.
The reason is that public transportation methods are few and far between.
HOW MANY DAYS IN SAYULITA?
While being a small town, there are many activities to enjoy, so if you're wanting to experience it fully, I recommend spending at least 5 or 6 days.
However, should you only have a little free time, 2 to 3 full days will allow you to scratch the surface and possibly even join a tour.
With that in mind, you can even stay longer from 2 weeks to 1 month and I guarantee you won't get bored as it's simply one of the best travel destinations in Mexico.
It's also worth noting that most visitors stay in both Puerto Vallarta and Sayulita during their holidays.
If that's a possibility for you, 5 days in Sayulita and 3 to 4 days in Puerto Vallarta will make the perfect travel itinerary.
On the flip side, if you happen to work remotely, you should know that you'll need to deal with unstable internet.
In fact, WiFi here is far from perfect and could be a problem if you have some online meetings or tasks that require fast internet.
IS SAYULITA WORTH VISITING?
Sayulita Nayarit Mexico is without a doubt one of the most popular destinations in the country for fun-fuelled adventures as well as laid-back travel.
It has become somewhat touristy in recent years, with some people moving to nearby San Pancho and Puerto Vallarta.
Despite the crowds, YES, it is definitely worth visiting and I highly recommend including this destination in your itinerary – even if it's only for a few days!
IS SAYULITA SAFE?
Safety in Sayulita, for the most part, seems like a given to most people, and rightfully so.
In fact, it's a very safe and peaceful place, however, safety is never a certainty for any visitor anywhere, BUT you'll likely not have any issues here.
All things considered, while it's one of the safest places in Nayarit, I'd recommend always using caution when walking alone at night. Also, stick to the well-lit major streets.
Apart from that, you should always be aware of your surroundings, your stuff, and, of course, yourself.
Leave the designer sunglasses, your flashy jewelry, and luxury electronics in your hotel's safe or at home.
And to state the obvious, it's always a good thing to purchase travel insurance so you know you're covered abroad.
Have you got travel insurance for your trip?!
We all know accidents can happen and having Heymondo Insurance will save you thousands of dollars if something goes wrong.
Heymondo offers low-cost Travel Insurance to keep you covered on all your adventures.
IS SAYULITA SAFE FOR SOLO FEMALE TRAVELERS?
Whether you're walking around the town during the day or night, you shouldn't be that worried, even as a solo female traveler.
To start with, there are numerous other tourists around and you'll probably never be on your own.
In addition, you'll want to observe the basic safety precautions I listed above to remain safe at all times.
All in all, yes, it's safe for female travelers but some precaution is always good to have, just like anywhere else around Mexico.
WHEN IS THE BEST TIME TO VISIT SAYULITA?
Amongst tourists, the best time to visit Sayulita is during the winter months which is considered the dry season (December – February) but Mexico's year-round mild climate makes it a great place to visit any time.
The summer months are the wet season in Sayulita (June – August) where temperatures soar and the region sees a lot of rainfall.
Playa Sayulita (the main public beach) has been popular amongst surfers since the 1960s.
According to an old tale, the town was formed by the gods of the waves who specifically created this place with perfect waves almost all year long.
DOES UBER WORK IN SAYULITA?
Yes, Uber does work in Sayulita. However, there are very few drivers in town and it can get very difficult to find a ride. For this reason, it is best to take regular taxis or rent a car.
ARE THERE CENOTES NEAR SAYULITA?
While Sayulita is known for its beautiful beaches and vibrant surf culture, it's not particularly famous for cenotes.
However, there are locations near Sayulita that offer a cenote-like experience, such as Secret Beach in Marietas Islands.
WHERE TO STAY IN SAYULITA?
There are hundreds of accommodations and vacation rentals to choose from so I have narrowed it down to a few of the best places to stay to suit the needs of luxury travelers, budget backpackers, and everyone in between.
See the list of Sayulita hotels below that I personally recommend.
LUXURY: YSURI HOTEL SAYULITA
MID RANGE: HOTEL VISTA OCEANA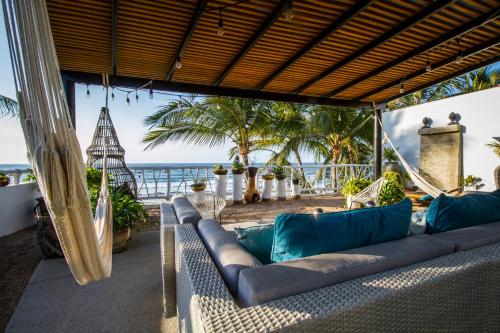 BUDGET: SELINA HOSTEL
MORE PLACES TO STAY
To find all other hotels in the region, use the interactive map below, enter your dates of stay, and hit the search button!
30 AWESOME THINGS TO DO IN SAYULITA
Now that you know a little about Sayulita Mexico, how to get here, and the best time to visit, it's time to get to the fun stuff!
So, without further ado, here is a 30 Awesome Things To Do In Sayulita guide to make the most of your visit.
LEARN TO SURF
Let's start this guide to Sayulita activities with the most popular watersport in town.
Truth be told, Sayulita was originally put on the map by surfers, so you're in for a treat whether you're a beginner surfer or someone with plenty of experience.
Locals are friendly and will cheer you on every chance they get. The waves are small enough to not be intimidating but big enough to actually be able to stand up.
There are three surf breaks at Playa Sayulita:
the very south side of the bay is a calm beach break for beginners

the middle break is for intermediate surfers featuring a left-hand and right-hand wave

and further north there is another intermediate surf break featuring a left-hand wave
For those of you who already know how to surf, you can simply rent a board off the beach for around 100 MXN per session.
And if you have never surfed before, this is your chance to learn and I highly recommend booking a surf lesson with an experienced surf coach.
You'll be riding waves by mid-session and will have access to all the surf schools facilities such as rash guards, booties, and towels, changing room and storage for personal belongings, a shower to rinse off, free WiFi, and a relaxing beach-style rest area.
Click below to check availability and book online in advance to be guaranteed the best rates.
CHECK OUT SAYULITA PLAZA
The main square in town, Sayulita Plaza is a cool spot to check out during your trip.
The Plaza is surrounded by bars, restaurants, food stalls, and street vendors, making it a great place to grab some food and enjoy it beneath one of the many shady trees.
VISIT MARIETAS ISLANDS (SECRET BEACH)
Sayulita Mexico is awesome, but if you have some time I highly encourage you to go and explore the beautiful area around it.
Round up your friends and family and book a snorkeling tour to Marietas Islands National Park.
This small group of islands is located only 30 minutes by boat from the mainland and features stunning landscapes of Riviera Nayarit.
The tour boat will take you to three different stops, the first one is a reef where you will be able to jump in the water and go snorkeling, the second one is the beautiful Long Island where you can relax on the beach, and the last stop is the famous Secret Beach, a hidden cove that can only be accessed through a cave entrance!
The Marietas Island snorkeling tour departs from Sayulita in the morning and it includes all activities, a local guide, fees and taxes, use of snorkeling equipment, round-trip boat transportation, and bottled water.
Click below to check availability and book online in advance to be guaranteed the best rates.
TAKE A PHOTO ON INSTAGRAM STREET
Getting that perfect Instagram photo beneath the colorful flags is a must on your list of the best things to do in Sayulita Mexico.
The street is officially known as 'Slap Street' on Calle Delfines, right next to the main plaza.
After getting that perfect shot, which we all know can be quite exhausting, you can grab something to eat and drink at one of the many restaurants and cafes that line the street.
The BEST Hotel in Sayulita
Need a place to stay? Hotel Ysuri is conveniently located in the heart of Sayulita.
Whether you're here to explore the sights or relax in comfort, Hotel Ysuri Sayulita offers the best of both worlds.
RENT AN UMBRELLA ON SAYULITA BEACH
Temperatures in Mexico can get really high, especially if you travel to Sayulita during the summer.
If you are planning to spend a whole day at the beach I would highly recommend doing your skin a favor and renting an umbrella. It's only about 300 MXN for the whole day.
You can order drinks and food right from the beach and you should be prepared to be approached by beach vendors selling all sorts of souvenirs, snacks, offering massages, etc.
HIKE MONKEY MOUNTAIN
The best hike in the area is without a doubt Monkey Mountain.
It's not the shortest of hikes but it's definitely worth it and rated as one of the best things to do in Sayulita! You should allocate at least 4 hours for the roundtrip.
Monkey Mountain is a moderate to hard hike that leads along a trail mostly shaded by trees. There is nothing around but nature so make sure you bring plenty of drinking water and enough snacks.
The views of the beaches and coastline that you'll be rewarded with at the top are absolutely epic!
You can see the entire peninsula of Punta Mita from the summit and during whale season, you might even get lucky enough to see whales breaching in the ocean below.
It's recommended to book a guided tour to Monkey Mountain which includes hotel pick-up and drop-off, drinking water, and snacks, and the tour is customizable to your preferences.
The BEST reusable water bottle for travel!
The GRAYL GeoPress is a top-rated reusable water bottle perfect for backpacking, hiking, and traveling.
It allows you to purify water from anywhere and keeps you safe from all waterborne diseases.
Get a GeoPress today and never buy single-use plastic bottles again. Mama Earth will thank you for it!
VISIT PLAYA LOS MUERTOS (BEACH OF THE DEAD)
Located just a short 10-minute walk to the south from the main beach, you will find Playa Los Muertos (beach of the dead).
There is a cemetery just back from the shoreline which is how this beach gets its name.
It's a hidden little cove surrounded by coconut palm trees and away from the crowds at the main beach.
Playa Los Muertos features a row of beach umbrellas, a small bar, and a couple of beach vendors but feels a lot less touristy.
If relaxing on the beach isn't your thing, you can also go and explore the rocky outcrops at each end of the beach.
HIKE TO MALPASO BEACH
North of the main beach there is a jungle trail that leads over the headland to Malpaso Beach (Playa Malpaso).
This really is very secluded and there are no beach vendors or umbrellas to be found.
It's the perfect spot to spend the day away from the crowds, swim in the clear water, explore the small sea caves, and simply enjoy the serenity.
GO SCUBA DIVING
There is a whole other world out there to see – the underwater world – and scuba diving is a great way to explore and spend a day in the ocean.
For certified advanced divers, there are multiple different dive sites where you can enjoy the underwater world such as El Morro, Los Acros, La Corbeteña, and El Sequial.
These places are outside the limits of Banderas Bay which means you will have the opportunity to see larger animals like giant manta rays, sea lions, sharks, and other marine life.
Advanced dives are 2-tank dives that include a professional guide, use of dive equipment, boat transport, bottled water, and snacks.
On the other hand, if you're a first-timer, you can book the Discover Scuba Diving Program which is an introductory course to the world of scuba diving.
You will learn how to use scuba equipment in confined water, receive instruction in basic concepts and safety, and finally be taken out into the ocean for your first dive, under the close supervision of your instructor.
Capture All Your Adventures!
I'm sure y'all know by now that GoPro's are arguably the best action cameras on the planet!
The new GoPro HERO 11 boasts 5.3K video, 27MP photo, HyperSmooth stabilization, and waterproof up to 10m!
TRY THE POKE BOWLS AT ORGANIK
Organi-K is the place in town to get the best acai and poke bowls.
They're conveniently located right at the town entrance and even though the restaurant itself is rather small, it's really easy to spot.
Their ingredients are always fresh, and delicious and every meal is prepared with love. Most things on their menu are raw and vegetarian or vegan.
Organi-K is a sustainable business and completely plastic-free. They highly encourage their customers to bring their own takeaway thermos and tumblers.
Their sustainable products are very innovative like their straws that are made from avocado scraps, how cool is that?!
The owners are super lovely and the staff speaks very decent English, making ordering easier if your Spanish is a little rusty.
Open daily from 8:00 am – 6:00 pm | Price: $$
BOOK A WHALE-WATCHING TOUR
If you are around Riviera Nayarit during whale season (November – April) I highly recommend joining a Whale Watching Tour during your stay.
Seeing giant humpback whales breach up close is an incredible experience that you will remember for the rest of your life!
If you have a drone, this is the right moment to send it up, check the pictures below!
The tour includes an experienced guide, bottled water, a lifejacket, boat transportation, and local fees. Pre-bookings are essential to secure one of the limited spots on the boat.
Click below to check availability and book online in advance to be guaranteed the best rates.
GO SURFING AT PLAYA LA LANCHA
Located in Punta Mita, Playa La Lancha is only a short 20-minute drive from the main town.
The waves here are mellow and the water is warm, clear, and clean. It's one of the most consistent breaks in the area with multiple peaks to suit all levels.
Playa La Lancha is only accessible via one narrow jungle path, so it's always rather uncrowded and peaceful.
It's a great alternative to other beaches around Nayarit and Jalisco and definitely worth adding to your Sayulita things to do list.
SAYULITA TEQUILA TASTING
Another super fun thing to do with your friends and family during your visit to Sayulita Nayarit is Tequila tasting.
You can easily book the Tequila tasting online and there are a couple of different options in terms of how many tequilas and or other spirits you would like to taste, where the venue is, and how many people are coming.
HAVE BREAKFAST AT ANCHOR CAFE
Anchor Café offers a variety of healthy, fresh, organic foods. Their coffee is one of the best in town and the smoothie bowls are simply delicious as well.
It's the perfect spot to sit down and enjoy breakfast, brunch, lunch, or have a quick snack in between all your exploring and adventuring.
Anchor Cafe has fast free Wi-Fi available as well making it a great place to combine work with delicious, affordable, and, let me tell you, very 'instagrammable' food.
Open daily from 8:00 am – 4:30 pm | Price: $$
WATCH THE SUNSET AT CARRICITOS BEACH
The waves you will find at Playa Carricitos are huge compared to other breaks and it's very likely you'll be the only person at this wild, windswept beach.
There are some homes around, but they are well hidden in the woods, so it feels like you are very secluded.
Other times it can get quite busy as it is a popular spot for sunset bonfires and beach parties that ex-pats and foreign locals living in the area organize themselves.
And if you want to spend the night here, I recommend booking Playa Escondida Sayulita, a boutique hotel that has everything to make your trip perfect.
GET A MASSAGE
Feeling a bit tense and sore after all the adventures? Why not visit a local masseuse in town and relieve all the tension?
I recommend visiting the Nirvanna Spa, one of the most reputable spas in the area offering a wide range of services for its customers.
Visit the Nirvanna Spa Facebook Page to book your treatment.
DAY TRIP TO SAN PANCHO
Just a short 10-minute drive to the north of the town you will find San Pancho, a small beachside town that is very quiet and relaxed.
There are lots of hip cafes, the vibe is very laidback and the streets are covered in beautiful, colorful street art, and it makes the perfect activity to include in your Sayulita itinerary.
You will find plenty of retail stores, oceanside bars, and restaurants, as well as beautiful beaches with great waves.
A day trip to San Pancho is one of the best things to do in Sayulita.
CHECK OUT THE HIPPIE MARKET
Another great attraction worth checking out when visiting Sayulita is the hippie market.
Located along the river's edge in the center of downtown, the hippie market is a super cute, colorful market with lots of little stalls selling garments, jewelry, and all other nic nacs that are hand-made by the locals.
Keep Yo' Sh*t Organized!
Packing cubes are a traveler's best friend, perfect for organizing your shirts, pants, underwear, and more!
Shacke Pak Cubes make packing easier and leaves extra space in your bag to fit more essentials.
LA CRUZ MARKET
If you happen to be in or around the area on a weekend, you should check out the La Cruz Market.
It happens every Sunday in La Cruz, which is located at Marina Cruz de Huanacaxtle, just 30 minutes drive from town.
This is the place locals and visitors come to buy fresh fish and seafood, bringing the phrase 'from sea to your table' to life.
You'll find over 200 vendors, countless food options, live music, and great vibes, all combined with beautiful views over the bay.
The markets are on every Sunday from November through April, 9 am – 2 pm.
RENT A GOLF BUGGY
One of the best and most fun ways to get around town and explore is to rent a golf buggy.
It will cost you around 1000 MXN ($49) daily, and good times are guaranteed.
You'll find multiple buggy rental stores in town all offering them for around the same price.
EXPLORE PUNTA DE MITA BEACH
Next on this list of things to do in Sayulita Nayarit Mexico is taking a day trip to Punta de Mita Beach.
This chill little surf town just 20 minutes away boasts beautiful beaches, seaside restaurants, great fishing, horseback riding, rainforest excursions, Jeep tours, and plenty more adventurous activities that can be done here!
Take Your Photos & Videos To New Heights!
The DJI Mini 3 Pro is the most affordable, user-friendly drone camera suitable for all levels!
This travel-sized drone captures 4K/60fps video, 48MP photo, and has 34 minutes flight time.
JOIN A YOGA CLASS
There's nothing better for sore surfer muscles than a good, stretchy yoga class.
That's one of the reasons why this hippy-chic town has become a hub for yoga on Mexico's west coast and also because it's just awesome and makes you feel amazing!
Each and every day there are multiple yoga classes on offer that you can choose from. Simply ask the receptionist at your accommodation what's available during your visit.
Or, to try something different, check out this Hike and Yoga Jungle Experience in Sayulita, boasting gorgeous landscapes, lush jungle, and wildlife in abundance.
SPEND THE AFTERNOON AT SAYULINDA ROOFTOP POOL
Sayulinda is a one-of-a-kind hotel in the center of downtown.
It boasts a rooftop swimming pool, bar, and restaurant, as well as daybeds, hammocks, and a ping-pong table!
You can purchase a day pass for non-hotel guests which will set you back $42.
It's a fantastic venue to spend an afternoon with your mates and enjoy the rooftop vibes!
TRY THE TACOS AT BICHOS
My favorite and simultaneously the most popular local taco joint in town is Bichos.
I literally ate here at least 4 times a week it's that freaking good! The cheapest taco being 25 MXN, it'd be rude not to grab a bite to eat.
The best part is the long table of condiments and toppings you can add to your meal to create your own, perfect taco. They also sell local beers and fresh juice.
Open daily from 5 pm till late.
ENJOY THE SAYULITA NIGHTLIFE
Not a chance you could get bored during your visit because there is always something to do, just like there is always something happening, every night of the week.
Keep an ear and an eye out for what's happening around town when you arrive.
Some popular spots are Selina, Yambak, Latitude 20, and Cocos Beach Club, but there are also random beach and street parties happening that, believe me, you don't wanna miss!
BOOK A BIKE TOUR WITH BAHIA BIKES
A bike tour with Bahia Bikes makes for a guaranteed fun-fuelled adventure.
You can choose from a variety of different tours such as Bikes and Beers ($60), Bikes, Beers and Boats ($95) or simply just rent a bike and go cruise around town on your own ($5).
For more information on the available tours and bookings, click here.
WATCH THE SUNRISE ON SAYULITA BEACH
The best place in Sayulita Mexico to view the sunrise is to walk to the very south of the bay, from where you will see the sunrise coming up over the mountains.
It's a very peaceful, almost magical experience to be up and watch something so beautiful when the rest of the town is still sleeping.
I know waking up early while on vacation can be really hard, but it really is worth it, I promise!
CHECK OUT THE FRIDAY MARKET (MERCADO DEL PUEBLO)
Another great stop on your list of what to do in Sayulita is the Friday Market at Mercado Del Pueblo!
It's a pop-up market with lots on offer, from fresh local produce, clothing stalls, handmade jewelry to lots of food options and live music. Be sure not to miss it!
LISTEN TO THE STREET BUSKERS
Every day in downtown there are many street buskers from all walks of life, including juggling acts, solo guitarists, mariachi bands, dance performances, and so on.
It's common to tip the buskers 10 MXN or more as they are giving all they have to make sure you are having the best time.
SIP ON A BEACHSIDE MARGARITA
Last but certainly not least on this list of things to do in Sayulita Nayarit, or anywhere in Mexico really, is to have a classic margarita, or two, or three haha!
There are countless beach bars along the main beach, all offering large classic margaritas for 100 MXN each.
Just pick your favorite bar and enjoy or walk from bar to bar and go on a little margarita-tasting tour. You are on vacation, it's totally okay!
BEST DAY TOURS IN SAYULITA
There are so many unique and fun things to do in Sayulita, and hopefully, you've allocated plenty of time to experience them all.
However, if you have limited time available and you plan to stay only for a day or two, these are the best day tours you can join.
Sayulita/Punta Mita: Zip Lines with Ocean View
When taking this tour, prepare to embark on an unforgettable journey around Mexico's Nayarit Coast.
On the mountains, soar through the jungle on 10 zip lines and a suspended bridge.
Make your way to the top where you'll find 10 different lines as well as a suspended bridge on the summit of Higuera Blanca.
Once there, you'll be able to see the Pacific Ocean and the natural reserve in Punta de Mita.
Don't be shocked if you see deer, wild boars, deer, and even macaws from the zipline
Complete your amazing excursion with a traditional tequila tasting to round things off. Is there really any other tour worth your time?
Punta Mita/Sayulita Horseback Riding
Discover the beaches, jungles, and tiny villages in the area in this unique equine experience.
Get to the ranch and discover all animals before riding your horse – ponies, donkeys, roosters, macaws, deers, and more.
Ride your horse as transportation to explore Rancho El Sayulita and the river Gorguyo, and have a lot of fun!
After the trip, socialize with other members while sampling tequila, and enjoy a delicious Mexican lunch at a local favorite.
From Puerto Vallarta: San Pancho and Sayulita Tour
When staying in Puerto Vallarta with no free time to spend the night in Sayulita, this is simply a must-do tour.
Both Sayulita and Puerto Vallarta are among the best places to visit in Mexico, and you should definitely not skip this tour!
When leaving your accommodation, you will go to two of the most famous beaches in Riviera Nayarit on this journey.
Begin at San Pancho, where you can see Huichol arts on the streets before continuing to Sayulita.
The drive to San Pancho, your first destination, takes 1 hour from Puerto Vallarta.
When you get there, take in the Huichol handicrafts on the streets, stunning beaches, and charming little beach town at your leisure.
Then drive for a few minutes along the coast to Sayulita and admire the scenery while drinking your favorite drink on the beach and watching surfers riding the waves.
If you want to unlock your adventurer side, you can try surfing the waves as well.
BEST BEACHES IN SAYULITA
These are the best Sayulita beaches where you can spend the day during your visit:
There are other beaches in the region but these are simply the ones not to be missed.
WHAT TO PACK FOR SAYULITA MEXICO
When visiting Mexico, here is a list of items I highly recommend bringing with you:
Must-Have Travel Essentials
Keep your cash and other valuables safe with this anti-theft hidden money wallet!
---
The GRAYL GeoPress is the best reusable bottle that allows you to purify water from anywhere!
---
---
---
FINAL THOUGHTS – WHAT TO DO IN SAYULITA NAYARIT
I hope you found this Sayulita blog useful and if you have any questions about what to do in Sayulita, please leave me a comment below this post and I will get back to you as soon as I can.
For a quicker response, be sure to join Jonny Melon's Travel Tribe on Facebook and post your questions or Sayulita reviews to our awesome community.
TRAVEL RESOURCES FOR YOUR NEXT TRIP
Whether you're a seasoned traveler or it's your first trip overseas, here are some useful travel resources to help you kick-start your next adventure!
THANKS FOR READING
Hey friend, thanks for reading this guide!
Please know this post may contain affiliate links. When making a purchase through one of my links, I earn a small kickback at no extra cost to you and it's a big help to keep the site up and running. Rest assured, I only promote products and services that I personally use and recommend.
Many thanks!