Sayulita is a small coastal town in Riviera Nayarit Mexico and definitely a little gem. The whole town gives off a chill, beachy, surfer vibe! There are lots of cute little taco bars, cafes, and local restaurants, and many fantastic things to do in Sayulita that attract people from all over the world, making it a diverse and fun-filled place to visit!
I have put together this BIG guide of 40 Awesome Things To Do In Sayulita Mexico to help you plan your trip!
Want cheap flights to Puerto Vallarta? Check out CheapOair to book now and travel for less!
Have you got travel insurance for Mexico? We all know accidents can happen and having World Nomads Insurance will save you thousands of dollars if something goes wrong. 

WHERE IS SAYULITA?
The colorful town of Sayulita Mexico is located on the Pacific Coast side of Mexico, at the south end of the state of Nayarit and north of Banderas Bay.
From Puerto Vallarta to Sayulita, it's approximately a 45-minute drive and easily accessible by car.
Click here to see the location on Google maps.
HOW TO GET HERE
Getting to this hippy-chic town is fairly easy. Fly into Puerto Vallarta Airport and from here it's only 40 kilometers away. You can rent a car at the airport and the drive takes around 45 minutes.
Alternatively, you can take a bus which usually has a windshield sign saying either 'Sayulita' or 'Compostela', and the cost is only $2 USD.
Another option is to take a taxi from Puerto Vallarta to Sayulita which costs around 1000 MXN.
The decision between using public transport or renting a car will depend on how long you will be staying in the region as well as how much exploring outside of town you have planned while you are there.
It's super easy to get around town on foot but if you want to explore further you will need a vehicle and might want to rent one right away at the airport.
BEST TIME TO VISIT SAYULITA
Amongst tourists, the most popular time to visit is during the winter months which is considered the dry season (December – February) but Mexico's year-round mild climate makes it a great place to visit anytime.
The summer months are the wet season in Sayulita (June – August) where temperatures soar and the region sees a lot of rainfall.
Playa Sayulita (the main public beach) has been popular amongst surfers since the 1960s. According to an old tale, Sayulita was formed by the gods of the waves who specifically created Sayulita as a place with perfect waves almost all year long.
HOW TO GET AROUND
There are multiple ways to get around Sayulita. It is very easily explored on foot or a fun way to explore the town is with a golf buggy. You can also hail down a cab to get from A to B, or simply rent a car.
Renting a car is advisable when you are planning on venturing out of Sayulita to nearby towns such as San Pancho, Punta de Mita, La Cruz, and Puerto Vallarta, you'll need a vehicle as public transport is scarce.
Exploring in our golf buggy
40 AWESOME THINGS TO DO IN SAYULITA
Now that you know a little about Sayulita Mexico, how to get here, and the best time to visit, it's time to get to the fun stuff!
So, without further ado, here is a complete list of 40 Awesome Things To Do during your visit.
LEARN TO SURF AT PLAYA SAYULITA
Truth be told, Sayulita was originally put on the map by surfers, so you're in for a treat whether you're a beginner surfer or someone with plenty of experience.
Locals are friendly and will cheer you on every chance they get. The waves are small enough to not be intimidating but big enough to actually be able to stand up.
There are three surf breaks at Playa Sayulita;
the very south side of the bay is a calm beach break for beginners 

the middle break is for intermediate surfers featuring a left-hand and right-hand wave

and further north there is another intermediate surf break featuring a left-hand wave
For those of you who already know how to surf, you can simply rent a board from Sayulita Surf School for around 100 MXN per session.
If you have never surfed before this is your chance! I highly recommend getting surf lessons with an experienced guide from Sayulita Surf School.
Private lesson – 900 MXN
Group lesson – 800 MXN
Surfing in Sayulita
Sayulita Surf School
The middle break
CHECK OUT SAYULITA PLAZA
The main square in town, Sayulita Plaza is a cool spot to check out during your trip.
The Plaza is surrounded by bars, restaurants, food stalls, and street vendors, making it a great place to grab some food and enjoy it beneath one of the many shady trees.
The entrance to the plaza
Perfect place to chill out
The local church
TAKE A PHOTO ON INSTAGRAM STREET
Getting that perfect Instagram photo beneath the colorful flags is a must on your list of things to do in Sayulita.
The street is officially known as 'Slap Street' on Calle Delfines, right next to the main plaza. After getting that perfect shot, which we all know can be quite exhausting, you can grab something to eat and drink at one of the many restaurants and cafes that line the street.
Slap Street
HAVE BREAKFAST AT ANCHOR CAFE
Anchor Café offers a variety of healthy, fresh, organic foods. Their coffee is one of the best in Sayulita and the smoothie bowls are simply delicious as well.
It's the perfect spot to sit down and enjoy breakfast, brunch, lunch, or just have a quick snack in between all your exploring and adventuring.
Anchor Cafe has fast free Wi-Fi available as well making it a great place to combine work with delicious, affordable, and let me tell you, very 'instagrammable' food.
Open daily from 8:00 am – 4:30 pm
Price: $$
A delicious smoothie
The big breakfast
RENT AN UMBRELLA ON SAYULITA BEACH
Temperatures in Mexico can get really high, especially if you are visiting during the summer. If you are planning to spend a whole day at the beach I would highly recommend doing your skin a favor and rent an umbrella. It's only about 300 MXN for the whole day.
Playa Sayulita is the main beach and therefore pretty touristy and pretty much everything nearby. You can order drinks and food right from the beach and you should be prepared to be approached by beach vendors selling all sorts of souvenirs, snacks, offering massages, etc.
Front row seats
Good times on the beach
HIKE MONKEY MOUNTAIN
The best hike in the area is without a doubt Monkey Mountain. It's not the shortest of hikes but it's definitely worth it and rated as one of the best things to do in Sayulita! You should allocate at least 4 hours for the roundtrip.
Monkey Mountain Sayulita is a moderate to hard hike that leads along a trail mostly shaded by trees. There is nothing around but nature so make sure you bring plenty of drinking water and enough snacks.
The views of the beaches and coastline that you'll be rewarded with at the top are absolutely epic. You can see the entire peninsula of Punta Mita from the summit and during whales season, you might even get lucky enough to see whales breaching in the ocean below.
View of Punta Mita
The jungle trail
Marveling at the beaches below
Monkey Mountain
VISIT PLAYA LOS MUERTOS (BEACH OF THE DEAD)
Located just a short 10-minute walk to the south from the main beach, you will find Playa Los Muertos (beach of the dead). There is a cemetery just back from the shoreline which is how this beach gets its name. 
It's a hidden little cove surrounded by coconut palm trees and away from the crowds at the main beach. Playa Los Muertos features a row of beach umbrellas, a small bar, and a couple of beach vendors but feels a lot less touristy.
If just relaxing on the beach isn't your thing, you can also go and explore the rocky outcrops at each end of the beach.
Playa Los Muertos
Exploring the rocky outcrop
A slice of paradise
HIKE TO MALPASO BEACH
North of the main beach there is a jungle trail that leads over the headland to Malpaso Beach (Playa Malpaso).
This really is very secluded and there are no beach vendors or umbrellas to be found. It's the perfect spot to spend the day away from the crowds, swim in the clear water, explore the small caves, and simply enjoy the serenity.
Hiking to Malpaso Beach
The secluded Malpaso Beach
Beach all to ourselves
TRY THE POKE BOWLS AT ORGANIK
Organi-K is the place in town to get the best acai and poke bowls. They're conveniently located right at the town entrance and even though the restaurant itself is rather small, it's really easy to spot.
Their ingredients are always fresh, delicious and every meal is prepared with love. Most things on their menu are raw and vegetarian or vegan.
Organi-K is a sustainable business and completely plastic-free. They highly encourage their customers to bring their own take-away thermos and tumblers.
Their sustainable products are very innovative like their straws are made from avocado scraps, how cool is that?! The owners are super lovely and the staff speaks very decent English, making ordering easier if your Spanish is a little rusty.
Open daily from 8:00 am – 6:00 pm
Price: $$
Organi-K
Delicious Poke bowl
VISIT MARIETAS ISLANDS (SECRET BEACH)
Sayulita Mexico is awesome, but if you have some time I highly encourage you to go and explore the beautiful area around it.
Round up your friends and family and book a snorkeling tour to Marietas Islands National Park. This small group of islands is located only 30 minutes by boat from the mainland and features stunning landscapes of Riviera Nayarit.
The tour boat will take you to three different stops, the first one is a reef where you will be able to jump in the water and go for a snorkel, the second one is the beautiful Long Island, where you can relax on the beach and the last stop is the famous Secret Beach, a crater created by the erosion of millions of years the ocean hitting the stone – the perfect location for a stunning picture to end the day.
The Marietas Island snorkeling tour costs $89 USD per person and leaves from Puerto Vallarta.
Secret Beach Marietas Islands
Arriving at Marietas Islands
Marietas Islands Riviera Nayarit
GO SURFING AT PLAYA LA LANCHA
Located in Punta Mita, Playa La Lancha is only a short 20-minute drive from the main town.
The waves here are mellow and the water is warm, clear, and clean. It's one of the most consistent breaks in the area with multiple peaks to suit all levels.
Playa La Lancha is only accessible via one narrow jungle path, so it's always rather uncrowded and peaceful. It's a great alternative to other beaches around Nayarit and Jalisco and definitely worth adding to your Sayulita things to do list.
Surfing at Playa La Lancha
The jungle trail to the beach
Playa La Lancha – What to do in Sayulita
An aerial perspective
WATCH THE SUNSET AT CARRICITOS BEACH
The waves you will find at Playa Carricitos are huge compared to other breaks and it's very likely you'll be the only person at this wild, windswept beach.
There are some homes around, but they are well hidden in the woods, so it feels like you are very secluded. Other times it can get quite busy as it is a popular spot for sunset bonfires and beach parties that ex-pats and foreign locals living in the area organize themselves.
Sunset at Playa Carracitos
Carracitos Beach – Things to do Sayulita
GET A MASSAGE
Feeling a bit tense and sore after all the adventures?!
Nahomy is a local masseuse in town and a very lovely lady that offers in-home massage services. She brings her own massage bed and it's honestly one of the best massages I have ever had!
Her services include:
60-minute deep tissue massage – $48
60-minute relaxing massage – $45
60-minute sports massage – $50
60-minute therapeutic massage – $45
90-minute deep tissue massage – $58
90-minute relaxing massage – $53
90-minute sports massage – $60
90-minute therapeutic massage – $56
Nahomy burning some copal
Ready for a massage
DAY TRIP TO SAN PANCHO
Just a short 10-minute drive to the north of the town you will find San Pancho, a small and cute beachside town that is very quiet and relaxed.
There are lots of hip cafes, the vibe is very laidback and the streets are covered in beautiful, colorful street art. You will find plenty of retail stores, oceanside bars, and restaurants, as well as beautiful beaches with great waves.
San Pancho Beach
Vibrant streets of San Pancho
Beach bars in San Pancho
San Pancho Riviera Nayarit
GO SCUBA DIVING
There is a whole other world out there to see – the underwater world. Scuba diving is a great way to explore and spend a day in the ocean.
The best and most reputable dive company in the region is Oceano Adventures. For certified advanced divers, Oceano Adventures offers multiple different dive sites where you can enjoy real challenges in Bahía de Banderas such as El Morro, Los Anegados, La Corbeteña, and El Sequial.
These places are outside the limits of Banderas Bay which means you will have the opportunity to see larger animals like Giant Manta Rays, Sea Lions, Sharks, etc.
Advanced dives are 2 tank dives and you will have to show proof of your certification.
The company also offers 1 tank discover scuba dives for first-time divers. Prices for intro dives are $150 and prices for advanced 2 tank dives are between $130 and $170, depending on the dive site. All equipment included.
All geared up for a dive
One of the dive sites
CHECK OUT THE HIPPIE MARKET
Another great attraction worth checking out during your stay is the hippie market.
Located along the river's edge in the center of downtown, the hippie market is a super cute, colorful market with lots of little stalls selling garments, jewelry, and all other nic nacs that are hand-made by the locals.
Entrance to the hippie market
Shopping for some souvenirs
Hippie market Sayulita
TRY THE RAMEN AT LORO CAFE
An absolute must on your list of what to do in Sayulita is getting a meal at the Loro Café.
A little family-owned street-side restaurant with the best and biggest ramen selection on offer. The staff are always friendly and their cocktails are irresistible too.
Open Wednesday – Monday (closed Tuesday) 12:00 pm – 10:00 pm
Price: $$
Loro Cafe
The menu at Loro Cafe
LA CRUZ MARKET
If you happen to be in or around the area on a weekend, you should check out the La Cruz Market. It happens every Sunday in La Cruz, which is located at Marina Cruz de Huanacaxtle, just 30 minutes drive from town.
This is the place locals and visitors come to buy fresh fish and seafood, bringing the phrase 'from sea to your table' to life. You'll find over 200 vendors, countless food options, live music, and great vibes, all combined with beautiful views over the bay.
The markets are on every Sunday from November through April, 9 am – 2 pm.
La Cruz Market
Shopping galore
Live music at La Cruz Market
Enjoying a refreshing juice
RENT A GOLF BUGGY
One of the best and most fun ways to get around town is to rent a golf buggy. It will cost you around 1000 MXN ($49) per day and is well worth the price.
You'll find multiple rental stores in town all offering them for around the same price.
Our little red rocket
EXPLORE PUNTA DE MITA BEACH
Next on this list of things to do in Sayulita Nayarit is taking a day trip to Punta de Mita Beach.
This chill little surf town just 20 minutes away boasts beautiful beaches, seaside restaurants, great fishing, horseback riding, rainforest excursions, Jeep tours, and plenty more adventurous activities that can be done here!
Punta de Mita Beach
Small waves at Punta de Mita
TEQUILLA TASTING
Another super fun thing to do with your friends and family during your visit to Sayulita Nayarit is Tequila tasting.
You can easily book the Tequila tasting online and there are a couple of different options in terms of how many tequilas and or other spirits you would like to taste, where the venue is, and how many people are coming.
Prices range from $60-$75.
Tequila tasting – Courtesy: Claire Summers
BOOK A WHALE WATCHING TOUR
If you are around Riviera Nayarit during whale season I highly recommend joining a Whale Watching Tour during your stay.
Whale watching tours depart daily from Puerto Vallarta. Seeing giant humpback whales breach from up close is an incredible experience that you will remember for the rest of your life.
The tour includes lunch as well as bottled water and a lifejacket. Pre-bookings on Viator.com are essential to secure one of the limited spots on the boat.
Whale Watching in Sayulita
A breaching humpback whale
SHOP TILL YOU DROP
You are on vacation, time to spoil yourself, you deserve it!
There are countless retail stores in downtown Sayulita Mexico offering something for every taste. Surf shops, artisan wear, homewares, jewelry, literally everything is right there!
Downtown market stalls
Kathy in her element
A local art gallery
JOIN A YOGA CLASS
There's nothing better for sore surfer muscles than a good, stretchy yoga class. That's one of the reasons why this hippy-chic town has become a hub for yoga on Mexico's west coast and also because it's just awesome and makes you feel amazing!
Each and every day there are multiple Yoga classes on offer that you can choose from. Find more info here to choose a time and a date that best suits you.
Yoga class at Selina hostel
SPEND THE AFTERNOON AT SAYULINDA ROOFTOP POOL
Sayulinda is a one-of-a-kind hotel in the center of downtown. It boasts a rooftop swimming pool, bar, and restaurant, as well as daybeds, hammocks, and a ping pong table!
You can purchase a day pass for non-hotel guests which will set you back 600 MXN. It's a fantastic venue to spend an afternoon with your mates and enjoy the rooftop vibes!
Find out more information about upcoming events on their website.
Sayulina Hotel Sayulita Nayarit
Chilling poolside at Sayulinda
CHECK OUT THE FRIDAY MARKET (MERCADO DEL PUEBLO)
Another great stop on your list of what to do in Sayulita is the Friday Market at Mercado Del Pueblo!
It's a pop-up market with lots on offer, from fresh local produce, clothing stalls, handmade jewelry to lots of food options and live music. Be sure not to miss it!
Live music at Sayulita Friday Market
Freshly baked sourdough
Lots of great items on offer
TRY THE TACOS AT BICHOS
My favorite and simultaneously the most popular local taco joint in town is Bichos. I literally ate here at least 4 times a week it's that freaking good! The cheapest taco being 25 MXN, it'd be rude not to grab a bite to eat!
The best part is the long table of condiments and toppings you can add to your meal to create your own, perfect taco. They also sell local beers and fresh juice.
Open daily from 5 pm till late.
So many topping choices
Bichos tacos
The simple but great menu
LISTEN TO THE STREET BUSKERS
Every day in downtown there are many street buskers from all walks of life, including juggling acts, solo guitarists, mariachi bands, dance performances, and so on.
It's common to tip the buskers 10 MXN or more as they are giving all they have to make sure you are having the best time.
Talented street buskers
ENJOY THE SAYULITA NIGHTLIFE
Not a chance you could get bored during your visit because there is always something to do, just like there is always something happening, every night of the week.
Keep an ear and an eye out for what's happening around town when you arrive. Some popular spots are Selina, Yambak, Latitude 20, and Cocos Beach Club, but there are also random beach and street parties happening that, believe me, you don't wanna miss!
Sayulita Nightlife
Live music at Latitude 20
HAVE DINNER AT SANTA SAL
A great place for a nice dinner is Santa Sal. They offer modern-Mexican cuisine with a wide variety of dishes and a delicious churro dessert.
The interior is very instagrammable, especially their swinging chairs make for a great prop.
Open daily from 8 am – 11 pm.
Price: $$
Hanging out at Santa Sal
Modern-Mexican cuisine
Dinner with friends
GRAB A MORNING COFFEE FROM PANINOS
My absolute favorite hole-in-the-wall coffee shop in Sayulita is Paninos. They have great coffee, delicious croissants, and many other mouthwatering sweet treats.
Paninos is open daily from 8 am – 6 pm.
Paninos Coffee Shop
LEARN SPANISH WITH BETTY
What better time than to learn some Spanish (to impress your friends and family when you get home) than when you are in Mexico.
You can book personal one-on-one Spanish lessons with a friendly local by the name of Betty, who speaks English fluently but during her Spanish lessons will only speak Spanish to you.
Learning a language is always easier when you actually get to speak it and with Betty, you will learn a lot very quickly.
Do it alone or together with a friend or with your partner! The rate is $25 per hour and you can do in-person as well as online classes.
Spanish with Betty
STUFF YOUR FACE AT PIZZA VENEZIA
Arguably the best pizza in town is served at Pizza Venezia. It's only 99 MXN for a large size pizza with unlimited toppings.
It's a fantastic place to come for a late lunch or dinner with a couple of friends. It's cozy, cheap, and delicious curbside dining just like we love it.
Open daily from 3 pm – 10:30 pm
Mouthwatering pizza
Pizza Venezia
Curbside dining
TAKE A STROLL ALONG THE COASTAL WALK
Next on this list of awesome things to do Sayulita is an easy stroll along the coastal walk which is located in the south of the bay.
The coastal walk is a great way to discover some of the smaller beach areas, seaside restaurants, and bars.
Beautiful coastal walk
HAVE A BEER AT COCO'S BEACH CLUB
Coco's Beach Club has an impressive rooftop dining area right on the sand, overlooking the ocean. They offer a great selection of cocktails, beers, and little bites.
Spending an afternoon here should not be missing on your Sayulita things to do list.
Open daily from 11 am – 7 pm
Price: $$
Coco's Beach Club Sayulita
Rooftop dining at Coco's
BOOK A BIKE TOUR WITH BAHIA BIKES
A bike tour with Bahia Bikes makes for a guaranteed fun-fuelled adventure.
You can choose from a variety of different tours such as Bikes and Beers ($60), Bikes, Beers and Boats ($95) or simply just rent a bike and go cruise around town on your own ($5).
More info on the available tours and bookings here.
Great day for it
Bahia Bikes
GET A PHOTO AT THE SAYULITA SIGN
It's almost impossible to walk past the fun, colorful "Sayulita" sign and not get a photo but just in case, be sure to put it on your list of what to do in Sayulita so you don't forget about it.
Located in the main plaza, this awesome sign makes for a pretty cool Instagram post!
The colorful sign. inthe plaza
WATCH THE SUNRISE ON SAYULITA BEACH
The best place in Sayulita Mexico to view the sunrise is to walk to the very south of the bay, from where you will see the sunrise coming up over the mountains.
It's a very peaceful, almost magical experience to be up and watch something so beautiful when the rest of the town is still sleeping. I know waking up early while being on vacation can be really hard, but it really is worth it, I promise!
A memorable sunrise
GRAB A FEED AT MISCELANEA SAYULITA
Miscelanea is a cute little cafe down a side alleyway in downtown. Their coffee is great and the meals for brekky and lunch are absolutely mouthwatering!
Just like most places, Miscelanea is open 7 days a week from 8 am – 3 pm.
Mouthwatering brekky
SIP ON A BEACHSIDE MARGARITA
Last but certainly not least on this list of things to do in Sayulita Nayarit, or anywhere in Mexico really, is to have a classic margarita, or two, or three haha!
There are countless beach bars along the main beach, all offering large classic margaritas for 100 MXN each. Just pick your favorite bar and enjoy or walk from bar to bar and go on a little margarita tasting tour. You are on vacation, it's totally okay!
Love me a classic margarita
WHERE TO STAY IN SAYULITA
There are hundreds of accommodations to choose from so I have narrowed it down to a few of the best places to stay to suit the needs of luxury travelers, budget backpackers, and everyone in between.
See the list of  accommodations below that I personally recommend:
LUXURY: AVELA BOUTIQUE HOTEL
MID RANGE: HOTEL VISTA OCEANA SAYULITA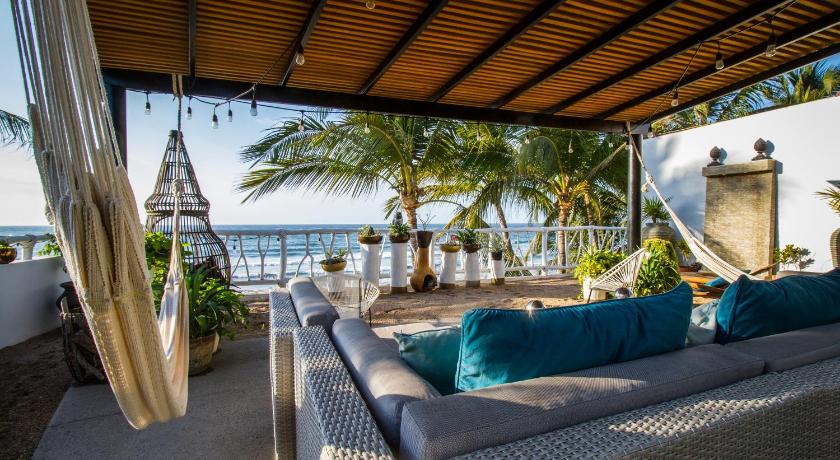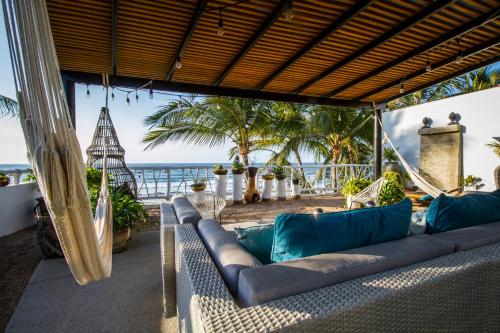 BUDGET: SELINA
BEST AIRBNB
I personally stayed at Casa Ambar for one week and can't recommend this place enough!
Our host Frank kindly welcomed us into this entire condominium which boasts a fully equipped kitchen, lounge and dining area, front yard with grass, direct swimming pool access, 2 bedrooms, 3 beds, 2.5 bathrooms, a laundry, and it can sleep up to 6 guests.
The minimalist chic-style interior is absolutely stunning and it's a great place to stay with your friends and family during your visit!
Click here to check availability on Airbnb and book online in advance.
LONELY PLANET MEXICO
One of the best books to take on your trip is the Lonely Planet Mexico Guide!
BUY NOW ON AMAZON → LONELY PLANET MEXICO
MORE MEXICO TRAVEL GUIDES
JOIN MY FACEBOOK COMMUNITY
Do you have any questions about Sayulita Mexico?
Join my Facebook Community and send me a message at any time for a quick response!
ONLINE ENGLISH TEACHING
Do you want to travel full-time and get paid along the way?
Teaching English online is one of the easiest and most flexible jobs out there! Become a Digital Nomad, choose your own hours, and work remotely from anywhere in the world by teaching English online. All you need is a laptop, good WiFi connection, a TEFL certificate and you're good to go!
MY SHOP
Before you go, don't forget to check out My Online Shop!
I've got a wide range of digital products for sale and I'm sure you'll find something that will come in handy during your travels!
FINAL THOUGHTS
I hope you enjoyed reading this article and if you have any questions, please leave me a comment below this post and I will get back to you as soon as I can.
Happy Travels!