The Northern Territory is a must-visit on any Australia road trip itinerary!
Famed for its Outback landscapes, rich Aboriginal culture, and otherworldly attractions, a trip to the NT is an awe-inspiring adventure you will never forget.
I have put together this complete 2 Week Northern Territory Itinerary to help you plan your trip ahead of time!
2 WEEK NORTHERN TERRITORY ITINERARY
Here is an overview of an ideal 2 Week NT Itinerary with my recommendations of places to visit in this order:
Darwin – Day 1 & 2
Litchfield – Day 3 & 4
Kakadu – Day 5 & 6
Katherine – Day 7 & 8
Devils Marbles – Day 9
Alice Springs – Day 10 & 11
Kings Canyon – Day 12
Uluru – Day 13 & 14
DARWIN – DAY 1 & 2
Darwin is the capital city of Australia's Northern Territory and the perfect place to start your adventures.
Upon arriving at Darwin International Airport, you can rent a car from here to begin your 2-week Northern Territory itinerary.
Car Rental – Search, Compare & Save!
Discover Cars are one of the world's largest online car rental platforms with vehicles in 10,000+ locations.
Find the right car, in the right place, for the best price guaranteed!
BEST THINGS TO DO IN DARWIN
Darwin is most popular for its beautiful waterfront lagoon, incredible street art, buzzing nightlife, sunset cruises, calm beaches, and many more fun-fuelled activities.
See below for a list of fun things to do in Darwin for the first 2 days of your itinerary.
Take photos of the street art
Swim in the Waterfront Lagoon
Set sail on a sunset cruise
Join a Jetski tour with 007 Jet Ski's
Visit the Darwin Museum and Art Gallery
Try the Gin at Charlie's of Darwin
Go deep-sea fishing with YKnot Fishing Charters
LITCHFIELD – DAY 3 & 4
The next stop on your 2-week Northern Territory itinerary is Litchfield National Park, known for its beautiful waterfalls, refreshing swimming holes, and giant termite mounds.
From Darwin to Litchfield National Park, it's approximately a 1-hour drive.
BEST THINGS TO DO IN LITCHFIELD NATIONAL PARK
Litchfield National Park is an adventurous wonderland filled with many stunning attractions, suitable for people of all ages.
See below for a list of the best things to do in Litchfield National Park during your visit.
Visit Florence Falls
Take a photo of the giant termite mounds
Go for a swim at Walker Creek
Discover Wangi Falls
Take a dip at Buley Rock Hole
WHERE TO STAY IN LITCHFIELD
LUXURY: LITCHFIELD MOTEL
MID-RANGE: LITCHFIELD TOURIST PARK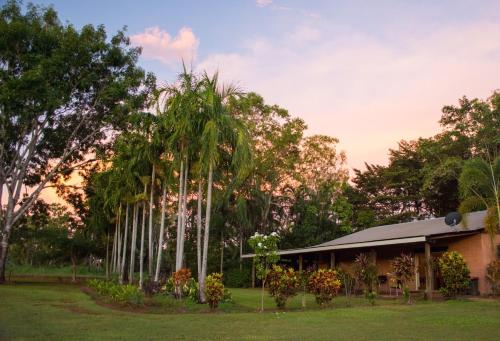 BUDGET: BATCHELOR HOLIDAY PARK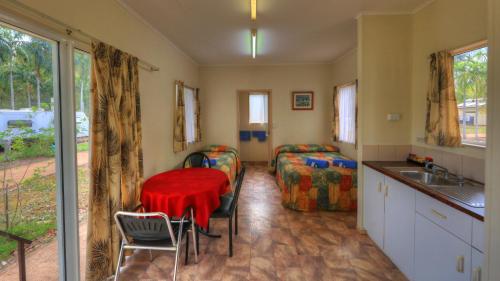 KAKADU – DAY 5 & 6
Next up on this 2-week itinerary is Kakadu National Park.
Visiting Kakadu National Park is an incredible experience boasting an extensive amount of history, beautiful scenery, and ancient Aboriginal culture.
Whether you're on the hunt for wildlife or want to see some of Australia's most surreal landscapes, Kakadu has it all.
From Litchfield National Park to Kakadu National Park the journey takes around 2 hours.
Ditch Your Backpack, Get a Suitcase!
The Nomatic Check-In is the only luggage you'll need with 90L capacity for those extended trips.
It's sleek, it's durable, and it will save your shoulders from pain by not having to carry any weight.
BEST THINGS TO DO IN KAKADU NATIONAL PARK
From billabong cruises to scenic lookouts, see below for the best things to do in Kakadu during your visit.
Yellow Water Billabong Cruise
See the Nourlangie Rock Art
Marvel at the view from Nawurlandja Lookout
WHERE TO STAY IN KAKADU
LUXURY: MERCURE KAKADU CROCODILE HOTEL
MID-RANGE: COOINDA LODGE KAKADU
MID-RANGE: AURORA LODGE KAKADU
KATHERINE – DAY 7 & 8
After exploring the best places along the coast of Darwin, it's time to head over to Katherine – a place where the Outback meets the tropics and is a must-see destination on your Northern Territory itinerary.
From Kakadu to Katherine the journey takes approximately 1.5 hours.
BEST THINGS TO DO IN KATHERINE
There are many great activities to try when visiting Katherine which are suitable for all sorts of travelers.
Whether you're traveling with kids or a solo backpacker, there is something here to satisfy everyone's needs.
See below for a list of the best things to do in Katherine.
Scenic flight over Nitmiluk National Park
See the view from Baruwei Lookout
Visit Bitter Springs
WHERE TO STAY IN KATHERINE
LUXURY: IBIS STYLES KATHERINE
MID-RANGE: PINE TREE MOTEL
BUDGET: PALM COURT BACKPACKERS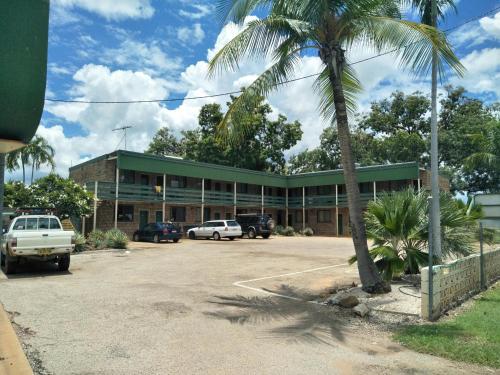 DEVILS MARBLES – DAY 9
Devil's Marbles feature gigantic boulders that have been internationally recognized as the symbol of the Australian Outback and are a pretty incredible sight to see on your 2 week Northern Territory itinerary.
From Katherine to Devil's Marbles it's approximately an 8-hour drive. I also recommend stopping at Daly Waters Historic Pub along the way to break up the drive and grab a bite to eat.
DEVILS MARBLES
Also known as Karlu Karlu, which translates to round boulders, Devils Marbles are part of the aboriginal culture in Australia and as of 2008 when a historic ceremony was held, ownership of these rocks was officially given back to the site's traditional owners.
Now the Devils Marbles Conservation Reserve is jointly owned by the traditional owners and the Parks and Wildlife Rangers.
There is more to do at Devils Marbles than you once thought. From walking trails to wildlife spotting, Devils Marbles really does have more than what meets the eye.
You have a selection of self-guided walking trails, weaving you in and around the different rock formations, soaking up the atmosphere, and learning about this incredible site of cultural interest.
Information signposts will guide you around the walk and teach you as you go. Be sure to check out the Nyanjiki Lookout for sweeping panoramic views over this unique landscape, especially at sunset.
DEVILS MARBLES CAMPING
It's possible to camp here at the Devil's Marbles with a selection of camp and caravan sites available. Additional fees do apply if you wish to camp and you can book online in advance.
Public toilets and picnic tables are also available.
Have you got travel insurance for your trip?!
We all know accidents can happen and having Heymondo Insurance will save you thousands of dollars if something goes wrong.
Heymondo offers low-cost Travel Insurance to keep you covered on all your adventures.
DEVILS MARBLES HOTEL
For those of you who would prefer to stay in a hotel when visiting Devils Marbles Australia, you're in luck!
The Devils Marbles Hotel is just 8km south of Devils Marbles and has a variety of accommodation options available including single-room cabins, ensuite rooms, deluxe cabins, and a caravan park with powered sites.
Devils Marbles Hotel also has an on-site restaurant, bar, fuel, and swimming pool for all visitors.
Head to their website www.devilsmarbleshotel.com.au to book online in advance.
ALICE SPRINGS – DAY 10 & 11
Located right in the center of Australia, embodying the true Australian Outback, Alice Springs is somewhat of a forgotten gem, though it's for sure not to be missed on your NT trip.
From Devil's Marbles to Alice Springs it's approximately a 4-hour drive.
BEST THINGS TO DO IN ALICE SPRINGS
Visit Ormiston Gorge
Go swimming at Ellery Creek Big Hole
Discover Simpsons Gap
Ride in a Hot Air Balloon
WHERE TO STAY IN ALICE SPRINGS
LUXURY: CROWNE PLAZA ALICE SPRINGS
MID-RANGE: QUEST ALICE SPRINGS
BUDGET: ALICE SPRINGS YHA
KINGS CANYON – DAY 12
Next on this 2-week Northern Territory itinerary is Kings Canyon. If you are seeking a big day full of adventure then a visit to Kings Canyon is definitely for you.
Kings Canyon is located right in the middle of Watarrka National Park, just 3.5 hour's drive from Alice Springs.
The canyon is famous for its walking tracks, rock climbing, and its views of chasms and cliffs.
You can also complete a 2km walk along the creek that opens up to some spectacular views of the canyon rim.
ULURU – DAY 13 & 14
Last but not least on this NT itinerary is Uluru.
One of Australia's most iconic landmarks, Uluru is a sacred site that is so magnificent it's been placed on UNESCO's World Heritage list TWICE!
Standing at 348 meters high, this landmass was formed over 500 million years ago, and not only can it be admired for its everlasting beauty but it has influenced the cultural values and beliefs of its traditional owners, the Anangu people.
From Kings Canyon to Uluru it's approximately a 3.5-hour drive.
BEST THINGS TO DO AT ULURU
This breathtaking natural wonder of the world is perfect for everyone.
Whether you are seeking adventure, having a romantic holiday, or just wanting to learn more about the culture, there is something for everyone here.
See below for a list of awesome things to do at Uluru.
Sunrise camel tour
Sounds of Silence
Sunset at Uluru
Uluru Segway tour
Field of Light
Uluru helicopter ride
Visit the domes of Kata Tjuta
Learn to play the didgeridoo
Take a photo on the dirt roads
WHERE TO STAY IN ULURU
LUXURY: SAILS IN THE DESERT
MID-RANGE: THE LOST CAMEL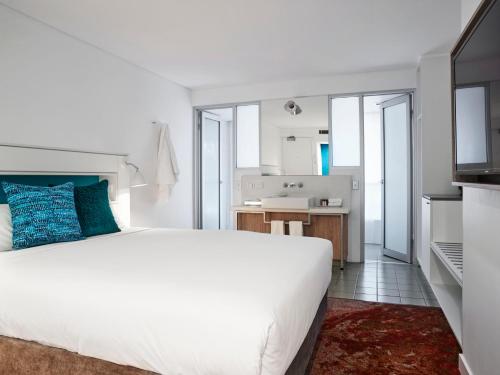 MID-RANGE: DESERT GARDENS HOTEL
SUMMARY – 2 WEEK NT ITINERARY
So there you have it, an entire 2 week Northern Territory itinerary starting in Darwin and ending in Uluru.
From Uluru, you can return your rental car to Ayers Rock/Connellan Airport (AYQ) and there are daily flights departing from Uluru to the major cities within Australia.
WHAT TO PACK FOR NORTHERN TERRITORY
When visiting NT, here is a list of items I highly recommend bringing with you:
Must-Have Travel Essentials
Keep your cash and other valuables safe with this anti-theft hidden money wallet!
---
The GRAYL GeoPress is the best reusable bottle that allows you to purify water from anywhere!
---
---
---
FINAL THOUGHTS – 2 WEEK NT ITINERARY
I hope you enjoyed reading this article and if you have any questions about Northern Territory Australia, please leave a comment at the bottom of this post and I will get back to you as soon as possible.
For a quicker response, be sure to join Jonny Melon's Travel Tribe on Facebook and post your questions or recommendations to our awesome community.
TRAVEL RESOURCES FOR YOUR NEXT TRIP
Whether you're a seasoned traveler or it's your first trip overseas, here are some useful travel resources to help you kick-start your next adventure!
THANKS FOR READING
Hey friend, thanks for reading this guide!
Please know this post may contain affiliate links. When making a purchase through one of my links, I earn a small kickback at no extra cost to you and it's a big help to keep the site up and running. Rest assured, I only promote products and services that I personally use and recommend.
Many thanks!
This trip was in association with NT Tourism and Backyard Bandits.