Katherine Hot Springs boasts cascades of crystal clear, warm water streaming down into deep blue natural pools, surrounded by a lush green forest.
It's a beautiful little oasis to refresh and relax, just minutes outside of the town center.
The natural thermal springs pump from deep within the earth at a year-round mild, very enjoyable temperature.
I have put together this complete visitor's guide of Katherine Hot Springs including how to get there, the best time to visit, and what to expect when you arrive.
WHERE IS KATHERINE HOT SPRINGS?
Situated on the banks of the Katherine River, Katherine Hot Springs are within the Katherine township, a mere 5-minute drive from the center of town.
Click here to see the location on Google maps.
Katherine is the fourth largest town in the Northern Territory, situated 320 kilometers southeast of Darwin.
It's often called the Crossroads of the North thanks to its location at the junction of Stuart Highway linking with the north and south and the Victoria Highway to Western Australia.
There are lots of things to do in town, but it is the Northern Territory, which means it can get very hot making the close-by springs the perfect little oasis to go for a refreshing dip without the risk of becoming a saltwater croc snack.
BEST TIME TO VISIT KATHERINE HOT SPRINGS
The best time to visit is sometime between May and September. If you can, I would recommend avoiding traveling to the Northern Territory during the wet season (November – April).
Depending on the river levels, the springs might be closed during those months.
If you want to make sure the springs are open you can call the Katherine Hot Springs visitors center (free of charge) the day before or the day of your planned visit at +61889722650.
In general, the accessibility to several places in the Northern Territory during the wet season might be limited, and the risks of crossing paths with a saltwater crocodile during that time of year are highly elevated as well compared to during the dry season.
Very high humidity accompanies high temperatures, ranging from 30-40 degrees Celsius. During that time, the region also receives spectacular electrical storms.
Adjusting to these temperatures can be quite difficult, especially when you are not used to a tropical climate.
Hot Springs Katherine is fairly well-known thanks to the Instagrammable beauty of the place.
To avoid crowds and experience the magic of it with almost no other people around, try to visit on weekdays and come in the early morning.
The BEST Affordable Camera For Travel
If you're on the hunt for a professional camera for traveling, check out the Canon G7 X Mark II.
This tiny camera fits in your pocket, captures high-quality photos and videos, and has Wi-Fi so you can instantly transfer to your phone!
ARRIVING AT THE HOT SPRINGS KATHERINE
When you arrive, there is a large parking lot with plenty of free parking spaces available and toilet amenities for visitors.
From the parking lot, there is a sealed pathway leading down to the hot springs. It's about a 10-minute, easy walk.
Entering is free of charge and the pools with their year-round average temperature of 25-30 degrees Celsius are open from 7 am – 7 pm every day of the week. Restrictions might apply during the wet season.
During the dry season, the newly installed Pop Rocket Café serves hot coffee, light meals, and snacks.
WHAT TO EXPECT AT KATHERINE HOT SPRINGS
The area around Katherine Hot Springs has transformed from a simple hole in the river bed to a well-thought-out recreational area.
The addition of new raised walking platforms has opened the area up to visitors who are now able to take a look at the source of the spring water via a viewing platform.
From there, it's easy to follow the stream down to the walkway/bridge to the main pool which has a wheelchair access ramp, stainless steel handrails, and an easily accessible staircase formed out of rock.
From the main pool, the springs flow along to another pool lined with pandanus trees to a retaining wall that acts as a small waterfall, allowing water to flow over into yet another small plunge pool before the stream meanders amongst the paperbark trees and out into the Katherine River.
The open grass area is shaded beneath a canopy of trees surrounding the pools and it's the perfect spot for a picnic and to relax for a while before heading back to the busy town.
If you're up for a whole day's adventure, there are lots of fun things to do close by like fishing, caving, or canoeing along the nearby Katherine River.
WHERE TO STAY IN KATHERINE
There are dozens of accommodation options to choose from in Katherine, so I have narrowed it down to a few of the best places to stay to fit the needs of budget backpackers, luxury travelers, and everyone in between.
See the list of accommodations below that I personally recommend:
LUXURY: CONTOUR HOTEL
MID-RANGE: PINE TREE MOTEL
BUDGET: PALM COURT BACKPACKERS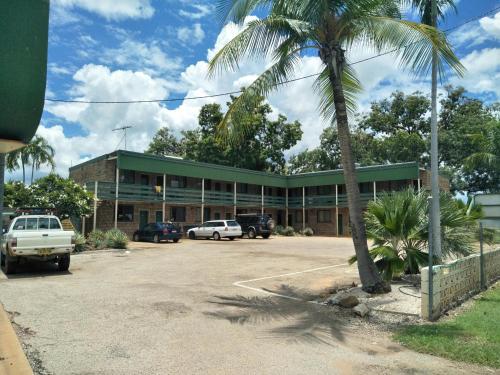 FOR ALL OTHER PLACES TO STAY IN KATHERINE, SEARCH ON BOOKING.COM
WHAT TO PACK FOR NORTHERN TERRITORY
When visiting Northern Territory, here is a list of items I highly recommend bringing with you:
Must-Have Travel Essentials
Keep your cash and other valuables safe with this anti-theft hidden money wallet!
---
The GRAYL GeoPress is the best reusable bottle that allows you to purify water from anywhere!
---
---
---
FINAL THOUGHTS – HOT SPRINGS KATHERINE
I hope from this guide you'll have all the information you need for an epic adventure to Katherine Hot Springs.
Whether you're a solo backpacker, traveling as a couple, or whether you're taking a trip with the entire family, Katherine Thermal Pools is a great day out.
If you have any questions at all, please leave a comment at the bottom of this post and I will get back to you as soon as I can.
For a quicker response, be sure to join Jonny Melon's Travel Tribe on Facebook and post your questions or recommendations to our awesome community.
TRAVEL RESOURCES FOR YOUR NEXT TRIP
Whether you're a seasoned traveler or it's your first trip overseas, here are some useful travel resources to help you kick-start your next adventure!
THANKS FOR READING
Hey friend, thanks for reading this guide!
Please know this post may contain affiliate links. When making a purchase through one of my links, I earn a small kickback at no extra cost to you and it's a big help to keep the site up and running. Rest assured, I only promote products and services that I personally use and recommend.
Many thanks!
This trip was in association with NT Tourism and Backyard Bandits.