Looking for the best things to do in Uluru? You're in luck, as this guide is everything you need and more!
Uluru is a sacred site located in the Northern Territory of Australia. It's so magnificent it's been placed on UNESCO's World Heritage list TWICE!
Standing at 348 meters high, this landmass was formed over 500 million years ago, and not only can it be admired for its everlasting beauty, but it has influenced the cultural values and beliefs of its traditional owners, the Anangu people.
This breathtaking natural wonder of the world is perfect for every type of traveler. Whether you are seeking adventure, having a romantic holiday, or just wanting to learn more about the culture, there is something here for everyone.
I have put together this complete guide of 15 Best Things To Do In Uluru to help you plan your trip!
QUICK ANSWERS – BEST THINGS TO DO IN ULURU
Let's start this guide by discussing all the essentials, such as the location, how to get there, and much more.
WHERE IS ULURU LOCATED?
Uluru is one of Australia's most iconic landmarks, located in the southern part of the Northern Territory and situated almost right in the middle of Australia.
Due to its color and geographical feature, it's often known as the 'Red Centre'.
Click here to see the location of Uluru on Google maps.
HOW TO GET TO ULURU?
The best and easiest way to get to Uluru is by plane and the nearest airport to the Big Rock is Yulara.
The airport is called Ayers Rock/Connellan Airport (AYQ) and there are daily flights to Uluru from the major cities within Australia.
See the list below for a brief overview of flight times to Uluru:
Melbourne to Uluru – 2.5 hours
Sydney to Uluru – 3 hours
Brisbane to Uluru – 3 hours 15 minutes
Adelaide to Uluru – 2 hours
Darwin to Uluru – 2 hours 15 minutes
Alice Springs to Uluru – 45 minutes
When you arrive, you can rent a car at the airport for the time you plan to spend exploring Uluru National Park
There are only a limited amount of rental cars available so be sure to book online a few weeks in advance to avoid missing out.
Car Rental – Search, Compare & Save!
Discover Cars are one of the world's largest online car rental platforms with vehicles in 10,000+ locations.
Find the right car, in the right place, for the best price guaranteed!
BEST TIME TO VISIT ULURU
The best time to visit Uluru is between May and September.
At this time, the temperatures stay between 20 – 30 degrees Celsius which is much more comfortable compared to the hot and humid summer heat.
During the night, Uluru can still experience some cold weather, so it's recommended to always bring some warm clothes with you.
INTERESTING FACTS ABOUT ULURU
Uluru is higher than the Eiffel Tower in Paris, the Eureka Tower in Melbourne, and the Chrysler Building in New York.
Evidence shows that the Anangu people have inhabited Central Australia for more than 30,000 years.
As described earlier, Uluru has two World Heritage site listings. The first listing was in 1987 due to its geology. The second time was in 1994 when Uluru was recognized as a cultural site to its significance to the Anangu people.
The rock was formed roughly 600 million years ago and used to be at sea level. Now, it sits at around 348 meters high.
Climbing is prohibited, so that's not an option when considering what to do Uluru.
Pssst! Check out this EPIC Hiking Backpack!
Perfect for shorter day hikes, the Osprey Stratos 24L is a tough pack made from sustainable materials.
With great internal organization, this is all you need for your next adventure, no matter the weather!
15 BEST THINGS TO DO IN ULURU
Now that you've got some background information on how to get to Uluru, the best time to visit, and interesting facts about Uluru, let's get to the good stuff.
So, without further ado, here is a complete list of 15 awesome things to do at Uluru during your visit.
HIGHLIGHTS OF ULURU WITH SUNRISE
For the best start to the day in Uluru, then taking this tour of the highlights in the region is your best bet.
After a delicious picnic breakfast, you'll go visit Mutitjulu Waterhole, check out the ancient rock art, and drive around Uluru's base.
While this tour only lasts 3 hours, it covers all the essentials in and around Uluru that you can't miss – Plus, you'll witness one of the best sunrises in your life!
Check out the tour here below. Note that it sells out fast, so make sure to book ahead of time.
BEST ULURU TOUR
The BEST way to discover Uluru is by joining a Highlight of Uluru Tour With Sunrise!
It includes hotel transfers, breakfast, endless photo opportunities, and a fun group to share the moment with!
SOUNDS OF SILENCE DINNER EXPERIENCE
The Sounds of Silence Uluru is so popular that it's been entered into the Australian Tourism Hall of Fame.
Over the course of 4 hours, enjoy an evening dinner filled with workshops and an unforgettable experience under the stars of the southern hemisphere.
The night will start off with a wine overlooking the National Park while listening to the didgeridoo playing in the background as the sun sets.
Dinner will be made out of high-quality Australian produce and cooked with native ingredients.
Afterward, listen to a guided presentation while you look up at the milky way and learn all about the planets and stars.
Have you got travel insurance for your trip?!
We all know accidents can happen and having Heymondo Insurance will save you thousands of dollars if something goes wrong.
Heymondo offers low-cost Travel Insurance to keep you covered on all your adventures.
ULURU HELICOPTER RIDE
Experience Uluru in a way that you'll remember for years to come!
An Uluru helicopter tour is by far one of the best things to do in Uluru which allows you to see the Big Rock and the dome formations of Kata Tjuta from an amazing birds-eye perspective.
Uluru helicopter tours run all day and the flight time is around 30 minutes.
If available, I highly recommend booking the chopper flight for either sunrise or sunset. It truly is a once-in-a-lifetime experience.
Of course, Uluru-Kata Tjuta National Park is the home of Uluru Australia, and seeing it from high up is definitely something to experience at least once in your lifetime.

SUNSET AT ULURU
Next on this list of things to do in Uluru is to check out the spectacular viewpoint looking right at Uluru and watching the sunset!
You can expect to see many different shades of pink, orange, and yellows when watching the sunset at Uluru which will display across the sky and it's definitely something worth seeing during your visit.
This viewing area is for cars only however, there are buses that can take you up to the viewing point if you don't have your own vehicle.
KINGS CANYON DAY TRIP
Last but not least on this list of things to do at Uluru is a day trip to Kings Canyon. If you are seeking a big day full of adventure then this is the tour for you.
Kings Canyon is located right in the middle of Watarrka National Park, just a 3.5-hour drive from Uluru.
The canyon is famous for its walking tracks, rock climbing, and its views of chasms and cliffs.
You can also complete a 2km walk along the creek that opens up to some spectacular views of the canyon rim.
This tour is a full 12-hour day, but if you're up for the challenge you won't be disappointed!
ULURU SEGWAY TOUR
Ever wanted to try out riding around on a Segway? Well, this is one of the best activities in Uluru you can try out during your stay.
Wake up at sunrise and cruise around the 12km long base of Uluru. Along the way, you'll have the opportunity to go to the stunning Mutitjulu waterhole.
There are various Segway Uluru tours available that run from the morning until sunset and each tour goes for around 3 hours.
FIELD OF LIGHT ULURU
I am sure most of you have either heard about or seen photos of the Field of Light Uluru and it's definitely not to be missed during your visit.
Before the sun rises and Uluru is bound by darkness, the Field of Light comes to life, illuminating an area the size of seven football fields.
Experience a memorable couple of hours at the Field of Light Uluru and wander around this impressive art installation by the works of none other than Bruce Munro, an internationally recognized artist.
The BEST Affordable Camera For Travel
If you're on the hunt for a professional camera for traveling, check out the Canon G7 X Mark II.
This tiny camera fits in your pocket, captures high-quality photos and videos, and has Wi-Fi so you can instantly transfer to your phone!
VISIT THE DOMES OF KATA TJUTA
Want to see some flora and fauna only found in the deep Australian outback? Brace yourself for some of the best things to do in Ayers Rock, near Uluru.
Visiting the domes of Kata Tjuta is a chance to learn about the diverse environment and the significance of the land to the Anangu Peoples' culture.
From Uluru, the drive to Kata Tjuta takes approximately 45 minutes.
When you make the journey to Kata Tjuta, you'll be able to walk through Walpa Gorge and discover how these rock formations developed millions of years ago.
A visit to the Kata Tjuta domes is a must while visiting Uluru, and you'll want to book the tour here below, which includes a stop at the Cultural Center – More about this below.
DISCOVER THE ULURU-KATA TJUTA CULTURAL CENTRE
If you're heading out on a day trip from Uluru to Kata Tjuta, don't forget to stop by the Uluru-Kata Tjuta Cultural Centre!
The reason being is that you'll get an immersive and educational experience about Indigenous culture.
With fascinating displays showing the history and traditions of the Anangu people, the Uluru-Kata Tjuta Cultural Centre is a great starting point when coming to the Northern Territory.
The BEST Hotel in Uluru
Need a place to stay? Sails in the Desert is conveniently located right in Ayers Rock, near Uluru.
Whether you're here to explore the sights or relax in comfort, Sails in the Desert offers the best of both worlds.
LEARN TO PLAY THE DIDGERIDOO
Have you ever wanted to learn how to play the Didgeridoo? Well, now is your chance!
Every Monday, Wednesday, Friday, and Saturday you can join in on a free workshop located at the Resort Town Square which is hosted by an Indigenous guide.
The workshop runs for about 45 minutes and you can listen to the sounds of the didgeridoo before being invited to give it a go yourself.
TAKE A PHOTO ON THE DIRT ROADS
This activity isn't on most Uluru itineraries but if you're up for an adventure and keen to get a unique photo of Uluru then this is an opportunity not to be missed.
There are many dirt roads surrounding Uluru, some of which have restricted access but there are a few that are open to the public and they make for an epic photo with Uluru standing prominently in the backdrop.
It's best to have a drone to take a photo on the dirt roads as you'll be able to get an aerial perspective and work with the leading lines.
JOIN A DOT PAINTING AND ABORIGINAL ART WORKSHOP
If there's a cultural activity you shouldn't miss when in Uluru, it's certainly this Dot Painting and Aboriginal Art Workshop.
Led by a knowledgeable Aṉangu guide, explore the Mala walk and gain insight into the oldest living culture on Earth.
The highlight of the tour is a dot painting workshop, where you will have the opportunity to participate in a traditional Aboriginal art painting activity
The workshop presents a way to appreciate the cultural heritage of the Aṉangu people while also learning about their storytelling traditions.
And if it wasn't enough, you'll be joined by an Aṉangu guide, which makes everything so much more unique!
Still thinking about it? Book now, this tour is one of the most popular things to do near Uluru and you definitely don't want to skip it.
PHOTOGRAPH THE KANTJU GORGE
Next on this list is the Kantju Gorge, located west of Uluru and providing breathtaking views that you won't want to miss.
It is a perfect spot to take your camera and snap some beautiful photos to capture your memories.
You'll also see the water from the Mutitjulu Waterhole, which was a source of water for aborigen people for generations, and I recommend taking a tour around Uluru's base to hear all the stories behind the landscape.
Lastly, the Kantju Gorge is only about 500 meters away from the Mala Walk, so you can easily do both at once! More about the Mala Walk here below.
THE MALA WALK
Among the countless things to do in Uluru, the 2-km return Mala Walk is an adventure that you simply cannot miss.
This trail will take you through rugged landscapes and ancient rock formations, providing an unforgettable, immersive experience of Uluru's natural beauty and rich history.
The best part? You can join a free tour by rangers to the Mala Walk!
The walk also offers opportunities to spot local flora and fauna, from desert flowers to wallabies, adding to the magic of the experience.
The tour lasts 1 hour and 30 minutes and starts at 8:00 am from October to April and at 10:00 am from May to September.
DISCOVER THE MUTITJULU WATERHOLE
Another of the best things to do and see in Uluru is the Mutitjulu Waterhole. Nestled at the base of Uluru, this hidden oasis is surrounded by towering sandstone cliffs and a lush array of greenery.
It is a sacred site to the Anangu people and offers a nice escape from the desert heat.
Take photos around and enjoy a peaceful stroll along the walking trail. If you're lucky, it'll rain the night before so you can see the waterhole full!
It's worth noting that the Highlights of Uluru Tour also includes a visit to Mutitjulu Waterhole, and that's only another reason to book it!
WHERE TO STAY IN ULURU
There are several accommodation options to choose from in Uluru, so I have narrowed it down to a few of the best places to stay to fit the needs of budget backpackers, luxury travelers, and everyone in between.
See the list of Uluru accommodations below that I personally recommend.
LUXURY: SAILS IN THE DESERT
MID-RANGE: THE LOST CAMEL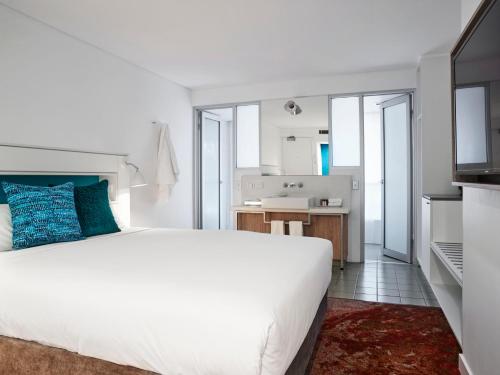 MID-RANGE: DESERT GARDENS HOTEL
WHAT TO PACK FOR NORTHERN TERRITORY
When visiting Uluru, here is a list of items I highly recommend bringing with you:
Must-Have Travel Essentials
Keep your cash and other valuables safe with this anti-theft hidden money wallet!
---
The GRAYL GeoPress is the best reusable bottle that allows you to purify water from anywhere!
---
---
---
FINAL THOUGHTS – WHAT TO DO IN ULURU
I hope you enjoyed reading this article about these popular and unusual things to do Uluru and if you have any questions about these Uluru activities, please leave a comment at the bottom of this post and I will get back to you as soon as I can.
For a quicker response, be sure to join Jonny Melon's Travel Tribe on Facebook and post your questions or recommendations to our awesome community.
TRAVEL RESOURCES FOR YOUR NEXT TRIP
Whether you're a seasoned traveler or it's your first trip overseas, here are some useful travel resources to help you kick-start your next adventure!
THANKS FOR READING
Hey friend, thanks for reading this guide!
Please know this post may contain affiliate links. When making a purchase through one of my links, I earn a small kickback at no extra cost to you and it's a big help to keep the site up and running. Rest assured, I only promote products and services that I personally use and recommend.
Many thanks!
This trip was in association with NT Tourism and Backyard Bandits.