Ninh Binh is one of the most up-and-coming destinations in Vietnam, not to mention the landscape which is a sight for sore eyes and unlike anything I have seen before.
There are hundreds of limestone cliffs that are scattered across vivid green rice fields and it sure does live up to its nickname, 'Halong Bay on Land'.
Apart from the phenomenal picturesque landscapes in Ninh Binh, this thriving destination offers the most rural and authentic side of Vietnam.
In this travel guide, I have put together some highlights of the 3 Best Things To Do In Ninh Binh to help you plan your trip ahead of time!
WHERE IS NINH BINH?
Ninh Binh is located 100km south of Hanoi and the best way to get from Hanoi to Ninh Binh is by bus or minivan.
Click here to see the location on Google maps.
There are buses that operate frequently on a daily basis from Hanoi to Ninh Binh and the journey takes around 2.5 hours.
You can search for all bus connections on the 12Go Asia website and book online to get the best rates. Alternatively, you can pre-book a shared mini-van transfer between Hanoi and Ninh Binh for only $6 USD.
GETTING AROUND NINH BINH
Getting around Ninh Binh is really simple as it's very easy to rent a bicycle or a scooter from your choice of half a dozen rental shops in the village center.
A scooter costs around 100,000 VND to rent per day and a bicycle will cost you half the price of a scooter.
TOP 3 THINGS TO DO IN NINH BINH
BICH DONG PAGODA
Bich Dong Pagoda is a three-tiered ancient pagoda nestled into a mountainside in Tam Coc.
The cluster of cave temples is surrounded by a bed of water and impressive water lilies that will have you in awe when you arrive at the entrance of Bich Dong.
WHERE IS BICH DONG PAGODA
The Bich Dong Pagoda is located 2km west of Tam Coc village center in the Ninh Binh region.
To enter the Bich Dong Pagoda there is no charge, however, you may have to pay a small fee for parking at the jump-off point.
WHAT TO EXPECT AT BICH DONG PAGODA
The entrance to Tam Coc Bich Dong Pagoda is absolutely beautiful and the most photogenic spot at this location. You will see an arched concrete walkway that stretches over the water lilies and makes its way through an impressive temple gateway and into the mountains.
There are some 100 steps from the foot of Bich Dong Pagoda to reach the very top. The trail cuts through a large cave in the mountain where looming statues and small bats appear behind the haze of incense.
When you reach the top of the stairs at Tam Coc Bich Dong Pagoda you will be welcomed with a stunning view out of the valley of the distant mountain peaks and vast rice fields.
Bich Dong Pagoda
The view from the top
Have you got travel insurance for Vietnam? We all know accidents can happen and having World Nomads Insurance will save you thousands of dollars if something goes wrong.

MUA CAVE HIKE
Hiking to the highest peak at Mua Cave makes it on the list of awesome things to do in Ninh Binh as it's a fantastic way to start your day.
The Mua Cave at the bottom of the hike is not that spectacular to look at but rather the incredible 360-degree views at the top of the mountain are what makes this hike so worth it!
WHERE IS MUA CAVE?
The Mua Cave is located 5km north of Tam Coc village center in the Ninh Binh region. It is approximately a 20-minute ride on a scooter from the village center to reach Mua Cave.
WHAT TO EXPECT AT MUA CAVE
When you arrive at the jump-off point for Mua Cave there is a ticket office next to the car park and you will have to pay a 100,000 VND entrance fee.
I arrived in the dark at around 5 am so I could hike to the top of Hang Mua Cave in time for sunrise and boy was it worth the early rise!
Follow the path right down to the end and you will reach the foot of the Mua Cave mountain. There is a path leading to the left and one path leading straight up the mountain.
Take the path to the left if you want to check out Mua Cave itself, otherwise, you can head straight up the mountain to the viewpoint.
The Mua Cave hike only takes around 15 minutes from bottom to top depending on your fitness level. There are around 500 stairs in total that ascend very steeply up the mountainside.
At the halfway point on the Mua Cave hike, you will come to a fork in the trail, the path to the right leads to one of the pagodas on a narrow rocky outcrop and the path to the left leads to the Avalokitesvara Bodhisattva statue on dragon mountain.
Personally, I quickly ascended the path to the right to check out pagoda number one and then I raced back over to the much higher peak next to the Avalokitesvara Bodhisattva statue for the sunrise.
THE VIEWPOINTS AT HANG MUA
As you near the top of Mua Cave, you'll come to the first incredible viewpoint with a spectacular sight of the Ngo Dong River below that cuts its way around the towering mountains in the south-facing valley. This was by far my favorite spot to take photos on the Mua Cave adventure.
Continue the hike up a little further till you reach the top of Mua Cave and to the second viewpoint. The locals call this spot 'dragon mountain' as you will see an ornate dragon built from stone that spreads across the ridge at the peak. There is also a statue of Avalokitesvara Bodhisattva underneath a sheltered pagoda that is surrounded by incense and food offerings.
I was lucky enough to have the entire Mua Cave mountain to myself as I sat and watched the sunrise in complete awe. As the light got brighter I decided to launch my drone and shoot the pagodas and the surrounding landscapes.
Ngo Dong River
Mua Cave Hike
BAI DINH PAGODA
The Bai Dinh Pagoda lies within a complex of spiritual Buddhist temples on Bai Dinh Mountain in Ninh Binh, North Vietnam. The Bai Dinh Pagoda stands an impressive 13-stories tall with panoramic views at the top.
WHERE IS BAI DINH PAGODA
The Bai Dinh Pagoda is 20km west of Ninh Binh and it is approximately a 30-minute drive.
The journey to Bai Dinh Pagoda will lead you along a road that hugs the edge of the Trang An River, surrounded by the towering limestone cliffs that are said to resemble that of Ha Long Bay, but on land.
ARRIVING AT THE BAI DINH PAGODA
There is a large car park along with a dozen food stores and markets at the entrance to Bai Dinh Pagoda. It is best to park your scooter in the shade and pay a parking fee of 15,000 VND.
There is no entrance fee to the Bai Dinh Pagoda, however, it is a very long way to walk from the entrance gate to the actual complex of temples. I recommend you take a ride on the golf buggies that are available for 30,000 VND each way.
The golf buggy will drop you off at the main entrance hall at Bai Dinh Pagoda. From here you will have to climb a number of steps up multiple levels that are lined with hundreds of Buddha statues and golden ornaments.
WHAT TO EXPECT INSIDE BAI DINH PAGODA COMPLEX
When you reach level one of the temple complex, the first attraction is the 3-tiered bell tower pagoda. You can climb the small flight of stairs on the inside of the bell tower for an epic view of the surrounding gardens and the Bai Dinh Pagoda in the distance.
Continue uphill to the second level and discover the large golden Buddha. Walk into the great hall and prepare to be in utter awe at the impressive golden Buddha that sits behind a haze of incense smoke.
Further along to the third level is the Bai Dinh Pagoda itself! The multilevel pinnacle pagoda stands proudly in a symmetrical garden on Bai Dinh Mountain.
If you wish to go to the top of the Bai Dinh Pagoda you will have to pay 50,000 VND at the ticket stand and then take the internal elevator to the top.
Last but not least is the silver Buddha statue on the fourth level of Bain Dinh Mountain. By this point, you may be getting tired of climbing hundreds of stairs but it is worth it for the 360-degree view of the complex of temples and the incredible surrounding landscape.
Bai Dinh Pagoda
The Golden Buddha
THINGS TO KNOW BEFORE YOU GO
Ninh Binh can be visited year-round, though between the months of November to April it's mostly dry and cool and when most people tend to visit. May to October sees plenty of rainfall and hot humid days.
The rainy season, in my opinion, is the best time to visit the Ninh Binh region as there are fewer tourists and the landscapes are vividly green!
There are a number of ATM machines and currency exchange stores located around Ninh Binh and Tam Coc, so if you need to get cash out the option is there.
Need a travel money card?

Wise

offers multi-currency debit cards which can be used worldwide and you'll save hundreds on transaction fees.

Get your Wise card today for free!
WHERE TO STAY IN NINH BINH
Tam Coc and Ninh Binh have hundreds of accommodations to choose from, so I have narrowed it down to a few of the best places to stay to suit the needs of budget backpackers, luxury travelers, and everyone in between.
See the list of accommodations below that I personally recommend:
Luxury: Emeralda Resort Ninh Binh
Emeralda Ninh Binh Resort is the best luxury accommodation in Ninh Binh. Located on the edge of a beautiful nature reserve featuring 3 swimming pools, 2 restaurants, bar, fitness center, sauna, spa, and free wifi. The spacious, vill-style rooms are fitted with wooden decor, a large balcony with stunning views, flat-screen tv, minibar, and a private bathroom. Breakfast is also included for all guests. Recommended for couples, families, and friends!
Mid Range: King Kong Homestay
King King Homestay is the best value-pick accommodation in Tam Coc. Featuring well-kept gardens, a shared lounge, terrace, free wifi, and a 24-hour front desk. Choose from a double room, king room, or deluxe family room, each with air conditioning, wardrobe, seating area, pool views, and private bathroom. Guests can also enjoy an à la carte breakfast.
Budget: Zuli Zen Home
I personally stayed at Zuli Zen Home and can't recommend this place enough! With a great location in Tam Coc just walking distance of shops, cafes, bars, and tourist attractions. The property has a shared lounge and kitchen, free wifi, and is surrounded by beautiful rice fields and mountains. Choose from either a dorm room or a private double room, each of which has air-conditioning. Guests can enjoy continental or Vietnamese breakfast. Perfect place to stay in Tam Coc for solo travelers, couples, and friends on a budget.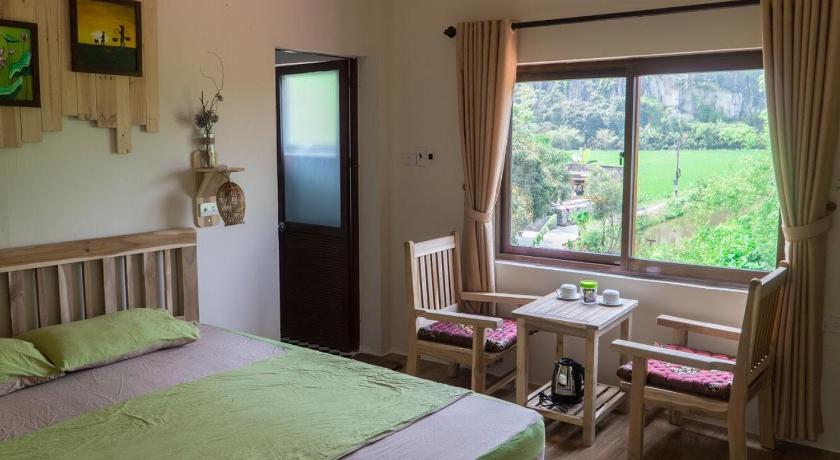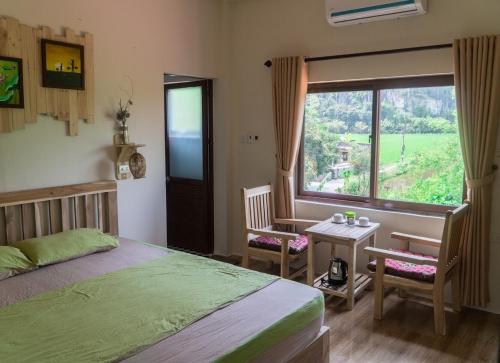 WHAT TO PACK FOR NINH BINH
When visiting Ninh Binh, here is a list of items I highly recommend bringing with you;
If you're interested in taking awesome photos and videos on your travels, this is the camera gear that I use and recommend;
GoPro HERO10 – the most popular camera on the planet for action-packed adventures.
Canon EOS R – perfect for traveling, this is the most affordable, compact camera on the market.
DJI Mini 3 Pro – take your photos and videos to new heights with this user-friendly drone camera.
BEST VIETNAM TOURS
MORE VIETNAM TRAVEL GUIDES
TRAVEL RESOURCES FOR YOUR NEXT TRIP
Whether you're a seasoned traveler or it's your first trip overseas, here are some useful travel resources to help you kick-start your next adventure!
BOOKING.COM – search and book accommodation worldwide
SKYSCANNER – compare and book cheap flights to anywhere
VIATOR – find tickets, tours, and experiences around the world
BOOKAWAY – book buses, trains, and transfers online in advance
RENTAL CARS – search all rental cars in your next destination
GROUP TRIPS – join one of my epic small group trips
TRAVEL INSURANCE – purchase World Nomads travel insurance
TRAVEL MONEY CARD – get a Wise card today for free
Looking for more? Check out my Travel Resources page for further help with your trip planning!
FINAL THOUGHTS
I hope you enjoyed reading this article and if you have any questions about Things To Do In Ninh Binh, please drop me a comment below this post and I will get back to you as soon as I can.
For a quicker response, be sure to join Jonny Melon's Travel Tribe on Facebook and post your questions or recommendations to our awesome community.
THANKS FOR READING
Hey friend, thanks for reading this guide!
Please know this post may contain affiliate links. When making a purchase through one of my links, I earn a small kickback at no extra cost to you and it's a big help to keep the site up and running. Rest assured, I only promote products and services that I personally use and recommend.
Many thanks!
PIN IT FOR LATER