Hiking to the highest peak at Mua Cave (also known as Hang Mua) is one of the best things to do in Ninh Binh! The cave itself is not that spectacular but it's the incredible 360-degree views from the Hang Mua viewpoint that make this a very popular place to visit.
I have put together this complete guide of Hang Mua Cave including how to get there, how much it costs, the best time to visit, and what to expect when you arrive.
WHERE IS MUA CAVE?
Mua Cave is located 5km north of Tam Coc village center in the Ninh Binh region.
Click here to see the location on Google maps.
Getting around Tam Coc is really simple as you can do so on foot, on a bicycle, or rent a scooter from your choice of half a dozen rental shops in the center of town.
It's approximately a 10-minute ride on a scooter from the town center to reach the entrance to Mua Cave.
A scooter rental costs around 100,000 VND per day, or you can rent a bicycle which costs half the price.
HOW TO GET TO NINH BINH
There are buses that operate frequently on a daily basis from Hanoi to Ninh Binh and the journey takes around 2.5 hours.
You can search for all bus connections on the 12Go Asia website and book online to get the best rates.
Alternatively, you can pre-book a shared mini-van transfer between Hanoi and Ninh Binh for only $6 USD.
HANG MUA CAVE ENTRANCE FEE
When you arrive at Mua Cave, there is a ticket office next to the parking lot and you will have to pay a 100,000 VND entrance fee.
Opening hours are Monday to Friday from 6 am to 7 pm.
I arrived in the dark at around 5 am so I could hike to the Hang Mua viewpoint in time for sunrise. On that note, I highly recommend visiting for sunrise or sunset – I guarantee you won't regret it!
The main entrance
Hang Mua mountain
WHAT TO EXPECT
Follow the path right down to the end and you will reach the foot of the mountain. There is a path leading to the left and one path leading straight up the mountainside.
Take the path to the left if you want to check out the cave itself, otherwise, you can head straight up the mountain to the Hang Mua viewpoint.
The hike only takes around 15 minutes from bottom to top depending on your fitness level. There are around 500 stairs in total that ascend very steeply up the mountainside.
At the halfway point, you will come to a fork in the trail, the path to the right leads to one of the pagodas on a narrow rocky outcrop and the path to the left leads to the Avalokitesvara Bodhisattva statue on dragon mountain.
Personally, I quickly ascended the path to the right to check out pagoda number one and then I raced back over to the much higher peak next to the Avalokitesvara Bodhisattva statue for the sunrise.
Pagoda number one
Pagoda number two
Have you got travel insurance for Vietnam? We all know accidents can happen and having World Nomads Insurance will save you thousands of dollars if something goes wrong.

HANG MUA VIEWPOINT
As you near the top of the mountain, you'll come to the first incredible viewpoint with a spectacular sight of the Ngo Dong River below that cuts its way around the towering mountains in the south-facing valley. This was by far my favorite spot to take photos.
Continue the hike up a little further till you reach the top and to the second viewpoint. The locals call this spot 'dragon mountain' as you will see an ornate dragon built from stone that spreads across the ridge at the peak. There is also a statue of Avalokitesvara Bodhisattva underneath a sheltered pagoda that is surrounded by incense and food offerings.
I was lucky enough to have the entire Hung Mua mountain to myself as I sat and watched the sunrise in complete awe. As the light got brighter I decided to launch my drone and take photos of the pagodas and the surrounding landscapes.
View of Ngo Dong River
Dragon Mountain
Statue of Avalokitesvara Bodhisattva
Drone shot of Dragon Mountain
THINGS TO KNOW BEFORE YOU GO
The best time to visit is early in the morning around 6 am before the crowds hit or you can visit in the late afternoon as it is a great location to watch the sunset over the valley.
It can be visited year-round, though between the months of November to April it's mostly dry and cool and when most people tend to visit.
May to October sees plenty of rainfall and hot humid days. The rainy season, in my opinion, is the best time to visit the Ninh Binh region as there are fewer tourists and the landscapes are vividly green!
Beautiful scenes in Ninh Binh
WHERE TO STAY IN NINH BINH
Tam Coc and Ninh Binh have hundreds of accommodations to choose from, so I have narrowed it down to a few of the best places to stay to suit the needs of budget backpackers, luxury travelers, and everyone in between.
See the list of accommodations below that I personally recommend:
Luxury: Emeralda Resort Ninh Binh
Emeralda Ninh Binh Resort is the best luxury accommodation in Ninh Binh. Located on the edge of a beautiful nature reserve featuring 3 swimming pools, 2 restaurants, bar, fitness center, sauna, spa, and free wifi. The spacious, vill-style rooms are fitted with wooden decor, a large balcony with stunning views, flat-screen tv, minibar, and a private bathroom. Breakfast is also included for all guests. Recommended for couples, families, and friends!
Mid Range: King Kong Homestay
King King Homestay is the best value-pick accommodation in Tam Coc. Featuring well-kept gardens, a shared lounge, terrace, free wifi, and a 24-hour front desk. Choose from a double room, king room, or deluxe family room, each with air conditioning, wardrobe, seating area, pool views, and private bathroom. Guests can also enjoy an à la carte breakfast.
Budget: Zuli Zen Home
I personally stayed at Zuli Zen Home and can't recommend this place enough! With a great location in Tam Coc just walking distance to shops, cafes, bars, and tourist attractions. The property has a shared lounge and kitchen, free wifi, and is surrounded by beautiful rice fields and mountains. Choose from either a dorm room or a private double room, each of which has air-conditioning. Guests can enjoy continental or Vietnamese breakfast. Perfect place to stay in Tam Coc for solo travelers, couples, and friends on a budget.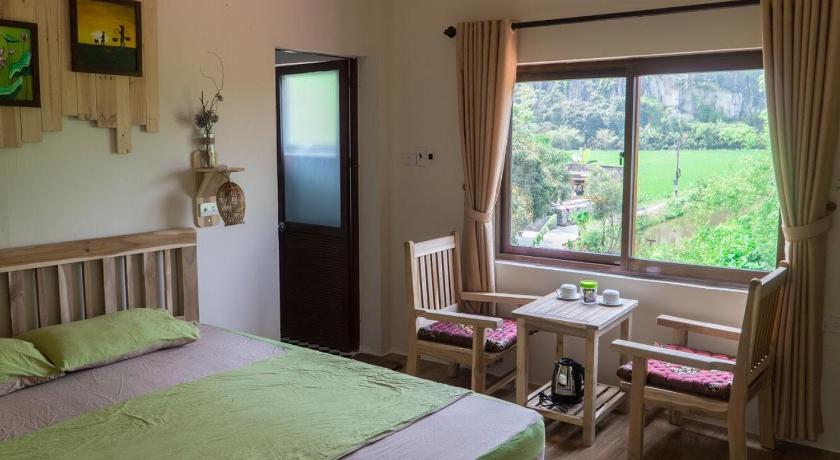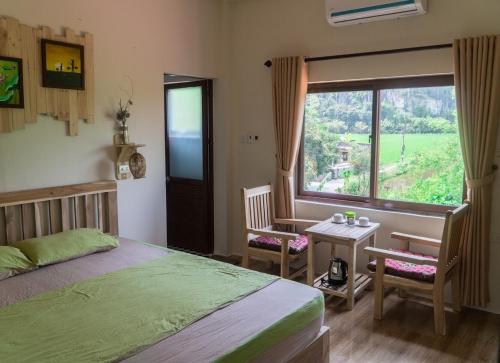 BEST VIETNAM TOURS
MORE VIETNAM TRAVEL GUIDES
TRAVEL RESOURCES FOR YOUR NEXT TRIP
Whether you're a seasoned traveler or it's your first trip overseas, here are some useful travel resources to help you kick-start your next adventure!
BOOKING.COM – search and book accommodation worldwide
SKYSCANNER – compare and book cheap flights to anywhere
VIATOR – find tickets, tours, and experiences around the world
BOOKAWAY – book buses, trains, and transfers online in advance
RENTAL CARS – search all rental cars in your next destination
GROUP TRIPS – join one of my epic small group trips
TRAVEL INSURANCE – purchase World Nomads travel insurance
TRAVEL MONEY CARD – get a Wise card today for free
Looking for more? Check out my Travel Resources page for further help with your trip planning!
FINAL THOUGHTS
I hope you enjoyed reading this article and if you have any questions, please drop me a comment below this post and I will get back to you as soon as I can.
Happy Adventuring!
PIN IT FOR LATER