The awe-inspiring Ravana Falls in Ella, Sri Lanka is one of the most popular waterfalls in the region and not to be missed during your visit.
I have put together this complete guide to Ravana Falls including how to get there, how much it costs and what to expect when you arrive.
WHERE IS RAVANA FALLS?
A short 10-minute drive down the mountainside from the main street in Ella is where you will find Ravana Falls.
Click here to see the location on Google maps.
The cheapest option to get from the center of Ella town to the falls is to jump on the local bus from the Ella bus stop, which will cost you around 50 Rupees.
The other option is to jump in the back of a tuk-tuk in Ella and the price will be anywhere between 300-500 Rupees each way.
ARRIVING AT RAVANA FALLS ELLA
Hold on to your hats as you wind your way down through the verdant valley between Ella Rock & Little Adam's Peak… the hairpin turns on the way to the falls will make your belly churn!
Don't be afraid to look out the window though, because the spectacular views down the valley are absolutely phenomenal.
These falls feature a 3-tier cascading waterfall that gushes down a rock face, creating rock pools along its path.
The first set of falls is a short 1-minute walk from the jump-off point and this is the most popular spot where the majority of tourists and locals hang out.
At first sight, this set of falls didn't look very striking in comparison to some of the waterfalls you can find in Bali and Lombok, however, I noticed two more sets of falls which are much higher up on the cliff face above, and of course, I had to go and check them out!
Ravana Waterfall
The first set of falls
THINGS TO KNOW ABOUT RAVANA FALLS
It's not recommended by the locals to venture any higher than the first set of falls but there are no signs or barriers prohibiting this. So, being thrill-seekers we are, my friend Samuel and I started climbing the rock face towards the 2nd tier.
You will, however, notice a warning sign in the parking lot with risks and hazards to be aware of, so please take care and only explore within your own limits.
We started to scale the rock which wasn't very steep and the surface was dry, which was reassuring. We went as far as we could before the rock climbing became a bit gnarly and we traversed across to the bushes on the right-hand side.
Surprisingly, there was a muddy trail and signs of foot traffic before us, so we followed the trail to the top and we were stunned in awe at what we had just discovered.
Another perspective of the falls
Have you got travel insurance for Sri Lanka? We all know accidents can happen and having World Nomads Insurance will save you thousands of dollars if something goes wrong.

WHAT TO EXPECT AT RAVANA WATERFALL
My initial opinion of the falls not being that spectacular changed instantly. The views overlooking the valley were breathtaking, and the trek up into the mountains to see the 2nd and 3rd tier waterfalls was nothing short of amazing. I felt like I was in a fairytale of some sort, having just discovered a magical fountain!
We explored around the epic mountainside setting, swimming in rock pools and taking photos as the sun began to set over the clifftop above. Just to be sure, I'd recommend bringing a dry bag to keep all your belongings and gadgets safe when going for a swim.
We got lucky with the timing and were able to get some good shots while the last bit of sunshine was beaming down through the cracks of the valley. I believe the time was around 4 pm.
We had come as far as the 2nd tier and couldn't resist climbing to the highest point to reach the 3rd tier of the waterfall.
I found a dirt track through some bushland on the left-hand side that leads up and around the rock face and to a cascading pool beneath the highest falls.
Handstands at the falls
Marveling at the falls
Do you ever have that feeling of achieving something worthwhile? Well, that's the feeling I experienced as I reached the highest point possible at Ravana Waterfall. We spent a good hour up here admiring mother nature at its finest!
The trek back down the mountainside was much easier than I imagined. We followed our same tracks down the dirt trails which lead us straight back to the entrance.
Back at the jump-off point, you can find some small roadside vendors that sell tasty snacks, vegetable kottu, and fresh coconuts to cleanse the pallet. Bring some extra cash if you wish to purchase something!
Need a travel money card?

Wise

offers multi-currency debit cards which can be used worldwide and you'll save hundreds on transaction fees.

Get your Wise card today for free!
As I mentioned earlier, please take care during your visit and don't do anything you don't feel comfortable doing. If you can make it to the top, you will never regret it!
Ravana Waterfall
WHERE TO STAY IN ELLA
Ella has hundreds of accommodation options to choose from, so I have narrowed it down to a few of the best places to stay to fit the needs of budget backpackers, luxury travelers, and everyone in between.
See the list of accommodations below that I personally recommend:
Luxury: 98 Acres Resort & Spa
Live like a celebrity in the best 5-star resort in Ella! Surrounded by stunning landscapes, 98 Acres Resort is within walking distance to the Nine Arches Bridge and Little Adam's Peak. The rooms are luxurious and spacious featuring free wifi, seating area, flat-screen tv, kitchenette, dining area, private bathroom, and spectacular mountain views. There is also an outdoor pool for guests to use on the property. Breakfast is included.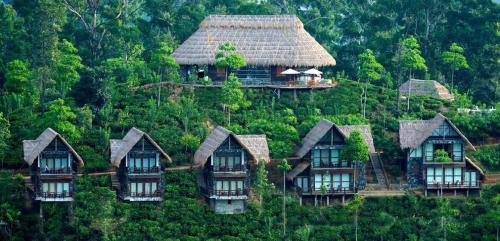 Mid Range: Ella's Edge Resort
This 3-star hotel is surrounded by tropical greenery and it's one of the most relaxing places to stay in Ella. The resort features a restaurant, gardens, and mountain views from all the rooms. There are double rooms, triple rooms, and family-sized rooms available featuring a modern interior, a private bathroom, spacious living, and free wifi. Perfect for family and friends visiting Ella.
Budget: Little Heaven Homestay
One of the best budget accommodations in Ella. Little Heaven Homestay is centrally located and within close proximity to the hot spot attractions in Ella. There are double, triple, and quadruple rooms to choose from featuring large beds, private bathrooms, balconies, and terraces. They also have a restaurant at the property and wifi is free for guests. Perfect for solo backpackers and friends.
BEST TOURS IN SRI LANKA
WHAT TO PACK FOR ELLA
When visiting Ella, here is a list of items I highly recommend bringing with you;
If you're interested in taking awesome photos and videos on your travels, this is the camera gear that I use and recommend;
GoPro HERO10 – the most popular camera on the planet for action-packed adventures.
Canon EOS R – perfect for traveling, this is the most affordable, compact camera on the market.
DJI Mini 3 Pro – take your photos and videos to new heights with this user-friendly drone camera.
MORE SRI LANKA TRAVEL GUIDES
TRAVEL RESOURCES FOR YOUR NEXT TRIP
Whether you're a seasoned traveler or it's your first trip overseas, here are some useful travel resources to help you kick-start your next adventure!
BOOKING.COM – search and book accommodation worldwide
SKYSCANNER – compare and book cheap flights to anywhere
VIATOR – find tickets, tours, and experiences around the world
BOOKAWAY – book buses, trains, and transfers online in advance
RENTAL CARS – search all rental cars in your next destination
GROUP TRIPS – join one of my epic small group trips
TRAVEL INSURANCE – purchase World Nomads travel insurance
TRAVEL MONEY CARD – get a Wise card today for free
Looking for more? Check out my Travel Resources page for further help with your trip planning!
FINAL THOUGHTS
I hope you enjoyed reading this article and if you have any questions, please leave me a comment below this post and I will get back to you as soon as I can. For a quicker response, be sure to join Jonny Melon's Travel Tribe on Facebook and post your questions or recommendations to our awesome community.
THANKS FOR READING
Hey friend, thanks for reading this guide!
Please know this post may contain affiliate links. When making a purchase through one of my links, I earn a small kickback at no extra cost to you and it's a big help to keep the site up and running. Rest assured, I only promote products and services that I personally use and recommend.
Many thanks!
PIN IT FOR LATER