Playa Sayulita (Sayulita Beach) is the main public beach in the town and is not to be missed during your visit!
Boasting an almost endless strip of golden sands and bluish-green waters, it's one of the most idyllic beaches in Nayarit, Mexico.
When visiting this hippie-chic town on Mexico's Pacific Coast, it's pretty hard to miss Sayulita Playa as it's one of the main features that attracts locals, foreign tourists, and surfers from around the world.
I have put together this complete visitor's guide to Sayulita Beach including how to get here and a list of the best things to do when you arrive!
QUICK ANSWERS: PLAYA SAYULITA
Here are some quick answers to the most frequently asked questions about Sayulita Beach Mexico from first-time visitors.
WHERE IS PLAYA SAYULITA MEXICO?
Playa Sayulita is located 40 km northwest of Puerto Vallarta, one of the main cities in the state of Nayarit.
From Puerto Vallarta to Sayulita, it's approximately a 45-minute drive and is easily accessible by car.
Click here to see the location on Google maps.
HOW TO GET TO PLAYA SAYULITA?
Sayulita is a short 45-minute drive from the main city of Puerto Vallarta, Nayarit.
You can take a taxi from Puerto Vallarta to Sayulita which costs anywhere between $50 – $75 for a one-way trip.
Alternatively, you can rent a car at the airport for the time you plan to spend in the region.
Car Rental – Search, Compare & Save!
Discover Cars are one of the world's largest online car rental platforms with vehicles in 10,000+ locations.
Find the right car, in the right place, for the best price guaranteed!
Another option is to book a private transfer from the airport in Puerto Vallarta to Sayulita.
Once you arrive in the town, Playa Sayulita Mexico can be reached easily on foot. It's no more than a 5-minute walk from downtown, or a 10-minute walk if you're staying in outer Sayulita.
There are many roads leading directly from downtown to the shoreline at Sayulita Beach so you can't get lost.
WHERE TO STAY IN SAYULITA?
Sayulita has hundreds of accommodations to choose from so I have narrowed it down to a few of the best places to stay to suit the needs of luxury travelers, budget backpackers, and everyone in between.
See the list of Sayulita accommodations below that I personally recommend:
LUXURY: YSURI HOTEL SAYULITA
MID RANGE: HOTEL VISTA OCEANA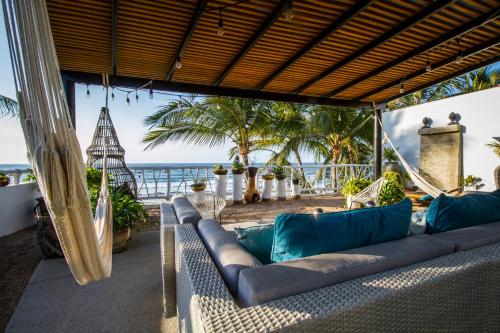 BUDGET: SELINA HOSTEL
WHAT TO EXPECT AT SAYULITA PLAYA NAYARIT?
When you arrive from Puerto Vallarta, there are many seaside bars, restaurants, and beach umbrellas where you can simply pick a spot to perch up for a few hours or the entire day.
You can expect to pay around 100 MXN ($5) for a beach umbrella that comes complete with a table and chairs.
Toilets, change rooms, and shower facilities can be found in a few locations along the beach with a small fee of around 5 or 10 MXN ($0.25 – $0.50) for beachgoers to use.
Also, some of the beach entrances have small convenience stores where you can stock up on drinks and snacks to take down to the beach if you don't wish to sit down at one of the seaside restaurants.
Any trash that you accumulate during your visit can be placed in the rubbish bins provided at the entrances to the beach.
Please help keep this beautiful coastline clean by not littering and ultimately avoiding trash ending up in the ocean.
BEST TOUR IN SAYULITA
Looking for an awesome day trip? The best tour in Sayulita is the All-Inclusive Marietas Islands Boat Tour!
It includes unlimited drinks, lunch, a visit to the Marietas Islands, and a fun group to share the day with!
THINGS TO DO AT PLAYA SAYULITA
To make the most of your time during your visit to this spectacular beach in Sayulita, I have put together a list of awesome things to do that you absolutely can't miss!
GO SURFING
Sayulita was originally put on the map by surfers, so you're in for a treat whether you're a beginner surfer or someone with plenty of experience.
There are three surf breaks at Playa Sayulita Nayarit:
the very south side of the bay is a calm beach break for beginners

the middle break is for intermediate surfers featuring a left-hand and right-hand wave

and further north there is another intermediate surf break featuring a left-hand wave
For those of you who already know how to surf, you can simply rent a board from Sayulita Surf School for around 100 pesos per session.
And if you have never surfed before, this is your chance to learn and I highly recommend booking a surf lesson with an experienced surf coach.
GET A MASSAGE
What better way to unwind and relax than getting a massage on the beach with the sound of crashing waves in the background?!
There are a number of massage tents dotted along Sayulita Beach and the cost is around 400-500 MXN ($20 – $25) depending on which type of massage you get.
Some options include relaxation, deep tissue, sports massage, aromatherapy, back massage, and leg massage.
I personally got a deep-tissue massage and it sure did hit the spot.
The BEST Hotel in Sayulita
Need a place to stay? Hotel Ysuri Sayulita is conveniently located near Sayulita Beach.
Whether you're here to explore the sights or relax in comfort, Hotel Ysuri offers the best of both worlds.
ORDER A MARGARITA
After getting the best massage Sayulita, sipping on a Margarita is the best way to enjoy the day!
Arguably one of the best margaritas I've had was ordered right from the comfort of my beach chair at Playa Sayulita Nayarit Mexico for just 100 MXN ($5)!
There are many local beach vendors that will make will take care of you, so you don't even have to worry about getting off your butt to get something to eat or drink.
When it comes to paying your bill, it's a courtesy to tip your beach waiters or waitresses around 15-20%.
CHILL OUT AT COCO'S BEACH CLUB
Coco's Beach Club is the go-to spot for food, drinks, and nighttime beach parties on Sayulita Playa!
Boasting a great selection of cocktails, cold beers, and delicious food, you can choose to sit inside under the large palapa, or perch up at one of the beachside tables and feel the sand between your toes.
There's also an epic rooftop dining area overlooking the ocean that I highly recommend checking out when coming to this beach club Sayulita!
The BEST Affordable Camera For Travel
If you're on the hunt for a professional camera for traveling, check out the Canon G7 X Mark II.
This tiny camera fits in your pocket, captures high-quality photos and videos, and has Wi-Fi so you can instantly transfer to your phone!
TAKE A REFRESHING DIP
Basically everywhere along the beach is an ideal spot to go swimming apart from right in front of the river mouth where there are some rocky outcrops.
So what are you waiting for?! Round up your friends and family for a big beach day and be sure to take a refreshing dip in the ocean to cool off.
HIKE TO MALPASO BEACH
If you're up for an adventure, head north along the shoreline of the main beach where you'll find a jungle trail that leads over the headland to Malpaso Beach (Playa Malpaso).
Malpaso features a long sandy shoreline and is very much secluded away from the crowds.
You won't find any beach vendors or umbrellas here, so be prepared with everything you need in the way of food and drinks if you venture up this way.
When you arrive you'll be spoiled with the whole beach to yourself and there are even some small caves to explore!
You just don't have a good enough reason not to explore the other Sayulita Mexico beaches!
WATCH THE SUNSET AT PLAYA SAYULITA
You can't leave Sayulita without witnessing a burning sunset over the Pacific Ocean!
Each sunset is different from the last and you'll find many bars playing music along the beach to enjoy a sundowner, or simply throw down a towel on the sand and BYO drinks and beats.
It's a bloody good vibe and a fantastic way to end a fun-filled day at the beach.
VISIT PLAYA LOS MUERTOS
A short 10-minute walk to the south of Sayulita Main Beach, Playa Los Muertos is a hidden little cove surrounded by coconut palm trees and away from the crowds.
Here you can find beach umbrellas to rent, a small bar, and beach vendors. There is a cemetery just back from the beach which is how this beach gets its name.
There are also some rocky outcrops at both ends of the beach which can be explored.
Needless to say, you won't regret visiting the Sayulita Mexico beaches.
SHOP TILL YOU DROP
Had enough of sandy toes and salty kisses?!
A short stone's throwback from the beach you can find countless retail stores from surf shops, artisan wear, homewares, jewelry, artworks, and much more!
It's the perfect opportunity to grab a souvenir for yourself or treat someone back home with a little gift.
WHAT TO PACK FOR SAYULITA
When visiting Sayulita Playa Nayarit, here is a list of items I highly recommend bringing with you:
Must-Have Travel Essentials
Keep your cash and other valuables safe with this anti-theft hidden money wallet!
---
The GRAYL GeoPress is the best reusable bottle that allows you to purify water from anywhere!
---
---
---
FINAL THOUGHTS – SAYULITA BEACH MEXICO
I hope you enjoyed reading this article and if you have any questions at all about Sayulita Playa Nayarit, please leave me a comment below this post and I will get back to you as soon as I can.
For a quicker response, be sure to join Jonny Melon's Travel Tribe on Facebook and post your questions or recommendations, including Playa de Sayulita, to our awesome community!
TRAVEL RESOURCES FOR YOUR NEXT TRIP
Whether you're a seasoned traveler or it's your first trip overseas, here are some useful travel resources to help you kick-start your next adventure!
THANKS FOR READING
Hey friend, thanks for reading this guide!
Please know this post may contain affiliate links. When making a purchase through one of my links, I earn a small kickback at no extra cost to you and it's a big help to keep the site up and running. Rest assured, I only promote products and services that I personally use and recommend.
Many thanks!