The Hierve El Agua Tour is not to be missed during your visit to Oaxaca.
There is no doubt that you would have seen Hierve El Agua on social media boasting an epic natural infinity pool and petrified waterfall on the edge of a mountaintop with incredible views of the Oaxaca Valley!
I have put together this complete guide of the Hierve El Agua Oaxaca including where to book a tour and what to expect when you arrive.
WHERE IS HIERVE EL AGUA OAXACA
Hierve El Agua is located 65 km southeast of Oaxaca City Center in the municipality of Roaguia.
It's approximately a 1 hour and 30-minute drive from Oaxaca City to reach Hierve El Agua.
Click here to see the location on Google maps.
WHERE TO BOOK A HIERVE EL AGUA TOUR
There are countless tour companies in Oaxaca City to book a Hierve El Agua Tour but in my experience, it can be overwhelming trying to decide which one is best.
I recommend booking online in advance with Get Your Guide which has great reviews and hundreds of bookings. This will save you from having to haggle for a good price with the local tour companies in Oaxaca City.
The Hierve El Agua Oaxaca Tour starts with a hotel pick-up from Oaxaca City at around 10:00 am and not only will you get to visit Hierve El Agua, but the tour also includes a visit to El Tule Tree, Mitla Ruins, Mezcal Factory, and Zapotec Village before returning to your hotel in Oaxaca City at around 6:00 pm.
Need A Travel Money Card?
Wise offers multi-currency cards that can be used worldwide and you'll save $ on transaction fees.
Get a Wise card today for FREE!
HIERVE EL AGUA ENTRANCE FEE
Unfortunately, the cost of the tour does not include the entrance fee upon arriving which means you will have to pay an additional 50 pesos.
Believe me, it's worth the extra 50 pesos ($3 USD) to experience this incredible natural wonder with your own eyes!
WHAT TO EXPECT AT HIERVE EL AGUA OAXACA
Hierve El Agua is formed by small amounts of water which is oversaturated with calcium carbonate and comes to the surface through cracks in the mountain. Pretty interesting stuff if you ask me!
Hierve El Agua translated to English means 'Boil The Water' but the springs aren't actually that hot. In fact, I went swimming in the top pool and it was quite chilly. The average Hierve El Agua temperature is around 22 to 27 degrees Celcius.
There are not one but two petrified waterfalls at this location. The first one you'll come to is called Cascada Chica which is about 60 meters wide and rises 50 meters off the valley floor.
The second petrified waterfall is called Cascada Grande which is around 90 meters wide and 80 meters above the valley floor. This one isn't recommended for swimming in the natural springs at the top but it's definitely photogenic!
Have you got travel insurance for your trip?!
We all know accidents can happen and having Heymondo Insurance will save you thousands of dollars if something goes wrong.
Heymondo offers low-cost Travel Insurance to keep you covered on all your adventures.
Once you've finished exploring the natural springs on top of Cascada Chica and Cascada Grande you can follow the trail down and around the mountain to the base of the petrified waterfalls.
It's around 30-minutes to get down to the bottom of Hierve El Agua and back up again. The way down is clearly marked and it's a combination of a rocky trail and concrete steps suitable for all sorts of travelers.
My favorite viewpoint of the Cascada Grande petrified waterfall is about halfway down the trail where you can see it from a side-on perspective.
The rock formations that you can see are other-worldly and are formed by the water that runs down the rock face, creating these large stalactites similar to those found in caves.
BEST PHOTO SPOTS AT HIERVE EL AGUA
The best Instagram-worthy photo spot at Hierve El Agua Oaxaca, in my opinion, is at Cascada Chica which has two natural infinity pools with the most incredible mountainous backdrop!
In the top springs, there is a dead tree that makes for the perfect reflection shot which you can see in the image below. This is also the most popular spot among tourists to take photos so you may have to queue in line for 5 to 10 minutes to get your shot.
My personal favorite photo spot is in the lower springs where you can sit right on the edge of a shallow pool and capture the beautiful mountains in the background!
The Most Functional Day Pack EVER!
The Nomatic 20L Travel Pack is perfect for everyday use and for those shorter 1-3 day adventures.
With 20+ innovative features and a minimalist design, this functional day pack gives you confidence for life on the move!
FOOD & DRINKS AT HIERVE EL AGUA
At the entrance to Hierve El Agua, you can find dozens of vendors selling all sorts of things including local cuisine, soft drinks, beers, juices, ice cream, hand-made garments, and souvenirs.
Toilet facilities and change rooms are also available for visitors which are located at the main entrance to Oaxaca Hierve El Agua.
WHERE TO STAY IN OAXACA CITY
Oaxaca City has hundreds of accommodations to choose from so I have narrowed it down to a few of the best places to stay in Oaxaca to suit the needs of luxury travelers, budget backpackers, and everyone in between.
See the list of Oaxaca accommodations below that I personally recommend:
Luxury: Quinta Real Oaxaca
Mid Range: Hotel Casa De La Tia Tere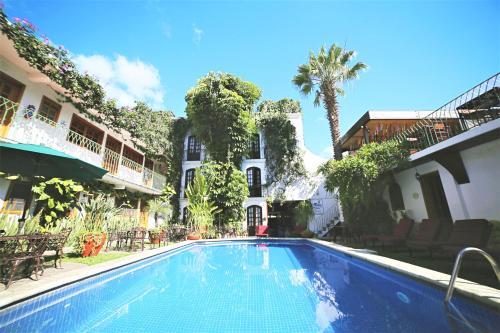 Budget: Selina Hostel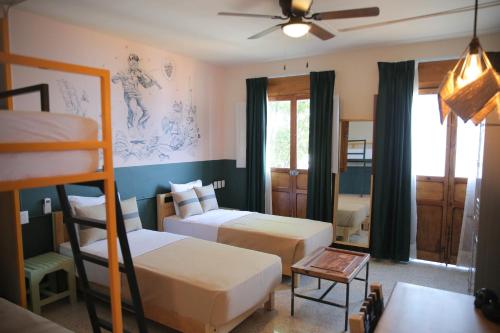 FOR ALL OTHER PLACES TO STAY IN OAXACA CITY, SEARCH ON BOOKING.COM
WHAT TO PACK FOR MEXICO
When visiting Mexico, here is a list of items I highly recommend bringing with you:
Must-Have Travel Essentials
Keep your cash and other valuables safe with this anti-theft hidden money wallet!
---
The GRAYL GeoPress is the best reusable bottle that allows you to purify water from anywhere!
---
---
---
FINAL THOUGHTS – HIERVE EL AGUA
If you're umming and ahhing about whether or not to join a Hierve El Agua Tour I can tell you now that you won't regret it. This particular location was the highlight of my trip to Oaxaca and I guarantee you will enjoy it just as much as I did.
I highly recommend visiting Hierve El Agua Oaxaca with a tour as opposed to DIY because it includes a number of other must-see tourist attractions in Oaxaca.
If you have any questions, please leave me a comment below this post and I will get back to you as soon as I can. For a quicker response, be sure to join Jonny Melon's Travel Tribe on Facebook and post your questions or recommendations to our awesome community.
TRAVEL RESOURCES FOR YOUR NEXT TRIP
Whether you're a seasoned traveler or it's your first trip overseas, here are some useful travel resources to help you kick-start your next adventure!
THANKS FOR READING
Hey friend, thanks for reading this guide!
Please know this post may contain affiliate links. When making a purchase through one of my links, I earn a small kickback at no extra cost to you and it's a big help to keep the site up and running. Rest assured, I only promote products and services that I personally use and recommend.
Many thanks!