The Ancient Ruins of Mitla Oaxaca is the second-most important archaeological site in the state of Oaxaca and a must-see during your travels through central Mexico!
Mitla is most famous for its beautiful mosaic features which can be admired on the interior and exterior walls of the temple structure.
I have put together this complete guide to visiting the ruins including how to get there, how much it costs, countless Mitla photos, and what to expect when you arrive.
QUICK ANSWERS: MITLA OAXACA
Before I dive into more details about the ruins, here are some quick answers to the most frequently asked questions by travelers.
WHERE ARE THE MITLA RUINS OAXACA?
The Mitla Ruins are located 43km southeast of Oaxaca City Center in the municipality of San Pablo Villa de Mitla.
Mitla lies in the upper end of the Tlacolula Valley which is one of three valleys that form the Central Valleys Region in the state of Oaxaca.
Click here to see the location on Google maps.
HOW TO GET TO MITLA OAXACA RUINS?
There are a couple of options available when searching for how to get to Mitla from Oaxaca and they are either DIY or with a tour.
VISIT MITLA OAXACA WITH A TOUR
The best option for visiting Mitla Mexico (and the way I did it) is with a tour.
I recommend booking this tour online in advance which has great reviews and hundreds of bookings.
The tour starts with a hotel pick-up from Oaxaca City and not only will you get to visit the Mitla Archaeological Site, but the tour also includes a visit to El Tule Tree, Hierve El Agua, and a Mezcal Factory, before returning to your hotel in Oaxaca City.
BEST TOUR OF MITLA OAXACA
VISIT MITLA OAXACA DIY
If you wish to visit Mitla archeological site without a tour, your best option is to rent a car in Oaxaca City Center and make your own way to Mitla archaeological site.
The drive from Oaxaca City to the Mitla Ruins takes approximately 1-hour depending on traffic.
I always use Discover Cars whenever I travel, and they an amazing selection of vehicles and work with countless companies, and I recommend you check them out!
HOW MUCH IS THE MITLA OAXACA ENTRANCE FEE?
The entrance fee is 75 MXN per person and this gives you access to the entire Mitla Archaeological Site.
You can also find a number of small market stalls and ice cream vendors at the entrance if you wish to purchase some handmade garments or cool off with a refreshing sorbet ice cream.
Iglesia de San Pablo (Church of San Pablo) is situated right next to the ruins which is worthy of stopping at for a quick photo.
The BEST Hotel in Oaxaca
Need a place to stay? Quinta Real is conveniently located in the heart of Oaxaca.
Whether you're here to explore the sights or relax in comfort, Quinta Real offers the best of both worlds.
WHAT TO EXPECT AT MITLA MEXICO
Mitla is one of the most well-preserved archaeological sites in the Oaxaca Valley due to the dry climate which has conserved these impressive ruins for thousands of years.
The most famous feature at Grupo del Norte (the main ruins at the Mitla Archaeological Site) is the mosaic stone carvings which you can see on the outer walls and also on the interior walls inside the complex.
Inside the archaeological zone, there are two main structures that were inhabited as far back as 900 BC and it was the main religious center in the area.
The site is surrounded by a fence of cactus plants and Iglesia de San Pablo (Church of San Pablo) stands prominently at the north end of the ruins.
You can simply marvel at the detailed mosaic carvings on the exterior walls before climbing up the stairs to the inside of the main plaza.
On the inside, you will find 6 stone columns that are said to weigh up to 18 tonnes and were once used to support the roof of the temple.
From here you can enter through another doorway into the square-shaped chamber which boasts more impressive mosaic carvings on the walls.
The BEST Affordable Camera For Travel
If you're on the hunt for a professional camera for traveling, check out the Canon G7 X Mark II.
This tiny camera fits in your pocket, captures high-quality photos and videos, and has Wi-Fi so you can instantly transfer to your phone!
OAXACA MITLA ARCHAEOLOGICAL SITE
The second plaza that lies below the main structure at Mitla houses a couple of tombs that can be accessed via a small set of stairs that lead underground.
Unfortunately, you won't find any human skeletons inside the tombs, just a few dark chambers with carvings on the walls.
It's a bit of a tight squeeze through the tunnel entrance to the tombs so be sure to mind your head.
It's quite damp and moldy inside which isn't that ideal so I wouldn't recommend spending more than a few minutes to take a quick photo and retreat for some fresh air.
WHERE TO STAY IN OAXACA
Oaxaca City has hundreds of accommodations to choose from so I have narrowed it down to a few of the best places to stay in Oaxaca to suit the needs of luxury travelers, budget backpackers, and everyone in between.
See the list of Oaxaca accommodations below that I personally recommend:
LUXURY: QUINTA REAL OAXACA
Mid Range: Hotel Casa De La Tia Tere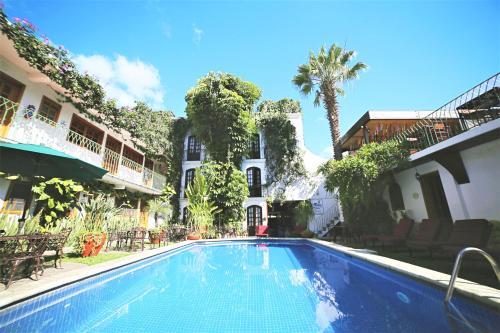 BUDGET: SELINA HOSTEL
FOR MORE OPTIONS IN OAXACA CITY, SEARCH ON BOOKING.COM
WHAT TO PACK FOR OAXACA
When visiting Oaxaca, here is a list of items I highly recommend bringing with you:
Must-Have Travel Essentials
Keep your cash and other valuables safe with this anti-theft hidden money wallet!
---
The GRAYL GeoPress is the best reusable bottle that allows you to purify water from anywhere!
---
---
---
FINAL THOUGHTS – MITLA OAXACA
If you are a history enthusiast and on a mission to explore as many Mesoamerican ruins in Mexico as you can, then be sure to add this one to the list.
As I mentioned earlier, I highly recommend visiting the Mitla Ruins with a tour that also includes a number of must-see tourist attractions in Oaxaca.
This particular tour was the highlight of my visit to Oaxaca and I guarantee you will enjoy it as much as I did.
If you have any questions, be sure to join Jonny Melon's Travel Tribe on Facebook and post your questions or recommendations to our awesome community.
TRAVEL RESOURCES FOR YOUR NEXT TRIP
Whether you're a seasoned traveler or it's your first trip overseas, here are some useful travel resources to help you kick-start your next adventure!
THANKS FOR READING
Hey friend, thanks for reading this guide!
Please know this post may contain affiliate links. When making a purchase through one of my links, I earn a small kickback at no extra cost to you and it's a big help to keep the site up and running. Rest assured, I only promote products and services that I personally use and recommend.
Many thanks!