My visit to Dao Falls in Samboan (also known as Dau Falls, or Dau Waterfalls) was low-key one of the best adventures I had in South Cebu in the Philippines.
The most famous waterfall in Cebu (and perhaps in all of the Philippines) is Kawasan Falls which is visited by more than 1000 people on a single day… What most people don't realize is that right around the corner from Kawasan is a series of other incredible off-the-beaten-path waterfalls, which are equally just as amazing with far fewer tourists.
So what is so unique about Dao Waterfall compared to the rest? Well, to start with, it's recognized as the tallest set of falls in the Samboan region and secondly, the jungle trail trek to get to these falls is an epic adventure in itself. Convinced?!
So without further ado, here is my complete guide to Dau Falls in Cebu including how to get there, how much it costs and what to expect when you arrive.
Want cheap flights to Cebu? Check out CheapOair to book now and travel for less!
Have you got travel insurance for the Philippines? We all know accidents can happen and having World Nomads Insurance will save you thousands of dollars if something goes wrong.

WHERE IS DAO FALLS?
Dau Waterfall is located in the Samboan Region in South Cebu, Philippines.
Click here to see the location on Google maps.
Samboan is 150km southwest of Cebu City and public buses run every hour on a daily basis from Cebu South Bus Terminal to Moalboal. The cost of the bus is around 150 pesos.
Dao Falls Samboan Cebu is best visited from Moalboal, which is 53km away and the drive takes around one hour and twenty minutes.
HOW TO GET TO DAU FALLS
The best way to reach Dau Waterfalls is to rent a scooter in Moalboal and make the drive south to Samboan.
There are many scooter rental stores located in Moalboal where you can get your hands on some wheels for around 400 pesos per day with a full tank of gas.
Alternatively, you can rent a car for the time you plan to spend in Cebu and travel around the island at your own pace.
Exploring Cebu by scooter
DAU FALLS ENTRANCE FEE
The entrance fee to Dau Falls Samboan is 60 pesos which includes a guide and the parking fee is an additional 10 pesos.
The guide, in my opinion, was not really necessary as the trail to Dau Falls is clearly marked but the lady at the ticket counter insisted on it so I wasn't going to argue the fact.
The main falls
BEST TOURS IN CEBU
TREKKING TO DAO FALLS
The trek to the fall from the parking lot takes around twenty to thirty minutes including stops for photos. It isn't a difficult trek by any means though do note that your feet will get wet along this jungle trail.
In most parts, it requires walking through knee-deep water and I recommend bringing a pair of slip-on waterproof shoes for these sections and you might also like to bring a dry bag so that your belongings don't get wet.
The first part of the trek consists of a concrete staircase with around 200 steps that leads directly down into the valley and once you reach the bottom, this is where the real adventure begins!
An impressive bamboo suspension bridge surrounded by coconut palms stretches across the river and on the other side is the beginning of the jungle trail to Dau Waterfall.
The bamboo bridge seemed a bit sketchy when we crossed it though our guide led the way so we trusted in his judgment. It wasn't till later that I found out there is another trail to the right-hand side of the bridge where you can cross the river safely, so this is also an option.
Bamboo bridge corssing
It wasn't long until we were completely immersed in a dense jungle as we followed the canyon trail upstream which seemed to grow narrower the further we advanced. It was one of the most tranquil trails I have ever hiked along.
Vines cover the canyon walls and blue Gatorade-colored waters cascade seamlessly past as we navigated our way towards the waterfall.
The adventurous hike to the falls, in my opinion, is what makes this location so unique. There are many turquoise rock pools along the way that are well worth stopping at for a quick dip and this is where you'll likely get your best photos.
On the way to Dao Waterfall Samboan
The jungle trail to Dao Falls
THE MAIN FALLS
Once you've passed this blue rock pool as shown in the images above, the main set of falls will soon be in sight as you continue along the stone staircase on the edge of the canyon.
There are bamboo handrails to use as an aid because it gets a little steeper through this last stretch of the trail.
There is another tier of cascading falls in this section which forms a natural slide as it cuts its way down the canyon. It's definitely too dangerous to enter the water here but it's an epic spot to marvel at.
When you reach the top of the staircase you'll be graced with the epic sight of Dau Falls which towers 50-meters tall above the large catch basin. The pools at the base of the falls aren't quite as blue as the ones on the way up but it's still a worthy spot for a swim to cool off after the hike.
After a short swim here, we made tracks back to the parking lot and we tipped our guide 50 pesos for his efforts.
If you plan on visiting a lot of waterfalls in the Philippines, I recommend purchasing these three items:
Dao Falls Cebu
OTHER POINTS OF INTEREST
If you're up for a day of waterfall hopping, you can make a day of it from Moalboal and combine Dau Waterfall with Aguinid Falls and Binalayan Hidden Falls.
All of these falls can be found in the Samboan region, just one hour south of Moalboal.
Aguinid Falls
WHERE TO STAY IN MOALBOAL
Moalboal has hundreds of accommodation options to choose from, so I have narrowed it down to a few of the best places to stay to fit the needs of budget backpackers, luxury travelers, and everyone in between.
See the list of accommodations below that I personally recommend:
Luxury: Dolphin House Resort Moalboal
Dolphin House is the best luxury accommodation in Moalboal. A stone's throw away from the ocean, this accommodation offers a swimming pool, restaurant and bar, free wifi, and ocean views. There are double rooms, triple rooms, family rooms, and bungalows available at Dolphin House Resort. Snorkeling, diving, activities, and bike rental can also be organized at reception. Best place to stay for families, friends, and couples.
Mid Range: Pescadores Seaview Suites
One of the most recommended places to stay in Moalboal. For less than $40 a night, Pescadores Suites offers double rooms, twin rooms, and a garden villa. There are an outdoor swimming pool and sun terrace, restaurant, mini-market, table tennis, billiards, board games, karaoke room, and wellness spa. Great place to stay for friends and couples.
Budget: Chief Mau Hostel
The best budget accommodation in Moalboal! Centrally located just minutes from the beach, Chief Mau hostel offers dorm rooms and private rooms for as little as $8. The owner Trish is super lovely and goes out of her way to make all of her guests feel welcome and comfortable. There is a shared lounge with hammocks, a billiards table, and an in-house restaurant and bar serving up the best western food in Moalboal. There is free wifi throughout the property. Perfect for solo travelers and friends.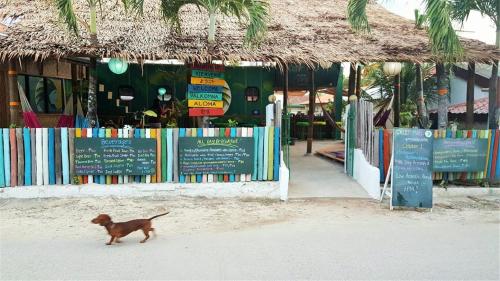 AIRBNB CEBU
Another option for accommodation in Cebu is to stay at an Airbnb, which generally has some great deals!
LONELY PLANET PHILIPPINES
One of the best books to take on your trip is the Lonely Planet Philippines Guide!
BUY NOW ON AMAZON → LONELY PLANET PHILIPPINES
MORE PHILIPPINES TRAVEL GUIDES
ONLINE ENGLISH TEACHING
Do you want to travel full-time and get paid along the way?
Teaching English online is one of the easiest and most flexible jobs out there! Become a Digital Nomad, choose your own hours, and work remotely from anywhere in the world by teaching English online. All you need is a laptop, good WiFi connection, a TEFL certificate and you're good to go!
JOIN MY FACEBOOK COMMUNITY
Do you have any questions about this awesome waterfall in Cebu?
Join my Facebook Community and send me a message at any time for a quick response!
MY SHOP
Before you go, don't forget to check out My Online Shop!
I've got a wide range of digital products for sale and I'm sure you'll find something that will come in handy during your travels!
FINAL THOUGHTS
I hope you enjoyed reading this article and if you have any questions at all about Dao Falls Cebu, please leave me a comment below and I will get back to you as soon as I can.
Happy Adventuring! ?
PIN IT FOR LATER