Binalayan Falls (also referred to as Binalayan Hidden Falls) is one of the best waterfalls in the Philippines and I highly recommend adding it to your South Cebu itinerary!
There are half a dozen waterfalls in Samboan, South Cebu, so if you plan it right you can visit more than one waterfall in one day. An ideal one-day Samboan Falls itinerary from Moalboal is to first visit Aguinid Falls, secondly Binalayan Hidden Waterfalls, and thirdly to Dao Falls.
I have put together this complete guide to Binalayan Falls Cebu including where it's located, how to get there, and what to expect when you arrive!
Want cheap flights to Cebu? Check out CheapOair to book now and travel for less!
Have you got travel insurance for the Philippines? We all know accidents can happen and having World Nomads Insurance will save you thousands of dollars if something goes wrong.

WHERE IS BINALAYAN FALLS?
Binalayan Hidden Falls is located in the Samboan Region in South Cebu, Philippines.
Click here to see the location on Google Maps.
Samboan is 150km southwest of Cebu City and public buses run every hour on a daily basis from Cebu South Bus Terminal to Moalboal and Oslob. The cost of the bus is around 150 pesos.
Binalayan Falls Samboan is best visited from the nearby beach town of Oslob, which is just 23km away and approximately a thirty-minute drive.
You can also visit these beautiful falls from Moalboal, which is 55km away and this drive takes around one hour and twenty minutes.
HOW TO GET TO BINALAYAN FALLS
The best way to reach these falls is to rent a scooter in Oslob or Moalboal and make your own way over to these Samboan.
Scooter rental in Cebu generally costs around 400 pesos per day. There are many scooter rental stores located in Moalboal and Oslob where you can get your hands on some wheels.
Alternatively, you can rent a car for the time you plan to spend in Cebu and travel around the island at your own pace.
Binalayan Hidden Waterfalls
BEST TOURS IN CEBU
BINALAYAN FALLS ENTRANCE FEE
The entrance fee is 60 pesos which includes a guide and there is also an additional 10 pesos parking fee.
Tipping your guide is completely up to you, but somewhere between 50 – 100 pesos would do.
ARRIVING AT BINALAYAN HIDDEN FALLS
I don't know why the locals gave it the name 'Binalayan Hidden Falls' because it's not hidden at all, but hey, it's still an epic waterfall nonetheless.
The jump-off point for the falls is clearly signposted from the main road which leads to the ticket office and the trailhead to the falls.
From the car park to the falls it's a twenty-minute walk across flat terrain, or if you have an off-road motorbike you can drive a little further from the official starting point to the first water crossing.
The pathway at the beginning of the trail cuts through a dense coconut grove and if you're brave enough, it's possible to climb to the top of a palm tree to grab yourself a coconut. Or perhaps it's probably best to ask your guide to harvest one for you.
Coconut grove trail
Our guide
WHAT TO EXPECT AT BINALAYAN FALLS
There are a number of water crossings on the way to the main set of falls at Binalayan so it's best to wear a pair of water shoes or flip flops because your feet will get wet.
The first tier of the falls features a shallow crystalline rock pool, a rest area with some make-shift benches and a tire swing hung from a tree. It's definitely worth taking a short break here in this tranquil little section of the trek.
The first water crossing
Tree swings at Binalayan Hidden Waterfalls
BINALAYAN FALLS TREK
A further two-minute walk upstream from the tree swing is a small set of falls with a turquoise rock pool which is a great spot for a quick dip.
On the right-hand side of this small waterfall, you can find the path that leads up to the next level of Binalyan. The rock steps can get quite slippery so take your time and use the bamboo handrails as an aid.
From here, the main set of falls is a couple of minutes walk away and completely out of sight until you come around the last bend of the trail. Maybe that's why they call it Hidden Falls?!
Turquoise rock pool
THE MAIN FALLS
The main falls at Binalayan Waterfall boast a 5oft tall rock face and the flow of water is divided into three separate streams that fill the basin beneath.
There is a cave behind the falls to which you can climb up to and jump from, but it's best to let your guide go first to show you how it's done.
The water is around two meters deep so I wouldn't recommend diving headfirst. I touched the sandy bottom with my feet when I jumped, even with my knees bent.
There is also a range of cliff jumping spots on the left-hand side of the falls, but even this is a bit sketchy due to the pool below being quite shallow. Only jump from a height you feel comfortable with, even if the guide encourages you to jump from a higher level just say no.
Apart from cliff jumping, you can hang out in the crystalline waters at the base of the falls and explore the naturally carved out caves.
Inside the cave
Sending it from the second level
My guide jumping from the top
Tranquil scenes
WHERE TO STAY IN MOALBOAL
Moalboal has hundreds of accommodation options to choose from, so I have narrowed it down to a few of the best places to stay to fit the needs of budget backpackers, luxury travelers, and everyone in between.
See the list of accommodations below that I personally recommend:
Luxury: Dolphin House Resort Moalboal
Dolphin House is the best luxury accommodation in Moalboal. A stone's throw away from the ocean, this accommodation offers a swimming pool, restaurant and bar, free wifi, and ocean views. There are double rooms, triple rooms, family rooms, and bungalows available at Dolphin House Resort. Snorkeling, diving, activities, and bike rental can also be organized at reception. Best place to stay for families, friends, and couples.
Mid Range: Pescadores Seaview Suites
One of the most recommended places to stay in Moalboal. For less than $40 a night, Pescadores Suites offers double rooms, twin rooms, and a garden villa. There are an outdoor swimming pool and sun terrace, restaurant, mini-market, table tennis, billiards, board games, karaoke room, and wellness spa. Great place to stay for friends and couples.
Budget: Chief Mau Hostel
The best budget accommodation in Moalboal! Centrally located just minutes from the beach, Chief Mau hostel offers dorm rooms and private rooms for as little as $8. The owner Trish is super lovely and goes out of her way to make all of her guests feel welcome and comfortable. There is a shared lounge with hammocks, a billiards table, and an in-house restaurant and bar serving up the best western food in Moalboal. There is free wifi throughout the property. Perfect for solo travelers and friends.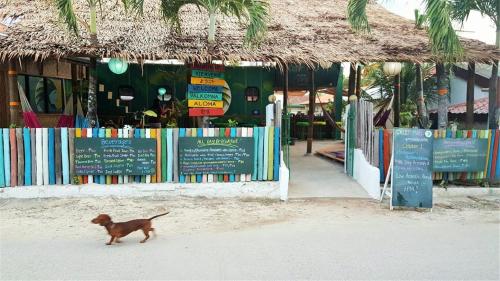 WHERE TO STAY IN OSLOB
Oslob has dozens of accommodation options to choose from so I have narrowed it down to a few of the best places to stay to fit the needs of budget backpackers, luxury travelers, and everyone in between.
See the list of accommodations below that I personally recommend:
Luxury: Oslob Whale Shark Resort
The Oslob Whale Shark Resort is one of the best accommodations in Oslob. Featuring a restaurant, sun terrace, outdoor swimming pool, shared lounge, and a private beach. There are deluxe rooms and family rooms available each fitted with a flat-screen tv, large bed, spacious living, free wifi, and private bathroom. Continental breakfast is also included for all guests. Perfect for families, couples, and friends.
Mid Range: Ocean View Lodging House
Ocean View Lodging House is a value pick accommodation in Oslob. Located close to the Oslob Whale Sharks, this property offers unbeatable seaside rooms and free wifi. There are double rooms, family rooms, and quadruple rooms available to choose from. Each room has air-conditioning, a spacious living, a private bathroom, and ocean views. Perfect place to stay for families, couples, and friends.
Budget: La Lune Oslob Hostel
The best budget hostel in Oslob with great reviews and located in the center of town close to the Oslob Whale Sharks. This property offers a shared lounge and free wifi. There are mixed dorms, female dorms, and a quadruple room available to choose from with a shared bathroom. It's basic but perfect for solo travelers and couples.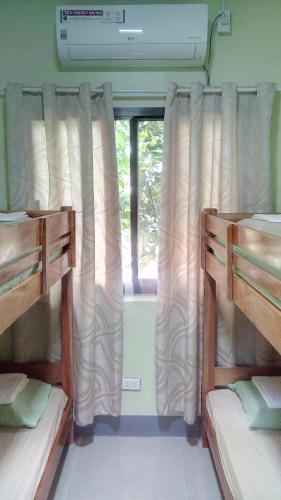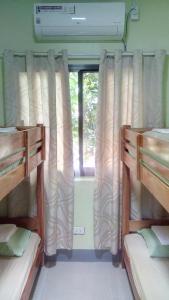 AIRBNB CEBU
Another option for accommodation in Cebu is to stay at an Airbnb, which generally has some great deals!
LONELY PLANET PHILIPPINES
One of the best books to take on your trip is the Lonely Planet Philippines Guide!
BUY NOW ON AMAZON → LONELY PLANET PHILIPPINES
MORE PHILIPPINES TRAVEL GUIDES
ONLINE ENGLISH TEACHING
Do you want to travel full-time and get paid along the way?
Teaching English online is one of the easiest and most flexible jobs out there! Become a Digital Nomad, choose your own hours, and work remotely from anywhere in the world by teaching English online. All you need is a laptop, good WiFi connection, a TEFL certificate and you're good to go!
JOIN MY FACEBOOK COMMUNITY
Do you have any questions about this awesome waterfall in Cebu?
Join my Facebook Community and send me a message at any time for a quick response!
MY SHOP
Before you go, don't forget to check out My Online Shop!
I've got a wide range of digital products for sale and I'm sure you'll find something that will come in handy during your travels!
FINAL THOUGHTS
I hope you enjoyed reading this article and if you have any questions at all about Binalayan Waterfalls, please leave me a comment below this post and I will get back to you as soon as I can.
Happy Adventuring! ?
PIN IT FOR LATER