Cenote Zaci, in my opinion, is one of the best cenotes in Valladolid and I highly recommend adding it to your list of things to do in Yucatan.
Featuring a cave-like cenote filled with freshwater, cliff jumps, and an on-site restaurant, this cenote is a great place to hang out for a few hours during your visit to Valladolid.
I have put together this complete travel guide of Zaci Cenote including where it is, how to get there, how much it costs, and what to expect when you arrive.
WHERE IS CENOTE ZACI?
Cenote Zaci is located in the middle of Valladolid which makes it one of the easiest cenotes to visit while you are in town. It is so conveniently located within the city center that anyone can reach it easily.
It's far away from all the tourists who are staying in Cancun and Riviera Maya which means that most group tours will not even bother coming here and if you go early in the morning you might even be lucky and have the cenote all to yourself.
Click here to see the location on Google Maps.
HOW TO GET TO CENOTE ZACI?
If you are staying in Valladolid you can simply walk to the cenote as it's located smack bang in the middle of the city.
From the main plaza in Valladolid, you can either walk, cycle, or arrive by taxi or by car.
If you decide to walk, it will take you about a 7-minute walk from the main square.
Bicycle rental is generally around 150 MXN per day and you can find a set of wheels at your hostel or from one of the bike rental stores in the main town.
A taxi ride from Valladolid to the cenote should be no more than 50 MXN, so if there are a few of you it works out better to split the cost. Some cab drivers will try to charge you more than that but you shouldn't pay more than 50 MXN.
The easiest way to get to Cenotes Zaci is with your own car. If you have your own rental car, you can simply drive to this location and park in the gravel parking lot behind the main entrance or on the side of the road.
Yucatan Peninsula is said to be the safest place to drive in Mexico when it comes to getting behind the wheel yourself, so it's definitely an option to consider.
I always use Rentalcars.com to search and book car rentals in Mexico as they generally offer the best rates.
Beautiful scenes inside the cenote
ZACI CENOTE ENTRANCE FEE & OPENING HOURS
The entrance fee to Cenote Zaci is 30 MXN which makes it one of the most affordable cenotes in Yucatán, Mexico.
The opening hours are 8:00 am to 5:30 pm – 7 days a week.
Inside the cave
ARRIVING AT CENOTES ZACI
Whether you arrive by foot, bike, taxi, or car you'll first have to find your way to the ticket office before passing through to the Zaci Cenote.
Located next to the entrance gate is a restaurant that has a viewing platform overlooking Cenotes Zaci. Some say if you go straight to the restaurant and order some food and drinks you'll be able to get access to the cenote without having to pay the entrance fee at the ticket office.
Make sure you rinse off in the showers before going swimming in the cenote to remove any sunscreen, insect repellent, or body oils as this helps to preserve the water inside the cenote.
WHAT TO EXPECT AT CENOTE ZACI VALLADOLID
Once you've purchased your ticket at the ticket office you'll be able to go down the stone staircase that leads into Cenote Zaci Valladolid. All along the staircase, there are great photo opportunities as it's only half covered and there's always sunlight coming in.
If you want to go for a swim you can simply leave your valuables on the ledge of Cenotes Zaci and dive on in. If you don't feel like swimming then you can just sit by the ledge and dip your toes into the cool water.
There are also bathrooms available in the park but you'll have to pay 5 MXN to use them. You can also rent life vests for a small fee if you need one.
Also, my personal recommendation is to take a quick-dry travel towel and slip-on waterproof shoes, both will come in handy when visiting the cenote.
This cenote is very unique compared to other cenotes in Valladolid because its shape resembles a massive cave, but only half of it is covered which means that there is a lot of sunlight shining through.
Lush greenery
Sitting by the edge
Have you got travel insurance for Mexico? We all know accidents can happen and having World Nomads Insurance will save you thousands of dollars if something goes wrong.

There is plenty of leaves and greenery covering the rock walls giving the cenote that fairy tale sort of look. There are also a couple of man-made waterfall streams that fall down like a curtain into the natural swimming hole below.
Apparently, the water is up 100 meters in the deepest areas. Another unique thing about this cenote is that there is a pathway around the entire area making it easy to explore the entire circumference of the sinkhole.
If you're up for an adrenaline rush then you can jump off the platform which is about 8 meters high. Otherwise, you can enter the water quite easily via the numerous staircases on the edges of the swimming hole. Beware that the staircase might be slippery when wet.
Feeling hungry? Grab a bite to eat at the restaurant and on the way out, you can go shopping for souvenirs at the market stalls located near the exit.
My visit to Cenote Zaci was one of the best adventures I had in the Yucatan Peninsula and I can't recommend this place enough! Not only is it within walking distance from the main square in Valladolid but it is also the cheapest cenote I visited in Yucatán.
Its natural beauty and unique features are what make Cenote Zaci one of the best in the area and it's for sure not to be missed on your Mexico itinerary!
Travel Tip → Remember to get there as early as possible when doors open at 8:00 am as it's a much better experience without hoards of other tourists around during the day. Also, try to avoid visiting on a weekend because it's a popular place for the locals to hang out too.
BEST YUCATAN TOURS
WHERE TO STAY IN VALLADOLID
Valladolid has hundreds of accommodations to choose from so I have narrowed it down to a few of the best places to stay in Valladolid to suit the needs of luxury travelers, budget backpackers, and everyone in between.
See the list of accommodations below that I personally recommend:
Luxury: Mayan Majesty Boutique Hotel
Mayan Majesty is one of the only 5-star hotels in Valladolid. Featuring a cave pool with a swim-up bar, beautiful gardens and it's centrally located in the heart of town. Choose from a Deluxe King Room, Superior Queen Room, or the King Suite each with a pool view, private bathroom, flat-screen TVs, dining table, terrace, and air conditioning. A free continental breakfast is also served for all guests. Great for couples, a group of friends, and families.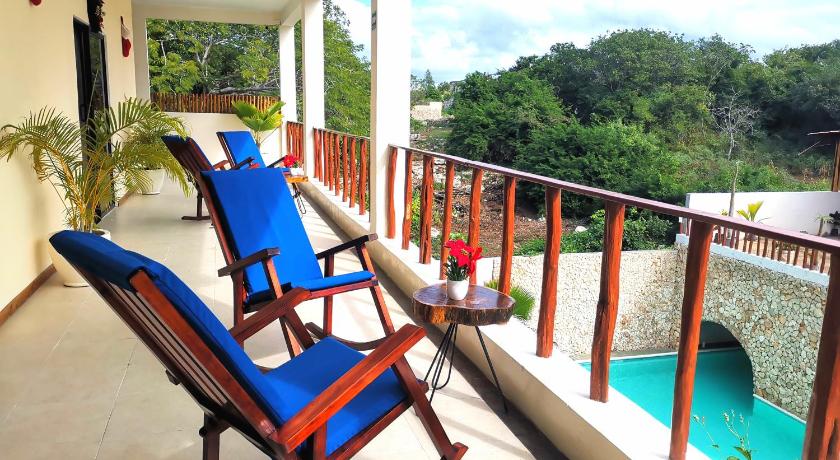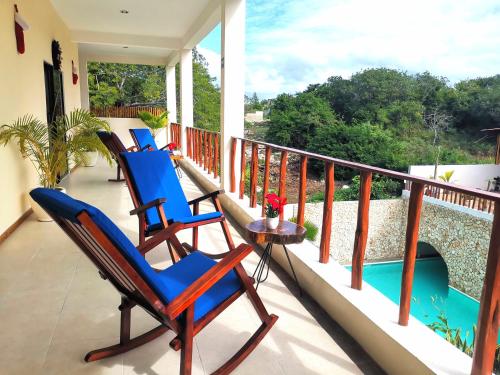 Mid Range: Casa Del Mayordomo
I personally stayed at Casa Del Mayordomo and can't recommend this place enough! Located right in the center of Valladolid and just walking distance to the main square, shops, and markets. Featuring a central courtyard and swimming pool, a shared dining area, and a shared kitchen. The rooms are spacious with air conditioning, free wifi, private bathrooms, large comfortable beds, and pool views. Free bicycle rental is also available at this hotel as well as a continental breakfast for all guests. Great place to stay for couples and friends.
Budget: Hostal Tunich Naj
Hostal Tunich Naj is a favorite pick amongst backpackers and solo travelers with thousands of great reviews. Centrally located in the heart of Valladolid, this budget hostel is a simple yet effective accommodation featuring dorm rooms and private rooms with free wifi, a shared kitchen, private and shared bathrooms, balcony terraces, and coffee machines. There is also a tour desk at the hostel where you can organize and book day tours in Valladolid.
OTHER CENOTES IN VALLADOLID
Some other Cenotes in Valladolid that are definitely worth checking out are:
Suytun Cenote
BEST TIME TO VISIT VALLADOLID
The best time to visit Valladolid is during the winter season from December to April. During this time there is little to no rainfall and the temperatures are just perfect.
The rainy season in Valladolid is typically between May and October which sees higher temperatures due to the humidity. The only plus side to visiting Valladolid during these months is there will be fewer tourists and prices are less inflated.
Colorful streets in Valladolid
WHAT TO PACK FOR MEXICO
When visiting Mexico, here is a list of items I highly recommend bringing with you;
If you're interested in taking awesome photos and videos on your travels, this is the camera gear that I use and recommend;
MORE MEXICO TRAVEL GUIDES
TRAVEL RESOURCES FOR YOUR NEXT TRIP
Whether you're a seasoned traveler or it's your first trip overseas, here are some useful travel resources to help you kick-start your next adventure!
Looking for more? Check out my Travel Resources page for further help with your trip planning!
FINAL THOUGHTS
I hope you enjoyed reading this article and if you have any questions, please leave me a comment below this post and I will get back to you as soon as I can. For a quicker response, be sure to join Jonny Melon's Travel Tribe on Facebook and post your questions or recommendations to our awesome community.
THANKS FOR READING
Hey friend, thanks for reading this guide!
Please know this post may contain affiliate links. When making a purchase through one of my links, I earn a small kickback at no extra cost to you and it's a big help to keep the site up and running. Rest assured, I only promote products and services that I personally use and recommend.
Many thanks!