Cenote Oxman is the best cenote in Valladolid and it's not to be missed during your visit!
Featuring an enormous sinkhole with hanging vines, an epic rope swing, and a natural freshwater pool, Oxman Cenote makes for an epic half-day adventure in Yucatan.
I have put together this complete visitor's guide including where it is, how to get there, how much it costs, and what to expect when you arrive.
BEST CENOTE OXMAN TOUR FROM TULUM
The easiest way to explore Cenote Oxman from Tulum and Playa del Carmen is the Chichen Itza, Two Cenotes, and Valladolid Full-Day Tour.
This amazing tour includes:
Hotel pick-up and drop-off from Tulum or Playa del Carmen
A multilingual guide
A visit to Chichen Itza, Ik Kil Cenote, Oxman Cenote, and Valladolid city tour
Full spread lunch and drinking water
Entry fees are included in the ticket price
QUICK ANSWERS: OXMAN CENOTE
Before I dive into (pun intended) more details about what to expect at the cenote, here are some quick answers to the most frequently asked questions by first-time visitors.
WHERE IS CENOTE SAN LORENZO OXMAN?
Cenote Oxman is one of the closest cenotes to the charming and magical town of Valladolid in the Yucatán Peninsula, Mexico.
It's a short 15-minute drive or a 40-minute bike ride from the center of Valladolid to reach Oxman Cenote.
If you are driving or riding your bike, make sure to come from the highway because if you take the shortcut through the farmland you will have to ride through some unpaved and rocky dirt roads.
Cenotes Oxman is actually located on the grounds of a hotel called Hacienda San Lorenzo Oxman and some other great features of the hotel are a large outdoor swimming pool, a bar, and a restaurant for cenote visitors.
Click here to see the location on Google Maps.
HOW TO GET TO SAN LORENZO OXMAN?
If you are staying in Valladolid I would highly recommend renting a bicycle or taking a taxi from the main town to reach Cenotes Oxman.
Bicycle rental is generally around 150 MXN per day, and you can find a set of wheels at your hostel or from one of the bike rental stores in the main town.
A taxi ride from Valladolid to Cenote San Lorenzo Oxman should be no more than 100 MXN, so if there are a few of you it works out better to split the cost.
Some cab drivers will try to charge you 150 – 200 MXN, but you shouldn't pay more than 100 MXN for this short 10-minute drive.
However, keep in mind that once you are done exploring Oxman Cenote and Hacienda San Lorenzo, there will be no taxis waiting out the front for you.
That's why getting back to Valladolid will likely cost you double the price as the Hacienda San Lorenzo Oxman Hotel will have to call a taxi from town to come and pick you up.
The easiest way to get here is with your own car. If you have your own rental car, you can drive to this cenote and park in the gravel parking lot out the front of Hacienda San Lorenzo Oxman.
Yucatan Peninsula is said to be the safest place to drive in Mexico when it comes to getting behind the wheel yourself, so it's definitely an option to consider.
I always use Discover Cars to search and book car rentals in Mexico as they generally offer the best rates.
Car Rental – Search, Compare & Save!
Discover Cars are one of the world's largest online car rental platforms with vehicles in 10,000+ locations.
Find the right car, in the right place, for the best price guaranteed!
CENOTE OXMAN ENTRANCE FEE & OPENING HOURS
Hacienda San Lorenzo offers a couple of different entrance passes when visiting, which I have listed below.
The standard Cenote Oxman entrance fee is 150 MXN.
Or you can pay an entrance fee of 200 MXN, which gives you access to the Oxman Cenote, and a 50 MXN voucher to spend at the hotel restaurant.
Lastly, if you pay 3000 MXN, this gives you access to everything on Hacienda San Lorenzo and a 150 MXN voucher to spend at the restaurant.
This pass is a great option if you're planning to have some drinks and food after your visit to the cenote and hang by the pool area at Hacienda San Lorenzo.
Hacienda San Lorenzo and the cenote is open from 8:00 am to 6:00 pm – 7 days a week.
BEST TIME TO VISIT?
In the past, Cenote San Lorenzo Oxman was one of Yucatan's best-kept secrets. However, the word has gotten out and there are now a few tour buses that have started to make stops at this cenote.
I recommend arriving early in the day to avoid the crowds. You will also be able to take the best photos early in the morning before the sun hits the water inside as this tends to make it glary.
ARRIVING AT CENOTE OXMAN
Whether you arrive by car, bike, or taxi you'll first have to pay the entrance fee at the entrance of Hacienda San Lorenzo Oxman before passing through the hotel garden to where the pool is located.
There's also a small souvenir market upon arriving with locally handmade trinkets and clothing on offer.
Follow the stairs down towards the swimming pool and right behind the pool you will see a viewing platform where you can get an aerial perspective looking straight down into the cenote.
Keep on walking around the corner to where you will find the restaurant, bar, and hammocks that you can make use of before or after swimming in the cenote.
There are also freshwater showers here, and as with every cenote in Valladolid, it's required to rinse off before swimming in Oxman Cenote to remove any sunscreen, body oils, or insect repellent from your body which helps to preserve the natural water inside.
Next to the showers is the official entrance to the cenote that looks like a tiny hut. Enter the hut and follow the narrow staircase which will bring you down into the cenote.
WHAT TO EXPECT AT CENOTE OXMAN
Once you make your way down the staircase, you'll end up inside the sinkhole to what resembles an amphitheater that looks straight out into the cenote.
There are some stone benches where you'll be able to safely leave your belongings and get ready to jump into the water.
The highlight is without a doubt the rope swing inside the cenote. In fact, I didn't see a rope swing in any of the other cenotes in Valladolid that I went to.
The rope swing is adequate for young and old, although the shorter kids had to be lifted up in order to reach onto the rope.
But everyone that made the plunge into the water, climbed quickly back up the stairs and did it over and over again.
Also, my personal recommendation is to take a quick-dry travel towel and slip-on waterproof shoes, both will come in handy when visiting the cenote.
From the top of the wall, the drop into the Oxman Cenote is about 3 meters deep. You can either jump off the edge of the platform, enter the water via the rope swing, or simply use the staircase.
The cenote itself is about 45 meters deep with great visibility, so if you have some goggles and a GoPro Camera I highly recommend taking them along with you to take a look underneath the surface.
When the sun is shining, the water is particularly clear and you can even see fish swimming around in the water.
You will also be able to combine a cenote experience with a hotel experience by laying by the pool, swaying in a hammock, sipping on a cocktail, and eating fresh Mexican cuisine!
Capture All Your Adventures!
I'm sure y'all know by now that GoPro's are arguably the best action cameras on the planet!
The new GoPro HERO 11 boasts 5.3K video, 27MP photo, HyperSmooth stabilization, and waterproof up to 10m!
My visit to Cenote San Lorenzo Oxman was one of the best adventures I had in the Yucatan Peninsula and I can't recommend this place enough.
Its natural beauty and unique features are what make this cenote one of the best in the area and it's for sure not to be missed on your Mexico itinerary!
Travel Tip → Remember to get there as early as possible when doors open at 8 am as it's a much better experience without hoards of other tourists around during the day.
Also, try to avoid visiting on a weekend because Cenotes Oxman is a popular place for the locals to hang out too.
BEST YUCATAN TOURS
OTHER CENOTES IN VALLADOLID
Some other Cenotes in Valladolid that are definitely worth checking out are:
BEST TIME TO VISIT VALLADOLID
The best time to visit Valladolid is during the winter season from December to April. During this time there is little to no rainfall and the temperatures are just perfect.
The rainy season in Valladolid is typically between May and October which sees higher temperatures due to the humidity.
The only plus side to visiting Valladolid during these months is there will be fewer tourists and prices are less inflated.
WHERE TO STAY NEAR OXMAN CENOTE
Valladolid has hundreds of accommodations to choose from so I have narrowed it down to a few of the best places to stay in Valladolid to suit the needs of luxury travelers, budget backpackers, and everyone in between.
See the list of accommodations below that I personally recommend:
Luxury: Mayan Majesty Boutique Hotel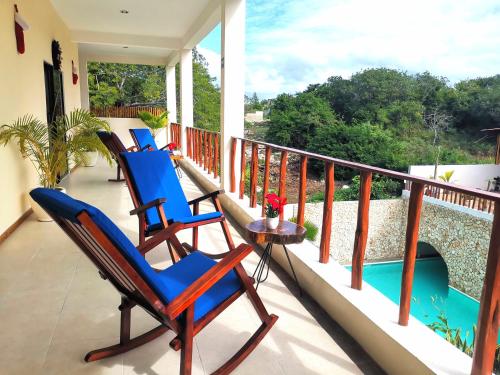 Mid Range: Hotel Los Frailes
Budget: Hostal Tunich Naj
WHAT TO PACK FOR MEXICO
When visiting Mexico, here is a list of items I highly recommend bringing with you:
Must-Have Travel Essentials
Keep your cash and other valuables safe with this anti-theft hidden money wallet!
---
The GRAYL GeoPress is the best reusable bottle that allows you to purify water from anywhere!
---
---
---
FINAL THOUGHTS – CENOTE OXMAN
I hope you enjoyed reading this article and if you have any questions at all about this cenote please leave me a comment below this post and I will get back to you as soon as I can.
For a quicker response, be sure to join Jonny Melon's Travel Tribe on Facebook and post your questions or recommendations to our awesome community.
TRAVEL RESOURCES FOR YOUR NEXT TRIP
Whether you're a seasoned traveler or it's your first trip overseas, here are some useful travel resources to help you kick-start your next adventure!
THANKS FOR READING
Hey friend, thanks for reading this guide!
Please know this post may contain affiliate links. When making a purchase through one of my links, I earn a small kickback at no extra cost to you and it's a big help to keep the site up and running. Rest assured, I only promote products and services that I personally use and recommend.
Many thanks!