Sail Week Croatia is up there with one of the best trips I have ever been on!
One week in Croatia, on a yacht, island hopping, and partying with a bunch of cool people is hands down a once-in-a-lifetime experience to add to your BUCKET LIST!
I jumped on board Yacht Week Croatia with Life Before Work Travel, a reputable adventure tour company that offers trips to incredible destinations around the world, including Sail Week in Croatia.
I have put together this Ultimate Guide to Sail Week Croatia including the dates, the route, expected costs, day-to-day itineraries, must-visit locations, and my overall experience with LBW Yacht Life.
LBW YACHT LIFE DATES
Each year LBW YachtLife offers one-week sailing holidays in Croatia over a course of five weeks during the months of July and August.
When tickets become available they generally sell out very fast. Be sure to book ahead of time to secure your spot on the boat!
Yacht Life is the best way to spend a week in Croatia during your summer travels in Europe!
SAIL WEEK CROATIA ROUTE
The Sail Week Croatia route with LBW Yacht Life is as follows:
Split → Omis
Omis → Makarska
Makarska → Korcula
Korcula → Vis
Vis → Komiza
Komiza → Hvar
Hvar → Secluded Bay
Return to Split
This route can be subject to change due to unpredictable weather conditions along the Croatian coastline, but regardless of the weather, you are still going to have a ton of fun!
DAY 1
SPLIT TO OMIS
On day one of Yacht Life Croatia, you'll meet the LBW team and your fellow yacht lifer's for the week and depart from Split harbor at around 2 pm. The journey from Split to Omis is around two hours.
The first group dinner will be served on the yacht, followed by pre-drinks before heading out to town for a night out!
Unfortunately, on this day we were meant to sail from Split to Omis a storm was brewing off the coast and the captain's decision was to stay docked in Split for the night for safety reasons.
Fortunately, everyone was getting along so well with each other and generally buzzed to be in Croatia, so it didn't matter where we were for the first night of Yacht Week!
After some pre-drinks on the yacht, we all spent the night partying at two of the most popular bars in Split, inBox, and Tropical. Safe to say it was a memorable night out and a great start to our one week Croatia boat holiday!
Have you got travel insurance for your trip?!
We all know accidents can happen and having Heymondo Insurance will save you thousands of dollars if something goes wrong.
Heymondo offers low-cost Travel Insurance to keep you covered on all your adventures.
DAY 2
OMIS TO MAKARSKA
The LBW Yachtlife boat sets sail early morning on day two, bound for Makarska. This beautiful seaside city was one of my favorite stops during Yacht Week.
Makarska is a horseshoe-shaped bay featuring numerous beaches, markets, and restaurants dotted along the promenade and an awesome cliff-jumping spot for thrill-seekers!
On the way to Makarska, the boat will stop at Buba Beach where you can take part in some epic watersports including jet-skiing, parasailing, banana boat, tubing, or bungee jumping!
Once the boat reaches Makarska, you'll have free time to roam around the many beaches, cafes, and bars before meeting up for a group dinner at one of the seaside restaurants.
The adventure continues back to the yacht for pre-drinks and to get ready for a glow party at Club Deep which is located in a natural cave on the beach. This party venue is so unique and one of the coolest places to get down low and boogie!
Take Your Photos & Videos To New Heights!
The DJI Mini 3 Pro is the most affordable, user-friendly drone camera suitable for all levels!
This travel-sized drone captures 4K/60fps video, 48MP photo, and has 34 minutes flight time.
DAY 3
MAKARSKA TO KORCULA
The next stop on the itinerary is Korcula, stopping off at Moro Beach for an all-white day party along the way.
Moro Beach is located on Stupe, a secluded island in the Adriatic. On the island is a rock bar, DJ set up, beanbags, and a beach swing, all of which are surrounded by turquoise waters.
What better way to spend a day in the sun than at Moro Beach listening to banging tunes and drinking with your mates!
After an epic day of partying on Stupe island, the one week in Croatia journey continues to Korcula for sunset, dinner, and drinks.
Korcula is also known as 'Little Dubrovnik' because of its medieval squares, churches, and houses. Korcula is also one of Croatia's most treasured islands.
I felt like I took a step back in time when I was exploring the old town of Korcula and it was one of my favorite highlights during Yacht Life Croatia!
Pssst! Check out this AWESOME travel bag!
The Nomatic 40L is the best travel bag on the market, perfect for weekend trips or month-long adventures!
Featuring multiple compartments for clothes, shoes, laptop, water bottle, RFID-protected pocket, and more.
It's designed to fit the maximum size allowed for carry-on luggage, so you'll never have to spend money on check-in baggage again!
DAY 4
KORCULA TO VIS
From Korcula, Yacht Life Croatia continues on to the island of Vis which was by far my favorite place to explore on the trip!
Vis island was once established as a military zone featuring enormous submarine hangers, underground tunnels, ancient city walls, and hilltop fortresses, all of which are well worth exploring!
Apart from the rich history in Vis, the island also boasts countless hidden beaches, vast vineyards with some of the best-tasting wine in Croatia, and seaside restaurants dishing up the freshest seafood that will make your taste buds sing.
The best way to explore Vis is to rent a scooter, a quad bike, or a car for the day and make your way around the island at your own pace. A number of rental shops can be found along the main street of Vis close by to the harbor.
Scooter rentals for the day cost between 150 – 300 Kuna depending on the cc's and for how many hours.
Car rentals for the day cost between 300 – 500 Kuna depending on the make of the car and for how many hours.
DAY 5
VIS TO KOMIZA
Day 5 is another day spent on the island of Vis, though the boat will take a short sail around to Komiza, a small city which is located on the opposite side of the island.
On this day we had the options of going on a wine-tasting tour in the nearby vineyards, chilling and exploring Komiza's old town and beaches, or going cruising around the island again on scooters.
So depending on how you're feeling and what activities interest you the most, it's free for all on day five.
After sunset dinner and drinks at one of the seaside restaurants in Komiza, everyone headed back to the yacht for a pre-party before heading out to Lunatics for a foam party. You may want to wear your swimmers for this one!
Forget plastic SIM Cards… Get an eSIM!
Say hello to eSIM – a virtual SIM card pre-loaded with mobile data so you can get online and stay connected around the world.
OneSimCard is the best eSIM for travel, with low-cost data packages available in 150+ countries.
Simply buy online, install it on your smartphone, and you're good to go!
DAY 6
KOMIZA TO HVAR
One week in Croatia with LBW continues on from Komiza, bound for the summer resort town of Hvar.
This particular island in the Adriatic Sea is one of the most popular destinations in all of Croatia. Despite the summer crowds, the must-see highlights in Hvar are the hilltop Spanish fortress, the main town square lined with cafes and bars, Hvar Cathedral, and the many secluded beaches along the coastline.
Before arriving in Hvar, the yacht will anchor just off the coast of Brac island for a long swim stop and lunch on the boat.
Upon docking at the port of Hvar, I recommend heading straight up to the Spanish fortress to the panoramic view that overlooks the city, the mountains, and the surrounding coastline. The hike from the main square to the fortress is a short twenty-minute hike up some stairs and along a concrete pathway.
Note: The entrance fee to the hilltop fortress is 50 Kuna.
Before the day is out, head around to Hula Hula Beach Bar to cool off in the ocean and grab some cocktails for sunset.
Tonight's party is in Hvar town at 7 Club and Champagne and the entrance fee is 150 Kuna.
DAY 7
HVAR TO SECLUDED BAY
The final day of LBW Yacht Life is spent slowly cruising back towards Split and anchoring up in a secluded bay for the night.
Spend the day chilling in the ocean on the inflatables and reminisce with your mates on how epic the past week has been!
Though the fun doesn't end here! Tonight is the night when LBW throws its infamous Penguin Onesie Party onboard the yacht with cranking tunes and beers on tap. The best send-off you could hope for!
The BEST reusable water bottle for travel!
The GRAYL GeoPress is a top-rated reusable water bottle perfect for backpacking, hiking, and traveling.
It allows you to purify water from anywhere and keeps you safe from all waterborne diseases.
Get a GeoPress today and never buy single-use plastic bottles again. Mama Earth will thank you for it!
DAY 8
So after a week of exploring and partying with your new-found best friends, it's time to say your goodbye's as the yacht pulls back into Split harbor at around 9 am.
Don't forget to pay your bar tab at the end and tips are always welcome for your awesome guides and the hard-working crew!
Just a last tip before ending this guide – In case you want to take your adventure to the next level, why not try taking a ferry from Ancona to Split? This will make everything even more fun!
WHERE TO STAY IN SPLIT
Split has hundreds of accommodation options to choose from, so I have narrowed it down to a few of the best places to stay to fit the needs of budget backpackers, luxury travelers, and everyone in between.
See the list of accommodations below that I personally recommend.
LUXURY: RADISSON BLUE RESORT & SPA
MID-RANGE: APARTMENTS TUDOR
BUDGET: T-HOSTEL SPLIT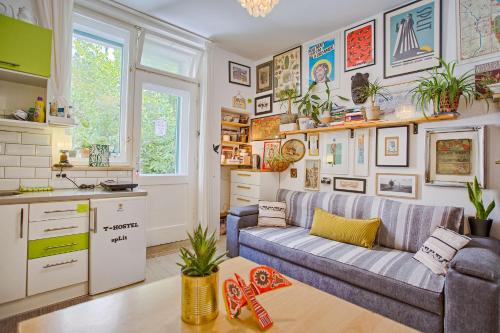 WHAT TO PACK FOR CROATIA
When visiting Split, here is a list of items I highly recommend bringing with you:
Must-Have Travel Essentials
Keep your cash and other valuables safe with this anti-theft hidden money wallet!
---
The GRAYL GeoPress is the best reusable bottle that allows you to purify water from anywhere!
---
---
---
FINAL THOUGHTS – SAIL WEEK IN CROATIA
Life Before Work (LBW Yachtlife) really does put on an epic show and goes out of their way to make everyone feel like a family onboard their tours.
I can't recommend this company enough and I guarantee island-hopping in Croatia with LBW is one for the bucket list!
There are quite a few additional costs throughout the week such as dinners, drinks, entrance fees, and tipping. An average daily budget I would say is between €30 and €50.
Note: LBW Yacht Life generally sells out very quickly each year so make sure to book ahead of time to secure your spot on the boat!
Be sure to join Jonny Melon's Travel Tribe on Facebook and post your questions or recommendations to our awesome community.
TRAVEL RESOURCES FOR YOUR NEXT TRIP
Whether you're a seasoned traveler or it's your first trip overseas, here are some useful travel resources to help you kick-start your next adventure!
THANKS FOR READING
Hey friend, thanks for reading this guide!
Please know this post may contain affiliate links. When making a purchase through one of my links, I earn a small kickback at no extra cost to you and it's a big help to keep the site up and running. Rest assured, I only promote products and services that I personally use and recommend.
Many thanks!
PIN IT FOR LATER