I guarantee you would have either heard of or seen pictures of Lake Titicaca Peru but you may not know too much about it.
Well to start off with, it's the biggest lake in South America and also the highest lake in the world! Pretty impressive right?
I spent one full day exploring Lake Titicaca and have put together this travel guide to help you plan your trip ahead of time.
WHERE IS LAKE TITICACA?
Lake Titicaca is located on the border of Bolivia and Peru, though mostly visited from a small city called Puno which is located on the Peruvian side of the lake. From Cusco to Lake Titicaca, the journey is around eight hours.
If you are wondering about Lake Titicaca weather, the best time to visit is between February and November for moderate temperatures and minimal rainfall. December and January are the wettest months in this region.
Click here to see the location on Google maps.
HOW TO GET TO LAKE TITICACA PERU
The easiest way to reach Puno Titicaca is by bus. The most reputable bus company in Peru that I discovered to be the most comfortable and reliable is Peru Hop.
They offer many different bus routes and itineraries throughout Peru and I highly recommend traveling with them.
For this particular trip, the Peru Hop bus departs from Cusco at 22:00 pm and arrives the following morning in Puno Titicaca at 06:00 am.
Click Here to visit the Peru Hop website for more information and to book your bus tickets online.
Lakeside city of Puno
WHERE TO BOOK LAKE TITICACA TOURS
The only way to explore the lake is by organizing a Lake Titicaca Tour which can either be done in Puno at a tourist office when you arrive or by booking online ahead of time with a tour company.
I would recommend booking a Lake Titicaca Tour online with Get Your Guide to get the best rates. There are dozens of tours available to choose from.
Click Here to search all Lake Titicaca Tours.
LAKE TITICACA FACTS
Before I tell you more about my experience on the tour, here are some fun facts:
Lake Titicaca Altitude: 3, 812 meters above sea level (the highest lake in the world)
How Big Is Lake Titicaca: 8, 372 km2 surface area, 191 km in length, 81 km in width
How Deep Is Lake Titicaca: 281 meters deep
Heading out on the boat
LAKE TITICACA TOUR
On this particular tour, the places we explored are two of the most visited islands on Lago Titicaca – Islas Flotantes (the floating islands of Uros) and Isla Taquile (Taquile Island)
My friends and I were picked up from our hotel at around 6:45 am and driven down to Puno harbor where we jumped on board our tour boat for the day.
The first leg of our tour was a thirty-minute cruise out onto the lake and arriving at around 7:30 am to Islas Flotantes, the famous floating islands of Uros.
These floating islands are constructed entirely from weeds that grow abundantly in the lake.
Islas Flotantes is inhabited by the indigenous people known as Uros and up to six families live on one single floating island.
When we visited, the Uros people showed us around their section of floating land, demonstrated how they make the islands by weaving the reeds, and taught us a little about their culture and daily lives on the lake.
Arriving at Islas Flotantes
Handmade garments
Have you got travel insurance for Peru? We all know accidents can happen and having World Nomads Insurance will save you thousands of dollars if something goes wrong.

From Islas Flotanates, our tour continued to Taquile Island, which took around two hours across the lake on the boat. We arrived on the north side of Taquile Island at around 11:30 am and followed the steep cobblestone path to the main village square.
Taquile Island is inhabited by the Taquileños people who are known for their fine handwoven textiles and clothing, which are regarded as the highest-quality handicrafts in Peru.
After wandering around some of the textile stores in the plaza we sat down to eat lunch in one of the restaurants. My friends and I ordered grilled fish and vegetables, sourced directly from the lake and it was absolutely mouthwatering!
We then made tracks over to the southern side of Taquile Island which lead down through local villages boasting amazing views of the lake and down to another port where the boat was waiting to pick us up.
The day was coming to an end by this stage and we made the two-hour boat cruise back to Puno, catching a beautiful sunset. Dusk had fallen by the time we had arrived in Puno and we were transferred back to our hotel.
All in all, a day tour on Lake Titicaca is a MUST and I highly recommend adding it to your Peru itinerary!
Arriving at Taquile Island
Taquile Island
Sunset over Puno
PUNO ACCOMMODATION
Puno has hundreds of accommodation options to choose from, so I have narrowed it down to a few of the best places to stay in Puno to fit the needs of budget backpackers, luxury travelers, and everyone in between.
See the list of accommodations below that I personally recommend:
Luxury: Libertador Lago Titicaca Puno
The only 5-star hotel in Puno! The Libertador offers panoramic views over the lake, featuring a spa, hot tub, sauna, gym, and free wifi. The rooms are air-conditioned with a private bathroom, tv, and minibar. An in-house restaurant serving up Andean or international cuisine and breakfast is included!
Mid Range: Tierra Viva Puno Plaza
Centrally located near Puno's main square, the Tierra Viva Puno Plaza offers spacious rooms, stylish furnishing, private bathrooms, and balconies. Perfect for couples and rated for the best value in Puno.
Budget: Puno Hostel
This 3-star hostel is perfect for backpackers on a budget. Puno Hostel has dorm rooms and private rooms available, a kitchen to do your own cooking and free bikes are available for guests to explore Puno city! This place really is bang for your buck!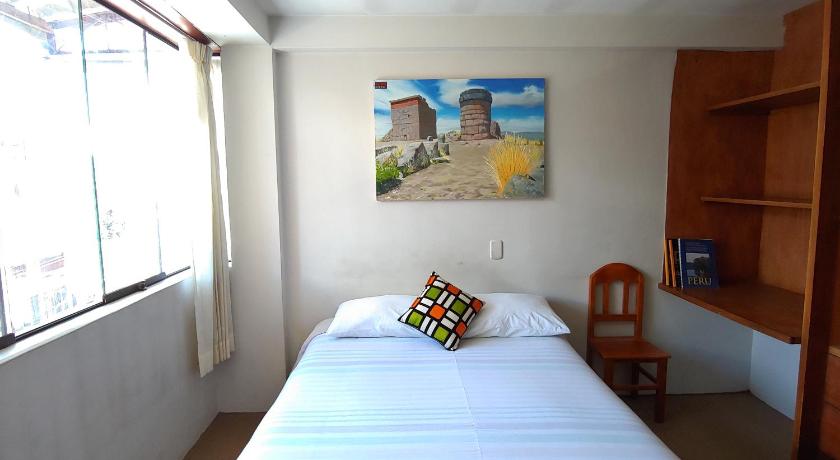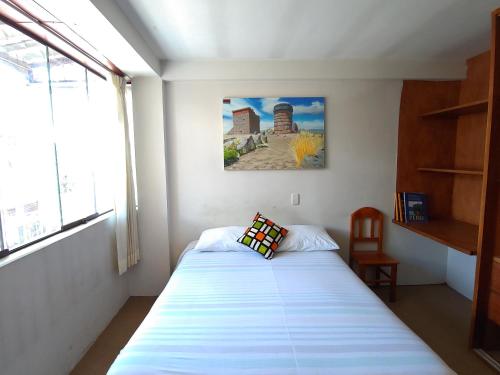 WHAT TO PACK FOR PERU
When visiting Peru, here is a list of items I highly recommend bringing with you;
If you're interested in taking awesome photos and videos on the trek, this is the camera gear that I use and recommend;
GoPro HERO10 – the most popular camera on the planet for action-packed adventures.
Canon EOS R – perfect for traveling, this is the most affordable, compact camera on the market.
DJI Mini 3 Pro – take your photos and videos to new heights with this user-friendly drone camera.
MORE CENTRAL & SOUTH AMERICA TRAVEL GUIDES
TRAVEL RESOURCES FOR YOUR NEXT TRIP
Whether you're a seasoned traveler or it's your first trip overseas, here are some useful travel resources to help you kick-start your next adventure!
BOOKING.COM – search and book accommodation worldwide
SKYSCANNER – compare and book cheap flights to anywhere
VIATOR – find tickets, tours, and experiences around the world
BOOKAWAY – book buses, trains, and transfers online in advance
RENTAL CARS – search all rental cars in your next destination
GROUP TRIPS – join one of my epic small group trips
TRAVEL INSURANCE – purchase World Nomads travel insurance
TRAVEL MONEY CARD – get a Wise card today for free
Looking for more? Check out my Travel Resources page for further help with your trip planning!
FINAL THOUGHTS
If you have any questions, please leave me a comment below this post, and I will get back to you as soon as I can. For a quicker response, be sure to join Jonny Melon's Travel Tribe on Facebook and post your questions or recommendations to our awesome community.
THANKS FOR READING
Hey friend, thanks for reading this guide!
Please know this post may contain affiliate links. When making a purchase through one of my links, I earn a small kickback at no extra cost to you and it's a big help to keep the site up and running. Rest assured, I only promote products and services that I personally use and recommend.
Many thanks!
PIN IT FOR LATER