Are you looking for the ultimate adventure in Palawan?!
Well, I can tell you now that Island Hopping from El Nido to Coron is the definition of ultimate adventure, filled with sunshine, remote beaches, snorkeling coral reefs, epic sea caves, picturesque sunsets, and much more!
The best part about the 3D 2N El Nido to Coron Island Hopping is that it's far away from the crowds that you'll find on the other El Nido Island Hopping Tours.
I have put together this complete guide of my island hopping experience from El Nido to Coron with Buhay Isla Ecotour whose motto is 'Expect the Unexpected.'
WHERE TO BOOK AN EL NIDO TO CORON ISLAND HOPPING TOUR
The best way to book your El Nido to Coron Island Hopping Tour is to head to the Buhay Isla Ecotour website at www.buhayisla.com to see more detailed information and to book online ahead of time.
Buhay Isla also operates the same Island hopping expedition in the reverse direction from Coron to El Nido, so if you want to do it this way it's possible.
THINGS TO KNOW BEFORE YOU GO
Island hopping from El Nido to Coron is a 3 Day's and 2 Night expedition on a traditional 'bangka' boat stopping at a number of remote islands to explore deserted beaches, snorkel the colorful coral reefs, soak up the sun on the deck, and camp out in beachside bungalows under the stars.
The day before the expedition we had a meeting at Buhay Isla's office in El Nido town. The staff were super friendly and they briefed us on the things to take along on the trip and what we could expect for the next 3 days.
It became quickly apparent that there wasn't going to be an agenda or timetable but that instead, we were simply going to cruise through the archipelago of islands between El Nido and Coron guided by weather and sea conditions.
Do note that there is no electricity during the expedition, so conserve your battery on your phones and cameras for the most beautiful beaches.
EL NIDO TO CORON – DAY 1
On day 1 we met at 9:00 am at the El Nido Bay Port to embark on the island hopping tour.
We were a group of 8 travelers from the Netherlands, France, Switzerland, Scotland, and Australia. It was a good mix of like-minded people from all over the world!
The Buhay Isla crew is a team of 8 people which included our tour guides, chefs, deckhands, and of course the captain.
I'd like to give a big shout-out to all of the Buhay Isla crew Archie, Jeprie, Jordan, Mark, Jonie, Roldan, Richard, and Captain Ronel. You guys are absolute legends and I can't thank you enough for the most memorable experience.
Squad goals
PASANDIGAN BEACH & CAVE
Our first stop on the El Nido to Coron expedition was the Pasandigan Cave. Aqua Shoes were essential for this adventurous stop as the rock formations are quite sharp and the limestone rocks tend to be very slippery.
The tour guides lead the way into the cave and even laid lifejackets down on the ground where we needed to crawl across the rocks to reach the inside of the cave.
Rays of sunlight peaked through the top of the cave which made the whole place light up on the inside and appear like a magical place out of a storybook.
Next to the cave is Pasandigan Beach which is a great place to swim and snorkel. There was no other boat around, so we had the whole beach to ourselves and enjoyed simply strolling around the beach and going for a dip into the water.
Pasandigan Cave
Pasandigan Cave – Coron Palawan Tour
Inside Pasandigan Cave
CADLAO BEACH
Right around the corner from Pasandigan Cave is Cadlao Beach which is a picture-perfect stretch of sand that showcases shallow waters lined with coconut trees.
With the calmest and most inviting waters, the beaches of Cadlao are perfect for snorkeling and swimming. The corals and fishes here are amazing. Buhay Isla will provide you with a mask and snorkel for the entire three days on tour.
Happy days
Dreamy landscapes
DAROCOTAN ISLAND SHIPWRECK
Before heading to the next stop, we enjoyed a delicious lunch on board the boat. In fact, the Buhay Isla expedition includes 3 meals per day (breakfast, lunch, and dinner) with light snacks in between.
There is also filtered water, various types of soda, and alcoholic drinks for you to enjoy onboard.
The next stop on the expedition was Daracotan Island Shipwreck. It was amazing to snorkel around the shipwreck, marveling at the beautiful corals and an abundance of other marine life.
There were always new underwater creatures to discover at every spot we went to. We then jumped back on board to make our way to the first beach camp for the night.
Lunch on the boat
Darocotan Island Shipwreck
Darocotan Island
CAMP PARU-PARU
When we grabbed sight of our beach camp as we were pulling into the cove, we were able to gather our essentials into our daypacks and put them on the kayak for the Buhay Isla crew to transfer them to the camp.
We then jumped into the water and swam to shore. Once we made the distance, we were greeted by the loveliest family who lives on the island and operates the camp.
The beach camp features bamboo and straw-thatched beach huts with mattresses, pillows, and mosquito nets. It's basic but it's all you need for a comfortable night's sleep. There are also 2 toilets and 2 cold water showers at Camp Paru Paru.
After we dropped our bags into our room, we witnessed a beautiful sunset spraying an array of colors across the sky. We enjoyed a couple of sundowners before another delicious meal. The night ended with the whole group sitting around the table playing cards.
At Camp Paru-Paru we witnessed one of the clearest night skies and listened to the crashing waves lull us to sleep. It was the perfect end to a perfect day.
Camp Paru Paru
Our beach camp for the night
Our private island for the night
Incredible first sunset
Dinner at Camp Paru Paru
EL NIDO TO CORON – DAY 2
TAKLING ISLAND
On day 2, our first stop was Takling Island. This gem of an island has one of the best coral reefs. It was a great way to start the day in crystal clear waters and an excellent snorkeling opportunity.
We also had the opportunity to spend some time on the white sandy beach. We were all entertained by looking for the most beautiful shells along the shoreline.
Takling Island
Snorkeling at Takling Island
Aerial shot of Takling Island
The essentials
COBRA ISLAND
Our next stop was Cobra Island which was low-key my favorite island on the El Nido to Coron island hopping expedition!
Cobra Island features a long white sand bar, azure waters, glistening white sands, and coconut palm trees which makes this place the ultimate Instagram-worthy location. The snorkeling here was pretty damn awesome too!
By the time we went back to the boat a delicious lunch was already served on the table. The meals on the Buhay Isla Expedition were some of the best-tasting foods I had in the Philippines!
Cobra Island sandbar
Azure waters at Cobra Island
Not a bad spot for a swim
Yeah team
CAGDANAO ISLAND
After yet another delicious meal, we made our way to Cagdanao Island for the next stop on day 2.
Cagdanao island is surrounded by a coral reef which makes it a perfect snorkeling spot. On the beach of Cagdanao Island, there's a volleyball net, some sheltered beach huts, and a small jungle of coconut palm trees and other lush greenery.
Another boat tour arrived at the same spot so we decided to challenge them to a volleyball competition on the beach. It was a pretty even match but I'm going to go ahead and say we won the battle haha!
The vibes on Cagdanao Island were awesome and we could have stayed at this slice of paradise all afternoon long. There were also a couple of local kids playing soccer on the beach so I went and had a kick around with them.
Beach volleyball on Cagdanao Island
Putting on some kilos
CAMP DAYO
The second beach camp on the El Nido to Coron expedition was called Camp Dayo. We arrived right in time to witness another beautiful sunset over the horizon.
Stepping foot onto the shores of Camp Dayo, we felt as if we had arrived at a tropical paradise with hammocks hanging all around the campsite, timber huts dotted along the beach, and swaying coconut trees. Ahh, just bliss!
This night we were able to have a bonfire by the beach which is always an epic experience to have with your mates while camping on a remote island.
To end the picture-perfect day, we all seated together at the long wooden table for another delicious dinner and multiple glasses of Tanduay Rum.
Camp Dayo
The beach at Camp Dayo
Beach huts at Camp Dayo
Camp Dayo
Bonfire at Camp Dayo
EL NIDO TO CORON – DAY 3
CLIFF JUMPING
To begin our 3rd and final day of the El Nido to Coron island hopping, we anchored at an epic cliff jumping location.
It was a short swim from the boat to the rocky cliffside where there was a rope attached to help assist with climbing up to the top.
You can either jump off the rocky cliffside from a height of 1 meter, 5 meters, or 8 meters. If you don't like cliff jumping you can go swimming and snorkeling around the boat. Once everyone had made their jump from the cliffs we continued on to the next spot.
Cliff jumping
Lining up for a jump
Sending it from 8 meters
ARAW BEACH
As our journey continued, I was feeling a little desensitized because every spot we visited, although beautiful, was alike in some way. And then we arrived at Araw Beach… the definition of tropical paradise that looked like something straight out of a postcard!
Like other islands, there are coconut palm trees, glistening white sands, small beach huts, and turquoise waters.
But there was just something so special about Araw Beach that stood out from the other islands. The layout of the palm trees, the huts, and the rounded beachfront is as idyllic as it gets!
We swam to the beach with our snorkel gear and walked all the way to the tip of the sand bar. There were a few local fishermen hanging out in their huts, so I gave them a wave as we passed by.
We jumped into the ocean at the tip of the sandbar and I was in complete awe of the most beautiful underwater scenery here.
An impressive coral wall lined the outer edge of the sandbar and we were able to drift with the current whilst marveling at the outstanding corals and vibrant reef fish.
By the time I got back to the boat, I was gassed and decided to hang up the mask and snorkel once and for all.
Arriving at Araw Beach
Araw Beach
Snorkeling at Araw Beach
DITAYTAYAN ISLAND SANDBAR
Ditaytayan Island sandbar was our last stop on the El Nido to Coron expedition. This epic island hosts a long white sandbar surrounded by shallow crystalline water.
It was one of the most vibrant beaches we visited and made for another perfect snorkeling spot.
We spent around 1 hour at Ditaytayan Island before making the final stretch across the channel to Coron.
Unfortunately, the sea conditions worsened with the wind and it was a bumpy ride back into Coron Bay. That was the only time we had rough seas on the entire journey, so we weren't complaining!
Upon docking the boat in Coron Bay, it was time to say goodbye to the Buhay Isla crew and our new friends. It was hugs and hi-fives all around and we jumped in the back of a tricycle to get a lift to our accommodation in Coron town.
I seriously had the most amazing time on this expedition and I highly recommend it to anyone and everyone on their Palawan trip!
Ditaytayan Island
Ditaytayan Island Coron
Aerial shot of Ditaytayan Island
WHERE TO STAY IN CORON
Coron has countless accommodation options to choose from, so I have narrowed it down to a few of the best places to stay in Coron to fit the needs of budget backpackers, luxury travelers, and everyone in between
See the list of accommodations below that I personally recommend:
Luxury: Bacau Bay Resort Coron
Bacau Bay Resort is a 4-star accommodation close to the town. Featuring an outdoor swimming pool, on-site restaurant, bar, fitness center, kids club, a relaxation spa, and free wifi throughout the property. Choose from a deluxe room or premier suite which are fitted with air conditioning, flat-screen tv, seating area, wardrobe, kitchenette, private bathroom, spacious living, and large comfortable beds. Breakfast is also included for all guests. Perfect place to stay in Coron for couples, families, and friends.
Mid Range: Vienna Hotel
One of the best mid-range accommodations in Coron is Vienna Hotel. Centrally located in Coron town, featuring a swimming pool, massage services, in-house restaurant, bar, free wifi, and a rooftop terrace overlooking Coron Bay. The rooms are fitted with a desk, flat-screen tv, fridge, seating area, private bathroom, outside balcony, and large comfortable beds. American, Asian, Continental, English, or buffet breakfast is included for all guests. Recommended for couples, families, and friends.
Budget: Hop Hostel
Hop Hostel is one of the best and most popular hostels in Coron. Perfect for couples, friends, and solo travelers on a budget. Centrally located in Coron town and walking distance to Mt Tapyas, cafes, restaurants, bars and public markets. Choose from either a Dorm room, Queen room, or Quadruple room with air conditioning and comfortable beds. The private rooms are fitted with a fridge, microwave, coffee machine, and wardrobe. There's also free wifi, a shared kitchen, lounge area, and rooftop bar/terrace with incredible views of Coron Bay. Breakfast is also available for all guests.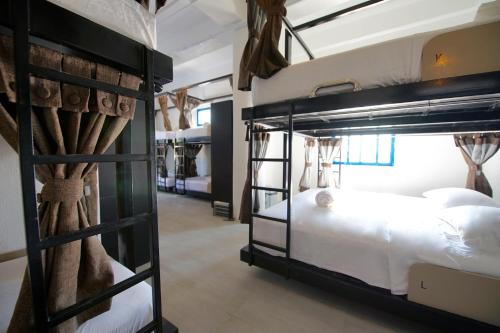 WHERE TO STAY IN EL NIDO
El Nido has hundreds of accommodation options to choose from, so I have narrowed it down to a few of the best places to stay in El Nido to fit the needs of budget backpackers, luxury travelers, and everyone in between.
See the list of accommodations below that I personally recommend:
Luxury: Lagùn Hotel
Lagùn Hotel is one of the best and most modern hotels in El Nido featuring an outdoor swimming pool, terrace, restaurant, bar and free wifi throughout the property. The rooms are fitted with a flat-screen tv, wardrobe, work desk, fridge, kettle, private bathroom and some with a balcony. A buffet breakfast is also included for all guests. Recommended for couples, families, and friends.
Mid Range: Sea Cocoon Hotel
I personally stayed at Sea Cocoon Hotel and can't recommend this place enough! Located right in the heart of El Nido town and just minutes walk to the beach. Sea Cocoon Hotel features an outdoor swimming pool, terrace, restaurant, bar, and a shared lounge. The rooms are spacious and modern with air-conditioning, large comfy beds, wardrobe, balcony, and private bathroom. A buffet breakfast is also included for all guests. Affordable place to stay for couples, families, and friends!
Budget: One Hostel El Nido
One Hostel is one of the best budget accommodations in El Nido with great reviews! Centrally located and within walking distance to the bus terminal, shops, cafes, bars, restaurants, and beaches. There are dorm rooms, double rooms, and quadruple rooms available with air-conditioning. The Hostel also has free wifi and a shared lounge area for guests to hang out. Perfect place to stay in El Nido for solo travelers, couples, and friends!
BEST CORON TOURS
Looking for the best Coron Tours?!
Visit the Viator website to see all of the top-rated tours in Coron. Be sure to book online in advance to be guaranteed the best rates!
WHAT TO PACK FOR THE PHILIPPINES
When visiting the Philippines, here is a list of items I highly recommend bringing with you;
If you're interested in taking awesome photos and videos on your travels, this is the camera gear that I use and recommend;
GoPro HERO10 – the most popular camera on the planet for action-packed adventures.
Canon EOS R – perfect for traveling, this is the most affordable, compact camera on the market.
DJI Mini 3 Pro – take your photos and videos to new heights with this user-friendly drone camera.
TRAVEL RESOURCES FOR YOUR NEXT TRIP
Whether you're a seasoned traveler or it's your first trip overseas, here are some useful travel resources to help you kick-start your next adventure!
BOOKING.COM – search and book accommodation worldwide
SKYSCANNER – compare and book cheap flights to anywhere
VIATOR – find tickets, tours, and experiences around the world
BOOKAWAY – book buses, trains, and transfers online in advance
RENTAL CARS – search all rental cars in your next destination
GROUP TRIPS – join one of my epic small group trips
TRAVEL INSURANCE – purchase World Nomads travel insurance
TRAVEL MONEY CARD – get a Wise card today for free
Looking for more? Check out my Travel Resources page for further help with your trip planning!
FINAL THOUGHTS
I hope you enjoyed reading this article and if you have any questions at all about island hopping from El Nido to Coron, please leave me a comment below this post and I will get back to you as soon as I can.
For a quicker response, be sure to join Jonny Melon's Travel Tribe on Facebook and post your questions or recommendations to our awesome community.
THANKS FOR READING
Hey friend, thanks for reading this guide!
Please know this post may contain affiliate links. When making a purchase through one of my links, I earn a small kickback at no extra cost to you and it's a big help to keep the site up and running. Rest assured, I only promote products and services that I personally use and recommend.
Many thanks!