Coron Island Hopping is one of the best things to do in Palawan!
There are many different Coron Island tour packages to choose from though, in my experience and opinion, the Coron Ultimate Tour is the best one to go for.
I have put together this complete guide to Coron Island Hopping including where to book, how much it costs, and what to expect on the Coron Ultimate Island Tour.
WHERE TO BOOK CORON ISLAND HOPPING
I personally booked the Coron Ultimate Tour online in advance and I highly recommend you do the same.
Coron Super Ultimate Tour is the most top-rated Coron Island Hopping Tour with great reviews.
This particular Coron Island tour includes a full day of island hopping on an outrigger boat to Siete Pecados Marine Park, Kayangan Lake, Barracuda Lake, BBQ lunch on Beach 91, Skeleton Wreck, CYC Beach, and Twin Lagoon.
CORON ISLAND HOPPING – WHAT TO EXPECT
The tour begins with a hotel pick-up between 7:30 and 8:00 am and a transfer to meet the boat in Coron Bay.
The Coron Island tour starts at around 9 am and returns again between 4 pm – 5 pm.
Do note that there is an additional fee of 150 pesos to rent snorkeling gear on the tour.
Before jumping on the boat, there are many vendors selling waterproof phone cases, dry bags, reef booties, and all other sorts of products that you may be interested in purchasing.
Prices vary so put your bartering skills to the test!
Once you're all geared up, jump on the boat to begin the tour.
SIETE PECADOS MARINE PARK
The first stop of the Coron Ultimate Tour is Siete Pecados Marine Park and the perfect opportunity to jump in the ocean, get wet and discover the underwater world at this incredible marine sanctuary.
I couldn't believe the size of some of the fish and the abundance of other marine life I saw while snorkeling here at Siete Pecados Marine Park!
It really goes to show that they have been doing a great job preserving the sea life and standing by their no-fishing laws at this location.
Some of the features of the reef are large staghorn coral, table corals, and gorgonian fans.
Schools of fish inhabit the colorful corals, large barracuda skim along the surface and green sea turtles frequent the area.
Safe to say that Siete Pecados Marine Park was the perfect start to a full day of island hopping in Coron!
KAYANGAN LAKE
The next stop is Kayangan Lake which is hands-down one of the most popular Coron tourist spots so you can expect to encounter many other tour boats and visitors at this location.
Despite the crowds, Kayangan Lake is a phenomenal attraction and I guarantee you'll have an awesome experience!
There is a picture-perfect lagoon where the boat arrives prior to walking over the hill to Kayangan Lake which is a natural beauty in itself.
I decided to fly my drone camera here to capture it all from a birds-eye perspective and I was in complete awe, to say the least!
Take Your Photos & Videos To New Heights!
The DJI Mini 3 Pro is the most affordable, user-friendly drone camera suitable for all levels!
This travel-sized drone captures 4K/60fps video, 48MP photo, and has 34 minutes flight time.
For all of you drone pilots out there, be careful when flying around the cliffs as the signal is very weak and many drones have been known to drop out of the sky and sink.
I just wanted to give you a heads-up and be aware of this. I took the risk and flew cautiously with no issues.
To reach Kayangan Lake, you'll have to walk across an over-the-water boardwalk and over the hill via a set of stairs which takes no more than 5 to 10 minutes.
The trail emerges at an open clearing and to where you'll get your first glimpse of the crystal-clear Kayangan Lake and the surrounding limestone cliffs.
I jumped headfirst into the freshwater lake and began to explore the underwater cliffs that Kayanagan is most famous for. I have never seen anything like it!
There are also a few fish swimming around in Kayangan Lake but the main attraction is definitely the epic rock formations under the surface!
We spent around 1 hour at Kayangan Lake before heading back to the boat to continue to the next location.
BARRACUDA LAKE
Barracuda Lake is the third stop on the island-hopping adventure and another epic underwater phenomenon worth throwing your mask and snorkel on for.
The entrance to Barracuda Lake is another picture-perfect lagoon with a wooden boardwalk that leads over the jagged cliffs and down into the lake.
Similar to Kayangan Lake, it features a large freshwater lake and underwater limestone cliffs which gives Barracuda Lake its vibrant blue color.
It's the perfect spot for freedivers as the water beneath the surface is incredibly clear and the view of the underwater cliffs is unreal.
Barracuda Lake gets its name from a large amount of barracuda fish skeletons that were found in the depths of the lake.
I did not see any skeletons myself, but I did come face to face with a few barracudas swimming around at the surface.
The BEST Backpack For Backpacking!
Less is more with the Atmos AG 50L, the newest arrival in the Osprey backpacking range!
From weekend explorations to month-long expeditions, this EPIC backpack is up to the task and will stand the test of time.
BBQ LUNCH ON BEACH 91
By midday, we all had rumbling tummies and it was the perfect time to arrive at Beach 91 for a BBQ lunch on the beachfront.
Beach 91 is a slice of paradise boasting white sands and towering cliffs which is tucked away in a little cove.
A buffet lunch is served under a sheltered beach hut on the shoreline and it's a mix of rice, noodles, salads, fish, crab, chicken, pork, and fruits.
There is more than enough to go around, so be sure to go up for seconds if you wish!
There are some kayaks sitting around on the shoreline at Beach 91 for anyone to use free of charge.
After my food was digested, I grabbed a kayak and went for a paddle around the cliffs with two other lads from Israel that were on my Coron day tour as well.
We found an epic lagoon that was so expansive that we could have spent hours exploring if we had the time.
My favorite spot that I discovered on my little kayaking adventure was a secluded beach with a lone beach hut on its shoreline and a towering limestone cliff behind it.
The boat captain whistled for us to head back to the boat to continue to our next destination.
SKELETON WRECK
Skeleton Wreck is a stone's throw away from Beach 91, featuring a 25-meter Japanese shipwreck that was struck and sunk sometime during WWII.
Skeleton Wreck is one of the more popular stops, so just a heads up you'll see many legs in the water at this location.
Skeleton Wreck is a great spot for freedivers and for those who are not comfortable diving down, snorkeling above the wreck is just as amazing.
The bow of the shipwreck is only about 5 meters below the surface whereas the stern is around 20 meters deep.
Although the name Skeleton Wreck suggests something, you won't find any skeletons inside the shipwreck.
They say the name comes from the rib features that are present on the inside of the shipwreck.
The schools of fish that circulate Skeleton Wreck Coron are not afraid to get up close and personal so don't be alarmed when they do because it's a pretty awesome experience in itself.
Capture All Your Adventures!
I'm sure y'all know by now that GoPro's are arguably the best action cameras on the planet!
The new GoPro HERO 11 boasts 5.3K video, 27MP photo, HyperSmooth stabilization, and waterproof up to 10m!
CYC BEACH
The second last stop on the tour is CYC Beach which is a tiny little island surrounded by an expansive coral reef and home to an idyllic stretch of sand, fringed with mangrove trees.
Besides snorkeling the reef here at CYC Beach there isn't much more to do other than beach bum on the shoreline, wander around the mangroves or grab a cold beverage from one of the local boat vendors.
I decided not to swim from the boat to CYC Beach and send my drone up instead.
Once again, I was blown away by the birds-eye perspective I was getting of these beautiful landscapes in Coron.
TWIN LAGOON CORON
Last but not least on the itinerary was Twin Lagoon which is a spot I was looking forward to the most on the Coron Island Hopping adventure!
Twin Lagoon is exactly as it sounds – a pair of turquoise blue lagoons enveloped between towering jagged limestone cliffs that looked like something out of a movie!
Our boat pulled into the cove and tied off beneath the vertical cliff walls. Everyone on my boat was quick to jump in and swim towards the entrance to the Twin Lagoons.
I, on the other hand, decided to fly my drone for the last time and boy am glad I did.
The whole area that surrounds Twin Lagoon is other-worldly and I will let the pictures below do the talking for this one!
I landed the drone safely and the captain said I still had around 20 minutes before we needed to make tracks back to the mainland, so I quickly swam inside Twin Lagoon for a quick look.
Floating around inside Twin Lagoon, marveling at the incredible surroundings was the icing on the cake.
I can contentedly say that the Coron Ultimate Island Tour was one of the best experiences I had in the Philippines!
The cruise back to Coron Port takes around 30 minutes on the boat and a hotel drop-off concluded the Coron Ultimate Tour!
WHERE TO STAY IN CORON
Coron has countless accommodation options to choose from, so I have narrowed it down to a few of the best places to stay in Coron to fit the needs of budget backpackers, luxury travelers, and everyone in between.
See the list of accommodations below that I personally recommend.
Bacau Bay Resort is a beautiful 4-star accommodation close to the town.
Featuring an outdoor swimming pool, on-site restaurant, bar, fitness center, kids club, a relaxation spa, and free wifi throughout the property.
Choose from a deluxe room or premier suite which is fitted with air conditioning, flat-screen tv, seating area, wardrobe, kitchenette, private bathroom, spacious living, and large comfortable beds.
It's the perfect place to stay in Coron for couples, families, or friends.
One of the best mid-range accommodations in Coron is Vienna Hotel.
Centrally located in Coron town, featuring a swimming pool, massage services, in-house restaurant, bar, free wifi, and a rooftop terrace overlooking Coron Bay.
The rooms are fitted with a desk, flat-screen tv, fridge, seating area, private bathroom, outside balcony, and large comfortable beds.
American, Asian, Continental, English, or buffet breakfast is included for all guests. Recommended for couples, families, or friends.
Hop Hostel is one of the best and most popular hostels in Coron, perfect for couples, friends, or solo travelers on a budget.
Centrally located in Coron town near cafes, restaurants, bars, and public markets.
Choose from either a Dorm room, Queen room, or Quadruple room with air conditioning and comfortable beds.
The private rooms are fitted with a fridge, microwave, coffee machine, and wardrobe. There's also free WiFi, a shared kitchen, a lounge area, and a rooftop bar/terrace with incredible views of Coron Bay.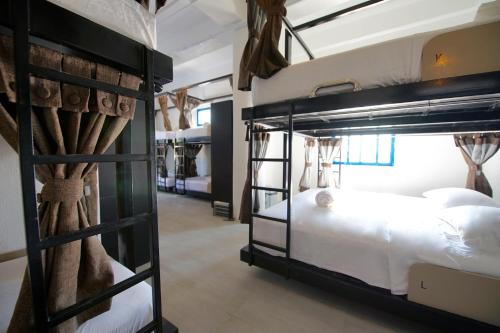 BEST CORON TOURS
Looking for the best Coron Tours?!
Visit the Viator website to see all of the top-rated tours in Coron. Be sure to book online in advance to be guaranteed the best rates!
WHAT TO PACK FOR THE PHILIPPINES
When visiting the Philippines, here is a list of items I highly recommend bringing with you.
Must-Have Travel Essentials
Keep your cash and other valuables safe with this anti-theft hidden money wallet!
---
The GRAYL GeoPress is the best reusable bottle that allows you to purify water from anywhere!
---
---
---
FINAL THOUGHTS – CORON ISLAND HOPPING
I hope you enjoyed reading this article and if you have any questions, please leave me a comment below this post and I will get back to you as soon as I can.
For a quicker response, be sure to join Jonny Melon's Travel Tribe on Facebook and post your questions or recommendations to our awesome community.
TRAVEL RESOURCES FOR YOUR NEXT TRIP
Whether you're a seasoned traveler or it's your first trip overseas, here are some useful travel resources to help you kick-start your next adventure!
THANKS FOR READING
Hey friend, thanks for reading this guide!
Please know this post may contain affiliate links. When making a purchase through one of my links, I earn a small kickback at no extra cost to you and it's a big help to keep the site up and running. Rest assured, I only promote products and services that I personally use and recommend.
Many thanks!