Looking for the best Valladolid cenotes?!
I have put together this travel guide with my pick of 4 Must-See Cenotes in Valladolid including where to find them, how much they cost, and what to expect when you arrive!
WHERE IS VALLADOLID & HOW TO GET THERE
The small, charming city of Valladolid is approximately a 1 hour and 15 minutes drive from Tulum or 1 hour and 50 minutes from Cancun.
Your best option to reach Valladolid is to rent a car or alternatively, you can take the ADO bus.
Car Rental – Search, Compare & Save!
Discover Cars are one of the world's largest online car rental platforms with vehicles in 10,000+ locations.
Find the right car, in the right place, for the best price guaranteed!
OVERVIEW
See below for a quick overview of 4 Epic Valladolid Cenotes that you will find in this post:
Ik Kil Cenote
Suytun Cenote
Cenote Oxman
Cenote Zaci
BEST CENOTE VALLADOLID TOURS
VALLADOLID CENOTES
Without further ado, here is my complete guide to 4 Epic Cenotes In Valladolid with all the visiting info you need to know before you go plus lots of photos to go with!
IK KIL CENOTE
Ik Kil Cenote is undoubtedly one of the most beautiful Valladolid Cenote in the Yucatan Peninsula! It is also known to be one of the more popular Cenotes in Valladolid so make sure you get there early in the morning or late in the afternoon to avoid the crowds!
LOCATION
From Valladolid, it's approximately a 45-minute drive west to reach Cenote Ik Kil.
→ Click here for the pin location on Google Maps
ENTRANCE FEE
The Ik Kil Cenote entrance fee is 80 MXN.
Ik Kil Cenote is open Monday to Sunday, from 9:00 am till 5:00 pm.
WHAT TO EXPECT
Personally, I think what makes Ik Kil Cenote one of the best Cenotes is that it resembles a fairy tale scene! Featuring leaves and vines hanging beautifully down from the top of the Cenote and covering the walls until they reach the water.
Cenote Ik Kil itself forms an almost perfect circular shape and there is an internal concrete staircase making it very easy to access the inside. On the way down the steps, there are a couple of viewpoints worth stopping at to take photos.
Once you reach the bottom, set your belongings down in a dry area against the wall and jump on in for a swim.
I highly recommend swimming out to the middle of the natural pool, floating on your back, and marveling at the open-air circle above! I guarantee you will be in awe and it's the perfect opportunity to take it all in.
The temperature of the water in this Cenote Valladolid is quite fresh but once you get swimming around you will warm up in no time. A wooden ladder is also built-in, making it easy to get in and out of Ik Kil Cenote.
Have you got travel insurance for your trip?!
We all know accidents can happen and having Heymondo Insurance will save you thousands of dollars if something goes wrong.
Heymondo offers low-cost Travel Insurance to keep you covered on all your adventures.
SUYTUN CENOTE VALLADOLID
Cenote Suytun is arguably one of the best Cenotes in Valladolid and perhaps the entire Yucatán Peninsula in Mexico! Featuring a monolithic cave filled with shallow turquoise water and an idyllic stone pathway that stretches out into the middle of this amazing Cenote!
LOCATION
Cenote Suytun is a short 15-minute drive from the center of Valladolid in the Yucatán Peninsula, Mexico. It's pretty close to the city center and very easy to get to.
→ Click here for the pin location on Google Maps
ENTRANCE FEE
This awesome Cenote Valladolid is not that cheap but not overly expensive with an entrance fee of 120 MXN.
The opening hours are from 9:00 am to 5:00 pm – 7 days a week.
WHAT TO EXPECT
The reason why Cenote Suytun is so unique is that it's a cave cenote with a spark of natural light beaming down into the middle of the cave through a hole in the roof.
The cave is pretty dark inside though there are a few hanging light bulbs lighting the way down the steps.
There's an idyllic stone pathway that stretches out into the middle of turquoise waters that you can walk on and it makes for some great photo opportunities.
There are various different angles to admire Cenote Suytun and the most popular perspective is from the top of the staircase.
There's also a little platform at the end of the staircase which will allow you to have the hole in the cave's roof in your picture.
The best time to visit Cenote Suytun is in the early morning as soon as it opens at 9:00 am. It can get very crowded with tourists swimming in the water and everyone wanting to take photos on the platform in the middle.
The BEST Affordable Camera For Travel
If you're on the hunt for a professional camera for traveling, check out the Canon G7 X Mark II.
This tiny camera fits in your pocket, captures high-quality photos and videos, and has Wi-Fi so you can instantly transfer to your phone!
CENOTE OXMAN
Cenote Oxman is another one of my favorite Valladolid Cenotes and it is not to be missed during your visit!
Oxman Cenote makes for an epic half-day adventure from Valladolid, featuring an enormous sinkhole with hanging vines, an epic rope swing, and a natural freshwater pool.
LOCATION
It's a short 15-minute drive or a 40-minute bike ride from the center of Valladolid to reach Oxman Cenote.
If you are driving or riding your bike, make sure to come from the highway because if you take the shortcut through the farmland you will have to ride through some unpaved and rocky dirt roads.
→ Click here for the pin location on Google Maps
ENTRANCE FEE
The entrance fee at this Valladolid Cenote is 80 MXN.
Cenote Oxman opening hours are from 8:00 am to 6:00 pm – 7 days a week.
WHAT TO EXPECT
I best recommend arriving early in the day at Cenote Oxman to avoid the crowds. You will also be able to take the best photos early in the morning before the sun hits the water inside as this tends to make it glary.
Once you make your way down the staircase, you'll end up inside the sinkhole to what resembles an amphitheater that looks straight out into the Cenote Tulum.
The highlight at Cenote Oxman is without a doubt the rope swing. In fact, I didn't see a rope swing in any of the other Tulum Cenotes that I went to.
The rope swing is adequate for young and old, although the shorter kids had to be lifted up in order to reach the rope. But everyone that made the plunge into the water, climbed quickly back up the stairs and did it over and over again.
From the top of the wall, the drop into the Oxman Cenote is about 3 meters deep. You can either jump off the edge of the platform, enter the water via the rope swing, or use the staircase.
The water is about 45 meters deep with great visibility, so if you have some goggles I highly recommend taking them along with you to this Valladolid Cenote so you can take a look underneath the surface.
The BEST reusable water bottle for travel!
The GRAYL GeoPress is a top-rated reusable water bottle perfect for backpacking, hiking, and traveling.
It allows you to purify water from anywhere and keeps you safe from all waterborne diseases.
Get a GeoPress today and never buy single-use plastic bottles again. Mama Earth will thank you for it!
CENOTE ZACI
Cenote Zaci is another one of the most beautiful Cenotes and I highly recommend adding it to your list of things to do! Featuring a cave-like cenote filled with freshwater, cliff jumps, and an on-site restaurant, Cenote Zaci is a great place to hang out for a few hours during your visit!
LOCATION
Cenote Zaci is located in the middle of Valladolid which makes it one of the easiest Cenotes to visit while you are in town. It is so conveniently located within the city center that anyone can reach it easily.
→ Click here for the pin location on Google Maps
ENTRANCE FEE
The entrance fee to Cenote Zaci is 30 MXN.
The opening hours are 8:00 am to 5:30 pm – 7 days a week.
WHAT TO EXPECT
Once you've purchased your ticket at the ticket office you can go down the stone staircase that leads into this Cenote Valladolid.
There are great photo opportunities along the staircase as Cenote Zaci is only half covered, and there's always sunlight coming in.
If you want to go for a swim you can leave your valuables on the ledge of Cenotes Zaci and dive on in. If you don't feel like swimming, you can just sit by the ledge and dip your toes into the cool water.
Cenote Zaci is very unique compared to other Cenotes because its shape resembles a massive cave, but only half of it is covered, which means that there is a lot of sunlight shining through.
If you're up for an adrenaline rush then you can jump off the platform which is about 8 meters high.
Otherwise, you can easily enter the water via the numerous staircases on the edges of the swimming hole. Beware that the staircase might be slippery when wet.
Feeling hungry? Grab a bite to eat at the Zaci Cenote restaurant and on the way out, you can go shopping for souvenirs at the market stalls located near the exit.
GETTING AROUND TO THE VALLADOLID CENOTES
There are a number of ways of getting around to all the Cenotes in Valladolid and they are by car, taxi, or bicycle.
In saying that, I highly recommend renting a car in Valladolid to get around as taxis are very expensive and some Cenotes are too far away from the town to go by bicycle.
Car Rental – Search, Compare & Save!
Discover Cars are one of the world's largest online car rental platforms with vehicles in 10,000+ locations.
Find the right car, in the right place, for the best price guaranteed!
BEST TIME TO VISIT VALLADOLID
The best time to visit Valladolid is during the winter season from December to April. During this time there is little to no rainfall and the temperatures are just perfect.
The rainy season in Valladolid is typically between May and October which sees higher temperatures due to the humidity.
The only plus side to visiting Tulum during these months is there will be fewer tourists and prices are less inflated.
WHERE TO STAY IN VALLADOLID
Valladolid has hundreds of accommodations to choose from so I have narrowed it down to a few of the best places to stay in Valladolid to suit the needs of luxury travelers, budget backpackers, and everyone in between.
See the list of accommodations below that I personally recommend: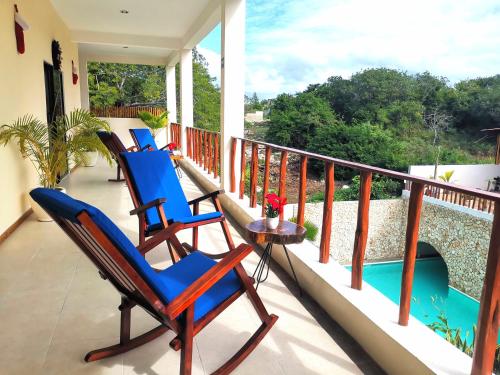 FOR ALL OTHER PLACES TO STAY IN VALLADOLID, SEARCH ON BOOKING.COM
WHAT TO PACK FOR MEXICO
When visiting Mexico, here is a list of items I highly recommend bringing with you:
Must-Have Travel Essentials
Keep your cash and other valuables safe with this anti-theft hidden money wallet!
---
The GRAYL GeoPress is the best reusable bottle that allows you to purify water from anywhere!
---
---
---
FINAL THOUGHTS – VALLADOLID CENOTES
Some of the best adventures to be had in Mexico are visiting these awesome Cenotes in Valladolid and I guarantee you will enjoy these natural beauties just as much as I have.
Just remember to try to visit these Cenotes as early in the morning as possible to avoid the busy midday crowds.
I hope you enjoyed reading this article and if you have any questions, please leave me a comment below this post and I will get back to you as soon as I can.
For a quicker response, be sure to join Jonny Melon's Travel Tribe on Facebook and post your questions or recommendations to our awesome community.
TRAVEL RESOURCES FOR YOUR NEXT TRIP
Whether you're a seasoned traveler or it's your first trip overseas, here are some useful travel resources to help you kick-start your next adventure!
THANKS FOR READING
Hey friend, thanks for reading this guide!
Please know this post may contain affiliate links. When making a purchase through one of my links, I earn a small kickback at no extra cost to you and it's a big help to keep the site up and running. Rest assured, I only promote products and services that I personally use and recommend.
Many thanks!
PIN IT FOR LATER