Twin Falls Springbrook is one of the best waterfalls on the Gold Coast which can be explored via an easy walking trail known as Twin Falls Circuit.
Located at the top of Springbrook Mountain, Twin Falls Gold Coast is an awe-inspiring natural attraction that is not to be missed when visiting Springbrook National Park.
In this guide, I have included useful information on how to get here, the best time to visit, and what to expect on the Twin Falls Circuit trail (Warrie Circuit).
WHERE IS TWIN FALLS SPRINGBROOK?
Twin Falls Springbrook is located in the hinterland region of the Gold Coast known as Springbrook Mountain, and the waterfall itself lies within Springbrook National Park.
From the main tourist hub on the Gold Coast, Surfers Paradise, it's approximately a 1-hour drive to reach Springbrook National Park. From Coolangatta, the journey time is also a 1-hour drive.
Click here to see the location on Google Maps.
HOW TO GET TO TWIN FALLS SPRINGBROOK
There is no public transport to access Springbrook National Park so you will need to have your own vehicle to visit.
The road out to Springbrook is unbelievably scenic with a few lookout points along the way that are clearly signposted and worthy of stopping at to take a quick photo.
Car Rental – Search, Compare & Save!
Discover Cars are one of the world's largest online car rental platforms with vehicles in 10,000+ locations.
Find the right car, in the right place, for the best price guaranteed!
BEST TIME TO VISIT TWIN FALLS GOLD COAST
Twin Falls Springbrook is quite a popular tourist attraction and it can get quite busy on the weekends.
If you can time your visit for a weekday, you will get to enjoy it with fewer people.
The best time to visit is between 8 am and 12 pm for the best lighting from the sun.
If you're not a morning person, you can still visit at any time during the day, just make sure to allow yourself enough time if you wish to complete the circuit trail which takes up to 2 hours.
If you are planning to spend an entire day exploring Springbrook National Park, I recommend pre-packing lunch and drinking water before heading up the mountain.
There are a number of cafes and fudge stores in Springbrook, though they can be quite expensive if you're on a tight budget.
ARRIVING AT SPRINGBROOK TWIN FALLS
There are two different jump-off points to access the Warrie Circuit, one is located at the Tallanbana Picnic Area and the other is located at the Canyon Lookout.
Both jump-off points have free car parking spaces available and the trailheads are clearly signposted.
There are also toilet amenities and picnic areas next to the parking lot at Tallanbana which you can make use of before and after your adventure.
The BEST Affordable Camera For Travel
If you're on the hunt for a professional camera for traveling, check out the Canon G7 X Mark II.
This tiny camera fits in your pocket, captures high-quality photos and videos, and has Wi-Fi so you can instantly transfer to your phone!
TWIN FALLS CIRCUIT TRAIL (WARRIE CIRCUIT)
The Warrie Circuit is clearly signposted with a number of viewpoints along the way that offer spectacular views of the Gold Coast Hinterland.
Twin Falls Circuit is a 4km moderate hike that takes around 2 hours to complete.
It doesn't matter where you begin the circuit, whether you head down the trail to the left from Canyon Lookout (clockwise) or you decide to head down the trail to the right from Tallanbana Picnic Area (anti-clockwise). Both trails will take you right down to the base of the falls.
On the other hand, if you don't want to do the entire 4km circuit, it's best to park your car at Tallanbana Picnic Area and follow the trail down to the right (anti-clockwise) which is a more direct route to reach the falls.
This way takes around 15 minutes to walk down and around 20 minutes to walk back up again.
Warrie Circuit is a combination of concrete steps and dirt trails that will lead you through the lush Gondwana Rainforest that makes up Springbrook National Park.
I highly recommend wearing comfortable hiking shoes and bringing your reusable water bottle with you.
There are some fun obstacles on the way down to Springbrook Twin Falls that you will encounter such as hanging tree vines, flowing streams, natural caves, and small bridge crossings that add to the exciting adventure!
Pssst! Check out this EPIC Hiking Backpack!
Perfect for shorter day hikes, the Osprey Stratos 24L is a tough pack made from sustainable materials.
With great internal organization, this is all you need for your next adventure, no matter the weather!
BLACKFELLOW FALLS
If you begin the Twin Falls Circuit from Canyon Lookout (clockwise), at the halfway point to the main falls you'll come across another epic waterfall called Blackfellow Falls.
I have visited Twin Falls Springbrook on a number of occasions but for some reason, I never did the full circuit.
Though this time around, I'm glad I did because I was able to discover Blackfellow Falls which is equally as impressive, in my opinion.
The coolest feature of Blackfellow Falls is being able to walk behind the silvery, curtain-like falls via a naturally carved-out cave!
I ended up spending around 30 minutes at Blackfellow Falls taking photos and marveling at the vibrant surroundings before continuing along the trail.
WHAT TO EXPECT AT SPRINGBROOK TWIN FALLS
Continue along the trail from Blackfellow Falls for another 15 minutes, leading you right into the natural amphitheater at the base of Twin Falls.
If you began the hike from the other direction (Tallanbana Picnic Area), you'll cross the wooden bridge at the very top of the falls and it's a 15-minute walk down the trail to reach the base of the falls.
When you first lay eyes on Twin Falls Springbrook it's easy to see how its name came about.
The waterfall is broken up into two streams, one has quite a heavy flow of water, whereas the other one is a bit of a trickle.
The BEST reusable water bottle for travel!
The GRAYL GeoPress is a top-rated reusable water bottle perfect for backpacking, hiking, and traveling.
It allows you to purify water from anywhere and keeps you safe from all waterborne diseases.
Get a GeoPress today and never buy single-use plastic bottles again. Mama Earth will thank you for it!
First things first, is jumping into the freshwater pool to cool off after the hike and you can even swim right up beneath the falls and dip your head under for a free massage.
The discharge of water from falls is not too powerful and it's safe to stand directly beneath the flow of water. Not a bad spot for a fresh cold water shower if you ask me!
The swimming area beneath the falls is quite shallow on the edges so I wouldn't recommend doing any rock jumping into the basin.
There is also a concrete pathway that lines the circumference of the natural pool and it leads directly behind the falls.
From here you can get another cool perspective looking down the valley.
The concrete path behind the falls is part of the circuit trail that will lead you back to the starting point in the parking lot.
WHERE TO STAY IN SPRINGBROOK
There are dozens of accommodations in Springbrook to choose from so I have narrowed it down to a few of the best places to stay to suit the needs of luxury travelers, budget backpackers, and everyone in between.
See the list of accommodations in Springbrook below that I personally recommend:
LUXURY: SPRINGBROOK LYREBIRD RETREAT
MID-RANGE: SPRINGBROOK MOUNTAIN CHALETS
BUDGET: DANCING WATERS COTTAGE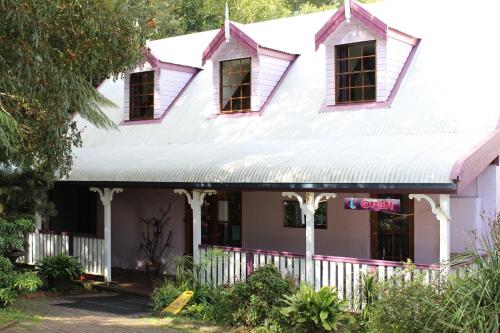 FOR ALL OTHER PLACES TO STAY IN SPRINGBROOK, SEARCH ON BOOKING.COM
BEST GOLD COAST TOURS
WHAT TO PACK FOR SPRINGBROOK
When visiting Springbrook, here is a list of items I highly recommend bringing with you:
Must-Have Travel Essentials
Keep your cash and other valuables safe with this anti-theft hidden money wallet!
---
The GRAYL GeoPress is the best reusable bottle that allows you to purify water from anywhere!
---
---
---
FINAL THOUGHTS – SPRINGBROOK TWIN FALLS
I hope you have enjoyed reading this article and if you have any questions at all, please leave a comment below this post and I will reply as soon as I can.
For a quicker response, be sure to join Jonny Melon's Travel Tribe on Facebook and post your questions or recommendations to our awesome community.
TRAVEL RESOURCES FOR YOUR NEXT TRIP
Whether you're a seasoned traveler or it's your first trip overseas, here are some useful travel resources to help you kick-start your next adventure!
THANKS FOR READING
Hey friend, thanks for reading this guide!
Please know this post may contain affiliate links. When making a purchase through one of my links, I earn a small kickback at no extra cost to you and it's a big help to keep the site up and running. Rest assured, I only promote products and services that I personally use and recommend.
Many thanks!
PIN IT FOR LATER