Located in East Bali, Tirta Gangga Water Palace is a former royal palace turned into a stunning open water garden sanctuary.
This water palace literally translates to "Water of the Ganges," Hinduism's holy river, and is a well-known place of reverence for Hindus.
The mystical gardens also attract many travelers for their incredible maze of pools and fountains. This is a perfect spot to visit if you are looking for a memorable dive into the history of Bali, as well as enjoying the incredible surroundings of the spectacular Tirtagangga Water Temple.
I have put together this complete guide for visiting Tirta Gangga Water Palace including how to get here, how much it costs, and what to expect when you arrive!
WHERE IS TIRTA GANGGA?
You'll find the royal water gardens of Tirtagangga in the Ababi village located in Karangasem, East Bali. It's approximately 75km east of Denpasar and takes approximately 2 hours to drive here.
Click here to see the location on Google maps.
The area has impressive views of the eastern highlands including Bali's highest mountain, Mount Agung. Rice paddies cover the ground and the water gardens are surrounded by lush green forest – an awesome sight to see!
HOW TO GET HERE
The best and easiest way to get to Tirta Gangga Bali is by scooter or by car.
If you are staying in the Canggu, Seminyak, Kuta, or Ubud region, I recommend renting a scooter and making the 2-hour drive out to Karangasem in East Bali.
Don't feel confident riding a scooter? Another great option for getting around Bali is to hire a private car and a driver for the day and experience all that the island has to offer.
Includes:
Experienced Driver
Hotel pick-up & drop-off
Mineral water
Petrol
BEST TIME TO VISIT
Unsurprisingly, Tirta Gangga Water Temple is a popular tourist attraction and is visited by many tourists and locals.
When you wish to explore this place in solitude, I'd definitely recommend getting there early in the morning. You have the best chance to beat the crowds and you get to enjoy the water gardens in the best way possible.
If you visit around midday you can expect some scorching sun, which may be too hot to walk around. Also, the place looks stunning early in the morning with a good sunrise as you walk through the tropical gardens.
Opening hours are Monday to Sunday, from 8:00 am to 5:00 pm.
EAST BALI TOUR
Another alternative when planning a visit to East Bali is to book a full-day tour to see all the highlights.
The Best Of East Bali Tour is the most top-rated tour with great reviews and hundreds of bookings.
This tour covers some of the best highlights in East Bali including Pura Lempuyang Temple, Ujung Water Palace, Tirtagangga, and more!
Lempuyang Temple
ENTRANCE FEE
If you choose to drive up by yourself, the parking costs 2,000 IDR ($0.15). The parking is located near the shops in front of the palace entrance.
Upon arrival, you can purchase your entry ticket at the ticket office and the Tirta Gangga entrance fee costs 50,000 IDR ($4.50 USD) per adult and 15,000 IDR ($1 USD) for a child.
If you want to have some extra fun while you spend the day wandering around the gardens, I'd highly recommend buying some fish food too. Vendors sell bags of fish food at the entrance for 5,000 IDR ($0.35) per bag. You can easily feed the fish in the ponds – they'll be waiting for you!
Also, this water palace wouldn't be complete without the option of swimming, especially when it's super hot under the Bali sun. There are certain areas where you're allowed to take a dip for an additional 10,000 IDR ($0.70) per person.
Need a travel money card?

Wise

offers multi-currency debit cards which can be used worldwide and you'll save hundreds on transaction fees.

Get your Wise card today for free!
WHAT TO EXPECT
This beautiful location is a must-see for those who want to submerge themselves in the history of Balinese culture.
Tirta Gangga Bali is a former royal palace, designed and built in 1946 by the late King of Karangasem. The place is truly remarkable for the fact that the King helped construct them.
Many local villagers were greatly surprised to see their own King working in the mud to dig out pools and ponds, alongside lower-class laborers. Nonetheless, designing and building the water palace appeared to be one of his greatest hobbies.
Now it's home to breathtaking water gardens and consists of three separate complexes, each with its own ponds, fountains, tropical gardens, and collection of statues.
The first level is an elevated bank fountain accompanied by two large ponds. You'll see the swimming pools on the mid-level complex.
The highest and biggest complex is the former King's original country house. Here, you'll find a restaurant and four bungalows which visitors can rent.
Besides the natural beauty, the gardens also serve a valid purpose. You'll see a reservoir that stores natural spring water and provides the Amlapura town with drinking water via a pipe system.
Another underground pipe system leads directly to the swimming pool into the mouth of the Raksasa demon statue.
It's an absolute treat to relax in the pool while watching the water cascade into the smaller pools and fish ponds before the water ultimately flows into the rice paddies and surrounding water gardens.
TIPS FOR VISITING
When planning a trip to Tirtagangga Water Palace, keep in mind some helpful tips to make the most of it.
During your visit to this gorgeous water sanctuary, know that the "Water of the Ganges" is considered holy. The temple is used by locals in sacred ceremonies, so it's important to be respectful when visiting.
It's the perfect spot where you can enjoy the beautiful nature of the gardens and the uniqueness of the temple.
When you enter, you'll see there is plenty of room to walk around and lots of areas to discover. There is a path crossing the water where you can take great photos for a keepsake.
I'd suggest bringing some pretty clothing to get the best photos! Also, there are several shops located at the entrance to the gardens where you can buy local items.
Be sure to bring some cash to purchase fish food, souvenirs, or for a bite to eat at one of the many restaurants.
You can feed the fish and capture a great shot on the stepping stones in the highest complex to end your visit.
SUMMARY
As I mentioned earlier, get here early in the morning to best beat the crowds – and the heat.
If you want to make your visit extra memorable, don't forget to bring some cash to buy fish food from a local vendor or buy yourself a drink in the restaurant and enjoy the breathtaking view over the maze of pools and fountains.
With an entrance fee of just 50,000 IDR and an additional fee of 5,000 IDR to feed the cute fish, it's an absolute must-see for those who want to submerge themselves in the tranquility of these water gardens.
Not to forget, it's a great way to dive into the history of Balinese culture and learn more about the contemporary purpose of this holy water palace.
WHERE TO STAY
I would recommend spending a couple of days in the small coastal town of Amed when visiting East Bali. From Amed to the Tirtagangga Water Palace, it's approximately a 30-minute drive.
Amed has hundreds of accommodations to choose from so I have narrowed it down to a few of my personal favorite places to stay in Amed to suit the needs of luxury travelers, budget backpackers, and everyone in between.
See the list of accommodations below that I personally recommend:
LUXURY: GRIYA VILLAS & SPA
MID RANGE: BAYU COTTAGES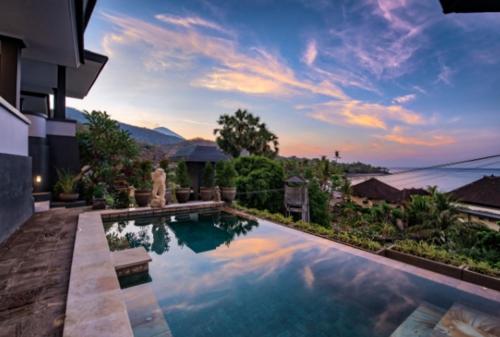 BUDGET: TITI SEDANA HOMESTAY
WHERE TO NEXT?
Ubud is not too far away from this location and boasts many amazing things to do such as rainforest yoga retreats, traditional arts and crafts, other-worldly rice terraces, raging waterfalls, monkey forests, and much more.
Ubud is the perfect place to immerse yourself in nature for a few days away from the rat race. Whether you want to unwind and relax or adventure and explore, Ubud offers the best of both worlds.
Click on the links below to discover awesome things to do in and around Ubud:
Tegalalang Rice Terraces
WHAT TO PACK FOR BALI
When visiting Bali, here is a list of items I highly recommend bringing with you;
If you're interested in taking awesome photos and videos on your travels, this is the camera gear that I use and recommend;
GoPro HERO10 – the most popular camera on the planet for action-packed adventures.
Canon EOS R – perfect for traveling, this is the most affordable, compact camera on the market.
DJI Mini 3 Pro – take your photos and videos to new heights with this user-friendly drone camera.
BEST TOURS IN BALI
MORE BALI TRAVEL GUIDES
TRAVEL RESOURCES FOR YOUR NEXT TRIP
Whether you're a seasoned traveler or it's your first trip overseas, here are some useful travel resources to help you kick-start your next adventure!
BOOKING.COM – search and book accommodation worldwide
SKYSCANNER – compare and book cheap flights to anywhere
VIATOR – find tickets, tours, and experiences around the world
BOOKAWAY – book buses, trains, and transfers online in advance
RENTAL CARS – search all rental cars in your next destination
GROUP TRIPS – join one of my epic small group trips
TRAVEL INSURANCE – purchase World Nomads travel insurance
TRAVEL MONEY CARD – get a Wise card today for free
Looking for more? Check out my Travel Resources page for further help with your trip planning!
FINAL THOUGHTS
I hope you enjoyed reading this article and if you have any questions about Tirtagangga, please leave me a comment below this post and I will get back to you as soon as I can.
For a quicker response, be sure to join Jonny Melon's Travel Tribe on Facebook and post your questions or recommendations to our awesome community.
THANKS FOR READING
Hey friend, thanks for reading this guide!
Please know this post may contain affiliate links. When making a purchase through one of my links, I earn a small kickback at no extra cost to you and it's a big help to keep the site up and running. Rest assured, I only promote products and services that I personally use and recommend.
Many thanks!