The ancient Mayan citadel of Tikal is truly one of the most fascinating man-made creations on Earth.
Hidden deep in the lush rainforests of northern Guatemala, a visit to these remarkable ruins in Flores is not to be missed on your Central America itinerary!
I have put together this post of my own personal Tikal Tour experience with Tikal Go, one of the most reputable tour companies in Guatemala.
WHERE TO BOOK A TIKAL TOUR
There are countless tour companies in Flores offering Tikal tours, but in my experience, it can be overwhelming trying to decide which one is best.
As I mentioned earlier, I booked my tour with Tikal Go and can't recommend them enough.
The entire day was incredible from start to finish, not to mention their tour guides are the most top-ranked in the country and full of knowledge when it comes to Mayan history. Ask them anything!
Tikal Go has a few different Tikal tour packages to choose from such as the Exclusive Tour, Sunrise Tour, Sunset Tour, and Bird Tour.
All tours include private transport from your hotel in Flores, the Tikal entrance fee, a tour of Tikal with an experienced guide, and a hearty lunch with beverages.
I personally went on a private Tikal Exclusive Tour which is a full-day guided tour of Tikal from 6:00 am to 3:00 pm.
Tikal Go also offers personalized service from Antigua, Guatemala City, and Belize.
Click here to search all Tikal Go Tours
INTERESTING FACTS ABOUT TIKAL
Tikal was officially discovered in 1848 but before that, this Mayan citadel went completely unnoticed for hundreds of years.
Why? Because when the Mayans abandoned Tikal back in the day, nature took over and the temples became overgrown in thick vegetation making it nearly impossible to see the stone structures behind the shrubs.
When the Spanish came through north Guatemala in the 1500s, they never discovered or reported findings of any structures as they were completely covered in soil, bushes, and trees and just looked like a hilly area, so to speak.
Tikal covers an area of 64 square kilometers and there are said to be more than 4000 stone structures scattered across these lands with many more still yet to be uncovered.
It takes archaeologists years of careful excavations to uncover and preserve these incredible temples of Tikal.
Each temple you will see on the tour took more than 50 years to construct and they were built to honor the gods.
There are 35 gods in the Mayan culture with the most important gods being sun, rain, and corn.
Tikal was declared a UNESCO World Heritage Site in 1979.
Have you got travel insurance for your trip?!
We all know accidents can happen and having Heymondo Insurance will save you thousands of dollars if something goes wrong.
Heymondo offers low-cost Travel Insurance to keep you covered on all your adventures.
THE MORNING OF THE TIKAL TOUR
Reol, an experienced tour guide from Tikal Go, picked us up from our accommodation in Flores at 5 am to make the 1-hour drive to Tikal.
The plan was to arrive at the entrance at 6:00 am when doors open and to be the first ones inside the archeological area. Sure enough, everything went according to plan and we were one of the first groups to enter.
When we arrived, Reol sorted us out with the Tikal entrance fee and we were each given wristbands to wear during our visit.
Before making our way along the trailhead to the Tikal ruins, Reol gave us a rundown of the tour itinerary on a small-scale model which is located at the entrance to the national park.
The Most Functional Day Pack EVER!
The Nomatic 20L Travel Pack is perfect for everyday use and for those shorter 1-3 day adventures.
With 20+ innovative features and a minimalist design, this functional day pack gives you confidence for life on the move!
GRAND PLAZA TIKAL & TEMPLE IV
For the first stop on our Tikal tour, we headed straight to the Grand Plaza which is home to Temple I, Temple II, Acropolis del Norte, and Acropolis Central.
The Grand Plaza is the most popular spot to visit on the tour so if you want to get photos without the crowds be sure to get there first thing.
The next stop was Temple IV which is the tallest structure in the park, standing a whopping 70 meters high above the ground.
To get to the top there is a set of wooden stairs located at the backside of the temple and it takes around 5 minutes to reach the viewpoint.
When you reach the summit of Temple IV, you'll be rewarded with panoramic views of the other Tikal temples and surrounding rainforests that stretch as far as the eye can see.
GRAND PYRAMID TEMPLE
After hanging out on the top of Temple IV, we made our way over to the Grand Pyramid Temple which was one of my favorites on the tour.
The Grand Pyramid was once used by the Mayan astronomers hence why it is completely flat on top.
Climb the stairs on the backside of the pyramid to reach the wooden viewing deck boasting yet another panoramic view of Tikal.
PLAZA DE LOS SIETE TEMPLOS
Next up on our tour was Plaza de Los Siete Templos (Plaza of the Seven Temples) which takes its name from a row of seven temples and features a central ball court.
These particular Tikal ruins are much smaller than the other temples though they are equally as impressive, in my opinion.
Plaza de Los Siete Templos has been very well preserved and is not to be missed when visiting Tikal.
The BEST Affordable Camera For Travel
If you're on the hunt for a professional camera for traveling, check out the Canon G7 X Mark II.
This tiny camera fits in your pocket, captures high-quality photos and videos, and has Wi-Fi so you can instantly transfer to your phone!
TEMPLE V TIKAL
Last but not least on our Tikal tour was Temple V and my personal favorite of all.
The grandeur size and its vibrant mossy exterior are just some of the features that make this Tikal temple so impressive.
It's possible to climb the first few steps of Temple V to get a photo but it's prohibited to go all the way to the top.
On the right-hand side of Tikal Temple Five, you can see it has been completely excavated and uncovered, whereas the opposite side still remains hidden behind soil and bushes.
BEST TIME TO VISIT TIKAL
The best time to visit Tikal is in the cool, dry season months from November to April when temperatures are just right and there is little to no rainfall.
The rainy season is typically May through to October which sees a lot of rainfall and temperatures are much higher.
The only plus side to visiting Tikal during these months is that there will be fewer tourists.
WHERE TO STAY IN FLORES
Flores has hundreds of accommodations to choose from so I have narrowed it down to a few of the best places to stay in Flores to suit all types of travelers.
See the list of accommodations below that I personally recommend:
Luxury: Hotel Isla De Flores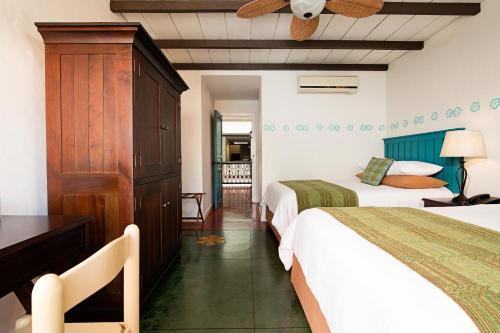 Mid Range: Hotel Casazul
Budget: Ciao Cacao Hostel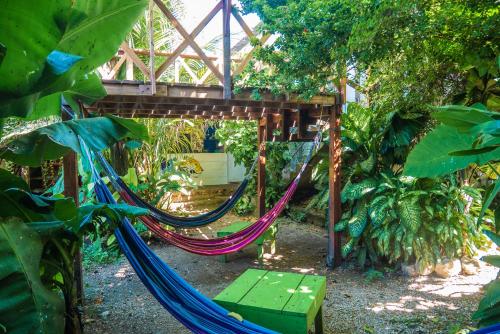 WHAT TO PACK FOR GUATEMALA
When visiting Guatemala, here is a list of items I highly recommend bringing with you:
Must-Have Travel Essentials
Keep your cash and other valuables safe with this anti-theft hidden money wallet!
---
The GRAYL GeoPress is the best reusable bottle that allows you to purify water from anywhere!
---
---
---
FINAL THOUGHTS – TIKAL TOUR
My experience on the tour with Tikal Go was one I will not soon forget. As I mentioned earlier, the entire tour from start to finish was flawless and great value for money.
Tikal happened to be the last location that I visited during my travels in Guatemala and it was indeed the icing on the cake! It's one of those places in the world that you need to visit at least once and experience it firsthand.
Be sure to check out the Tikal Go website and choose a tour that best suits you!
If you have any questions at all about my experience with Tikal Go, please drop me a comment below this post and I will get back to you as soon as I can.
For a quicker response, be sure to join Jonny Melon's Travel Tribe on Facebook and post your questions or recommendations to our awesome community.
TRAVEL RESOURCES FOR YOUR NEXT TRIP
Whether you're a seasoned traveler or it's your first trip overseas, here are some useful travel resources to help you kick-start your next adventure!
THANKS FOR READING
Hey friend, thanks for reading this guide!
Please know this post may contain affiliate links. When making a purchase through one of my links, I earn a small kickback at no extra cost to you and it's a big help to keep the site up and running. Rest assured, I only promote products and services that I personally use and recommend.
Many thanks!