San Cristobal de las Casas is definitely not to be missed on your Mexico itinerary!
Boasting European architecture, vibrant street art, artisan markets, buzzing nightlife, nature parks, cultural experiences, and much more!
I have put together this complete guide of 13 Awesome Things To Do In San Cristobal de las Casas to help you plan your trip!
Also in this San Cristobal de las Casas travel guide, I have included useful information on how to get around and recommended places to stay in San Cristobal.
OVERVIEW – THINGS TO DO IN SAN CRISTOBAL
Please see a brief overview below of the 13 Best Things To Do In San Cristobal De Las Casas that you will find in this post:
Climb the stairs to Guadalupe Church
Try the wine and tapas at La Viña de Bacco
Buy souvenirs at the Artisan Market
Wander through the Municipal Market
See the natural archway at Arcotete Park
Day trip to Cascada El Chiflon
Visit the Casa Na Bolom Museum
Chocolate tasting at the Kakaw Museum
Get lost in the streets of San Cristobal
Cañon Del Sumidero Tour
Have lunch at Casa De Familia
Check out the De Dulces Artisan Market
Discover the many churches in San Cristobal
CLIMB THE STAIRS TO GUADALUPE CHURCH
Visiting the Guadalupe Church (Iglesia de Guadalupe) is one of the best things to do in San Cristobal which is why I have put it at the top of this to-do list!
Whether you are religious or not, the Guadalupe Church is the perfect place to start your adventures in San Cristobal de las Casas to get your bearings on the city from its elevated location.
The Guadalupe Church is situated at the very end of the famous walking street, Real de Guadalupe, which is where you will find the 80 steps to climb up to the church to look inside.
My favorite features of Iglesia de Guadalupe are the striking gold and white colors painted on the exterior walls and the statue of the Virgin Mary on the altar which is framed by neon lights.
TRY THE WINE & TAPAS AT LA VIÑA DE BACCO
If you're a lover of wine and tapas food then you can't go past La Viña de Bacco with its large selection of local and international wines for as little as 25 MXN per glass.
A motto they stand by is 'The Best Medicine Is Wine'.
The best part about La Viña de Bacco is with every glass of wine they offer FREE tapas food and unlimited salty popcorn. It's bang for your buck if you ask me!
La Viña de Bacco is located on Real de Guadalupe walking street and its doors are open from 1:00 pm till late every day of the week.
You can also enjoy live music on most nights typically kicking off around 7:00 pm.
It's one of the top things to do in San Cristobal de las Casas, in my opinion, and definitely not to be missed!
Have you got travel insurance for your trip?!
We all know accidents can happen and having Heymondo Insurance will save you thousands of dollars if something goes wrong.
Heymondo offers low-cost Travel Insurance to keep you covered on all your adventures.
BUY SOUVENIRS AT THE ARTISAN MARKETS
Strolling through the Artisan Markets is one of the best things to do during your visit.
You could easily spend a few hours at the Artisan Markets, shopping for souvenirs, or purchasing a gift to send back home to your family and friends.
Located in the very center of San Cristobal de las Casas, it's hard to miss this thriving market filled with hundreds of vendors selling handmade garments produced by Indigenous textile-makers and wonderful pieces of artwork from local artists.
There is always so much happening at the Artisan Markets in San Cristobal de las Casas and I guarantee you'll love the vibrant atmosphere inside.
And if you want even more souvenirs from Mexico, make sure to take a flight and enjoy the Day of the Dead in Guanajuato, I'm sure you won't regret it!
WANDER THROUGH THE MUNICIPAL MARKET
Be sure to check out the Municipal Market which is located right next to the Artisan Markets in San Cristobal de las Casas.
This market is a little different which is filled with all sorts of fruits and vegetables, livestock, electronic stores, homewares, bakery goods, and much more!
The Municipal Market is a sensory overload, in a good way, and not to be missed on your list of things to do in San Cristobal de las Casas!
Pssst! Check out this AWESOME travel bag!
The Nomatic 40L is the best travel bag on the market, perfect for weekend trips or month-long adventures!
Featuring multiple compartments for clothes, shoes, laptop, water bottle, RFID-protected pocket, and more.
It's designed to fit the maximum size allowed for carry-on luggage, so you'll never have to spend money on check-in baggage again!
SEE THE NATURAL ARCHWAY AT ARCOTETE PARK
Arcotete Ecotourist Park (El Arcotete Parque Ecoturístico) is a worthy addition to your list of things to do.
Arcotete features an incredible cave system with a large limestone archway and a freshwater river that runs right through the middle.
The whole area is surrounded by pine trees and lush greenery which is just 20 minutes drive or a 1-hour walk from the town center of San Cristóbal de las Casas.
There is an entrance fee of 10 MXN to enter the park at Arcotete and an additional 15 MXN if you wish to enter inside the caves (gruta).
A series of zip lines (tirolesa) can also be found inside El Arcotete park if you're up for an adrenaline-fuelled adventure! The cost of the zip line is 100 MXN per person.
From the entrance down to the bottom of the valley, it's no more than a 5-minute walk and the trail emerges right at the base of the El Arcotete archway.
The walls are around 40 meters high, framed by lush vegetation, and a freshwater river about 5 meters wide cuts right through the middle of the archway.
On the roof of the cave system, you can see large pinnacle stalactites and stalagmites that are formed out of limestone rocks.
DAY TRIP TO CASCADA EL CHIFLÓN
Cascadas El Chiflon is easily one of the most incredible waterfalls I have ever seen!
Boasting not just one but five EPIC waterfalls and turquoise-colored cascades flowing down a lush green valley which can all be explored via an easy walking trail.
Cascadas del Chiflon is located next to a small village called San Vicente La Mesilla in Chiapas, approximately 3 hours drive south of San Cristobal de las Casas.
The easiest and most convenient way to reach Cascadas El Chiflon is to book a full-day tour from San Cristobal de las Casas.
I recommend booking the Cascada El Chiflon tour online in advance on the Get Your Guide website which has great reviews and hundreds of bookings.
The tour includes a hotel pick-up in San Cristobal, a visit to Cascadas del Chiflon, a boat cruise, and a swim at Montebello Lakes National Park, then returning to San Cristobal with a hotel drop-off.
There are three viewpoints once you reach the top of the trail at Cascadas El Chiflon. My favorite viewpoint of the three is the one that is the highest and the closest to the base of the falls which can be accessed by a concrete staircase.
The closer you get to the main falls at Cascadas El Chiflon, the wetter you are going to get from the copious amounts of mist that fill the air. Getting soaked from the spray of the falls is an incredible experience in itself.
The grandeur size of Cascada El Chiflon is an incredible sight and one I won't soon forget. Boasting a 120-meter waterfall that surges down a towering cliff face with immense power, crashing into a circular catch basin below.
VISIT CASA NA BOLOM MUSEUM
Casa Na Bolom Museum is one of the top things to do while wandering around the city and checking out all the sights, so be sure to add it to the list!
The entrance fee at Casa Na Bolom is 60 MXN per person and there is also an in-house restaurant, massage center, and souvenir shop.
Inside the museum, you can find old artifacts that belonged to a couple of European explorers, Gertrude and Frans Blom, who resided in Chiapas in the mid-1900s. They spent the majority of their time studying and protecting the Mayan culture in the region.
There are a number of courtyards inside Casa Na Bolom that are particularly interesting, featuring curved archways painted a bright yellow color and beautiful gardens surrounding the building. An Instagram-worthy location for sure!
Never Lose Your Luggage Again!
Are you sick and tired of airlines constantly losing your luggage?
Be one step ahead with the Tracki GPS Luggage Tracker and get real-time updates so you know where your luggage is if it gets lost.
CHOCOLATE TASTING AT KAKAW MUSEUM
This one is for all the chocolate connoisseurs out there, which I am guessing is most of you!
The Kakaw Museum and Cafe are not to be missed on your list of what to do in San Cristobal de las Casas Chiapas.
Centrally located near the main walking street, you can visit the Kakaw Museum for just 30 MXN and learn about the importance that Cacao has in the region of Chiapas including how it's farmed and how it was once used as currency.
Before you leave, it would be rude not to sit down for 10 minutes and enjoy a mug of hot chocolate at the Kakaw Cafe.
GET LOST IN THE STREETS OF SAN CRISTOBAL
Getting lost in the streets is not an official activity or location but it is, however, one of the best things to do to get a real feel for the city and its friendly vibes!
Almost every street in San Cristobal boasts impressive graffiti art, colorful street decorations, and old-school cars that make for awesome photo opportunities!
My favorite walking street in San Cristobal and the most vibrant is Real de Guadalupe which is filled with overhead streamers, quaint cafes, artisan stores, and lively pubs.
Pop your head into each store and say hello to the friendly locals and maybe even purchase some artisanal trinkets.
The BEST Affordable Camera For Travel
If you're on the hunt for a professional camera for traveling, check out the Canon G7 X Mark II.
This tiny camera fits in your pocket, captures high-quality photos and videos, and has Wi-Fi so you can instantly transfer to your phone!
CAÑON DEL SUMIDERO TOUR
An excursion to Cañon Del Sumidero is one of the best day trips to be had from San Cristobal de las Casas! Cruise along the river in a boat between the towering Sumidero Canyon walls and drive the road at the top of the canyon to 5 different panoramic viewpoints.
Canñon Del Sumidero is widely known for its abundance of wildlife including monkeys, birds, and even crocodiles that reside in and around the canyon, and for its grandeur size which is something you just have to see with your own eyes!
The Sumidero Canyon Tour is a full-day activity that begins at 9:00 am with a hotel pick-up in San Cristobal, a short 1.5 hours drive west to Cañon de Sumidero located in Tuxtla, a visit to the 5 panoramic viewpoints, a boat trip along the river 'Rio Grijalva' down inside the canyon and a stop into the magical town of Chiapa de Corzo before returning to San Cristobal at around 3:00 pm.
There are countless tour companies in San Cristobal de las Casas to book a Sumidero Tour but in my experience, it can be overwhelming trying to decide which one is best.
I recommend booking the Sumidero Canyon Tour online in advance with Get Your Guide which has great reviews and hundreds of bookings.
This will save you from having to haggle for a good price with the local tour companies in the city.
HAVE LUNCH AT CASA DE FAMILIA
Casa de Familia is a beautiful hotel with an in-house restaurant just three blocks away from San Cristobal de las Casas city center and offers some of the best-tasting food in Chiapas!
The cuisine is Japanese-inspired combined with traditional Mexican-style and it's absolutely mouthwatering! The best part is that lunch will be served to your table in a lush garden setting.
Casa de Familia's doors are open to outside visitors so you don't need to be a guest at the hotel to have lunch and drinks at the restaurant here.
Forget plastic SIM Cards… Get an eSIM!
Say hello to eSIM – a virtual SIM card pre-loaded with mobile data so you can get online and stay connected around the world.
OneSimCard is the best eSIM for travel, with low-cost data packages available in 150+ countries.
Simply buy online, install it on your smartphone, and you're good to go!
CHECK OUT DE DULCES ARTISAN MARKET
De Dulces Artisan Market is off the beaten tourist trail and is well worth adding to your list of things to do in San Cristobal de las Casas!
Just a short 5 to 10-minute walk south of the main square in San Cristobal you can find Mercado de Dulces and shop till you drop in the labyrinth of narrow alleyways inside.
De Dulces Market is more popular among the locals which means the prices for goods are less inflated as opposed to the other markets closer to the city center.
This vibrant market is filled with all sorts of handicrafts, trinkets, sweets, and delicious baked goods!
DISCOVER THE MANY CHURCHES IN SAN CRISTOBAL
Last but not least on this list of awesome things to do in San Cristobal Chiapas is the many churches that are dotted around the city and waiting to be discovered!
It may not be as exciting or adventurous as some of the other things listed in this San Cristobal travel guide but I thoroughly enjoyed taking photos of the countless churches I stumbled upon.
My personal favorite church that I found in San Cristobal de las Casas is the Church of Santa Lucia (Iglesia de Santa Lucíaar).
It's a short walk south of the main square and located very close to De Dulces Market. Its striking blue and white colors on the exterior walls of the church resemble the clouds and the skies above!
GETTING AROUND SAN CRISTOBAL DE LAS CASAS
There are a few ways to get around San Cristobal and they are by taxi, Colectivo (public bus), and on foot.
ON FOOT:
The easiest, cheapest, and most convenient way to get around San Cristobal de las Casas is on foot.
If you don't mind a bit of exercise it's possible to walk around San Cristobal in less than a day to visit the majority of the top attractions the city has to offer.
BY COLECTIVO:
Another option is to jump in a Colectivo which is the most common and cheapest mode of transport around the city of San Cristobal de las Casas.
You can wait for a Colectivo van to pick you up on any road corner and they typically come every 15 minutes.
The cost of a Colectivo within the city limits is only 10 MXN per ride.
BY TAXI:
Getting around San Cristobal by taxi is not the cheapest option but, in saying that, it's not overly expensive.
A 15-minute drive in a taxi from one end of the city to the other will set you back around 75-100 MXN one way.
BY CAR:
Renting a car and driving around Mexico is fun and generally safer than most imagine. Plus, rental cars aren't that cheap.
So if you plan to rent a car from Oaxaca or any other city in Mexico, you can reach San Cristobal de las Casas easily.
SAN CRISTOBAL MAP
WHERE TO STAY IN SAN CRISTOBAL DE LAS CASAS
San Cristobal de las Casas has hundreds of accommodations to choose from so I have narrowed it down to a few of the best places to stay to suit all types of travelers.
See the list of accommodations below that I personally recommend.
LUXURY: HOTEL BO
MID RANGE: HOTEL CASA DE FAMILIA
BUDGET: CASA 74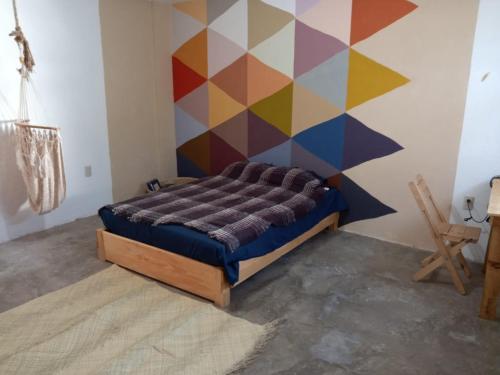 WHAT TO PACK FOR MEXICO
When visiting Mexico, here is a list of items I highly recommend bringing with you:
Must-Have Travel Essentials
Keep your cash and other valuables safe with this anti-theft hidden money wallet!
---
The GRAYL GeoPress is the best reusable bottle that allows you to purify water from anywhere!
---
---
---
FINAL THOUGHTS – THINGS TO DO IN SAN CRISTOBAL
If you have any questions at all about what to do in San Cristobal, please leave me a comment below this post and I will get back to you as soon as I can.
For a quicker response, be sure to join Jonny Melon's Travel Tribe on Facebook and post your questions or recommendations to our awesome community.
TRAVEL RESOURCES FOR YOUR NEXT TRIP
Whether you're a seasoned traveler or it's your first trip overseas, here are some useful travel resources to help you kick-start your next adventure!
THANKS FOR READING
Hey friend, thanks for reading this guide!
Please know this post may contain affiliate links. When making a purchase through one of my links, I earn a small kickback at no extra cost to you and it's a big help to keep the site up and running. Rest assured, I only promote products and services that I personally use and recommend.
Many thanks!