Named after the river that crosses the town, Margaret River is a diverse town located in the South West of Western Australia.
Diverse because there are many awesome things to do in Margaret River, from outstanding wineries to world-known surf breaks, to hundreds of caves, some of which can be explored.
The town of Margaret River is believed to be habituated for at least 50,000 years by the Noongar people. So, if you are traveling around Australia, the Margaret River region is a compulsory stop!
I have put together this complete guide of 15 EPIC Things To Do In Margaret River to help you plan your itinerary ahead of time!
WHERE IS MARGARET RIVER?
Margaret River region is located in Western Australia's South West Region, about 270km south of Perth, which is approximately a three-hour car drive.
Click here to see the location on Google maps.
HOW TO GET TO MARGARET RIVER?
You can fly to Busselton Margaret River Airport which is about 55km from the town of Margaret River, however, you need to consider that there are limited airline companies that operate flights to this airport.
The best option is to rent a car in Perth and drive to the region, or you can also get there by coach, with South West Coast Lines offering daily service to Margaret River.
Car Rental – Search, Compare & Save!
Discover Cars are one of the world's largest online car rental platforms with vehicles in 10,000+ locations.
Find the right car, in the right place, for the best price guaranteed!
BEST TIME TO VISIT MARGARET RIVER
If you are looking for those hot summer days by the ocean, longing to spend some time working on your tan, or eager to surf some world-class waves, then you should aim to visit between the months of December to February – the Australian summer months.
However, if you are seeking to enjoy other experiences such as hiking the Cape to Cape, or doing some other tracks across the coastline, then the months from March to May (Autumn months), and the months of September to November (Spring months), are the best ones in order for you to enjoy cooler days and more colorful landscapes.
15 EPIC THINGS TO DO IN MARGARET RIVER
Now that you know a little about Margaret River, how to get here, and the best time to visit, it's time to get to the fun stuff!
So, without further ado, here is a complete list of 15 Epic Things To Do In Margaret River during your visit.
WATCH THE SUNSET AT SURFERS POINT
Located approximately 8 km from the town's center, you can't miss the opportunity to visit Surfers Point and witness an unforgettable sunset.
It's this location that arguably put Margaret River on the tourist map.
Surfers Point is very well-known for its surf competitions, with the biggest event of the year being the WSL Margaret River Pro which generally takes place in the month of May.
It's a chance to come and see the world's best surfers compete against each other on some of the world's best waves!
Although, this place isn't just for surfers… it also offers a great atmosphere to enjoy a full day of sun, swimming in the ocean, and soaking in the good vibes – there is always something going on!
The area is very well equipped with car parking spaces, toilets, benches, picnic tables, and barbecues which is perfect to appreciate some memorable moments with family and friends.
It's a dog-friendly beach, so your four-legged sidekicks can join you for a walk along the golden sands as well.
Still, one of the best things you can actually do at Surfers Point apart from surfing is without a doubt watching a stunning sunset across the Indian Ocean.
CHECK OUT MARGARET RIVER MOUTH
Just around the corner from Surfers Point, you can find the actual Margaret River. There is a unique characteristic to the iconic river mouth which is its topography changes.
With the change of seasons, and the difference in the volumes of water, the river expands and contracts, alternating the landscape at River Mouth Beach.
Usually, the river is blocked, creating a unique landscape of a sometimes narrow, but magnificent beach.
Another amazing thing about Margaret River Mouth is that it's surrounded in part by reefs.
This beach is also known for being another perfect surf location and for its remarkable trails with stunning views along the coastline.
GO WINERY HOPPING
The Margaret River region is home to more than 200 vineyards, so many that you'd need to spend at least a month in the region if you wanted to see them all.
Winery hopping is one of the most unique things to do in Margaret River, and what makes this experience so different from other winery tours, is that you have the option to 'do it yourself' at your own pace.
This is your chance to actually get more involved – you can blend your own bottle of wine, meet important people in the area such as the winemakers themselves, taste some outstanding wine of course, and have many other interesting experiences.
The best part is that the majority of the vineyards you can choose to explore are all within 30 minutes drive from each other.
Some of the Margaret River wineries that I personally visited and which I can highly recommend are;
TAKE A PHOTO OF SUGARLOAF ROCK
Sugarloaf Rock is a 50-minute drive north of Margaret River.
Although it's a bit further away from the town, it's one of the top Margaret River attractions to add to your list of places to see.
Sugarloaf Rock is a massive granite rock just outside the mainland. Its distinctiveness makes it one of the most popular photographed spots in the region.
Besides the main element of the rock itself, the flora and fauna in the area are also very singular, and there are information boards that explain it better.
There is also a lookout with easy access from the parking lot and definitely worth visiting. At the lookout, you are greeted with the best view of the rock and the surrounding coastline to the north and south.
This location is also a place for bird lovers, being home to the red-tailed tropicbird!
Pssst! Check out this AWESOME travel bag!
The Nomatic 40L is the best travel bag on the market, perfect for weekend trips or month-long adventures!
Featuring multiple compartments for clothes, shoes, laptop, water bottle, RFID-protected pocket, and more.
It's designed to fit the maximum size allowed for carry-on luggage, so you'll never have to spend money on check-in baggage again!
VISIT CAPE NATURALISTE LIGHTHOUSE
Another one of the best things to do in Margaret River region is to visit the Cape Naturaliste Lighthouse.
Situated just 3.5 km from Sugarloaf Rock, and belonging to the Cape Naturaliste Road, the distance between these two stunning sites is easily accessible and offers amazing views of the southwest coast.
Cape Naturaliste Lighthouse offers guided tours that give you access to the top balcony of the Lighthouse which stands at 120m above sea level and from here you can enjoy a magnificent view of the cape.
You'll learn about the region's fauna and flora, the first lightkeepers, and maritime history.
Being one of the main Margaret River attractions for families, it can get quite busy here so it's better if you book your tickets online in advance so you can make the best of this experience!
SWIM IN TURQUOISE WATERS AT BUNKER BAY
With turquoise waters, 2.3 km of white sand and sheltered from the wind, Bunker Bay is arguably one of the best beaches in Margaret River, perfect for a relaxing day in the sun!
This is the perfect beach to go to for families with kids as most of the time the sea is peaceful, or for everyone who is just fancying a swim in the turquoise waters of Bunker Bay.
It's easy to get to the beach via a tar-sealed road, and this location is equipped with toilets, showers, and even a nice café if you get hungry!
Bunker Bay is also a fishing and boating-friendly beach, and if you're lucky enough you may even spot some migrant whales.
Be sure to add the stunning Bunker Bay to your list of what to do in Margaret River!
RENT A KAYAK AT MEELUP BEACH
Looking for some fun in the sun? Head over to Meelup Beach and rent a kayak or a SUP right from the shoreline and cruise around the calm waters in the bay.
Located about a 45 minutes drive from Margaret River's center, Meelup Beach is one of the most popular beaches in the entire region, mainly because it offers an array of beach activities and crystal-clear waters.
You can rent a double sit Kayak for $30 p/h and individual SUP boards for $25 p/h, so it's up to you to decide if you fancy some kayaking fun or prefer to just cruise on the SUP.
There is also the possibility to book a guided kayak tour along Meelup Regional Park, where you get to know more about the coastline and have the opportunity to swim near an isolated beach.
Tours are usually two hours long, and the cost for an adult is $65 per person, and for children from 8-16 years old, the cost is only $55.
VISIT CASTLE ROCK BEACH
Located in the Margaret River region, about 5 minute's drive from the town of Dunsborough, and just around the corner from Meelup Beach, you can find Castle Rock Beach.
Rated as one of the most beautiful places to visit in Margaret River, exploring this picturesque and exceptional beach is not to be missed.
The nature at Castle Rock is unique, and if you look closely you may be able to find native and rare wildflowers.
Castle Rock is a stunning scenic spot, with fascinating granite rocks that provide the perfect spot for some awesome pictures and to appreciate a blazing sunset over the horizon.
Although the beach is protected from the westerly winds it can be a bit wild sometimes, depending on the day, however, it is still an amazing beach to swim, fish, surf, or relax.
The beach has toilets and barbecue facilities, with plenty of tables and parking for everyone!
The BEST Affordable Camera For Travel
If you're on the hunt for a professional camera for traveling, check out the Canon G7 X Mark II.
This tiny camera fits in your pocket, captures high-quality photos and videos, and has Wi-Fi so you can instantly transfer to your phone!
GRAB A BEER AT WILD HOP BREWING COMPANY
Next up on this list of what to do in Margaret River is Wild Hop Brewing Company.
If you are a beer lover, grabbing a beer at Wild Hop Brewing Company is an unmissable thing to do in Margaret River. Wild Hop is a family-run business situated on a 50-acre property and the perfect place to plant some hops!
At Wild Hop, you can find a wide range of beers in different sizes, but none of them in cans or bottles. All beers are preserved in barrels with taps.
They have 11 different taps for their beer, so there are plenty of choices.
The tap list is always changing which makes it even more unique and exciting, so if you stay for enough time you may be lucky to experience more varieties of beers!
There is also an amazing deck area at Wild Hop where you can enjoy an ice-cold beer and some lunch during a nice summer afternoon overlooking the reservoir.
Click here to see the food and drinks menu, and to reserve a table in advance.
EXPLORE CANAL ROCKS
Canal Rocks is known for being an 'open-air museum' featuring granite rocks molded by the wind and water, which creates a narrow channel between the rocks.
There is a wooden footbridge that makes the connection between the two margins of the canal, and where you can witness the impressive power of the incoming waves.
Due to the cracks in the rocks, you can find natural lagoons and small pools, and if you look closely you can even spot some marine creatures.
This is the perfect place to explore if you are an adventurous person, as you are able to climb over rocks in search of the best scenic views.
Canal Rocks is part of the Cape to Cape Track, and if climbing rocks isn't enough, you can also walk along the 2km track to Wyadup Cliffs which promises extraordinary scenery.
The BEST reusable water bottle for travel!
The GRAYL GeoPress is a top-rated reusable water bottle perfect for backpacking, hiking, and traveling.
It allows you to purify water from anywhere and keeps you safe from all waterborne diseases.
Get a GeoPress today and never buy single-use plastic bottles again. Mama Earth will thank you for it!
DAY TRIP TO HAMELIN BAY
35km south of Margaret River, a day trip to Hamelin Bay should be on everyone's itinerary as it's one of the best things to see in Margaret River.
Hamelin Bay is most famous for the number of stingrays that you can spot along the bay. This is an unforgettable experience to be able to swim with stingrays in their natural habitat.
There aren't many places in the world where you can do the same.
Besides those lovely creatures, Hamelin Bay is the perfect place to enjoy a day at the beach, and with a caravan park just outside the bay, toilet facilities, a small store, and easy accessibility, there are no excuses to not visit this magical place.
DRIVE THROUGH THE BORANUP FOREST
If you plan a day trip to Hamelin Bay, you'll get to drive through the Boranup Forest on the way and experience the magic of the beautiful Karri trees that can grow up to 60 meters.
Situated on the road that links Margaret River and Augusta, you can choose to drive through or get lost in this forest. If you have some free time, stop the car and go for a walk along one of the many trails you can choose from.
If you manage to get to the Boranup lookout, you'll be amazed at the stunning view of Hamelin Bay.
There are also some picnic tables there, so you can sit back, relax, and recharge your batteries under the shade of these unique trees.
FIND YOUR WAY THROUGH A GIANT MAZE
If you're looking for some fun during your travels, Amaze'n is one of the best places to visit in Margaret River. Perfect for little kids or grown-up kids, at Amaze'n you have the opportunity to get lost in a real half-hectare maze!
Open daily from 9 am to 5 pm, Amaze'n offers loads of activities for a day full of fun. Besides the outstanding maze, there is also an 18-hole mini-golf, garden art to see, a family café where you can enjoy a nice meal, and a playground with different games and puzzles for kids!
See below for all admission prices:
Amaze'n Maze/gardens/bbq's/playground/picnic area
$22 Adults (17+ )
$15 Children (4-16) & Students with cards
3 and under free
$65 Small family group – 2 Adults + 2 Children
Amaze'n 18 hole mini golf only (no garden access/picnic playground access)
$14 Adults
$12 Children 2 years to 16
Tickets to both Amaze'n Mazes/gardens plus the Mini Golf
$32 Adults maze and golf
$25 Children maze and golf
Take Your Photos & Videos To New Heights!
The DJI Mini 3 Pro is the most affordable, user-friendly drone camera suitable for all levels!
This travel-sized drone captures 4K/60fps video, 48MP photo, and has 34 minutes flight time.
TRY A TASTING PADDLE AT BLACK BREWING CO.
If you are a beer lover, this is another great brewery you must visit in Margaret River. Black Brewing Co. is part brewery, part distillery which makes it even more special.
The Black Brewing Co. offers plenty of different craft beers to choose from, so the smartest thing to do is to purchase a tasting paddle so you are sure you've tried as many different beers as you can!
Black Brewing Co also offers a fantastic menu, that you can appreciate on a beautiful deck overlooking the water.
There are also regular live music events, so stay alert and you may be able to listen to some live music while sipping back on a cold beer.
BOOK A NGILGI CAVE TOUR
You can't leave Margaret River without booking a Ngilgi Cave Tour. This experience is an absolute must if you seeking to make the most of the region's unique natural features.
Ngilgi Cave has the title of being the first Western Australia tourist attraction. Discovered in 1899, this cave is full of extraordinary stalagmites and stalactites, which will leave you speechless.
The tour of the cave is about one hour long and includes a guided introduction. Then you have the opportunity to enjoy this experience freely while having a guide always near if you have some last-minute questions.
There is also an 'Adventure Tour' for those seeking some more adrenaline.
WHERE TO STAY IN MARGARET RIVER
There are dozens of accommodation options to choose from in Margaret River so I have narrowed it down to a few of the best places to stay to fit the needs of budget backpackers, luxury travelers, and everyone in between.
See below for a list of accommodations in Margaret River that I personally recommend:
LUXURY: LOSARI RETREAT
MID-RANGE: MARGARET RIVER RESORT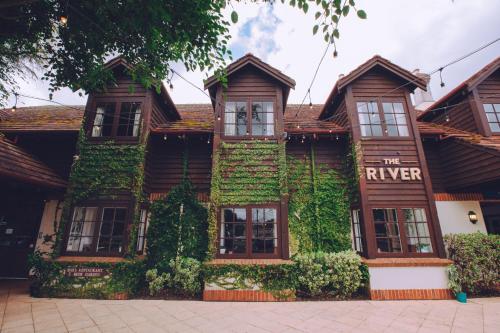 BUDGET: MARGARET RIVER NATURE PARK
WHAT TO PACK FOR WESTERN AUSTRALIA
When visiting WA, here is a list of items I highly recommend bringing with you:
Must-Have Travel Essentials
Keep your cash and other valuables safe with this anti-theft hidden money wallet!
---
The GRAYL GeoPress is the best reusable bottle that allows you to purify water from anywhere!
---
---
---
FINAL THOUGHTS – MARGARET RIVER WESTERN AUSTRALIA
I hope you enjoyed reading this article and if you have any questions, please leave a comment below this post and I will get back to you as soon as I can.
For a quicker response, be sure to join Jonny Melon's Travel Tribe on Facebook and post your questions or recommendations to our awesome community.
TRAVEL RESOURCES FOR YOUR NEXT TRIP
Whether you're a seasoned traveler or it's your first trip overseas, here are some useful travel resources to help you kick-start your next adventure!
THANKS FOR READING
Hey friend, thanks for reading this guide!
Please know this post may contain affiliate links. When making a purchase through one of my links, I earn a small kickback at no extra cost to you and it's a big help to keep the site up and running. Rest assured, I only promote products and services that I personally use and recommend.
Many thanks!