The town of Monteverde in Costa Rica is a nature lover's paradise, from coffee plantations to waterfalls to welcoming locals, Monteverde has it all.
With so many exciting things to do in Monteverde, you'll never be bored. So let's get started with everything you need to know before you go, unmissable places to see, where to stay, and much more!
A QUICK LOOK AT MONTEVERDE
BEST MONTHS TO VISIT MONTEVERDE
Monteverde is a small, mountainous town in Costa Rica known for its lush, green landscapes and cloud forests. It's situated 1330m above sea level so the temperatures are much cooler than on the coast.
The best time to visit Monteverde is between December and April. During this time, the weather is drier and there is less chance of rain.
When putting together your list of things to do in Monteverde, try to avoid the rainy season which is between September and November.
Moreover, you can visit Monteverde pretty much all year long as the weather is generally stable.
IS MONTEVERDE WORTH VISITING?
Monteverde is one of those places that everyone seems to have an opinion on. So, is Monteverde worth visiting?
The cloud forest is unlike anywhere else you've ever been – it's ethereal and magical – even if you're not normally a nature person, the experience of being in a cloud forest is worth the trip alone.
In addition to the cloud forest, Monteverde also has some great hiking trails, stunning views, and interesting wildlife. All in all, YES, it's a beautiful place that's definitely worth a visit.
HOW LONG TO STAY IN MONTEVERDE?
While you can scratch the surface and get to know Monteverde in a couple of days, I recommend staying at least 3 days. During this time, you can experience all the things to do in Monteverde.
Spend your time hiking through old-growth forest ecosystems, hanging out with some friendly sloths at the reserve's animal sanctuary, and even zip-line through the canopy for an adrenaline rush.
After a couple of days of exploration, you might want to take it easy and visit some cafes around town.
HOW TO GET AROUND IN MONTEVERDE?
Getting around in Monteverde Costa Rica isn't difficult and there are a few different options available.
The most popular way to get around the town is on foot, however, renting a car is the best option for visitors who want to explore the surrounding area at their own pace.
Alternatively, you can book guided tours which include hotel pick-up and drop-off, order an Uber, take a taxi, or hop on the public bus to get around the tourist spots.
IS MONTEVERDE SAFE?
Monteverde is a popular eco-tourism destination in Costa Rica and it's perfectly safe to visit, even as a solo female traveler.
You can safely get around town during the day and night and you won't have any issues.
IS MONTEVERDE EXPENSIVE?
Monteverde is not the cheapest destination but it's not overly expensive either.
If you're on a budget, you may find limited options when it comes to cheap hotels, restaurants, and tours.
That being said, the town does offer good value for your money, and you'll also find some free things to do in Monteverde.
For instance, the entrance fee to the Monteverde Cloud Forest is only $25, a coffee and a snack at the bakery is around $10, and an Uber ride will cost you as little as $5 for a short ride.
Need a travel money card?

Wise offers multi-currency debit cards which can be used worldwide and you'll save hundreds on transaction fees. Get your Wise card today for free!
10 AWESOME THINGS TO DO IN MONTEVERDE
As you know by now, Monteverde is one of the best travel destinations in Costa Rica, but what to do in Monteverde?
So without further ado, see below for a comprehensive guide to the 10 best things to do in Monteverde to help you plan your trip!
DISCOVER MONTEVERDE CLOUD FOREST
Monteverde Cloud Forest is one of the most popular tourist destinations in the country. The reserve is home to a unique ecosystem that is filled with misty, low-hanging clouds.
The cloud forest boasts an incredible diversity of plant and animal life, and it's one of the best places in the world to see rare birds.
Apart from that, you can explore its many hiking trails which wind through lush jungle and offer stunning views of the surrounding mountains.
The reserve also has a number of educational facilities which provide visitors with information about the local ecosystem and its importance to the global environment.
With its natural beauty and wealth of wildlife, the Monteverde Cloud Forest Reserve is an unforgettable place that you won't regret adding to your list of what to do in Monteverde.
The entrance fee is $25 per adult and $12 per child (self-guided), or you can book a guided tour for just $30 per person which I highly recommend. The reserve is open daily from 7 am to 4 pm.
GO ON A BIRD-WATCHING ADVENTURE
Costa Rica is a haven for birdwatchers and Monteverde's Cloud Forest is one of the best places to see some of the country's unique avian inhabitants.
The reserve is home to more than 400 species of birds including the resplendent Quetzal, the national bird of Costa Rica.
On top of that, you can hike through the forest in search of rare birds or take a guided tour led by an expert, which is my personal recommendation.
Either way, birdwatching is an unforgettable experience and one of the unique things to do in Monteverde.
BE AMAZED AT SANTA ELENA CLOUD FOREST
Are you looking for a less touristy alternative to Monteverde Cloud Forest? Look no further than the Santa Elena Cloud Forest Reserve (Reserva Bosque Nuboso).
This reserve is home to some of the tallest trees in the country and boasts a diverse array of plant and animal life.
The best way to explore the reserve is on foot and there is 13km of trails to choose from depending on your fitness level. Be sure to bring your camera to capture some incredible sights above the clouds!
Santa Elena is open daily from 7 am to 3 pm and the entrance fee is $16 per person (self-guided) or you can book a guided walking tour for just $30.
VISIT SELVATURA PARK
Selvatura Park is another one of the most famous tourist destinations in Monteverde Costa Rica which is open daily from 7 am to 4 pm.
Selvatura is home to a number of hanging bridges that provide stunning views of the surrounding jungle. The bridges are also used for research purposes as they allow scientists to study the canopy of the rainforest.
Selvatura Park also offers zip lining, bird watching, and an insect museum. I recommend purchasing tickets for all of the park's attractions online in advance to get the best rates.
GO ZIP-LINING IN MONTEVERDE
If you're looking for an adrenaline rush, go zip-lining in Monteverde! The best place for this is Sky Adventures Park and I can't recommend it enough.
Monteverde Sky Adventures Park is a great place to go if you're looking for a fun and unique way to experience the Costa Rican rainforest from above.
The park features zip lines, suspension bridges, and a variety of other obstacles that will keep you entertained for hours. And, if you're feeling really adventurous, you can even take a canopy tour through the treetops!
CHECK OUT THE BAT JUNGLE
The Bat Jungle in Monteverde is a must-visit for anyone interested in strange creatures.
Upon arrival, you'll be greeted by Dr. Richard K. Laval, a bat biologist who will guide you through the different species. You'll then see bats hanging from the ceilings and walls of their spacious enclosure.
As you walk through the exhibit, you'll learn about the different species of bats that call the jungle home, as well as their unique habits and behaviors.
Whether you're a bat enthusiast or simply looking for something out of the ordinary, a visit to the Bat Jungle is sure to leave you amazed.
JOIN A COFFEE, SUGAR CANE, & CHOCOLATE TOUR
Most of the things to do in Monteverde are kind of adventurous and I understand if you want something more relaxed for a day.
That's why I recommend joining a Coffee, Sugar Cane, and Chocolate Tour! This unique tour will take you on a delicious journey through some of the region's most famous crops.
The tour begins with a visit to a local coffee plantation where you'll learn all about the different steps involved in growing and harvesting coffee beans.
Next, it's off to a sugar cane field to see how this versatile crop is used to produce everything from molasses to rum.
And finally, no tour would be complete without a stop at a chocolate factory where you'll get to see how this delectable treat is made from start to finish.
SPEND THE AFTERNOON HORSEBACK RIDING
An exciting way to spend the afternoon is to go horseback riding which is probably one of the coolest things to do in Monteverde. Book your horseback riding tour with Costa Rica Inspire.
With breathtaking views of the ocean and the rainforest, it's no wonder that horseback riding is a great way to explore the natural beauty of Monteverde Costa Rica.
There are a variety of trails to choose from, so whether you're a beginner or an experienced rider, you'll find a trail that's perfect for you.
So what are you waiting for? Saddle up and enjoy an afternoon of horseback riding in Monteverde.
WANDER AROUND THE MONTEVERDE BUTTERFLY GARDEN
Looking for a colorful and tranquil spot to spend an afternoon in Costa Rica? Head to the Monteverde Butterfly Garden where you can wander among hundreds of beautiful butterflies.
The garden is located in the heart of the Monteverde Cloud Forest Reserve and is home to over 30 species of butterflies.
As you stroll through the lush gardens, keep your eyes peeled for rare specimens like the Blue Morpho and the Yellow Longwing.
In addition to butterflies, the garden is also home to a variety of other creatures including sloths, snakes, and tropical birds.
Admission to the Monteverde Butterfly Garden includes a guided tour, during which you'll learn all about these amazing creatures.
HIKE TO MONTEVERDE WATERFALL (CATARATA LOS MURCIÉLAGOS)
Last but not least on this list of Monteverde things to do is the hike to Monteverde Waterfall, also known as Catarata Los Murciélagos.
Located in Santa Elena Cloud Forest Reserve, this cascading waterfall is definitely worth the effort to get here.
The hike itself is moderate in difficulty with a few uphill sections, and along the way, you'll enjoy stunning views of the reserve including the lush greenery and diverse wildlife.
The centerpiece of the hike is the Monteverde Waterfall itself, a beautiful sight that's sure to take your breath away.
So if you're looking for an unforgettable answer to what to do in Monteverde Costa Rica, this waterfall is exactly what you need!
HOW TO GET TO MONTEVERDE?
When searching for how to get to Monteverde, a few options are available.
BY CAR:
If you're renting a car in Costa Rica, you'll be able to reach Monteverde quite easily as all the roads leading to the town are tar sealed.
However, I recommend renting a vehicle with a larger engine that has more grunt to make it up the steep, winding hills.
BY BUS:
If you're not renting a car in Costa Rica that's totally fine and you can easily travel to Monteverde by shuttle bus from other main tourist spots such as La Fortuna, San Jose, Jaco, and Manuel Antonio.
Click here to book your transport to Monteverde online in advance.
TRAVEL TIMES:
La Fortuna to Monteverde: 3 hours
San Jose to Monteverde: 3 hours
Jaco to Monteverde: 2.5 hours
Manuel Antonio to Monteverde: 3.5 hours
MONTEVERDE MAP
Click here for an interactive map of Monteverde Costa Rica.
WHERE TO STAY IN MONTEVERDE
There are dozens of accommodations to choose from in Monteverde so I have narrowed it down to a few of the best places to stay to suit the needs of luxury travelers, budget backpackers, and everyone in between.
See the list of accommodations below that I personally recommend:
LUXURY: SENDA MONTEVERDE HOTEL
MID RANGE: CHIRA GLAMPING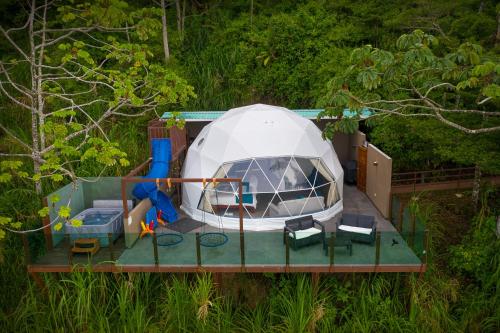 BUDGET: CASA TRANQUILO HOSTEL
For all other places to stay in Monteverde, here is an interactive map of all the available accommodations in the region.
Simply enter your dates of stay below and hit the search button!
WHAT TO PACK FOR COSTA RICA
When visiting Costa Rica, here is a list of items I highly recommend bringing with you;
If you're interested in taking awesome photos and videos on your travels, this is the camera gear that I use and recommend;
GoPro HERO10 – the most popular camera on the planet for action-packed adventures.
Canon EOS R – perfect for traveling, this is the most affordable, compact camera on the market.
DJI Mini 3 Pro – take your photos and videos to new heights with this user-friendly drone camera.
TRAVEL RESOURCES FOR YOUR NEXT TRIP
Whether you're a seasoned traveler or it's your first trip overseas, here are some useful travel resources to help you kick-start your next adventure!
Looking for more? Check out my Travel Resources page for further help with your trip planning!
FINAL THOUGHTS
I hope you enjoyed reading this article and if you have any questions about what to do in Monteverde, please leave a comment below this post and I will get back to you as soon as I can.
For a quicker response, be sure to join Jonny Melon's Travel Tribe on Facebook and post your questions or recommendations to our awesome community.
THANKS FOR READING
Hey friend, thanks for reading this guide!
Please know this post may contain affiliate links. When making a purchase through one of my links, I earn a small kickback at no extra cost to you and it's a big help to keep the site up and running. Rest assured, I only promote products and services that I personally use and recommend.
Many thanks!