Its diverse population, beautiful beaches, and thriving culture are what define Miami best!
In such a massive city full of attractions, knowing all the awesome things to do in Miami Florida before you visit can make your trip even more special.
Like most coastal cities, Miami has a lot to offer its visitors and in this complete guide, you'll discover the top Miami attractions so you don't miss anything on your itinerary.
We'll go through everything you need to know, including the best time to visit, how many days to spend in Miami, how to get around, a list of the top fun-fuelled things to do, where to stay, unmissable restaurants to try, and much more!
QUICK ANSWERS: THINGS TO DO IN MIAMI
Before I dive into all the best things to do in Miami Florida, here are some quick answers to the most frequently asked questions.
WHERE IS MIAMI?
Miami is a coastal metropolis located in Florida, United States, and has a population of more than 6.1 million in 2021.
It lies nestled near the Florida Keys and other popular spots like Tampa and Orlando. 
In addition to this, Miami is not too far from the Bahamas, which allows you to jump on a cruise for one or more days to the tropical islands.
It's also worth noting that Miami has the third largest skyline in the USA with over 300 high-rises, and 58 of them exceed 491 feet.
Fun fact: Miami was awarded the cleanest city in the United States by Forbes.
BEST TIME TO VISIT MIAMI?
The absolute best period to visit Miami is between the months of March and May. The weather during these months allows you to enjoy pleasant temperatures of 70°F or even higher.
In saying that, Miami can be visited outside of these months, too, as it's a destination with beautiful weather year-round for everyone to enjoy!
If you're looking for a tropical destination in America without having to leave the country, Miami is simply the place to be!
Have you got travel insurance for your trip?!
We all know accidents can happen and having Heymondo Insurance will save you thousands of dollars if something goes wrong.
Heymondo offers low-cost Travel Insurance to keep you covered on all your adventures.
HOW MANY DAYS DO I NEED IN MIAMI?
There are many fun things to do in Miami, and some of them will take you longer to experience than you initially planned.
For instance, a tour on a cruise will only last 45 minutes, but a drive across the Venetian Islands or down to The Keys could take a few hours stopping here and there.
To scratch the surface and visit the bare minimum Miami attractions, say South Beach, Ocean Drive, and the Wynwood art district, 3 days in Miami can be enough.
On the other hand, if you want to experience every corner of the city, and all of the hidden gems in Miami, I'd recommend spending at least 5 to 7 days in Miami.
When staying three days in the city, you'll be able to experience the best things to do in Miami Florida for adults, kids, couples, and solo travelers.
Sure, in such a big city, expect to only scratch the surface in such a short time. However, you'll get around the most popular spots, such as Miami Beach, have a nightly drink at a rooftop bar, and enjoy some delicacies.
HOW TO GET AROUND IN MIAMI?
To get around Miami, renting a car is probably your safest and most convenient bet. That being said, it can also be the most expensive option and the least adventurous.
To put things into perspective, renting a car in Miami will cost you anywhere between $120 per day for basic vehicles to $300 per day for more spacious and luxurious ones.
On the flip side, you can just walk around Miami to explore the city and every hidden gem it has to offer.
Sure, you can't get everywhere on foot, but you can at least discover the famous Miami Beach and the downtown area where the vibe is.
Apart from that, Citibike in Miami is an affordable and cool way to get around for those that like exercising.
For only $4.95, you can rent a bike for 30 minutes and beyond, however, each half-hour extra will cost you $4.60.
Last but not least, calling an Uber is probably the most comfortable option to get around Miami, especially on a night out with friends or when it's too hot outside.
11 AWESOME THINGS TO DO IN MIAMI
There are many fantastic places to visit in Miami to suit all types of travelers.
If you're looking for some of the top Miami tourist attractions (which I know you are because you wouldn't be here if you weren't 😉) this complete visitor's guide will help you find them!
HIT THE BEACH
First things first, head straight to the worldwide known Miami Beach. While Miami Beach is a separate city connected to the Miami mainland, both are pretty close.
Miami Beach is located less than 10 miles from Downtown Miami.
Miami Beach has many luxurious apartments that provide panoramic views of the ocean or Biscayne Bay and it's definitely a great place to stay.
Apart from that, there are other beaches in Miami worth spending the day at – let's dive into the most beautiful beaches in Miami.
WHAT ARE THE BEST BEACHES IN MIAMI?
With dozens of beaches in Miami, it's certainly not easy to know which ones are really worth it. All things considered from location to beauty and convenience, these are the best beaches in Miami:
North Beach
South Beach
Surfside Beach
Sunny Isles Beach
Bal Harbour Beach
Haulover Beach Park
Of course, some others may be more practical for you depending on where you book your hotel.
But, as a whole, you just can't travel to Miami without spending some time at one of these beautiful beaches.
The Most Functional Day Pack EVER!
The Nomatic 20L Travel Pack is perfect for everyday use and for those shorter 1-3 day adventures.
With 20+ innovative features and a minimalist design, this functional day pack gives you confidence for life on the move!
STROLL DOWN OCEAN DRIVE IN SOUTH BEACH MIAMI
Ocean Drive is a 1.3-mile stretch of road in the South Beach area and is not to be missed on your list of fun things to do in Miami.
It has been well-known among tourists and locals alike for decades, and it offers a diverse range of entertainment, dining, and shopping options for all kinds of people.
You'll find endless great restaurants such as the authentic Havana 1957 Cuban Cuisine Ocean Drive as well as the Greekest establishment in the city, Santorini by Georgios.
Apart from that, you'll find authentic and expensive cars that you've never seen anywhere else. Did I mention that you can rollerskate all along the avenue?
After enjoying the area during the daytime, South Beach's nightlife glitters, and it's trendy and odd, yet it's still a great place to be.
South Beach attracts the rich, the famous, and young people, but everyone worldwide now recognizes it for its uniqueness.
CHECK OUT WYNWOOD CREATIVE DISTRICT
With over 10 art galleries, graffiti murals everywhere you look, and breweries and cafes on every corner, the Wynwood district is one of the best places to go in Miami during your visit.
You're really in for a treat from the famous Rubell Museum to the Pan American Arts Projects and, of course, the Wynwood Walls.
It's different from any other place in the world in that it provides a home for creatives from all over the globe.
The focus on creativity has made this place a huge success with lots of potential for both locals and travelers alike.
Furthermore, make sure to stop by one of the great coffee shops such as Panther Coffee and Beaker and Gray Eatery. Wynwood is a unique place, and I can't recommend it enough.
Last but not least, you should surely take your camera with you when going to the Wynwood district as I'm pretty sure you'll take awesome shots.
The BEST Affordable Camera For Travel
If you're on the hunt for a professional camera for traveling, check out the Canon G7 X Mark II.
This tiny camera fits in your pocket, captures high-quality photos and videos, and has Wi-Fi so you can instantly transfer to your phone!
HAVE A DRINK AT ASTRA ROOFTOP BAR
Astra Rooftop Bar in Miami is not only the place to be after spending the day in Wynwood but also a great starting point to have an amazing night out.
The rooftop bar has a sky garden, couches to relax and be comfortable, and a stunning view over Miami's skyline.
This makes for great seating options when you are looking for something cozy or having a romantic time with that special someone.
Also, they have excellent dishes with an accent on Greek flavors, and you can't miss their cheese saganaki, tuna tartare, and mixed grill.
All in all, Astra is the right place to start or end the night!
VISIT BAYSIDE MARKETPLACE
Opened in April 1987, the Bayside Marketplace is located in Downtown Miami surrounded by the banks, making it a great stop for any tourist who wants to spend an afternoon shopping and people-watching.
You'll find more than 60 stores and restaurants inside, as well as places to sit down, relax, and listen to some live music after you've finished shopping.
In terms of food and dining, you'll find pretty much all the food you can think of, from Five Guys to Mason's Famous Lobster Rolls and Mammamia Gelato Italiano.
This historic marketplace is home to many events throughout the year. If you're planning on visiting soon, check out their event calendar because there will definitely be something that interests you.
Bayside Marketplace is open every day from 10.00 am to 11.00 pm and from 11.00 am to 11.00 pm on Sundays.
The BEST reusable water bottle for travel!
The GRAYL GeoPress is a top-rated reusable water bottle perfect for backpacking, hiking, and traveling.
It allows you to purify water from anywhere and keeps you safe from all waterborne diseases.
Get a GeoPress today and never buy single-use plastic bottles again. Mama Earth will thank you for it!
SIGHTSEEING BOAT TOUR WITH ISLAND QUEEN CRUISES
When searching for the most popular Miami tourist attractions, there's nothing better than taking a cruise with Island Queen Cruises.
They have 5 different tours available:
Bayside Blaster – Simply the best for sightseeing
Party Cruises – Have the night of your life along Biscayne Bay
Holiday Cruises – Celebrate your special day on this luxury cruise
Millionaire's Row – Cruise past the homes of the rich and famous
Fishing Cruises – Discover the stunning waters of Florida and fish unique species never seen before
I personally did the "Millionaire's Row," and I can't recommend this cruise enough.
For only $23 per person and $20 for kids, you'll get to join a 90-minute sightseeing tour with views of the Miami Skyline, Fisher Island, Miami South Beach, and Millionaire's Row.
It goes without saying that cocktails, drinks, and snacks are available aboard. All in all, it's one of the best cruises you can go on when in Miami, and it's the best value for money you'll find.
Of course, prices vary depending on the tour you choose and will go as low as $10 per person for the Party Cruises and as high as $125 per person for the Holiday Cruises on NYE.
All their yachts are air-conditioned inside and you'll be able to enjoy the view from the upper deck outside.
Capture All Your Adventures!
I'm sure y'all know by now that GoPro's are arguably the best action cameras on the planet!
The new GoPro HERO 11 boasts 5.3K video, 27MP photo, HyperSmooth stabilization, and waterproof up to 10m!
THRILLER SPEEDBOAT ADVENTURE
The sightseeing tour on a cruise is definitely one of the best options around, but, if you want to experience something more extreme and adventurous, Thriller Miami is the one you're looking for.
The Thriller Adventure, started back in 2006 and is nestled in Downtown Miami, offers daily public tours to both national and international visitors.
Reaching speeds up to 40 mph into the Atlantic Ocean, this is the most unique and adrenaline-filled way to discover Miami's surroundings.
That being said, it's not for everyone, but it's a fun way to spend quality time in the city before spending the night on Ocean Drive.
It's worth noting that they're open all year long, and their first vessel leaves at 11.00 am during the weekdays while it departs at 10.00 am on the weekend.
On the other hand, their last tour departs at sunset and I highly recommend booking this timeslot if possible. Why? I'll let the photos down below do the talking!
This 45-minute tour is slightly pricier than a cruise and will set you back $40 for adults and $30 for kids aged 3 to 11.
VISIT THE FROST SCIENCE MUSEUM
The Frost Science Museum has everything you need to set off your imagination, and it's one of the best places to go in Miami for adults and their little ones.
It offers a 4-story aquarium and a 6-story science center to learn about wildlife, and science and educate your kids in general.
The planetarium, aquarium, and science museum are unique among their kind in the city. Riveting live events, animals, hands-on activities, and cutting-edge technology are all included in the experience.
Climb down the thrilling depths of the museum's three-story Aquarium, where you'll touch a stingray, meet hammerhead sharks face-to-face, and more.
Get ready to spend hours inside to walk around and visit all the exhibits the Frost Science Museum has to offer.
They also host different shows based on the time of the year, and I'd recommend checking their calendar of events before going.
If you rent a car and drive around Miami, keep in mind that the parking is $15 for the day. Sure, that shouldn't impact your overall budget but it's worth noting.
Car Rental – Search, Compare & Save!
Discover Cars are one of the world's largest online car rental platforms with vehicles in 10,000+ locations.
Find the right car, in the right place, for the best price guaranteed!
DRIVE ACROSS THE VENETIAN ISLANDS
When in town, one of the Miami attractions you shouldn't miss is the Venetian Islands. These are six man-made islands that are connected by the Venetian Causeway and are:
Belle Isle
Di Lido Island
Biscayne Island
Rivo Alto Island
San Marco Island
San Marino Island
The Venetian Islands are artificial islands north of Palm Island and Star Island in Biscayne Bay, which are part of both Miami and Miami Beach.
Going west on the Venetian Causeway provides quick access to Downtown Miami and Miami Heat's FTX Arena.
Apart from that, Bayside Marketplace, and the Port of Miami, where some of the world's biggest cruise ships may be found.
Heading east on the Venetian Causeway and exiting onto 17th Street, you'll be in the center of South Beach's lively downtown area.
Don't forget Lincoln Road between 16th and 17th Streets, noted for its cutting-edge shopping and exciting nightlife. 
The Venetian Islands include several stunningly landscaped and luxury waterfront residences with exquisite apartments and views of Biscayne Bay and the Miami cityscape.
That is to say, if you're in Miami to have an exclusive and premium experience, make sure to book one of the remarkable properties around the Venetian Islands.
To conclude, whether you rent a car or join a day trip, you can't skip a drive across the Venetian Islands during your time in Miami.
WATCH THE SUNRISE ON SOUTH MIAMI BEACH
South Miami Beach, one of the hottest neighborhoods in Miami, is one of the best spots in the city to see the sun rising.
Because it's situated on Ocean Drive's skyline, it adds to its appeal, and you surely won't be disappointed to wake up early for this view.
You'll be able to enjoy a beautiful sunrise right on the sand or watch it from the promenade.
After that, it's good to know that South Miami Beach is home to a gorgeous stretch of beach, trendy restaurants and bars, art galleries, and more.
You can do many different things here, from sunbathing to shopping at high-end stores to checking out the latest exhibit at a local museum – South Miami Beach has something for everyone.
Keep Yo' Sh*t Organized!
Packing cubes are a traveler's best friend, perfect for organizing your shirts, pants, underwear, and more!
Shacke Pak Cubes make packing easier and leaves extra space in your bag to fit more essentials.
CHECK OUT SOUTH POINTE PIER
The South Pointe Pier in Miami stretches for half a mile and has various amenities, including restaurants, shops, and scenic views.
It's one of the only piers that offer year-round fishing, boat rentals, and even dolphin cruises! Should you want a more tropical experience, it doesn't get more relaxing than this.
Rest your butt on one of the park seats, or relax beneath one of the many shady palms.
Take a walk along the 20-foot broad esplanade and see Fisher Island across the water as yachts pass by. Then continue to South Pointe Pier for stunning views of South Miami Beach.
You'll find lots of trails to explore if you want to go cycling, running, skating, or rollerblading. Dogs may also play off-leash in the bark park on the west side of South Pointe Park.
WHERE TO STAY IN MIAMI
There are countless accommodation options to choose from in Miami so I have narrowed it down to a few of the best places to stay to fit the needs of budget backpackers, luxury travelers, and everyone in between.
See below for a list of accommodations that I personally recommend:
Luxury: The Ritz Carlton Key Biscayne
Mid-Range: Moxy Miami South Beach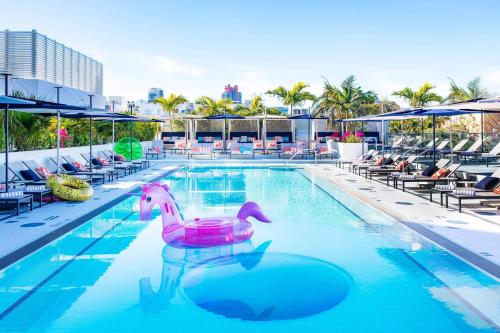 Mid-Range: Essex House Hotel
WHERE TO EAT IN MIAMI
With thousands of restaurants to dine in Miami, finding the best one in terms of experience, deliciousness, and location can be tricky.
I personally tried a few different dining experiences, and out of them all, I highly recommend these two restaurants.
The Sardinia restaurant is your safest bet if you crave Italian cuisine and wines with American touches.
Open for lunch and dinner and dozens of appetizers like Burrata, cold meat platters, eggplant parmigiana, and main courses such as lamb shank and homemade ravioli, this is the best Italian restaurant to eat in South Beach Miami.
The average price for an appetizer is $16 and $36 to $40 for main courses.
For Puerto Rican food, 100×35 Cocina con Raices is the restaurant that will tempt your taste buds like never before.
It's slightly cheaper than your average restaurant in Miami, but the quality is definitely top-notch.
Enjoy their Pechuga a la parrilla, an authentic dish made of grilled chicken breast with selected mashed.
Indulge in their popular Churrasco or their fresh lobster with a fresh octopus salad.
Simply said, you can't go wrong with 100×35 Cocina con Raices in Miami.
BEST DAY TRIPS FROM MIAMI
Discover the Everglades National Park, a dynamic ecosystem that includes critical habitats for a wide range of endangered and unique species and the best location to view alligators, turtles, and even the rare Florida panther.
The Everglades is home to cypress, mangroves, palms, and hardwood hammocks (small islands).
Having a journey on an aircraft-type propeller driven by either an aircraft or automobile engine allows you to go fast and have fun. If your guide goes underwater during the trip, don't be concerned; the water is deep enough in most locations that you can stand in it.
Click here or on the image below to book this tour online in advance to be guaranteed the best rates!
#dff1de
Starting in Miami, this day excursion to Key West begins with a 4-hour drive around 43 different bridges and 31 stunning islands beginning in Miami. You'll get to see all the Florida Keys during the day.
The chain of islands bordered by the Gulf of Mexico eventually reaches Key West. The Key is the only frost-free city in the United States! Spend some time on your own exploring Key West's customs.
Enjoy the sights on the way, such as the Lighthouse Museum and the Mel Fisher Museum.
While these aren't included, you may also add extra activities like a ride in a glass-bottom boat, a snorkeling excursion to see astonishing underwater species, or the hop-on and hop-off sightseeing trolley bus.
On a side note, since you'll be on a bus for nearly 8 hours, make sure not to forget your travel essentials for a road trip before leaving Miami.
Click here to book this tour online in advance to be guaranteed the best rates!
WHAT TO PACK FOR MIAMI
When visiting Miami, here is a list of items I highly recommend bringing with you:
Must-Have Travel Essentials
Keep your cash and other valuables safe with this anti-theft hidden money wallet!
---
The GRAYL GeoPress is the best reusable bottle that allows you to purify water from anywhere!
---
---
---
FINAL THOUGHTS – MIAMI ATTRACTIONS
Miami is one of the most beautiful destinations to visit, boasting a vibrant and thriving city that offers something for everyone.
From the beaches to nightclubs and everything in between, tourists will find it hard to resist Miami's charms.
In conclusion, if you're still doubting which city in the United States to visit, Miami should be on top of your list!
If you have any questions, please leave a comment below this post, and I will get back to you as soon as I can.
For a quicker response, be sure to join Jonny Melon's Travel Tribe on Facebook and post your questions or recommendations to our awesome community.
TRAVEL RESOURCES FOR YOUR NEXT TRIP
Whether you're a seasoned traveler or it's your first trip overseas, here are some useful travel resources to help you kick-start your next adventure!
THANKS FOR READING
Hey friend, thanks for reading this guide!
Please know this post may contain affiliate links. When making a purchase through one of my links, I earn a small kickback at no extra cost to you and it's a big help to keep the site up and running. Rest assured, I only promote products and services that I personally use and recommend.
Many thanks!