Hpa An is a little hidden gem located east of Yangon and it's a MUST-see destination on your Myanmar backpacking adventures!
Hpa An is not usually on everyone's typical Myanmar route but I can't recommend this location enough as it ended up being my favorite place to visit in Myanmar.
I have put this complete guide of the 5 Best Things To Do In Hpa An to help you plan your trip ahead of time
HOW TO GET TO HPA-AN?
The best way to get to Hpa An Myanmar is by bus.
Whether you are on a budget or not, I recommend traveling by bus throughout Myanmar. The main bus companies (JJ Express, Elite, Ok Express) are very efficient and will get you comfortably from A to B.
The cost of bus transportation between cities in Myanmar is on average around $10 to $30.
Bus duration times:
Yangon to Hpa An – 6 hours
Inle Lake to Hpa An– 14 hours
Bagan to Hpa An – 13 hours
To check timetables, and ticket prices, and to book online in advance, visit the 12Go Asia website.
HOW TO GET AROUND
Rent A Scooter:
Renting a scooter in Hpa An Myanmar is very affordable and the most efficient way to get around self-guided. You will be able to rent a scooter from your accommodation for approximately 6,000 – 10,000 Kyat ($6) per day.
Taxi's / Tuk-Tuk's:
Taxis and tuk-tuks are other great modes of transport. Depending on where and how far you are going determines how much the cost will be. Always agree on a price with your driver first before jumping in.
MAP OF HPA AN
5 AWESOME THINGS TO DO IN HPA AN
HPAN PU HIKE
Hiking to the top of Hpan Pu Mountain (Pha Bhu Taung Pagoda) for sunset was a welcoming adventure at the beginning of my visit.
The short hike up Mount Hpan Pu is more rewarding than expected with speechless views of the incredible landscape and one of the best things to do in Hpa An!
WHERE IS HPAN PU MOUNTAIN
Hpan Pu Mountain (Pha Bhu Taung Pagoda) is located across the Thanlyin River, northwest of the main town.
Click here to see the location on Google maps.
There are two ways to get over the river to hike Mt Hpan Pu which I have listed below:
OPTION #1:
If you plan on renting a motorbike during your visit to Hpa-An, you can simply drive across the bridge on road 85 and take a right-hand turn onto the road that runs parallel with the river.
There is a sandy parking lot at the base of Hpan Pu Mountain to park your motorbike and you'll see a concrete stairway leading up the side of the mountain. The drive from Hpa-An to Hpan Pu Mountain is approximately 20-minutes.
You will be able to rent a scooter from your accommodation for approximately 6,000 – 10,000 Kyat per day.
OPTION #2:
Taking a boat across the Thanlyin River is the second option to reach Hpan Pu Mountain.
Head down to Shwe Yin Myaw Pagoda, which is a short walk from the center of town and you will be able to jump on board a local boat for 500 Kyat.
The boat will drop you off at the riverbank on the other side and it is a few hundred meters walk to the base of Hpan Pu Mountain.
Note: The boats stop running across the river at nightfall so you will need to coordinate with the boat driver if he will be able to wait for you or not to take you back across the river after hiking Mt Hpan Pu at sunset.
Hpan Pu Hike
Hpan Pu Mountain
WHAT TO EXPECT ON THE HPAN PU MOUNTAIN HIKE
Hiking to the top of Mount Hpan Pu for sunset on my first day in Hpa-An was one of the best experiences I had in Myanmar! The short 20-30 minute hike is steep, sweaty, and thirsty work but more than rewarding once I reached the summit!
On the trail to the top of Hpan Pu Mountain, you can expect overgrown shrubs, loose gravel, sharp rocks, and bamboo ladders, so your full attention is recommended during the hike so as to not have any slips.
At the summit of Hpan Pu Mountain is the Pha Bhu Taung Pagoda, offering 360-degree views of Hpa-An, the Thanlyin River, and distant mountain ranges!
The awe-inspiring views of the incredible landscapes in the region had me jaw-dropped and smiling from ear to ear. The fiery sunset on this day was the icing on the cake!
I recommend having at least 2 liters of drinking water for the Mount Hpan Pu hike as the humidity is quite intense. Believe me, it was thirsty work getting to the summit and back.
If you are hiking Mt Hpan Pu at sunset, you may want to pack a torch or phone light to aid you on the way back down the trail as it gets dark very quickly.
Hpan Pu Mountain
SADAN CAVE
Sadan Cave is one of the most impressive cave systems I have ever seen. Featuring a golden stupa, a reclined Buddha, gold monk statues, wall carvings, and much more!
WHERE IS SADAN CAVE
Sadan Cave is located 30km southeast of the city center.
Click here to see the location on Google maps.
The entrance to Sadan Cave
WHAT TO EXPECT AT SADAN CAVE HPA AN
When I arrived at Sadan Cave I had to pay an entrance fee of 1000 Kyat before making my way down the stairs and into the cave. Shoes must also be taken off at the start and appropriate clothing is to be worn to cover your shoulders and knees.
Sadan Cave is incredibly huge inside and one of the biggest caves I have been in.
Once you have explored the first area, follow the pathway deeper into the cave. The way is lit so a torch isn't necessary.
The Sadan Cave stretches at least 500 meters from one end to the other and the floor-to-ceiling height, in my guess, is approximately 30 meters high. Listen out for the almost deafening sounds of the thousands of hanging bats and admire the oversized stalactites throughout the Sadan Cave.
After around 15-minutes of strolling through Sadan Cave, you'll see the light at the end of the tunnel and emerge at the opposite side of the cave from which you entered. On this side of Sadar Cave is a secret lake with a dozen fishing boats and local vendors selling cold drinks and fruits.
Note: The Sadan Cave is only open during the dry season (November – April) and closed during the wet season.
Sadan Cave
TAUNG WINE MOUNTAIN
Hiking to the top of Taung Wine Mountain for sunrise was one of my ultimate favorite things to do during my stay.
If you are an adventure enthusiast like myself and looking for a bang-for-buck hike, then you can't go past an unforgettable journey to the summit of Taung Wine Mountain!
WHERE IS TAUNG WINE MOUNTAIN
Taung Wine Mountain (Taung Wine Pagoda) is located 13km east of the city center.
Click here to see the location on Google maps.
Taung Wine mountain
Taung Wine mountain hike
HIKING TAUNG WINE MOUNTAIN
Some friends of mine recommended the Taung Wine Mountain hike prior to my arrival. They raved on how insane the views were at the summit and that the hike only took them 45-minutes from bottom to top.
I left my accommodation (Keinnara Lodge) at 4:30 am and arrived at the base of Taung Wine Mountain at 5 am to begin the 45-minute ascent to make it to the summit for sunrise.
The hike does not ease you in at all. From the get-go the stairs are steep and the humidity is intense. I broke out in a sweat from head to toe about 15-minutes into the hike and my quads were already starting to burn.
However, I was so determined to make it to the top before the sun popped up over the horizon.
I would recommend giving yourself at least one hour to hike Taung Wine Mountain, allowing for short breaks on the trail up to catch your breath and rehydrate.
I arrived at the summit of Taung Wine Mountain about 15-minutes before sunrise, so it was nice to have a breather before getting out my camera gear to get some shots.
As the sun started to rise and light up the Hpa-An region I was in complete awe of the insane panoramic views from the Taung Wine Pagoda!
The steel stairway on Taung Wine Mountain has a slight resemblance to the Stairway to Heaven stairs in Hawaii and this is the best spot to take photos.
MOUNT ZWEGABIN HIKE
The hardest, the longest, but the most rewarding hike in Hpa An Myanmar is the famous Mount Zwegabin hike!
After hiking Mount Hpan Pu and Taung Wine Mountain, I saved the best for last and it was worth every drop of sweat to make it to the summit of Mount Zwegabin for sunrise!
WHERE IS ZWEKABIN MOUNTAIN
Mount Zwegabin is located 10km southeast of the city center.
Click here to see the location on Google maps.
Mt Zwekabin
Mount Zwekabin
Have you got travel insurance for Myanmar? We all know accidents can happen and having World Nomads Insurance will save you thousands of dollars if something goes wrong.

HIKING MOUNT ZWEGABIN
I arrived at the base of Mount Zwegabin at 4:30 am, parked my scooter, and paid a 4,000 Kyat entrance fee to a monk at the beginning of the hike. He wrote me a ticket and I was on my way.
There was no easing into the Zwekabin Mountain hike, especially at 4:30 in the morning. There are concrete stairs that zigzag steeply all the way to the summit of Mount Zwekabin.
The majority of the hike is dimly lit with hanging lights and safety railings are in place where needed. I would recommend packing a torch to aid you in the darker areas along the Mount Zwegabin trail.
The Mount Zwegabin hike took me 1 hour and 15 minutes from bottom to top. This was with around 3 or 4 short breaks to sip on some water and catch my breath.
I arrived at the summit at 5:45 am with 30-minutes to spare before sunrise. However, I would recommend allowing 2-hours for the average person to hike to the top of Zwekabin Mountain.
Mount Zwegabin
THE VIEWPOINTS AT MOUNT ZWEGABIN
There are two epic viewpoints not to be missed at the top of Mount Zwegabin and they are;
VIEWPOINT #1:
When you arrive at the Mount Zwegabin Monastery (gold pagoda) take a left-hand turn down the concrete stairs towards another pagoda below, but at about halfway down there is a dirt trail leading off to the right and this will take you to a rocky hillside with insane views facing east where you'll find the best spot to watch the sunrise. See the images above for reference!
VIEWPOINT #2:
The second best viewpoint is on the opposite side of Zwekabin Mountain, only 5 minutes walk from the sunrise viewpoint. Look for the toilet block on the right-hand side of the Mount Zwegabin Monastery and you can actually climb on the roof for incredible west-facing views of the region. See the images below for reference!
Mount Zwegabin Monastery
KYAUK KALAT PAGODA
The Kyauk Kalat, also known as Kyaut Ka Latt, is a limestone pinnacle that is topped with a golden stupa.
I have included the Kyauk Kalat Pagoda on this list of things to do in Hpa An because it's one of the most interesting and unique landmarks I have seen in Myanmar!
WHERE IS KYAUK KALAT PAGODA
Kyauk Kalat is located 8.5 km south of the city center.
Click here to see the location on Google maps.
Kyaut Kalat Pagoda
WHAT TO EXPECT AT THE KYAUK KALAT PAGODA
Kyauk Kalat Pagoda sits precariously on top of a limestone pinnacle that looks like it is going to tip over. Kyaut Kalat is surrounded by a circular lake and is only accessible by a wooden footbridge that stretches over the water.
Kyauk Kalat is an active monastery and meditation site, so please be quiet and respectful when wandering around this location.
The famous Mount Zwegabin lingers impressively in the background of Kyauk Kalat and it is a truly impressive sight! There is also a very beautiful temple right next to the Kyauk Kalat known as the Chan Thar Gyi Buddha Temple.
On a clear day, you can see impressive reflections on the small lake in front of Chan Thar Gyi Temple.
Kyauk Kalat Pagoda
Chan Thar Gyi Buddha Temple
WHERE TO STAY IN HPA AN
Hpa-An has dozens of accommodations to choose from, so I have narrowed it down to a few of the best places to stay in Hpa-An to suit the needs of luxury travelers, budget backpackers, and everyone in between.
See the list of accommodations below that I personally recommend:
Luxury: Keinnara Lodge
Mid Range: Hotel United
Budget: Galaxy Motel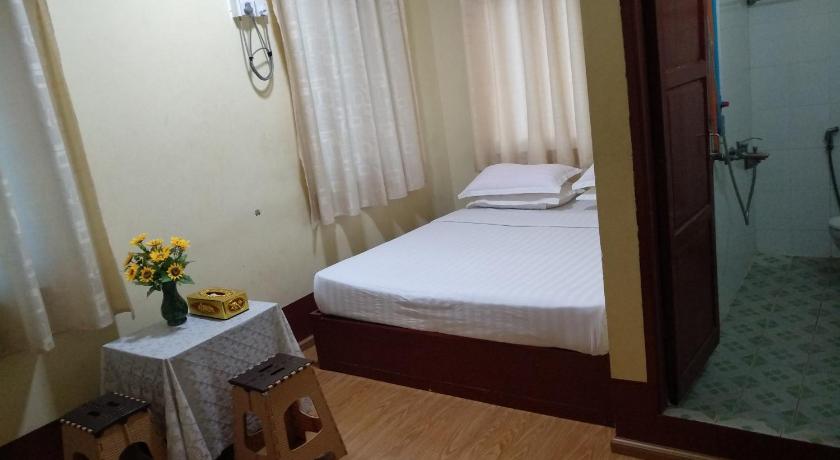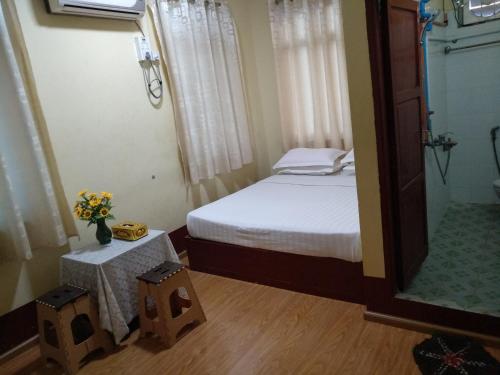 WHAT TO PACK FOR MYANMAR
When visiting Myanmar, here is a list of items I highly recommend bringing with you;
If you're interested in taking awesome photos and videos on your travels, this is the camera gear that I use and recommend;
GoPro HERO10 – the most popular camera on the planet for action-packed adventures.
Canon EOS R – perfect for traveling, this is the most affordable, compact camera on the market.
DJI Mini 3 Pro – take your photos and videos to new heights with this user-friendly drone camera.
BEST MYANMAR TOURS
MORE MYANMAR TRAVEL GUIDES
TRAVEL RESOURCES FOR YOUR NEXT TRIP
Whether you're a seasoned traveler or it's your first trip overseas, here are some useful travel resources to help you kick-start your next adventure!
BOOKING.COM – search and book accommodation worldwide
SKYSCANNER – compare and book cheap flights to anywhere
VIATOR – find tickets, tours, and experiences around the world
BOOKAWAY – book buses, trains, and transfers online in advance
RENTAL CARS – search all rental cars in your next destination
GROUP TRIPS – join one of my epic small group trips
TRAVEL INSURANCE – purchase World Nomads travel insurance
TRAVEL MONEY CARD – get a Wise card today for free
Looking for more? Check out my Travel Resources page for further help with your trip planning!
FINAL THOUGHTS
If you have any questions please leave me a comment below this post and I will get back to you as soon as I can. For a quicker response, be sure to join Jonny Melon's Travel Tribe on Facebook and post your questions or recommendations to our awesome community.
THANKS FOR READING
Hey friend, thanks for reading this guide!
Please know this post may contain affiliate links. When making a purchase through one of my links, I earn a small kickback at no extra cost to you and it's a big help to keep the site up and running. Rest assured, I only promote products and services that I personally use and recommend.
Many thanks!
PIN IT FOR LATER