There are so many exciting things to do in Broome and with this guide, you'll be able to plan the perfect trip!
Broome is a coastal town located in the Kimberley region of Western Australia. It's a great place to relax and be inspired by the unique nature and history.
The Kimberley region is home to the Yawuru, indigenous Australian people, who are native title holders of Broome and give even more diversity and authenticity to the town.
Broome is Australia's fat bike capital, so there is a lot to do and see on land, as in the sea, so make sure to read till the end to discover all of the best Broome attractions!
WHERE IS BROOME?
Located in the Kimberley region, on the north strand of Roebuck Bay, and about 2,240 km north of Perth City, is where you can find the town of Broome Western Australia.
With no traffic lights, it's understandable why the slow and leisured atmosphere that is felt by residents and tourists in the town is usually described as Broome Time.
Click here for an interactive map of Broome.
HOW TO GET TO BROOME
The town has its own airport – Broome International Airport (BIA) – located just 2 km from the town's center, which is useful for tourists as well as for the local community, making traveling easy to and from Broome.
Alternatively, a Western Australia road trip could be right up your alley with Broome being a common stop on most people's itineraries.
Round up your family and friends and hit the open road!
It's best to have a 4WD if you want to get to some of those off-the-beaten-track locations such as James Price Point, though a 2WD will be fine if you spend most of your time in and around the town as all the roads are tar-sealed.
Have you got travel insurance for your trip?!
We all know accidents can happen and having Heymondo Insurance will save you thousands of dollars if something goes wrong.
Heymondo offers low-cost Travel Insurance to keep you covered on all your adventures.
BEST TOURS IN BROOME
Looking for the best tours in Broome?
See below for the best tours and activities in Broome to try during your visit!
BEST TIME TO VISIT BROOME WA
Some people defend that Broome doesn't have traditional seasons, but that it is instead divided into the wet and dry seasons.
Normally the wet season starts around October/November and lasts until March.
The dry season starts at the beginning of April and lasts until September/October, this means that those dry months are the ones you should be aiming for if you want to fully enjoy the Broome attractions, the lifestyle, and activities.
However, during the months between June and August Broome can turn into an extremely busy town, with all the tourists and native Australians who travel there for vacations.
So, if you really fancy some nice weather, but you don't want to feel crowded while exploring the area, you should aim for the months just after the wet season ends.
You should be aware that, mainly, during the months of November to May there may be dangerous jellyfish around Broom's coastline area.
However, that's nothing that should stop you from visiting the area!
10 AWESOME THINGS TO DO IN BROOME
Now that you know a little about Broome, how to get here, and the best time to visit, it's time to get to the fun stuff!
So, without further ado, here is a complete list of the 10 Best Things To Do In Broome.
CHECK OUT GANTHEAUME POINT
Located just outside the town of Broome you'll find Gantheaume Point, a place that you don't want to miss!
This is where the turquoise sea meets the red cliffs, creating a breathtaking landscape.
However, what is really outstanding about Gantheaume Point, and that is one of the major things to do in Broome is to see the 130 million years old dinosaur footprints that are preserved in the reef rock, and some amazing plant fossils too!
At Gantheaume Point you can also spot the remains of Anastasia's Pool, which was built between 1922 and 1929 by Patrick Percy as a present for his wife, which was unfortunately destroyed by a storm in 2014.
There are also Kayak Tours, Whale Watching Tours, and Cruise Tours that depart from the Gantheaume Point beach to the waters of the Indian Ocean.
Pssst! Check out this AWESOME travel bag!
The Nomatic 40L is the best travel bag on the market, perfect for weekend trips or month-long adventures!
Featuring multiple compartments for clothes, shoes, laptop, water bottle, RFID-protected pocket, and more.
It's designed to fit the maximum size allowed for carry-on luggage, so you'll never have to spend money on check-in baggage again!
SUNSET CAMEL RIDE ON CABLE BEACH
An exceptional adventure that you won't forget when visiting Broome is the opportunity to ride a camel along the picturesque Cable Beach.
As you ride, the magnificent staff from the Red Sun Camels will make sure that you learn everything you need to know about the camels and the beach.
There are many available rides to choose from depending on your expectations. You can opt for a morning camel tour to start the day in the best way possible, a pre-sunset camel tour, or a sunset camel tour, to end the day with a spectacular view.
There is also the possibility to arrange personalized tours, so you have no excuse to pass this adventure.
The Red Sun Camels operate Monday to Saturday. This will surely be a relaxed and one-of-a-kind experience.
WATCH A MOVIE AT SUN PICTURES
Built in 1903, Sun Pictures is the oldest outdoor picture garden, recognized by Guinness Records as The World's Oldest Open Air Cinema in Operation.
Situated in Broome's Chinatown, this epic outdoor cinema is one of the main Broome attractions to see when visiting the area, especially if you are a retro lover.
The Sun Pictures was built on a site that belonged to the Yamasaki family, however, it was sold and bought by different personalities throughout the years, belonging now to Marisa Ferraz and Ross de Wit.
Sun Pictures has accompanied the evolution of films, due to its long history. "Kissing Cup" was the first silent movie played in December 1916, and in 1933 "Monte Carlo" run as the first talking movie at the cinema.
Another singular detail about Sun Picture is that it's located under the flight path to the runway of the BIA airport, which creates even more excitement for movie enthusiasts.
So, if you are one of those people, do not miss this lifetime opportunity!
NARLIJIA TOUR WITH BART
One of the most authentic things to do in Broome that is exclusive to the town is the Narlijia Tour, commanded by Bart Pigram, a Yawuru man, who loves to share the story of Broome WA with the visitants.
Since 2015, Bart has been running these enthusiastic tours. He is part of a family of musicians and pearling workers, so you can be sure that you won't get bored with all the stories Bart has to tell.
Narlijia, the name given by Bart to his tours means "true for you", showing how deep his passion for Broome is and for telling Broome's history to people who want to learn more about it.
This is a great experience for people of all ages, as it's never too much to be able to learn some interesting facts about a new place.
You can choose from three different tours:
Cultural Cruise – which focuses on the cultural stories of saltwater people.
Mangrove Discovery Experience – where you can emerge yourself in Roebuck Bay's low tide mangrove ecosystem singularity.
Or the Staircase to the Moon Exclusive – where you can experience a fantastic phenomenon where the moon rises across Roebuck Bay and creates a staircase illusion. Make sure you don't miss it!
VISIT JAMES PRICE POINT
Situated in the Dampier Peninsula, about 40 km north of Broome, is the remarkable James Price Point, also known as Walmadany.
This amazing coastline is characterized by its red cliffs, white sandy Broome beaches, and shining water.
This is just the perfect place if you are looking for some free camping spots, as it's still a semi-hidden paradise.
If you're fancying chilling for some days, away from crowds, James Price Point is the place to be.
You can go for a walk on the beach, visit Quandong Point or simply breathe some fresh air and enjoy a beautiful day surrounded by nature.
Make sure you add the James Price Point to your Broome things to do list while visiting the Kimberley region!
Take Your Photos & Videos To New Heights!
The DJI Mini 3 Pro is the most affordable, user-friendly drone camera suitable for all levels!
This travel-sized drone captures 4K/60fps video, 48MP photo, and has 34 minutes flight time.
WILLIE CREEK PEARL FARM TOUR
Willie Creek Pearls is one of the most exclusive Broome attractions, which is one of the most awarded tours in Western Australia.
You can't find something like this anywhere else in the world.
As a family-owned business, Willie Creek Pearls shares all its values. You can choose from a range of experiences such as the Willie Creek Pearls Farm Tour, the opportunity to harvest your own pearls, or an expedition back in time at pearl luggers.
There are thousands of visitors each year that are excited to learn more about the most appealing gem of all time – the pearl!
Willie Creek Pearls have six different locations of Showrooms at Broome and Perth, which means you have a variety to choose from, so go ahead and book this experience!
HAVE A BEER AT MATSO'S BREWERY
Although Matso's Brewery is the only brewery in Broome, you wouldn't choose to go to another one even if you had the choice to!
Open seven days a week, this is the place to go whenever you feel like fancying a Craft Beer, a Ginger Beer, a Mango Beer, or maybe a Bishop's Best Dark Lager.
Each beer at Matso's Brewery is unique, reflecting the singularity of the region.
Matso's Brewery is a family-run business and is considered the most remote Brewery in Australia!
With a relaxed atmosphere and courtyard music every weekend played by local and visiting artists, this I the place to be on a Saturday afternoon.
Despite the beer, you can also enjoy some tasty fresh food, which includes some fantastic Indian dishes cooked with their Chilli Beer.
This is absolutely one of the best things to do in Broome, especially if you're traveling alone or with your group of friends!
SEE THE RED SANDS AT ROEBUCK BAY
Roebuck Bay is an extraordinary beach of red sand. Different from the other Australian beaches with white sand, but no less beautiful.
One thing about Roebuck Bay that you don't want to miss is the Catalina float-plane wrecks that can be visible at low tide.
Broome has the biggest collection of sunken flying boats, which are of major significant historic interest and which were sunk in a tragedy during WWII.
Besides these historical remains, that you are able to observe, you can also go to Broome's Bird Observatory, do a Yellow Chat Birding Tour, or perhaps enjoy a Snubfin Dolphin Cruise.
There are enough activities, and things to do and see in Roebuck Bay to fill a whole day of adventures.
The BEST reusable water bottle for travel!
The GRAYL GeoPress is a top-rated reusable water bottle perfect for backpacking, hiking, and traveling.
It allows you to purify water from anywhere and keeps you safe from all waterborne diseases.
Get a GeoPress today and never buy single-use plastic bottles again. Mama Earth will thank you for it!
SALTY PLUM SOCIAL WALKING TOUR
One of the most fun things to do during your visit is the Salty Plum Social Walking Tour guided by Robyn and Chris, two inspiring and fun human beings who live in Broome since 1992.
This walking tour will take you to hidden bars around town. As you walk through the iconic Chinatown in Broome, you'll be surprised by how interactive your experience will be to learn more about the history of the town.
You can choose from a tour of Chinatown or Cable Beach tours that run from 4.30 pm to 7.30 pm, so make sure you book your place in advance and learn about Broome in the most fun and interactive possible way!
WITNESS THE STAIRCASE TO THE MOON
The opportunity to witness the Staircase to the Moon is exclusive to this part of the world.
Between the months of March and October, if conditions allow, you can observe the Staircase to the Moon.
The name of this phenomenon makes justice to its uniqueness. The best place to see this is at Roebuck Bay, however, there are other areas along the coastline where you can also see it, such as Dampier, Hearson's Cave, Onslow, Cossack, Point Samson, and Port Headland.
This only happens two to three days a month, so you need to make sure that you choose the right days to experience this spectacle.
The staircase to the moon happens when the full moon rises over Roebuck Bay's tidal flats. This will be an experience you won't ever forget!
Staircase to the moon Broome
WHERE TO STAY IN BROOME
There are dozens of accommodations in Broome so I have narrowed it down to a few of the best places to stay to fit the needs of budget backpackers, luxury travelers, and everyone in between.
See below for a list of accommodations in Broome that I personally recommend.
LUXURY: THE PEARLE OF CABLE BEACH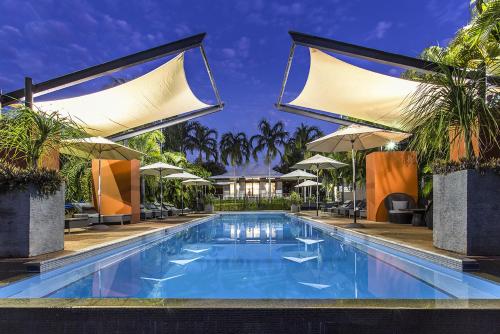 MID-RANGE: BAYSIDE HOLIDAY APARTMENTS
BUDGET: CABLE BEACH BACKPACKERS
For All Other Places To Stay In Broome WA, Search On Booking.com
WHAT TO PACK FOR BROOME
When visiting Broome, here is a list of items I highly recommend bringing with you:
Must-Have Travel Essentials
Keep your cash and other valuables safe with this anti-theft hidden money wallet!
---
The GRAYL GeoPress is the best reusable bottle that allows you to purify water from anywhere!
---
---
---
FINAL THOUGHTS – THINGS TO DO IN BROOME WESTERN AUSTRALIA
I hope you enjoyed reading this article and if you have any questions about what to do in Broome, please leave a comment below this post and I will get back to you as soon as I can.
For a quicker response, be sure to join Jonny Melon's Travel Tribe on Facebook and post your questions or recommendations to our awesome community.
TRAVEL RESOURCES FOR YOUR NEXT TRIP
Whether you're a seasoned traveler or it's your first trip overseas, here are some useful travel resources to help you kick-start your next adventure!
THANKS FOR READING
Hey friend, thanks for reading this guide!
Please know this post may contain affiliate links. When making a purchase through one of my links, I earn a small kickback at no extra cost to you and it's a big help to keep the site up and running. Rest assured, I only promote products and services that I personally use and recommend.
Many thanks!
This trip was in association with Tourism WA and Backyard Bandits.