Exmouth is a small town located a short 1.5-hour flight north of Perth in Western Australia. Founded back in 1964, this relatively new town has become a mecca for tourists traveling along the West Coast of Australia.
Acting as a gateway to Ningaloo Marine Park, Exmouth is an ocean lover's paradise and awaits those wanting to get out on the water and explore what this World Heritage-listed marine park has to offer!
I've put together this complete guide to 15 Awesome Things To Do In Exmouth to help you plan your itinerary ahead of time.
Also in this travel guide, I have included useful information on where Exmouth is located, how to get here, the best time to visit, where to stay in Exmouth, and what to expect when you arrive.
For such a small town, there is an awful lot on offer for all types of travelers!
Want cheap flights in WA? Check out CheapOair to book now and travel for less!
Have you got travel insurance for Australia? We all know accidents can happen and having World Nomads Insurance will save you thousands of dollars if something goes wrong.

WHERE IS EXMOUTH?
As I mentioned above, Exmouth is located in Western Australia. It's a small charming town that resides on the West Cape Peninsula and is the gateway to the Ningaloo Marine Park.
Click here to see the location on Google maps.
With several different bays on the peninsula, Exmouth is located at the very northeast corner of the West Cape Peninsula.
HOW TO GET TO EXMOUTH WA
Exmouth is pretty remote with the most popular way of access being a car. From State highway 1, you're going to want to follow Minilya-Exmouth Road all the way to the end of the peninsula. On approach to Exmouth, this road turns into Murat Road and is the main road all the way through the town.
If you're heading north from Perth, the drive will take you about two days. If you're heading south from Broome, this drive will take you one full day.
You can also find flights to Exmouth from Perth. This flight is around 1 hour and 45 minutes.
On the way to Exmouth WA
BEST TIME TO VISIT EXMOUTH
With year-round activities on offer, Exmouth really has very few restrictions on when is best to visit. In regards to the weather, bear in mind during the summer months it will be incredibly hot, dry weather so packing sunscreen is essential.
If you're visiting Exmouth to make use of the incredible marine park and explore some of the most vibrant waters, then the best months to visit are between November and March. This is when the sea life is most active with humpbacks and turtles visiting around this time of year.
Watersports in Exmouth
15 AWESOME THINGS TO DO IN EXMOUTH
Now that you know a little about Exmouth Western Australia, how to get here, and the best time to visit, it's time to get to the fun stuff!
So, without further ado, here is a complete list of 15 Awesome Things To Do In Exmouth during your visit.
SWIM WITH WHALE SHARKS AT NINGALOO MARINE PARK
Ningaloo Marine Park is one of Australia's largest and most accessible fringing reefs. It's also one of the largest reefs in the world. Ningaloo Marine Park is definitely one of the top things to do in Exmouth, covering over 600,000 hectares and including over 300 species of coral and 500 species of fish.
The incredible sea giant – the whale shark – is amongst many amazing species that call Ningaloo Marine Park, home. Manta rays, turtles, fish, and humpback whales are also some of the wonderful creatures which draw so many people to Ningaloo Marine Park.
It's here at Ningaloo where you'll be able to book a tour to swim with the incredible whale sharks. You'll enjoy a full-day tour on a Catamaran, diving/snorkeling in several locations, and learning all about the amazing sea life below.
Once you're done, you'll surely have built up a big appetite. Fear not as lunch will be provided onboard for you to enjoy on the way back to shore.
Exmouth Whale Sharks
The largest fish in the sea
VISIT TURQUOISE BAY
Turquoise Bay quite literally gets its name from the breathtaking waters surrounding the bay. With stunning blue waters and chalky white sands, Turquoise Bay has well and truly earned its spot on the list of Exmouth things to do.
Rated the second-best beach in the south pacific and number six in the world, it would be a crime to miss out on this beautiful destination located in Exmouth, Western Australia.
Accessible all year, Turquoise Bay makes for the perfect snorkel location and is a favorite among many divers. To get here from Exmouth, you're looking at about a 60-kilometer drive into the Cape Range National Park.
Turquoise Bay Exmouth
Beautiful Turquoise Bay Exmouth
Turquoise Bay WA
GO HIKING AT CAPE RANGE NATIONAL PARK
Talking of Cape Range National Park, this brings me to the next thing on this Exmouth things to do list.
Situated West of Exmouth, this National Park is home to more than 50, 000 hectares of rugged mountain ranges, pristine beaches, and breathtaking canyons. Whether it's a specific location within the National Park you're looking for or whether it's an entire day you want to see away, Cape Range National Park is not to be missed.
There are several different activities to do in Cape Range National Park, from hikes to wildflower walks, lazing on a beach or diving in the ocean. It has it all and it's a mecca for the outdoor explorer!
If you are going to visit, then please be mindful of the wildlife. With 600 species of flowers and over 100 species of birds, this is the home and habitat to so much wildlife.
Cape Range National Park
WATCH THE SUNRISE AT CHARLES KNIFE CANYON
21 kilometers south of Exmouth, Charles Knife Canyon Gorge is a breathtaking land formation that can only be truly appreciated by driving up to them.
If you don't have access to your own car, then you can book yourself onto the Ningaloo Safari Tours and they'll show you around the incredible Charles Knife Canyon.
The range is 320 meters above sea level, 13km long, and 20km wide… that's just 1 km short of a half marathon! With Razor-backed ridges, partly paved part gravel roads, and insane 360-degree views, Charles Knife Canyon is not to be missed.
As you ascend, you'll be treated to downward views of the multicolored gorges and stunning views to the Exmouth Gulf and the Ningaloo Reef in the Indian Ocean.
As if this place couldn't get any better, try visiting early morning to catch the sunrise… it's pretty spectacular!
Sunrise at Charles Knife Canyon
Enjoying the view
VISIT HAROLD E HOLT NAVAL COMMUNICATION STATION
Harold E Holt Naval Communication Station is located onshore from the SS Mildura wreck. The communication station is home to Tower Zero, one of the largest towers in the southern hemisphere.
Here you can learn all about the important role the naval station played in World War II, marvel at the interactive displays, and be taught about how the base was responsible for passing messages between Australia and the United States' command centers, their ships, and submarines.
The Harold E Holt Naval Communication Station is located just 6 kilometers north of Exmouth town and is well worth the trip.
BOOK A YARDIE CREEK BOAT TOUR
A highlight of the Cape Range National Park is Yardie Creek, one of the most popular Exmouth attractions. Go bushwalking or boating and marvel at the rare native animals in the park.
The ancient gorge has deep blue water and bright red rocks, making this quite spectacular to observe.
Book yourself onto one of the Yardie Creek Boat Tours and take the trip right down into the gorge. Pack your camera as you're in for some pretty breathtaking views.
Didn't fancy heading out onto the water? Pack a picnic and spend the afternoon relaxing on the edge of the gorge and enjoy the amazing scenery that surrounds you.
Yardie Creek Boat Tour
The beautiful Yardie Creek
Iconic rock wallabies
SEE TURTLES HATCHING AT JURABI TURTLE CENTRE
Watching turtles hatch right in front of your eyes is surely something you'd only imagine happen in documentaries, right?
Well no, here at Jurabi Turtle Centre you can experience this once-in-a-lifetime opportunity for yourself. With hatching season being between November and March each year, you'll have the opportunity to marvel at nature forming right in front of you.
Jurabi Turtle Centre Exmouth has spent years ensuring the safe hatching of these turtles and allowing people to come down and experience it for themselves.
Entry to JTC is free, although the cost for the nighttime tour is around $25. Cost's are variant on the time of year and availability, so it's advisable to check online to obtain this information.
There will be a 3-4 hour tour, including the witnessing of turtles hatching and an educational presentation on the history of the center. With three of the world's seven marine turtles nesting on these beaches each year, you're in for a pretty spectacular time.
Jurabi Turtle Centre
An emerging turtle
Finding a spot to lay her eggs
STAY AT MANTARAYS BEACH RESORT
Fancying yourself a little luxury whilst in Exmouth? Why not treat yourself to a stay in the Mantarays Ningaloo Beach Resort. It's the only resort on Sunrise Beach and acts as the gateway to Ningaloo Reef and Cape Range National Park.
Boasting 68 deluxe developments split between hotel rooms and 2-3 bedroom, self-contained units, Mantarays Ningaloo Beach Resort Exmouth has a certified gold-plated restaurant, bar, and lounge with a resort-style swimming pool and gym, just a stone's throw away from the beach.
Whether it be a family holiday, a couples retreat or even your wedding, Mantarays Beach Resort does it all.
Mantarays Ningaloo Beach Resort
GO SWIMMING AT TOWN BEACH
With the coastline of Exmouth offering a wide variety of beaches, Town Beach definitely has to be the most accessible beach and the closest to town… hence the name.
Park up in town or even drive your 4×4 down onto the sand. Town Beach is a perfectly safe place to swim, even in high tide with the children.
Spend an afternoon enjoying the hustle and bustle of Town Beach, soaking up the sun and splashing around in the water. Then take a trip into town to freshen up, grab something to eat, and recuperate after a day in the sun.
Town beach is also popular among windsurfers, jet skis, and boaters, with a Yacht Club located right on Town Beach. Finished in the water? Take a stroll along the shore at low tide and comb the beach for all its hidden treasures.
Town Beach Exmouth
Jetskiing at Town Beach
TASTE THE BEER AT FROTH CRAFT BREWERY
All these activities can be hard work so why not quench your thirst and take a little beer tasting trip to Froth Craft Brewery. Froth Brewery is an award-winning, family-run restaurant, micro-brewery, and live music venue.
Home to a kitchen serving incredible local produce and a bar pouring some of the best craft beer you'll ever try, which has been brewed on-site, you'll be a fool to skip out.
Whether it's the beer that's taking your fancy or you're feeling a little hungry from the day in the sun, you'll find it all here.
Not that you need to be convinced anymore but head over to their website and check out their long list of awards.
Froth Craft Brewery Exmouth
CHECK OUT OSPREY BAY
Osprey Bay is another picture-perfect bay situated in the Cape Range National Park. This quiet, peaceful bay is popular for swimmers, snorkelers, and kayakers who are looking for a chilled-out afternoon on the water.
With calm, shallower waters, Osprey Bay is the perfect location for beginners on the water as the tides are very calm and the shallower waters make it a little easier.
If you're looking for a good camping spot, then this is the one. With a campsite lining the shores of the bay, you can pitch up here and enjoy some of the most undisturbed views of the coastline. With only 44 campsites, you better get in there quickly.
Paradise at Osprey Bay
THE NAVY PIER
Best described as an aquarium without glass, The Navy Pier is definitely one of the top Exmouth attractions… not only for divers! Yes, it's been rated one of the top 10 shore dives in the world because of the vast sea life but it's also just a beautiful location to visit.
The jetty itself protrudes out into the ocean, giving the non-divers a chance to have just a little taste of what's below. This makes for a great evening walk, a photographer's paradise, or even just something pleasant for those who are waiting for friends or return from their dive. I mean come on, the turquoise water surrounding the pier isn't to be missed.
Exmouth attractions
VISIT THE WRECK OF SS MILDURA
Fancy getting a little bit of history into your trip? Then be sure to visit the wreck of SS Mildura. This is an interesting sight that can be seen from the shores of the beautiful Lighthouse Bay. Most of the remains have been salvaged but the majority of the wreck still remains.
It's one thing to see a picture of a shipwreck but to actually get up close and personal to one, is something else. There is something eery about being that close, to something that huge.
Again, if you're an avid diver then this makes for a great diving location as the wreck has provided a home to many species of fish.
Shipwreck – What to do in Exmouth
SEE THE OYSTER STACKS
Next up on the list of Exmouth things to do is the Oyster Stacks. This one is only for those who have a keen interest in diving or are strong at swimming.
Oyster Stacks are five islets that protrude from the reef at Ningaloo Marine Park. They're given the name Oyster Stacks because they're quite literally covered in oysters.
As I said, this is something for those who are confident in the water and have experience diving. Oyster Stacks should only be snorkeled at high tide when there is plenty of water covering the reef. Oyster Stacks is also a sanctuary zone so it's important to look but do not take.
WATCH THE SUNSET AT VLAMING HEAD LIGHTHOUSE
Last but not least on this Exmouth travel guide is a visit to Vlaming Head Lighthouse!
Located just 17km north of the town, Vlaming Head Lighthouse is easily accessible by a tar-sealed road and when you reach the top, you can enjoy panoramic views of Cape Range National Park, Lighthouse Bay, and the Exmouth township.
It's the perfect location to end a day of adventures whilst watching the sunset over the Indian Ocean!
Vlaming Head Lighthouse
WHERE TO STAY IN EXMOUTH
There are dozens of accommodation options to choose from in Exmouth WA so I have narrowed it down to a few of the best places to stay to fit the needs of budget backpackers, luxury travelers, and everyone in between.
See below for a list of accommodation in Exmouth that I personally recommend:
LUXURY: MANTARAYS RESORT
MID-RANGE: NINGALOO LODGE EXMOUTH
BUDGET: POTSHOT HOTEL RESORT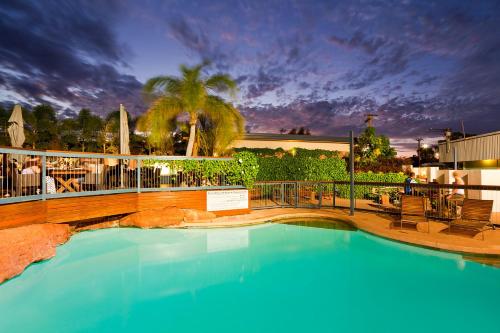 BEST TOURS IN EXMOUTH
MORE WESTERN AUSTRALIA TRAVEL GUIDES
LONELY PLANET AUSTRALIA
One of the best books to take on your trip is the Lonely Planet Australia Guide!
BUY NOW ON AMAZON → LONELY PLANET AUSTRALIA
JOIN MY FACEBOOK COMMUNITY
Do you have any questions about what to do in Exmouth WA?
Join my Facebook Community and send me a private message at any time for a quick response!
ONLINE ENGLISH TEACHING
Do you want to travel full-time and get paid along the way?
Teaching English online is one of the easiest and most flexible jobs out there! Become a Digital Nomad, choose your own hours, and work remotely from anywhere in the world by teaching English online. All you need is a laptop, good WiFi connection, a TEFL certificate and you're good to go!
MY SHOP
Before you go from this post, don't forget to check out My Online Shop.
I've got a wide range of products for sale and I'm sure you'll find something that will come in handy during your travels.
FINAL THOUGHTS
As you can tell, for such a small town, Exmouth really has it all. Being surrounded by water, it's an ocean-lovers paradise but if you're not one for water, there is still plenty to do.
I hope you enjoyed reading this article and if you have any questions about things to do in Exmouth Australia, please leave a comment below this post and I will get back to you as soon as I can.
Happy adventuring!
This trip was in association with Tourism WA and Backyard Bandits.