Cozumel Island is low-key one of the best destinations in Mexico and definitely not to be missed during your travels in Central America.
I spent three days exploring this tropical island in the Caribbean Sea and have put together this complete guide of 9 Best Things To Do In Cozumel to help you plan your trip!
Also in this Cozumel travel guide, I have included some useful information on how to get to Cozumel, where to stay in Cozumel, getting around the island, and the best time to visit!
OVERVIEW – THINGS TO DO IN COZUMEL
See the list below of the best things to do in Cozumel that you will find in this post:
Rent a Jeep and drive around the island
Cozumel snorkeling tour
Watch the sunrise at the beach
Check out Chen Rio Mirador
Beach hop on the east coast
ATV and Cenote adventure tour
Live music at Woody's
Visit Punta Sur Eco-Park
Swim out to the Cozumel shipwreck
HOW TO GET TO COZUMEL
Cozumel Island lies 12 miles off the coast of Playa del Carmen in Yucatán Peninsulas Riviera Maya strip, Mexico.
There are a few different options available when searching for how to get to Cozumel and they are by plane, by public ferry, or onboard a cruise ship.
BY PLANE:
Conveniently, there is an international airport located on the northern end of Cozumel Island with daily flights available for domestic and international travelers. From Cozumel International Airport to the city center, it's approximately a 10-minute drive.
Search All → Flights to Cozumel
BY FERRY:
The most popular route for travelers heading to the island is the public ferry from Playa del Carmen to Cozumel which takes around 45 minutes to 1 hour depending on the sea conditions.
Ferries from Playa del Carmen to Cozumel, and vice versa, depart every hour on the hour with the earliest one being 7:00 am and the last ferry departing at 10:00 pm. Click Here to see a more detailed guide to the ferry schedule.
The two main ferry companies that operate between Playa del Carmen and Cozumel are Winjet and Ultramar.
I personally used Book A Way to purchase my return ferry tickets online in advance, and I highly recommend booking with them to be guaranteed the best rate.
BY CRUISE SHIP:
Another alternative for getting to Cozumel is onboard a cruise ship. Cozumel Island plays host to dozens of cruise ships week in and week out, especially in the high season between December and February.
Some big cruise liners that include Cozumel Island on their itinerary are Royal Caribbean, Norwegian Cruise Line, Celebrity Cruises, Carnival Cruise Line, and many more.
Ultramar Ferry – How to get to Cozumel
WHERE TO STAY IN COZUMEL
Cozumel has hundreds of accommodations to choose from so I have narrowed it down to a few of the best places to stay in Cozumel to suit the needs of luxury travelers, budget backpackers, and everyone in between.
See the list of Cozumel accommodations below that I personally recommend:
Luxury: Fiesta Americana Cozumel All Inclusive
Experience world-class service at this epic 5-star, all-inclusive resort in Cozumel! Featuring a private beach, outdoor pool, restaurant and bar, spa center, and ocean views. Choose from a King Room, Double Room, or the Master Suite each fitted with a flat-screen tv, free wifi, air-conditioning, private bathroom, balcony, and sea views. Watersport facilities and car hire are also available at this Cozumel resort. Perfect place to stay for couples, traveling friends, and families.
Mid Range: Hotel Boutique Vista del Mar
This 3-star property is one of the top-rated mid-range accommodations in Cozumel. Situated right on the oceanfront in the heart of town, Hotel Boutique Vista del Mar offers King Rooms and Double Rooms with free wifi, air-conditioning, a minibar, balconies, private bathrooms, and beautiful sea views. This property also has a swimming pool and a continental breakfast is included for all guests. Great place to stay for couples, families, and traveling friends.
Budget: Hostel Tropico 20º
I personally stayed at Hostel Tropico which is an affordable option for solo travelers, budget backpackers, and couples. Located just a 5-minute walk from the main ferry terminal and close to supermarkets, cafes, and restaurants. There is a shared lounge area, communal kitchen with cooking facilities, and an outside terrace with tables and chairs, and hammocks to chill in. Choose from a mixed dorm room, a capsule-style bed, or a private room. The bathrooms are shared with hot water showers and free wifi is also available for all guests.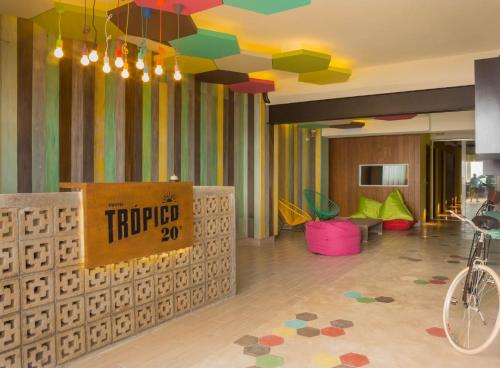 GETTING AROUND COZUMEL ISLAND
There are a number of ways of getting around the island and they are by car, taxi, bicycle, or on foot.
If you are staying in town, it's very easy to walk around the main tourist area on foot with bars, restaurants, cafes, and shopping centers all within walking distance.
Bicycle rental is generally around 150 MXN per hour and you can find a set of wheels at your hostel or from one of the many bike rental stores in the main town.
A taxi ride from the main town to the east side of the island where all the best Cozumel beaches are located will cost you around 200 – 300 MXN one way, so if there are a few of you it works out better to split this cost.
If you have your own rental car then great! This makes it much easier for you to explore Cozumel Island at your own pace.
Scenic roads on Cozumel Island
BEST TIME TO VISIT COZUMEL
The best time to visit Cozumel Mexico is during the winter season from December to April. During this time there is little to no rainfall and the temperatures are just perfect.
The rainy season in Cozumel is typically between May and October which sees higher temperatures due to the humidity.
The only plus side to visiting Cozumel during these months is there will be fewer tourists and prices are less inflated.
9 EPIC THINGS TO DO IN COZUMEL
Now that you've got all the information on how to get to Cozumel, where to stay in Cozumel, and all the logistics, let's get to the fun stuff!
So without further ado, here is my ultimate Cozumel travel guide which includes 9 Epic Things To Do In Cozumel Mexico!
RENT A JEEP & DRIVE AROUND THE ISLAND
One of the top things to do when you arrive is to rent a Jeep and drive around the entire island. The coastal road around Cozumel takes no more than 2 hours to do a complete circuit and it boasts the most incredible tropical scenery you can imagine!
Jeep rentals on Cozumel are super easy to find as there are many salesmen wandering around the main square across from the ferry. T
hey will most likely approach you and ask if you want to rent a car, scooter, or Jeep. If you are not approached by a salesman, you can find several car rental stores a couple of streets back beyond the main square.
The cost to rent a Jeep in Cozumel for 24 hours varies with each rental company. My friends and I paid 1200 MXN ($65 USD) total for a Jeep which includes a full tank of gas and third-party insurance, so you can expect to pay something around this price.
If you wish to rent a standard car or a scooter the cost is cheaper. Put your bartering skills to the test and try to get a lower rate.
Note: You will need to show proof of a valid driver's license (from your home country is fine) and they will also require a credit card number to put down as a deposit in case of any accidental damages.
It's very easy to navigate your way around Cozumel Island as it's just one main road that hugs the coastline. I recommend driving around in an anti-clockwise direction because you will be in the lane closest to the ocean this way.
On your Jeep adventure around Cozumel Island, there are many stops you can make along the way including Sky Reef, Punta Sur Eco-Park, Playa Box, Playa Bonita, Mirador, and Playa San Martin.
Cozumel Jeep Tour
Cruising the island in a Jeep
COZUMEL SNORKELING TOUR
One of my favorite things to do in Cozumel is to go on a snorkeling tour to a number of spots along the world-renowned reef, which happens to be the second-largest reef in the world. With an abundance of marine life and clear visibility under the surface, this is one adventure not to be missed on your Cozumel itinerary!
Although taking a boat out to the reef to go snorkeling in Cozumel might not be necessary, it is every bit worth it to be able to explore more of the reef as opposed to just swimming out from the shore.
There are many tour companies offering Cozumel snorkeling tours and it can be very overwhelming trying to decide which one is best. I personally booked my snorkeling tour with Cozumel 4 Local Tours and I can't recommend them enough!
It's best to contact them online in advance via their Facebook page or you can visit their booth at the main shopping mall.
Cozumel 4 Local Tours offers 2-hour and 4-hour join-in snorkeling tours which include a boat and skipper, snorkeling equipment and lifejackets, a bilingual tour guide, a professional photographer, 3 snorkeling sites, a visit to a secluded white sand beach, and free cold beverages.
The cost of a Cozumel snorkeling tour is $35 USD for 2 hours and $70 USD for 4 hours. The meeting point is located at the pier in between the main ferry terminal and the cruise ship terminal.
At each snorkeling site, the tour guide will be in the water at all times with a floating ring for those incompetent swimmers who get tired of treading water and need to take a break.
The photographer will also be in the water at each spot with fish food to attract schools of fish and it's the perfect opportunity to get an underwater photo with the marine life.
Between each snorkeling site, it can surprisingly get cold on the boat as it drives through the breeze so make sure to bring a towel and some clothing to keep you warm.
After snorkeling at the 3 reef sites, the last stop on the Cozumel snorkeling tour is a secluded white sand beach where you'll have around 30-minutes to go for a wander or simply relax on the shoreline with a cold beverage in hand. It's the perfect end to a perfect day!
Cozumel snorkeling tour
What to do in Cozumel
WATCH THE SUNRISE AT THE BEACH
Watching the sunrise is a daily routine of mine and if you're an early person like myself, be sure to go and watch the sunrise on the east side of Cozumel Island during your visit.
I personally went to watch the sunrise at a public beach on the east coast located right next to Senor Iguana's restaurant. Here is the exact pin location on Google Maps.
This particular beach features a long stretch of white sandy shores and azure blue waters making it such an ideal spot to watch the sunrise.
Sunrise at the beach
Blazing colors at sunrise
Have you got travel insurance for Mexico? We all know accidents can happen and having World Nomads Insurance will save you thousands of dollars if something goes wrong.

CHECK OUT CHEN RIO MIRADOR
If you like beaches and viewpoints be sure to add Chen Rio Mirador to your list of things to do in Cozumel.
'Mirador' is the Spanish word for 'Viewpoint' and this particular one is very easy to find. Situated along the coastal road on the east side of the island, you'll see a wooden viewing deck that sticks out over the sand and you can simply walk out to it from the roadside.
Enjoy panoramic views to the north and south of one of the best beaches in Cozumel and over your shoulder, you'll catch an incredible sight of the expansive jungle.
Chen Rio Mirador
Beautiful views of the coastline
Beautiful Cozumel beaches
BEACH HOP ON THE EAST COAST
If you're a lover of white sand beaches and turquoise waters then don't miss out on the pristine Cozumel beaches located along the east coast of the island. You could easily spend a whole day beach hopping from one spot to the next and it's for sure one of the best things to do on Cozumel during your visit!
The best way to beach hop around the island is to rent a car in the main town and drive over to the east coast which takes no more than 20 to 30 minutes.
There are four main tourist beaches in Cozumel that are definitely worthy of checking out on this side of the island and they are Playa San Martin, Playa Bonita, and Playa Box. Each of these beaches has free roadside parking, small souvenir and snack shops, toilet facilities, and beach umbrellas to accommodate beachgoers.
If you don't like crowded beaches and would prefer to go somewhere more secluded, skip these main tourist beaches and find a spot further along the coastline.
The stretch of beach on the east coast is almost endless so you can easily park on the roadside and find a decent spot to perch up on the sand next to the ocean's edge all by yourself.
Cozumel Beaches
East coast beaches in Cozumel Mexico
ATV & CENOTE ADVENTURE TOUR
One of the more adventurous things to do on Cozumel is to go on a 3-hour fun-fuelled ATV adventure in the jungle which also includes a visit to Cozumel's only cenote!
There are several tour companies that offer ATV tours in Cozumel and once again I recommend booking with Cozumel 4 Local Tours. This particular tour is the most top-rated ATV and Cenote tour with great views and hundreds of bookings.
The cost of an ATV tour in Cozumel is $70 USD which includes return transfers from the main square to the jungle location in Cedral, a bilingual tour guide, boxed lunch, drinking water, ATV ride with safety equipment, swimming in the cenote, and a visit to the village markets before returning back to the main square.
The ATV tour was the highlight of my trip to Cozumel. I'm a bit of an adrenalin junkie so this tour was the perfect way to get the blood rushing!
When we arrived in Cedral, I was given the keys to my own ATV and a quick rundown of how to operate them. It wasn't long after that until my tour guide and I were zipping through the jungle on our ATVs, navigating our way across some tricky terrain, leaving a cloud of dust in our tracks. After about 30-minutes of riding, the trail comes to an end and this is where the entrance to the cenote is.
The cenote itself wasn't quite as impressive as some of the cenotes in Tulum which I had previously visited, but it was still beautiful in its own way. Surrounded by lush jungle and filled with freshwater, it was the perfect spot to hang out for a while and to let the vibrations from the ATV wear off. If you came prepared with swimmers, it's possible to go swimming and also cliff jumping in the cenote if you wish.
After checking out the cenote, the tour continues back to the ATV jump-off point for a boxed lunch and a quick stroll around the Cedral village markets before making the 30-minute drive back to town.
As I mentioned earlier, this awesome ATV tour was the highlight of my trip.
Ripping on the ATV
Cozumel's only cenote
The beautiful Cozumel cenote
LIVE MUSIC AT WOODY'S
Woody's is a lively little pub located in the main square that is most popular for its daily live music around 5:00 pm. Woody's is suitable for all ages and you can either choose to sit by the bar inside or at one of the outside tables in the sun.
Whether you've been hanging indoors all day and need some fresh air or you've ended up in the main square at the end of a tour, Woody's is the perfect spot to unwind.
With a cocktail or beer in hand, while listening to some cruisey tunes from the live band, it's not a bad choice of what to do in Cozumel during your visit.
Woody's pub in Cozumel
VISIT PUNTA SUR ECO-PARK
Another great attraction in Cozumel is Punta Sur Eco-Park located on the very southern tip of the island.
Most famous for its beautiful flora and fauna, pristine beaches, and lighthouse, Punta Sur is a nature lover's paradise that is worthy of checking out during your visit to the island.
Punta Sur Eco-Park entrance fee is 300 MXN for adults and 180 MXN for a child.
Need a travel money card?

Wise

offers multi-currency debit cards which can be used worldwide and you'll save hundreds on transaction fees.

Get your Wise card today for free!
Punta Sur Eco-Park
SWIM OUT TO THE COZUMEL SHIPWRECK
Last but not least is a visit to the shipwreck on the west coast of Cozumel Island.
Just a stone's throw from the shoreline and along the main boulevard just north of the main ferry terminal, you can't miss this unique Cozumel attraction.
With the Cozumel shipwreck being so close to the shore, it's a short swim out to explore the shallow reef underneath the surface. Otherwise, you can simply marvel at the shipwreck from dry land.
When I visited, I saw the shipwreck on the first day upon arriving as it was right across the road from my hostel. The following day it was painted a different color because a local graffiti artist had made his mark on the shipwreck which is a common occurrence.
Cozumel shipwreck
BEST TOURS IN COZUMEL
COZUMEL MAP
WHAT TO PACK FOR COZUMEL
When visiting Cozumel Mexico, here is a list of items I highly recommend bringing with you;
If you're interested in taking awesome photos and videos on your travels, this is the camera gear that I use and recommend;
GoPro HERO10 – the most popular camera on the planet for action-packed adventures.
Canon EOS R – perfect for traveling, this is the most affordable, compact camera on the market.
DJI Mini 3 Pro – take your photos and videos to new heights with this user-friendly drone camera.
MORE MEXICO TRAVEL GUIDES
TRAVEL RESOURCES FOR YOUR NEXT TRIP
Whether you're a seasoned traveler or it's your first trip overseas, here are some useful travel resources to help you kick-start your next adventure!
BOOKING.COM – search and book accommodation worldwide
SKYSCANNER – compare and book cheap flights to anywhere
VIATOR – find tickets, tours, and experiences around the world
BOOKAWAY – book buses, trains, and transfers online in advance
RENTAL CARS – search all rental cars in your next destination
GROUP TRIPS – join one of my epic small group trips
TRAVEL INSURANCE – purchase World Nomads travel insurance
TRAVEL MONEY CARD – get a Wise card today for free
Looking for more? Check out my Travel Resources page for further help with your trip planning!
FINAL THOUGHTS
I hope you enjoyed reading this article and if you have any questions at all about Cozumel Mexico, please leave me a comment below this post and I will get back to you as soon as I can.
For a quicker response, be sure to join Jonny Melon's Travel Tribe on Facebook and post your questions or recommendations to our awesome community.
THANKS FOR READING
Hey friend, thanks for reading this guide!
Please know this post may contain affiliate links. When making a purchase through one of my links, I earn a small kickback at no extra cost to you and it's a big help to keep the site up and running. Rest assured, I only promote products and services that I personally use and recommend.
Many thanks!
PIN IT FOR LATER