Cozumel Island is low-key one of the best destinations in Mexico and definitely not to be missed during your travels in Central America.
And when coming over to the Yucatan Peninsula, this is one of the spots you surely can't miss.
I spent three days exploring this tropical island in the Caribbean Sea and have put together this complete guide of 20 Best Things To Do In Cozumel to help you plan your trip!
Also in this Cozumel travel guide, I have included some useful information on how to get to Cozumel, where to stay in Cozumel, getting around the island, and the best time to visit!
OVERVIEW – THINGS TO DO IN COZUMEL
Among the best things to do in Cozumel, here are the unmissable ones that I highly recommend checking out:
Rent a Jeep and drive around the island
Cozumel snorkeling tour
Watch the sunrise at the beach
Check out Chen Rio Mirador
Beach hop on the east coast
ATV and Cenote adventure tour
Live music at Woody's
Visit Punta Sur Eco-Park
Swim out to theree Cozumel shipwreck
HOW TO GET TO COZUMEL
Cozumel lies 12 miles off the coast of Playa del Carmen in Yucatán Peninsulas Riviera Maya strip, Mexico.
There are a few different options available when searching for how to get to Cozumel and they are by plane, by public ferry, or onboard a cruise ship.
BY PLANE:
Conveniently, there is an international airport located on the northern end of Cozumel Island with daily flights available for domestic and international travelers. From Cozumel International Airport to the city center, it's approximately a 10-minute drive.
There used to be direct flights from Cancun airport but most of them are either very limited or the route has simply been cut off, so I recommend flying into Cozumel directly or into Cancun.
Search All → Flights to Cozumel
BY FERRY:
The most popular route for travelers heading to the island is the public ferry from Playa del Carmen to Cozumel which takes around 45 minutes to 1 hour depending on the sea conditions.
Ferries from Playa del Carmen to Cozumel, and vice versa, depart every hour on the hour with the earliest one being 7:00 am and the last ferry departing at 10:00 pm. Click Here to see a more detailed guide to the ferry schedule.
The two main ferry companies that operate between Playa del Carmen and Cozumel are Winjet and Ultramar.
I personally used Book A Way to purchase my return ferry tickets online in advance, and I highly recommend booking with them to be guaranteed the best rate.
How to get from A to B, stress-free!
Compare and easily book buses, ferries, trains, or private transfers around the world on Bookaway!
With discounted ticket prices and a free app, Bookaway is a one-stop shop for all your ground transportation needs!
BY CRUISE SHIP:
Another alternative for getting to Cozumel is onboard a cruise ship. Isla Cozumel plays host to dozens of cruise ships week in and week out, especially in the high season between December and February.
Some big cruise liners that include Cozumel on their itinerary are Royal Caribbean, Norwegian Cruise Line, Celebrity Cruises, Carnival Cruise Line, and many more.
GETTING AROUND COZUMEL ISLAND
There are a number of ways of getting around the island and they are by car, taxi, bicycle, or on foot.
If you are staying in town, it's very easy to walk around the main tourist area on foot with bars, restaurants, cafes, and shopping centers all within walking distance.
Bicycle rental is generally around 150 MXN per hour and you can find a set of wheels at your hostel or from one of the many bike rental stores in the main town.
A taxi ride from the main town to the east side of the island where all the best Cozumel beaches are located will cost you around 200 – 300 MXN one way, so if there are a few of you it works out better to split this cost.
If you have your own rental car then great! This makes it much easier for you to explore Cozumel at your own pace.
Car Rental – Search, Compare & Save!
Discover Cars are one of the world's largest online car rental platforms with vehicles in 10,000+ locations.
Find the right car, in the right place, for the best price guaranteed!
20 EPIC THINGS TO DO IN COZUMEL
Now that you've got all the information on how to get to Cozumel, where to stay in Cozumel, and all the logistics, let's get to the fun stuff!
So without further ado, here is my ultimate Cozumel travel guide which includes 20 Epic Things To Do In Cozumel Mexico!
RENT A JEEP & DRIVE AROUND THE ISLAND
One of the top things to do when you arrive is to rent a Jeep and drive around the entire island. The coastal road around Cozumel takes no more than 2 hours to do a complete circuit and it boasts the most incredible tropical scenery you can imagine!
Jeep rentals on Cozumel are super easy to find as there are many salesmen wandering around the main square across from the ferry.
The cost to rent a Jeep in Cozumel for 24 hours varies with each rental company. I paid 1200 MXN ($65 USD) total for a Jeep, including a full tank of gas and insurance, so you can expect to pay something around this price.
Note: You will need to show proof of a valid driver's license (from your home country is fine) and they will also require a credit card number to put down as a deposit in case of any accidental damages.
Alternatively, you can even book a private Jeep excursion, which is the best and most fun way to discover the island.
The tour lasts 6 hours so you'll have time to see Cozumel properly – Plus, food, beer, water, snorkeling equipment, and hotel pick-up are included – how convenient!
These are the spots I recommend stopping by, whether you rent a Jeep or take a tour:
Sky Reef
Punta Sur Eco-Park
Playa Box
Playa Bonita
Chen Rio Mirador
Playa San Martin
Playa Mia Grand Beach Park
COZUMEL SNORKELING TOUR
One of my favorite things to do is to go on a snorkeling tour to several spots along the world-renowned coral reef, which happens to be the second-largest reef in the world.
With an abundance of marine life and clear visibility under the surface, this is one adventure not to be missed on your Cozumel itinerary!
There are many tour companies offering Cozumel snorkeling tours. I personally booked this snorkeling tour, and I had an amazing time!
The tour lasts 4 hours in total and covers all the best areas – Palancar, Columbia, and El Cielo Great Barrier Reef, which is awesome.
At each snorkeling site, the tour guide will be in the water at all times with a floating ring for those incompetent swimmers who get tired of treading water and need to take a break.
And don't worry about the equipment, as everything is provided for your convenience. All in all, I can't recommend it enough!
VISIT PUNTA SUR ECO-PARK
Another great attraction in Cozumel is the Punta Sur Ecological Park, located on the very southern tip of the island.
Punta Sur Eco-Park in Cozumel Island is a unique and beautiful nature reserve located on the island's southeastern tip.
The park consists of more than 1,000 hectares of pristine tropical habitat, including mangrove forests, lagoons, sand dunes, coral reefs, and archaeological sites.
At the park, you can explore its abundant wildlife by taking a boat tour along its mangroves or visiting its many bird watching spots – a dream for nature lovers.
The park also has a museum with interactive displays and numerous trails for hiking, biking and horseback riding – How cool! Make sure to check out this awesome Electric Bike Tour!
Punta Sur Eco-Park entrance fee is 300 MXN for adults and 180 MXN for a child, and that includes of course the Punta Sur eco beach park!
WATCH THE SUNRISE AT THE BEACH
Watching the sunrise is a daily routine of mine, and if you're an early person like myself, be sure to go and watch the sunrise on the east side of San Miguel de Cozumel during your visit.
I personally went to watch the sunrise at a public beach on the east coast located right next to Senor Iguana's restaurant:
Here is the exact pin location on Google Maps.
This particular beach features a long stretch of white sandy shores and azure blue waters making it such an ideal spot to watch the sunrise.
EXPLORE DOWNTOWN COZUMEL
The downtown area of Cozumel also holds a unique charm that you shouldn't overlook, and while the beaches are stunning, I definitely recommend coming over for a bit.
The town is lined with colorful buildings, each adorned with intricate designs and murals depicting the rich culture and history of the island.
And don't worry about getting bored here, you'll feel that sense of liveliness and energy, with street performers and vendors selling local crafts to get some souvenirs.
Also, make sure to pass by Benito Juarez Park and its "Isla Cozumel" sign, as well as the Mercado Municipal to eat some delicious food, you won't regret it!
If you plan to spend more days on Cozumel Island, the downtown area comes alive at night, with bars and clubs offering live music and entertainment well into the wee hours of the morning!
The best time to explore downtown Cozumel is during the early morning, when the air is cool and the streets are less crowded – a photographer's dream!
ATV & CENOTE ADVENTURE TOUR
One of the more adventurous things to do on Cozumel is to go on a 3.5-hour fun-fuelled ATV adventure in the jungle which also includes a visit to Cozumel's only cenote!
There are several tour companies that offer ATV tours in Cozumel but I recommend booking this incredible tour, which I took and I had so much fun.
This particular tour is the most top-rated ATV and Cenote tour with great views and hundreds of bookings.
What I love about joining a tour is that it includes everything from the return transfers to a bilingual tour guide to boxed lunch and drinking water and much more.
The ATV tour was the highlight of my trip to Cozumel. I'm a bit of an adrenalin junkie so this tour was the perfect way to get the blood rushing!
The cenote itself wasn't quite as impressive as some of the cenotes in Tulum which I had previously visited, but it was still beautiful in its own way.
Surrounded by lush jungle and filled with freshwater, it was the perfect spot to hang out for a while and to let the vibrations from the ATV wear off.
Needless to say, this awesome ATV tour was the highlight of my trip!
CHANKANAAB BEACH ADVENTURE PARK
On the hunt for a fun-filled day out? Then Chankanaab Beach Adventure Park is perfect for you.
This park is located on the western side of Cozumel and is easily accessible from the cruise port or downtown.
At the park, you can enjoy a range of activities such as snorkeling, scuba diving, swimming, and scuba diving in crystal clear waters with a variety of sea creatures.
What's more, there is a botanical garden and a place to see crocodiles, sea turtles and manatees. And when purchasing the tickets online, you'll get a pass to swim with manatees – How cool!
You'll also find some of the best beaches in Cozumel at Chankanaab Beach Adventure Park, where you can relax under the sun or in the shade of a palm tree while enjoying some refreshments.
On top of that, there are 3 restaurants and a cafe inside, which is fantastic to have a break from the activities.
Overall, Chankanaab Beach Adventure Park is a must-visit attraction for anyone visiting Cozumel. So what are you waiting for? Book your tickets now!
CHECK OUT CHEN RIO MIRADOR
If you like beaches and viewpoints be sure to add Chen Rio Mirador to your list of things to do in Cozumel.
'Mirador' is the Spanish word for 'Viewpoint' and this particular one is very easy to find. Situated along the coastal road on the east side of the island, you'll see a wooden viewing deck that sticks out over the sand and you can simply walk out to it from the roadside.
Enjoy panoramic views to the north and south of one of the best beaches in Cozumel and over your shoulder, you'll catch an incredible sight of the expansive jungle.
And while you're here, make sure to head over to Playa Chen Rio, which is one of the amazing spots on Cozumel Island.
CHECK OUT PLAYA CHEN RIO
Situated on the east coast, Playa Chen Rio is a unique white sand beach that promises to enchant you with its natural beauty and exotic atmosphere.
The moment you step onto Playa Chen Rio, you'll understand why it's one of the best things to do on the island!
The beach is generally calm with a bar to get a drink and work on your tan for a couple of hours, and let's not forget about the stunning turquoise waters!
In terms of activities, you can rent beach chairs and an umbrella – Plan to spend around $15 per person, a little pricey, but surely worth it!
PLAYA MIA GRAND BEACH PARK
The most popular beach on Cozumel is by far Playa Mia, with countless activities and amenities, and the reason why it's so popular is for the Playa Mia Grand Beach Park theme park.
While the park was original created for families with kids, it's also great spot for everyone to spend a few hours at.
The water park at Playa Mia features a 200-foot water slide, a floating park, and kayaks. But that's not all – there's also an oasis hydro massage, swim-up pool bar, and many dining options.
Not enough? You can even rent a jet ski, get a massage, and even take a snorkeling trip!
You can book the tickets online and there are a few packages available. However, when booking online on Viator, you'll get a better price as well as all the inclusions you need.
Needless to say, in the peak season, make sure to pre-book your tickets as it gets pretty crowded, despite the small island.
It's worth noting that you'll have to leave the beach at 4.00 PM, so I recommend coming at 9.00 AM when it opens, to make the most of it.
BEACH HOP ON THE EAST COAST
If you're a lover of white sand beaches and turquoise waters then don't miss out on the pristine Cozumel beaches located along the east coast of the island.
You could easily spend a whole day beach hopping from one spot to the next and it's for sure one of the best things to do during your visit!
The best way to beach hop around the island is to rent a car in the main town and drive over to the east coast, which takes no more than 20 to 30 minutes.
There are 3 main tourist beaches in Cozumel that are definitely worthy of checking out on this side:
Playa Punta Morena

Playa San Martin

Playa Bonita

Playa Box
Each of these beaches has free roadside parking, small souvenir and snack shops, toilet facilities, and beach umbrellas to accommodate beachgoers – how convenient!
The stretch of beach on the east coast is almost endless so you can easily park on the roadside and find a decent spot to perch up on the sand next to the ocean's edge all by yourself.
GO SCUBA DIVING
Cozumel is well-known to be one of the best destinations for scuba diving around the world. With over 300 days of good diving every year, it's one of the top spots for marine enthusiasts.
Cozumel has a rich marine ecosystem that hosts a diversity of fish species, corals, and other abundant sea life – Do I even need to mention how incredible your experience will be?
For beginners, you will get all safety instructions before taking your first dive.
On the other hand, if you are an experienced diver, you'll have the time of your life exploring Cozumel's many dive sites like Palancar Reef, Santa Rosa Wall, and Columbia Shallows.
In any case, while you can indeed stop at a shop on the street, I recommend booking your snorkeling trip online as it makes things much easier.
The best tour you can join is the 4-hour certified scuba diving tour, where certified and professional instructors will take care of you and show you the best spots. Check it here below!
JOIN A HORSEBACK RIDING TOUR ON THE BEACH
Next on our list of things to do on Cozumel Island is going on a horseback riding trip, and it's, without a doubt, the best way to go on the beach.
Most tours leave at Mr Sanchos Beach Club and you'll gallop around for about 30 minutes on the stunning western coast, passing by palm trees and beach bars.
Of course, you don't have to be an experienced rider to enjoy this your as the guides will be with you every step of the way to ensure your safety.
While you can choose a tour in the morning or afternoon, my recommendation would be to book in the morning to avoid the strong sunlight.
It goes without saying that horseback riding trips sell out quickly, and I suggest booking it as soon as possible to guarantee your spot!
CHECK OUT THE COZUMEL PEARL FARM
Looking for something unique to do on your visit to Cozumel? Make sure to add the Cozumel Pearl Farm to your itinerary!
Nestled on a secluded white sand beach on the north shore of Cozumel, this family-owned and operated pearl farm is the only active one in the Caribbean.
During the tour, you'll learn about the long cultivation process and see some stunning pearls up close. Plus, you'll get to escape to your own little piece of paradise as you enjoy the natural and relaxed environment surrounding the farm.
If you're a fan of snorkeling, you can also book the a boat ride with the staff and you'll go 45-minute north to learn and see the cultivation process of the pearls.
Of course, the snorkeling gear is included.
Plus, boat trips generally come back around sunset, so this is your chance to see a stunning one while in the North area of Cozumel!
The Cozumel Pearl Farm isn't a massively popular thing so you don't need to book your spot ahead of time – that being said, it's still worth it!
PARTAKE IN THE TEMAZCAL HEALING CEREMONY
If you came all over to Cozumel, then you're probably here for the beaches, snorkeling trips, and scuba diving.
However, there's much more to these, and the Temazcal ceremony is the right way to reconnect with yourself, meditate, and relax. And what better place than Xkanha Cozumel!
The Temazcal Cozumel is an ancient Mesoamerican ritual that involves entering a sweat lodge made of volcanic stone, wood, or cement.
During the ceremony, which is led by a shaman, you'll be encouraged to let go of negative emotions and physical toxins through sweating and meditation.
This purification process is believed to have numerous health benefits, including:
Improved circulation
Reduced stress
Enhanced respiratory function
Decreased risk of Alzheimer's and Dementia
There are several ways to book the ceremony and I recommend doing it online before coming as sessions are pretty limited.
In case you plan to come to Cozumel for the day only, I recommend stopping in Playa del Carmen a little longer and partaking in the one here below!
ENJOY A SCENIC INVISIBLE BOAT TOUR
Can't get enough of the Caribbean Sea? Then that's the experience you want to have in San Miguel the Cozumel – jumping aboard a clear boat and seeing all the tropical fish below!
Unlike traditional glass-bottom boats, the 100% transparent boat provides a highly immersive experience that makes you feel like you are floating above the marine life.
Cozumel offers some of the best invisible boat tours in the world, including the Invisible Boat Snorkeling Adventure, where you can watch the underwater world, multicolored fish, and coral reefs from above the surface.
And to top it off, you can make friends from all around the world, as there are up to 16 travelers on the trip, which only make things more fun!
GET A TAN AT PARADISE BEACH
One of the coolest and beach clubs around is Paradise Beach, as you'll get to catch some rays and get a tropical tan with a stunning pool.
Don't get confused by the name, it's a beach club and not a public beach. However, this is a good point as you can chill by the pool, order food and drinks, and enjoy the music.
Soak up the sun, take a dip in the turquoise waters, and bask in the tropical breeze. What else do you need while on a vacation?!
And if you spent the day at Playa Mia Grand Beach, you can come over to Paradise Beach Club to have a drink before it closes at 5.30.
Alternatively, for a full day of total relax, then purchase your all-inclusive tickets before going – this includes food, beach access, lounge chairs, and high-speed WiFi to share your time on social media!
LIVE MUSIC AT WOODY'S
Woody's is a lively little pub located in the main square that is most popular for its daily live music around 5:00 pm.
Woody's is suitable for all ages and you can either choose to sit by the bar inside or at one of the outside tables in the sun.
Whether you've been hanging all day indoors and need some fresh air or you've ended up in the main square at the end of a tour, Woody's is the perfect spot to unwind.
With a cocktail or beer in hand, while listening to some cruisey tunes from the live band, it's not a bad choice of what to do in Cozumel during your visit.
SWIM OUT TO THE COZUMEL SHIPWRECK
Last but not least is a visit to the shipwreck on the west coast of Cozumel.
Just a stone's throw from the shoreline and along the main boulevard just north of the main ferry terminal, you can't miss this unique Cozumel attraction.
With the Cozumel shipwreck being so close to the shore, it's a short swim out to explore the shallow reef underneath the surface. Otherwise, you can simply marvel at the shipwreck from dry land.
When I visited, I saw the shipwreck on the first day upon arriving as it was right across the road from my hostel.
The following day it was painted a different color because a local graffiti artist had made his mark on the shipwreck which is a common occurrence.
LEARN ABOUT CULTURE AT COZUMEL ISLAND MUSEUM
The Cozumel Museum is one of the must-visit cultural places on the island.
It offers 11 permanent exhibits that showcase the local geography, ecosystems, history, and culture of Cozumel.
On top of that, you'll find 2 temporary exhibits, which adds a layer of uniqueness to the museum.
From the island's origins to its economic development in the 20th Century, you'll learn about the rich history and heritage of this beautiful Mexican island.
The museum is perfect for those who want to dive deeper into the natural and Mayan culture of Cozumel.
You can expect to spend about an hour exploring the exhibits, and you'll leave with a better understanding of the unique biocultural heritage of Cozumel.
The entrance fee will set you back $9 and it's open from Tuesday to Sunday, from 9.00 AM to 5.00 PM – More than enough to plan a visit during your vacation.
THINGS TO KNOW BEFORE YOU GO
Now that we've covered all the best activities on Cozumel, let me elaborate more on the things you should know before coming.
MOST POPULAR BEACH CLUBS IN COZUMEL
Despite being a small island with laid-back vibes, there are many beach clubs around, and the best ones are:
Tortugas Beach Club
Paradise Beach Club
Tequila Beach Club Cozumel
Mr Sanchos Beach Club
Playa Palancar Cozumel Beach Club
IS IT COZUMEL OR SAN MIGUEL DE COZUMEL?
The island is both Cozumel and San Miguel de Cozumel.
Cozumel is the name of the larger island, located off the coast of Mexico's Yucatan Peninsula.
San Miguel de Cozumel is the main city of Cozumel, located on the eastern side of the island. Both names are often used to refer to the island.
BEST TIME TO VISIT COZUMEL
The best time to visit Cozumel is during the winter season from December to April. During this time there is little to no rainfall and the temperatures are just perfect.
The rainy season in Cozumel is typically between May and October which sees higher temperatures due to the humidity.
The only plus side to visiting Cozumel during these months is there will be fewer tourists and prices are less inflated.
BEST TOURS IN COZUMEL
COZUMEL MAP
WHERE TO STAY IN COZUMEL
Cozumel has hundreds of accommodations to choose from so I have narrowed it down to a few of the best places to stay in Cozumel to suit the needs of luxury travelers, budget backpackers, and everyone in between.
See the list of Cozumel accommodations below that I personally recommend:
Experience world-class service at this epic 5-star, all-inclusive resort in Cozumel! Featuring a private beach, outdoor pool, restaurant and bar, spa center, and ocean views. Choose from a King Room, Double Room, or the Master Suite each fitted with a flat-screen tv, free wifi, air-conditioning, private bathroom, balcony, and sea views. Watersport facilities and car hire are also available at this Cozumel resort. Perfect place to stay for couples, traveling friends, and families.
This 3-star property is one of the top-rated mid-range accommodations in Cozumel. Situated right on the oceanfront in the heart of town, Hotel Boutique Vista del Mar offers King Rooms and Double Rooms with free wifi, air-conditioning, a minibar, balconies, private bathrooms, and beautiful sea views. This property also has a swimming pool and a continental breakfast is included for all guests. Great place to stay for couples, families, and traveling friends.
I personally stayed at Hostel Tropico which is an affordable option for solo travelers, budget backpackers, and couples. Located just a 5-minute walk from the main ferry terminal and close to supermarkets, cafes, and restaurants. There is a shared lounge area, communal kitchen with cooking facilities, and an outside terrace with tables and chairs, and hammocks to chill in. Choose from a mixed dorm room, a capsule-style bed, or a private room. The bathrooms are shared with hot water showers and free wifi is also available for all guests.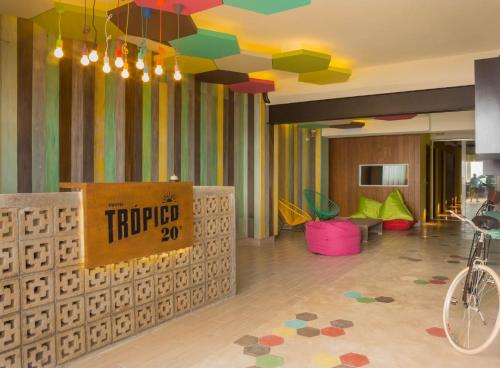 WHAT TO PACK FOR COZUMEL
When visiting Cozumel Mexico, here is a list of items I highly recommend bringing with you:
Must-Have Travel Essentials
Keep your cash and other valuables safe with this anti-theft hidden money wallet!
---
The GRAYL GeoPress is the best reusable bottle that allows you to purify water from anywhere!
---
---
---
FINAL THOUGHTS – COZUMEL ISLAND
I hope you enjoyed reading this article and if you have any questions at all about Cozumel Mexico, please leave me a comment below this post and I will get back to you as soon as I can.
For a quicker response, be sure to join Jonny Melon's Travel Tribe on Facebook and post your questions or recommendations to our awesome community.
TRAVEL RESOURCES FOR YOUR NEXT TRIP
Whether you're a seasoned traveler or it's your first trip overseas, here are some useful travel resources to help you kick-start your next adventure!
THANKS FOR READING
Hey friend, thanks for reading this guide!
Please know this post may contain affiliate links. When making a purchase through one of my links, I earn a small kickback at no extra cost to you and it's a big help to keep the site up and running. Rest assured, I only promote products and services that I personally use and recommend.
Many thanks!
PIN IT FOR LATER