Chefchaouen, also known as The Blue City or The Blue Pearl, is a picturesque mountainside village in northern Morocco.
In this guide, discover the best things to do in Chefchaouen – a city filled with striking blue-washed houses and buildings which are said to symbolize the sky and heavens, serving as a reminder for one to lead a spiritual life.
WHERE IS CHEFCHAOUEN?
Chefchaouen is located in the northern region of the country among the Rif Mountains and it's one of the best places to visit in Morocco!
Click here to see the location on Google maps.
HOW TO GET HERE
From Tangier to Chefchaouen it is approximately a 2-hour drive which can be done in a private taxi or onboard the CTM public bus service.
A taxi from Tangier to Chefchaouen costs around 200 dirhams per person whereas the bus costs approximately 50 dirhams.
If you are heading from Fes to Chefchaouen, the CTM bus service operates daily for approximately 75 dirhams per person for a 4-hour journey.
The Blue City
5 BEST THINGS TO DO IN CHEFCHAOUEN
EXPLORE THE BLUE CITY
First on this list of things to do in Chefchaouen is explore the Blue City!
I personally felt as though I was on cloud 9 and very much enjoyed getting lost in the maze of Chefchaouen's twisting alleyways lined with flower pots, native handicrafts, wool garments, and colorful woven blankets!
I guarantee you will not get bored exploring the streets of Chefchaouen for around every corner is a new picturesque alleyway painted in a different shade of blue.
The local citizens of Chefchaouen are super friendly and took the time to have a conversation with me even though they were secretly trying to drag me into their stores.
There are thousands of nic nacs and colorful rugs on sale throughout the blue city, perfect for travelers looking to purchase homewares for their own homes.
What To Do In Chefchaouen
Have you got travel insurance for Morocco? We all know accidents can happen and having World Nomads Insurance will save you thousands of dollars if something goes wrong.

SUNRISE & SUNSET IN CHEFCHAOUEN
A fifteen-minute walk to the Bouzaafar Mosque on the outskirts of the city is one of the best things to do in Chefchaouen, especially at sunrise or sunset.
This Spanish mosque offers the best panoramic views over Chefchaouen making it the most popular spot to watch the sunset or sunrise over the blue-rinsed mountain city!
The loud sounds of prayer echo through the air, bellowing from the speakers mounted on the tall minarets.
Spanish Mosque
View of Chefchaouen
TAKE A PHOTO ON THE INSTAFAMOUS STAIRS
Many tourists travel all the way to Chefchaouen just to take a photo on the most picturesque staircase in Morocco and potentially the entire world!
This colorful staircase became crazy popular when a photo posted on Instagram went viral. I must admit, it's the most picturesque staircase I have ever seen and a good reason to add it to your list of things to do in Chefchaouen.
Blue Stairs in Chefchaouen
The colorful stairway
Be sure to visit this spot
LUNCH AT CAFE ALADIN
I highly recommend enjoying a meal at Cafe Aladin in the Chefchaouen Medina for a traditional Moroccan Tajine, homemade couscous, and a side of olives. Absolutely mouthwatering and costs only 50 dirhams!
Cafe Aladin has the best rooftop terrace view of the main Medina. It's a great spot to people-watch and experience the madness of Chefchaouen from a birds-eye perspective.
Moroccan Tajine at Cafe Aladin
VISIT THE MARIJUANA PLANTATIONS
Last but not least on this list of things to do is a visit to the Marijuana plantations.
The surrounding countryside of Chefchaouen has a reputation for being a prolific source of kief. Many locals throughout the streets of Chefchaouen will approach you and ask if you want to visit the marijuana plantations. It is completely safe to do so and you can expect to pay around 100 dirhams for a private tour and guide.
It is approximately a 1-hour hike from Chefchaouen to the Marijuana farms in the Rif Mountains.
I can see why the Chefchaouen region is the main producer of cannabis in Morocco, I was standing in a field of Mary Jane taller than my head!
My guide took me to his friend's farm where he had a rug laid out under a shady tree and a teapot of hot mint tea. The farm owner dragged a hessian sack of weed out from behind the bushes and demonstrated how he makes hashish, using fabric cloth as a filter, wrapped over a bowl and bamboo sticks to bash the weed down through the fabric like a set of drums. He then took the fabric off the bowl and 'voila' there was a small amount of powdery hashish!
For some reason, I forget what happens next 😉
Marijuana farm – Chefchaouen Things To Do
Marijuana broomstick
WHERE TO STAY IN CHEFCHAOUEN
Chefchaouen has hundreds of accommodations to choose from, so I have narrowed it down to a few of the best places to stay to suit the needs of budget backpackers, luxury travelers, and everyone in between.
See the list of accommodations in Chefchaouen below that I personally recommend:
Luxury:

Résidence Hoteliére Chez Aziz
Mid Range: Dar Elrio
Budget: Hostel Mauritania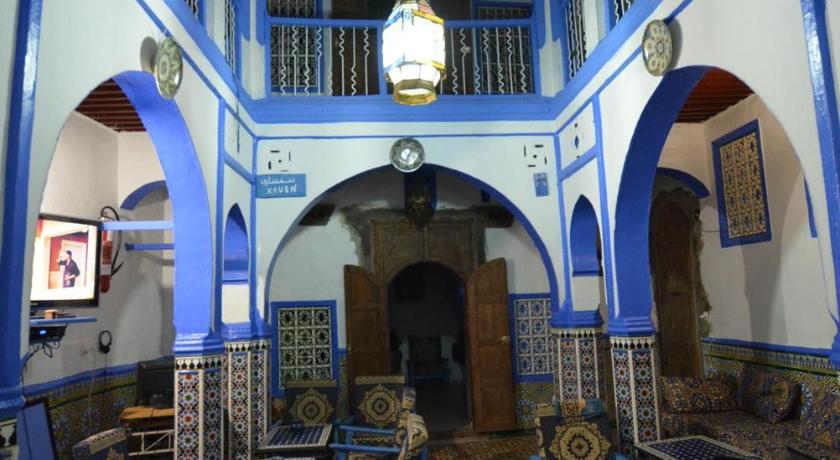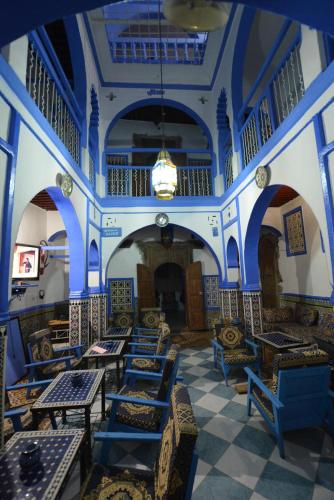 THINGS TO KNOW BEFORE YOU GO
The currency in Morocco is Dirham (MAD) and the exchange rate is approximately $1 USD = 10 MAD.
Purchasing a sim card in Morocco is very cheap and simple. You can do this at the airport on arrival or find a phone store close to your accommodation. For approximately $10 USD, you can get a local sim card that comes with 10GB of data.
Need a travel money card?

Wise

offers multi-currency debit cards which can be used worldwide and you'll save hundreds on transaction fees.

Get your Wise card today for free!
BEST TIME TO VISIT MOROCCO
The best time to visit Morocco is between March to May and September to November when the weather is not too hot and not too cold.
Also, during these months you can expect to see fewer tourists in the more popular cities of Morocco such as Marrakech and Chefchaouen.
MOROCCO VISA
Visitors to Morocco can spend up to 90-days on a tourist visa which is free of charge. The only requirement is that your passport has to be valid for a period of 6 months before its expiry.
MORE MORROCO TRAVEL GUIDES
WHAT TO PACK FOR MOROCCO
When visiting Morocco, here is a list of items I highly recommend bringing with you;
If you're interested in taking awesome photos and videos on your travels, this is the camera gear that I use and recommend;
GoPro HERO10 – the most popular camera on the planet for action-packed adventures.
Canon EOS R – perfect for traveling, this is the most affordable, compact camera on the market.
DJI Mini 3 Pro – take your photos and videos to new heights with this user-friendly drone camera.
MORE EUROPE TRAVEL GUIDES
TRAVEL RESOURCES FOR YOUR NEXT TRIP
Whether you're a seasoned traveler or it's your first trip overseas, here are some useful travel resources to help you kick-start your next adventure!
BOOKING.COM – search and book accommodation worldwide
SKYSCANNER – compare and book cheap flights to anywhere
VIATOR – find tickets, tours, and experiences around the world
BOOKAWAY – book buses, trains, and transfers online in advance
RENTAL CARS – search all rental cars in your next destination
GROUP TRIPS – join one of my epic small group trips
TRAVEL INSURANCE – purchase World Nomads travel insurance
TRAVEL MONEY CARD – get a Wise card today for free
Looking for more? Check out my Travel Resources page for further help with your trip planning!
FINAL THOUGHTS
I hope you enjoyed reading this article and if you have any questions, please drop me a comment below this post and I will get back to you as soon as I can. For a quicker response, be sure to join Jonny Melon's Travel Tribe on Facebook and post your questions or recommendations to our awesome community.
THANKS FOR READING
Hey friend, thanks for reading this guide!
Please know this post may contain affiliate links. When making a purchase through one of my links, I earn a small kickback at no extra cost to you and it's a big help to keep the site up and running. Rest assured, I only promote products and services that I personally use and recommend.
Many thanks!
PIN IT FOR LATER