Bacalar is home to the biggest and most beautiful lagoon in all of Mexico and there are plenty of things to do in Bacalar to keep you entertained during your stay.
Bacalar Lagoon is commonly referred to as Laguna de Siete Colores (lagoon of 7 colors), boasting 7 different shades of blue and it's truly one of the country's best-kept secrets.
Whether you spend a couple of days or a couple of weeks, I have put together this complete guide of 9 Awesome Things To Do In Bacalar so you can make the most out of your time when exploring the town and its azure waters.
Also in this Bacalar Mexico travel guide, I have included some useful information on how to get to Bacalar, where to stay, and the best time to visit.
OVERVIEW – WHAT TO DO IN BACALAR
See the list below for an overview of 9 Awesome Things To Do In Bacalar that you will find in this post:
Sunrise kayaking in Bacalar Lagoon
Visit Fort San Felipe
Have dinner at La Playita
Go sailing on the lagoon
Watch the sunrise in Bacalar
Visit the Bacalar Cenotes
Eat vegan burgers at Mango y Chile
Take a photo at the Bacalar sign
Visit the Pirates Channel Shipwreck
Laguna de Siete Colores
WHERE IS BACALAR?
Located in the state of Quintana Roo, Bacalar is easily reachable from the nearby towns of Tulum and Playa del Carmen along Mexico's Caribbean coast.
It's one of only a few Pueblos Magicos (Magical Towns) in the country, located less than one hour from the Belize border.
Click here for the exact location on Google maps.
HOW TO GET TO BACALAR MEXICO
There are a few ways to get to Quintana Roo Bacalar and they are by plane, bus or car.
The majority of tourists that visit Bacalar are typically traveling south from Cancun or headed north from Chetumal. Whichever direction you happen to be traveling in, there are plenty of transportation options available
Cancun to Bacalar: 4 hours 15 minutes
Playa del Carmen to Bacalar: 3 hours 15 minutes
Tulum to Bacalar: 2 hours 30 minutes
Chetumal to Bacalar: 45 minutes
BY PLANE:
The closest airport is located in Chetumal, the capital city of Quintana Roo. From Chetumal International Airport, it's approximately a 45-minute drive.
BY BUS:
Getting here by bus is the most convenient, affordable, and popular means of transport among travelers.
There are daily buses running every hour from the major cities such as Cancun, Playa del Carmen, Tulum, and Chetumal. It's best to book the bus online in advance as seats are limited.
The main bus station in Bacalar is situated on the main highway and from here it's a short 15-minute walk to the center of town. Alternatively, you can take a taxi to your accommodation for around 50 – 100 MXN.
BY CAR:
Renting a car in Yucatan/Quintana Roo is another great way to travel around at your own pace. This particular area of the country is said to be the safest when it comes to getting behind the wheel yourself, so it's definitely an option to consider.
I always use Rentalcars.com to search and book car rentals in Mexico as they offer the best rates.
BEST TIME TO VISIT BACALAR LAGOON
The best time to visit Quintana Roo Bacalar is during the winter season from December to April. During this time there is little to no rainfall and the temperatures are just perfect.
The rainy season in Bacalar Mexico is typically between May and October which sees higher temperatures due to the humidity.
The only plus side to visiting Bacalar during these months is there will be fewer tourists and prices are less inflated.
WHERE TO STAY IN BACALAR
There are hundreds of accommodations to choose from so I have narrowed it down to a few of the best places to stay in Bacalar to suit the needs of luxury travelers and budget backpackers.
See the list of accommodations below that I personally recommend.
Luxury: Bacalar 777 Hotel Boutique
This 5-star resort is the best luxury accommodation in Bacalar. Located just 15-minutes north of the town center, Bacalar 777 Hotel features its own private beach area, outdoor swimming pool, beautiful gardens, in-house restaurant and bar, shared lounge, and a sun terrace. All rooms are fitted with air conditioning, a private bathroom, spacious living, a large comfortable bed, a seating area, and epic views of the lagoon. Perfect for couples, a group of friends, and small families.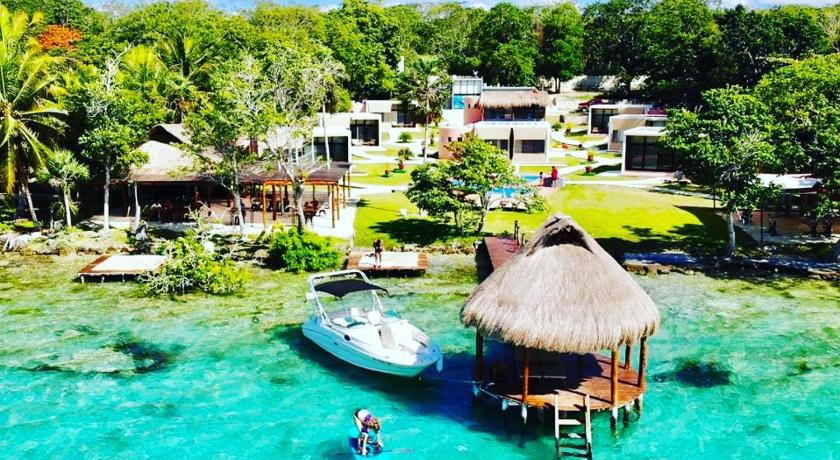 Mid Range: Hotel & Suites Oasis
I personally stayed at Hotel & Suites Oasis and can't recommend this place enough. My cabana room was very homely and featured nice wooden furniture, a large comfortable bed, a private bathroom, a kitchenette with complimentary coffee and tea, flat-screen tv, air conditioning, an outdoor terrace with a seating area, and free wifi. This property also has an outdoor swimming pool and poolside lounges. Just 2 minutes walk to the laggon and nearby cafes, bars, and restaurants. Perfect for families, couples, and solo travelers looking for a memorable and affordable stay in Bacalar.
Budget: Yaxche Centro Hostal
Yaxche Centro Hostel is the most top-rated budget accommodation in Bacalar. Centrally located, this awesome hostel offers dorm rooms, private rooms, or tents with sleeping bags and there is a shared lounge and kitchen for guests to use. There is also free wifi, free continental breakfast, and bicycle rentals available. Walking distance to the lagoon, the Zocalo, and eateries. Perfect place to stay in Bacalar for solo travelers, couples, and budget travelers in general.
FOR ALL OTHER PLACES TO STAY IN BACALAR, SEARCH ON AGODA OR SEARCH ON BOOKING.COM
9 AWESOME THINGS TO DO IN BACALAR
Now that we've covered all the logistics of how to get here, the best time to visit, and where to stay, let's get to the fun stuff!
So, without further ado, here is your ultimate guide to the best things to do in Bacalar Mexico!
SUNRISE KAYAKING ON BACALAR LAGOON
One of the top things to do when you arrive is to rent a kayak and paddle out on Laguna de Bacalar in the early hours of the morning for sunrise.
The sunrises in Bacalar are really something special and one of the best ways to experience them is from your very own kayak in the middle of the lagoon.
Book a tour online and enjoy the incredible sunrise kayaking in Bacalar!
Bacalar Kayaking
Kayaking in Bacalar Lagoon
VISIT FORT SAN FELIPE BACALAR
The 18th Century Fort San Felipe or Castle San Felipe is a worthy addition to your list of things to do. Located in the heart of town next to the Zocalo, it's hard to miss this impressive stone fort and historical landmark.
Fort San Felipe was built during the Spanish era to defend the town of Bacalar and its people from pirates that frequented the area which in the end deemed successful.
This beautiful historic fort offers panoramic views left and right of the lagoon and right the way across to the Pirates Channel where the famous shipwreck can be spotted.
The entrance fee to visit Fort San Felipe is 105 MXN for tourists and 50 MXN for locals. If you're on a tight budget and don't want to cough up the $5.50 USD to step inside the fort walls, you can get a close enough look from the street.
Fort San Felipe Bacalar Mexico
Stone steps on the outside of the fort
Castle of San Felipe
HAVE DINNER AT LA PLAYITA
I am pretty confident in saying that La Playita is one of the top restaurants in Bacalar Lagoon offering a wide range of Mexican and international cuisine as well as signature cocktails and a selection of regional wines.
La Playita is just a few minutes walk to the north of the Zocalo and is situated in a beautiful setting beneath the trees on the shores of Bacalar Laguna.
I personally tried the crumbed rib-eye steak with salad and Kathy had the salmon with beans. Both dishes were mouthwatering!
For entrees and drinks, I recommend the sweet potato chips with guacamole, the Jalapeno Mezcal cocktail, and the Cucumber Mint cocktail.
La Playita is open 7 days a week from 9:00 am to 12:00 am. You can check out the La Playita website for more information and reserve a table in advance.
Guacamole and Cucumber Mint cocktail
La Playita Bacalar Mexico
GO SAILING ON BACALAR LAGOON
A visit to Quintana Roo Bacalar wouldn't be complete without a sailing tour across the azure waters of the lagoon.
This activity turned out to be one of my favorites during my visit and I guarantee you'll enjoy the experience just as much as I did.
I recommend booking a Bacalar sailing tour online in advance to get the best rates. Here's what's included in the tour:
Experienced captain and guide
A visit to Cenote la Bruja, Isla de Los Pájaros (Bird Island), Laguna de Siete Colores (Lagoon of 7 Colors) and Canal de Los Piratas (Pirates Channel)
Drinks and fruits
Snorkeling gear and life jackets
There are two set times available throughout the day for the Bacalar sailing tour and you can choose either 11:00 am or 3:00 pm and the tour goes for approximately 3 hours.
Bacalar sailing
Bacalar sailing tour
Isla de Los Pájaros
Have you got travel insurance for Mexico? We all know accidents can happen and having World Nomads Insurance will save you thousands of dollars if something goes wrong.

WATCH THE SUNRISE IN BACALAR
Watching the sunrise is a must on your list of what to do in Bacalar. Most accommodations have private docks on the edge of Laguna Bacalar which is the perfect place to watch the sunrise.
Alternatively, if your accommodation isn't located directly on the lagoon, there are a number of public docks to watch the sunrise which can be found on Calle 14, Calle 16, and Calle 18.
I personally stayed at Blue Bird Hotel which is situated on the edge of the lagoon on the southern end of town and watching the sunrise here was incredible!
They also have stand-up paddleboards, kayaks, and over-the-water hammocks for guests to use free of charge which makes for the ultimate Instagram-worthy photo at sunrise.
Perfect spot for sunrise
Golden rays
Early bird gets the worm at Lake Bacalar
FLY THE DRONE AT THE BACALAR CENOTES
For all the drone pilots out there, the lagoon is drone heaven and some of the best features to shoot from above are the several cenotes dotted along the shoreline.
While there are some amazing centoes in Tulum, some of the best Bacalar cenotes include:
Cenote Azul
Cenote Cocalitos
Cenote Esmeralda
Cenote la Bruja
My favorite cenote to take drone photos of is Cenote Esmeralda which is located on the west side of the lagoon just a 5-minute drive south from the Zocalo.
I personally used a DJI Mini 3 Pro to capture all the aerial images you see in this blog post.
Cenote Esmeralda
TASTE THE VEGAN BURGERS AT MANGO Y CHILE
If you're a lover of vegan food and burgers, then be sure to add Mango y Chile to your list of restaurants to try.
Located right next to Fort San Felipe and the Zocalo, Mango y Chile is open for lunch and dinner, 7 days a week from 1:00 pm to 9:00 pm.
Due to its popularity for having some of the best food in town, you may have to wait in line for a table. If your stomach is eating itself and you can't be assed waiting, it's possible to order your food to take away.
I personally tried the Clasica Burger which was absolutely mouthwatering and also the homemade Kombucha to wash it all down!
Don't forget to give Mango y Chile a follow on Instagram.
Mango y Chile Quintana Roo Bacalar
GET A PHOTO AT THE BACALAR SIGN
Another popular attraction in Bacalar Mexico is the colorful 'BACALAR' sign which is worthy of a classic tourist photo when you're in the area.
The 'BACALAR' sign is located in the heart of town right next to the Zocalo so you can't miss it. Even though it's just a sign, you'd be surprised how popular it is among tourists so chances are you'll have to wait your turn to get a photo.
I always wonder what people do with these classic tourist photos, whether they get developed and framed in their houses or if they just get buried in the camera roll on their phones. Either way, it's a keep-sake photo to have and proof that you visited!
The colorful sign
VISIT THE SHIPWRECK AT PIRATES CHANNEL
Last but not least on this list of awesome things to do is to visit the famous Bacalar Shipwreck on the Pirates Channel (Canal de Los Piratas).
It is known as the Pirates Channel because this was the entry point for notorious pirates that would sail north up the Hondo River and battle it out on the shores of Laguna Bacalar. Hondo River (Rio Hondo) is a natural division and border between Belize and Mexico.
The standout attraction at Canal de Los Piratas is the shipwreck which is partially covered in trees and it's also possible to climb up onto the deck and wander around.
Another reason to visit the Pirates Channel Bacalar is to discover the azure waters filled with high mineral content and clay-like sand, ideal for exfoliating the skin.
There is no entrance fee to visit the Pirates Channel, though because of its location on the opposite side of the lagoon you will need to find a way to get there which will incur a cost.
A few options to reach Canal de Los Piratas are:
The Shipwreck
WHAT TO PACK FOR BACALAR
When visiting Bacalar, here is a list of items I highly recommend bringing with you;
If you're interested in taking awesome photos and videos on your travels, this is the camera gear that I use and recommend;
GoPro HERO10 – the most popular camera on the planet for action-packed adventures.
Canon EOS R – perfect for traveling, this is the most affordable, compact camera on the market.
DJI Mini 3 Pro – take your photos and videos to new heights with this user-friendly drone camera.
MORE MEXICO TRAVEL GUIDES
TRAVEL RESOURCES FOR YOUR NEXT TRIP
Whether you're a seasoned traveler or it's your first trip overseas, here are some useful travel resources to help you kick-start your next adventure!
BOOKING.COM – search and book accommodation worldwide
SKYSCANNER – compare and book cheap flights to anywhere
VIATOR – find tickets, tours, and experiences around the world
BOOKAWAY – book buses, trains, and transfers online in advance
RENTAL CARS – search all rental cars in your next destination
GROUP TRIPS – join one of my epic small group trips
TRAVEL INSURANCE – purchase World Nomads travel insurance
TRAVEL MONEY CARD – get a Wise card today for free
Looking for more? Check out my Travel Resources page for further help with your trip planning!
FINAL THOUGHTS
I hope you found this article useful and if you have any questions about things to do in Bacalar, please leave me a comment below this post and I will get back to you as soon as I can.
For a quicker response, be sure to join Jonny Melon's Travel Tribe on Facebook and post your questions or recommendations to our awesome community.
THANKS FOR READING
Hey friend, thanks for reading this guide!
Please know this post may contain affiliate links. When making a purchase through one of my links, I earn a small kickback at no extra cost to you and it's a big help to keep the site up and running. Rest assured, I only promote products and services that I personally use and recommend.
Many thanks!
PIN IT FOR LATER