Hiking to the top of Taung Wine Mountain for sunrise was by far the best adventure that I had during my visit to Hpa An, Myanmar.
If you are an adventure enthusiast like myself and looking for a bang-for-buck hike in Hpa An, then you can't go past an unforgettable journey to the summit of Taung Wine Mountain!
Want cheap flights in Myanmar? Check out CheapOair to book now and travel for less!
Have you got travel insurance for Myanmar? We all know accidents can happen and having World Nomads Insurance will save you thousands of dollars if something goes wrong.

WHERE IS TAUNG WINE MOUNTAIN?
Taung Wine Mountain (Taung Wine Pagoda) is located 13km east of Hpa An city center.
Click here to see the location on Google maps.
HOW TO GET HERE
There are two ways to get here and they are;
Option #1:
If you are renting a scooter/motorbike in Hpa An, it is a short 25-minute drive from the city center to the base of the mountain. You will be able to rent a scooter from your accommodation for approximately 6,000 – 10,000 Kyat per day.
Option #2:
The second option of getting to Mount Taung Wine is by taxi. If you plan to hike to the top for sunrise, it's best to organize a taxi the day before to pick you up from your accommodation at around 4:30 am.
The cost of a 30-minute taxi ride is somewhere between 5,000 – 10,000 Kyat one way.
The main entrance
Drone shot of Taung Wine Pagoda
On the trail
HIKING TAUNG WINE MOUNTAIN
Some friends of mine recommended this hike prior to my arrival in Hpa An. They raved on how insane the views were at the summit and that the hike only took them 45-minutes from bottom to top.
I left my accommodation (Keinnara Lodge) at 4:30 am and arrived at the base of Taung Wine Mountain at 5 am to begin the 45-minute ascent to the summit for sunrise.
The hike does not ease you in at all. From the get-go the stairs are steep and the humidity is intense. I broke out in a sweat from head to toe about 15-minutes into the hike and my quads were already starting to burn. However, I was so determined to make it to the top before the sun popped up over the horizon.
Hiking to the summit of Mount Taung Wine
I would recommend allowing yourself at least one hour to hike to the summit, allowing for short breaks on the trail up to catch your breath and rehydrate.
I arrived at the summit about 15-minutes before sunrise, so it was nice to have a breather before getting out my camera gear to get some shots.
As the sun started to rise and light up the Hpa-An region I was in complete awe of the insane panoramic views from the Taung Wine Pagoda!
The steel stairway has a slight resemblance to the Stairway to Heaven stairs in Hawaii and this is the best spot to take photos.
Incredible views of the region
WHERE TO STAY IN HPA AN
Hpa An has dozens of accommodations to choose from, so I have narrowed it down to a few of the best places to stay in Hpa-An to suit the needs of luxury travelers, budget backpackers, and everyone in between.
See the list of accommodations below that I personally recommend:
Luxury: Keinnara Lodge Hpa An
Mid Range: Hotel United Hpa An
Budget: Galaxy Motel Hpa An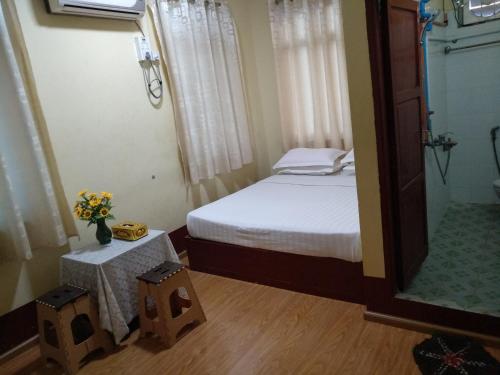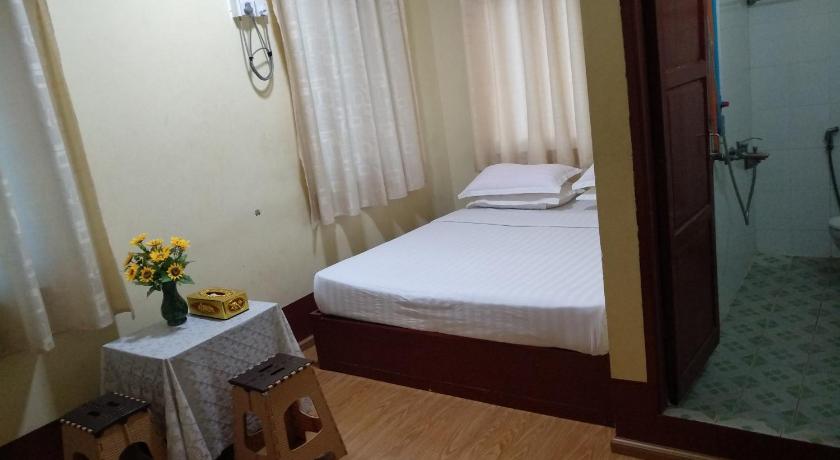 AIRBNB HPA AN
Another option for accommodation is to stay at an Airbnb, which generally has some great deals.
BEST MYANMAR TOURS
MORE MYANMAR TRAVEL GUIDES
Myanmar Guide: 2 Week Myanmar Itinerary
Bagan Guide: 5 Things To Do In Bagan
Mandalay Guide: 10 Things To Do In Mandalay
Inle Lake Guide: 5 Things To Do In Inle Lake
Hpa An Guide: 5 Things To Do In Hpa An
LONELY PLANET MYANMAR
One of the best books to take on your trip is the Lonely Planet Myanmar Guide!
BUY NOW ON AMAZON → LONELY PLANET MYANMAR
JOIN MY FACEBOOK COMMUNITY
Do you have any questions about this epic hike?
Join my Facebook Community and send me a message at any time for a quick response!
ONLINE ENGLISH TEACHING
Do you want to travel full-time and get paid along the way?
Teaching English online is one of the easiest and most flexible jobs out there! Become a Digital Nomad, choose your own hours, and work remotely from anywhere in the world by teaching English online. All you need is a laptop, good WiFi connection, a TEFL certificate and you're good to go!
MY SHOP
Before you go, don't forget to check out My Online Shop!
I've got a wide range of digital products for sale and I'm sure you'll find something that will come in handy during your travels!
FINAL THOUGHTS
Thanks for reading this article and if you have any questions about this location, please leave me a comment below this post, and I will get back to you as soon as possible.
Happy hiking!
PIN IT FOR LATER