Siargao Island was awarded for being the BEST island in the world (2018/2019) and since then, it has become the most popular island in the Philippines! Furthermore, there are a number of Siargao Tours that I highly recommend doing to make the most of your time on this epic island.
Siargao Island offers a mecca of adventure activities such as island hopping, lagoon tours, rock pools, beach hopping, palm tree swings, wakeboarding, and many more fantastic things not to be missed!
In this post, I have put together the ultimate list of 7 Awesome Siargao Tours including where to book, how much they cost, and what to expect!
Also, at the bottom of this guide, I have included some useful information on where to stay in Siargao, how to get around, and the best time to visit.
Want cheap flights to Siargao? Check out CheapOair to book now and travel for less!
Have you got travel insurance for Philippines? We all know accidents can happen and having World Nomads Insurance will save you thousands of dollars if something goes wrong.

7 AWESOME SIARGAO TOURS
SIARGAO ISLAND HOPPING TOUR
Spend the day island hopping between three tropical islands known as Naked Island, Daku Island, and Guyam Island, just a short boat trip off the coast of General Luna in Siargao.
In this Siargao tour package, you'll get to visit these three epic islands that are surrounded by white sands, turquoise waters, and tall coconut trees. There will be enough time to relax and unwind on these beautiful beaches and you'll also get plenty of time to swim and explore the area.
All this for less than $20 USD.
Siargao Island Hopping
SIARGAO LAND TOUR
The Siargao Land Tour is the best way to see the Siargao hotspots in one day. This is the best Siargao tour package you can find which is an adventure-filled day across the island.
Visit the Coconut Tree Viewpoint in the morning, followed by the famous rope-swing at the Maasin River which has become a hot spot in Siargao and a great spot for an Instagram shot.
After that, the tour continues to Magpupungko Rock Pools where you'll be able to go for a dip in the clear blue waters and grab a bite to eat for lunch.
And last, but not least on this Siargao Island tour is a boat trip over to Sugba Lagoon for some stand-up paddleboarding and diving boards.
All this for less than $30 USD.
Coconut Tree Viewpoint – Siargao Tours
SOHOTON COVE TOUR
Sohoton Cove is a must-visit place during your visit to Siargao. This particular Siargao tour package includes a full day of island hopping to Sohoton Cove, Naked Island, Daku Island, and Guyam Island, with lunch.
These islands are one of Siargao's most picturesque and popular spots. You'll be able to enjoy the turquoise waters, white beaches and cliff jumps on this Sohoton Cove tour.
All this for less than $45 USD.
Sohoton Cove
SUGBA LAGOON TOUR
Sugba Lagoon offers an unforgettable experience at one of the bluest lagoons you will ever see! This Siargao tour package includes a full day of island hopping to Sugba Lagoon, Kawhagan Island, and Pamomoan Island, with lunch.
The famous Sugba Lagoon is well known for its turquoise water surrounded by the beautiful Carmen Mangrove Reserve. At this spot, you can do all sorts of different aquatic activities or even go cliff jumping.
On Kawhagan Island and Pamomoan Island, you'll get to enjoy the white sand beach surrounded by azure waters that are guaranteed to give you that tropical beach feeling.
One of the top-rated Siargao tours for less than $20 USD.
Sugba Lagoon
CORREGIDOR ISLAND TOUR
On this Siargao tour, you will get to experience Corregidor, Daku Guyam, and Naked Islands all in one day.
Corregidor Island is a dreamy tropical paradise just off the coast of General Luna in Siargao. You'll be able to explore the grassy hills and colorful coral reefs on Corregidor Island.
The other three islands are a perfect spot to explore and relax in absolute paradise. For many visitors, this is one of the best Siargao tours to try and I guarantee it will be a highlight during your visit.
All this for less than $40 USD.
Corregidor Island
SIARGAO JEEPNEY LAND TOUR
When you are in the Philippines riding in a Jeepney is a must! While on the island, one of the best Siargao tours is the Jeepney Land Tour that will take you to some hidden gems around the island.
Your adventurous day will start at the Sugba Lagoon which is known for its large and impressive mangrove system. You'll be able to explore the mangroves further by renting a kayak or a SUP.
After that, this Siargao tour will bring you to a secret waterfall where you are likely to meet the local kids playing around.
The next stop is the small town called Burgos which is also known as 'Little Hawaii' of Siargao because of its stunning scenery of large palm trees and unique and empty surf breaks.
The rest of the day you'll take off-the-beaten tracks through Pacifico and the Palm Tree Rope Swim with a perfect sunset ending above the Sea of Palm Trees.
All this for less than $30 USD.
Rope Swing
SIARGAO WAKE PARK SESSION
Siargao is one of the best places in the Philippines to try wakeboarding. The wake park in Siargao is suited for beginners and advanced wakeboarders.
An English-speaking instructor will help you to make sure that you are ready for take-off along the manmade 100-meter lake. There are also a couple of jumps around the wake park for the more advanced people out there.
A usual wakeboarding session goes for around 90 minutes. For those of you that aren't adrenaline junkies, you'll also be able to wait and enjoy the scenery of the lake from a Kubo right next to the water.
All this for less than $20 USD.
Siargao Wake Park Session
HOW TO GET TO SIARGAO ISLAND?
The easiest and best way to get to Siargao Island is by plane.
Domestic flights to Siargao from Manila or Cebu are available on a daily basis and they arrive at Siargao's only airport in Del Carmen.
From the airport in Del Carmen to the main tourist hub on the island, General Luna, it's approximately a 1-hour drive and the cost of the shuttle is around 500 pesos.
BEST TIME TO VISIT SIARGAO
Siargao Island is a year-round destination although the peak tourist season is in the dry season which is between the months of March and October.
The off-peak season is during the wet season which is generally between November and February. This is when there are likely to be fewer tourists.
For surfers visiting Siargao Island, the best months for surfing is during the swell season which is August through to November.
HOW TO GET AROUND THE ISLAND
The best way to get around the island is on a scooter. The cost for a scooter rental is around 300-400 pesos per day, or for a monthly rental, you'll get a cheaper rate of 200-300 pesos per day.
Most accommodations will be more than happy to help you organize a scooter rental for the time you plan to spend on Siargao Island.
Petrol can be found on the side of the road out the front of small local houses/businesses in the majority of the main villages on Siargao. Petrol is sold in 1-liter glass bottles for 60 pesos per bottle.
WHERE TO STAY IN SIARGAO
General Luna is the place to be when it comes to finding the best places to stay in Siargao! General Luna has hundreds of accommodation options to choose from, so I have narrowed it down to a few of my personal favorite places to stay to fit the needs of budget backpackers, luxury travelers, and everyone in between.
See the list of accommodations below that I personally recommend:
Luxury: Nay Palad Hideaway Villas
Nay Palad Hideaway offers the perfect 'island resort vibe' that you may be seeking. Choose either a sea view or a garden view luxurious room, take a dip in the outdoor swimming pool, and enjoy your very own private palm tree-fringed beach! On top of this, resort guests can make use of the complimentary paddleboards, surfboards, kayaks, bicycles, and even jump on board an island hopping tour.
Luxury: Isla Cabana Resort
An awesome 4-star resort located in General Luna on the beachfront. Isla Cabana boasts an outdoor swimming pool, hot tub, and sun terrace that looks out over the Pacific Ocean. These private villas come fitted with king-sized beds, an en suite bathroom, air-conditioning, cable TV, fridge, and sitting area. Book a treatment at the in-house spa or make use of the free activities available such as snorkeling, kayaking, fishing, or cycling.
Mid Range: Sunset Bay Beach Villas
Sunset Bay provides beachside villas that are comfortable and peaceful, overlooking the Philippine Sea. The famous Cloud 9 surf break is just a few minutes' walk away. The villas are air-conditioned with a flat-screen TV, private bathroom, kitchen, fridge, and stovetop. Perfect for solo travelers or couples.
Mid Range: Kokai Resort
Nestled within lush gardens, you'll get the ultimate jungle vibes here at Kokai Resort. There is a sun terrace, in-house restaurant, free wifi, and motorbike rental available. Kokai Resort has both dorms and private bungalows on offer, perfect for those on a budget.
Budget: Secret Spot Siargao
I personally stayed at Secret Spot and I can't recommend this place enough. The hostel features an upstairs dormitory with 20 comfortable beds, downstairs bathrooms, a spacious living area, a fully-equipped kitchen, an outdoor chill zone, free wifi, and hanging hammocks in the garden.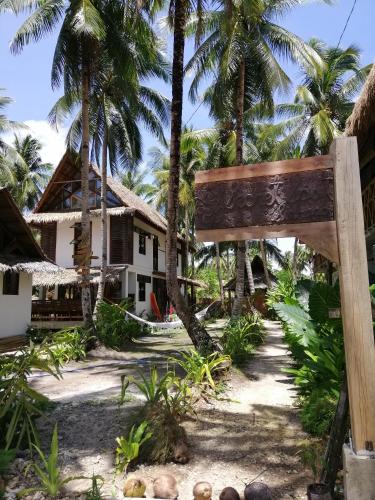 Budget: Balay Hayahay Hostel
Balay Hayahay is a budget-friendly hostel centrally located in General Luna. There are dorm rooms and private rooms available in tee-pee style bamboo huts just a minute walk to the beach. This hostel also features a shared kitchen and chill-out zone with hammocks. The perfect place to stay with friends or for solo travelers.
LONELY PLANET PHILIPPINES
One of the best books to take on your trip is the Lonely Planet Philippines Guide!
BUY NOW ON AMAZON → LONELY PLANET PHILIPPINES
MORE PHILIPPINES TRAVEL GUIDES
ONLINE ENGLISH TEACHING
Do you want to travel full-time and get paid along the way?
Teaching English online is one of the easiest and most flexible jobs out there! Become a Digital Nomad, choose your own hours, and work remotely from anywhere in the world by teaching English online. All you need is a laptop, good WiFi connection, a TEFL certificate and you're good to go!
JOIN MY FACEBOOK COMMUNITY
Do you have any questions about tours in Siargao?
Join my Facebook Community and send me a message at any time for a quick response!
MY SHOP
Before you go, don't forget to check out My Online Shop!
I've got a wide range of digital products for sale and I'm sure you'll find something that will come in handy during your travels!
FINAL THOUGHTS
I hope you enjoyed reading this article and if you have any questions at all, please leave me a comment below this post and I will get back to you as soon as I can.
Happy travels!