Semuc Champey is one of Mother Nature's most beautiful creations, tucked away in the depths of the Northern Guatemalan jungle.
Featuring a natural bridge of limestone around 300 meters long with cascading turquoise-colored swimming pools. Sounds too good to be true right?!
In this guide, you will find everything you need to know about a Semuc Champey tour including how to get there, where to stay and how to visit on a budget.
HOW TO GET TO SEMUC CHAMPEY?
Unfortunately, there is no easy way to get here other than sitting on a bus for an entire day.
The two most common routes are from Antigua City in the south of Guatemala or from Flores in the north.
Click here to see the location on Google maps.
The journey from door to door takes between 10 and 12 hours. It's not ideal but it's the only way to get there.
Shuttle buses from Antigua / Flores to Semuc Champey Guatemala depart once per day typically around 8:00 am and arrive at 6:00 pm in Lanquin which is the closest town.
Upon arriving, you'll have to transfer from the shuttle bus and into the back of a 4×4 truck for transport to your accommodation.
There will be locals shouting the names of each hotel/hostel as soon as you get off the bus so listen out for the name of your accommodation to make sure you get into the right vehicle.
Depending on where you are staying, the drive from Lanquin to your accommodation can take up to 1-hour along a very windy and bumpy road.
It's not that enjoyable to be honest, especially after a 10-hour bus ride to get here, but you're in the jungle of Guatemala after all and it's all part of the adventure!
The cost of the shuttle bus from Antigua to Lanquin is around 150 Quetzals and from Flores to Lanquin it's around 120 Quetzals.
The 4×4 transport from Lanquin to your accommodation is free of charge.
Have you got travel insurance for your trip?!
We all know accidents can happen and having Heymondo Insurance will save you thousands of dollars if something goes wrong.
Heymondo offers low-cost Travel Insurance to keep you covered on all your adventures.
HOW MANY DAYS DO I NEED AT SEMUC CHAMPEY?
This is a question that gets asked quite often and there are a few things to consider when planning your trip.
To start with, you will need to spend a minimum of 2 nights when visiting.
The reason for this is because you'll arrive in Lanquin at nighttime and the only time you can leave again for your next destination is on the morning bus.
This will give you one full day in between to explore the cascades.
I, however, recommend spending at least 3 nights to break up the long bus rides in and out. An extra day to relax and enjoy the jungle in this remote region of Guatemala is 100% worth it.
SEMUC CHAMPEY TOUR (DIY)
While most people tend to book a tour with a travel agency or through their hostel, it's also possible to visit DIY for much cheaper.
Here is a breakdown of the costs of a DIY tour:
4×4 transport from your accommodation to Semuc Champey / 15 Quetzal each way
Entrance fee / 50 Quetzal
BBQ lunch (optional) / 25 Quetzal
River tubing (optional) / 65 Quetzal
The Most Functional Day Pack EVER!
The Nomatic 20L Travel Pack is perfect for everyday use and for those shorter 1-3 day adventures.
With 20+ innovative features and a minimalist design, this functional day pack gives you confidence for life on the move!
SEMUC CHAMPEY WITH A TOUR
For those of you that would rather join an all-inclusive tour, this is also possible. You can either book through your accommodation upon arrival or book your tour online.
The tour is a full-day adventure that includes all entrance fees and transport, a visit to Kanba Cave, river tubing down Kahabon River, and swimming in the turquoise pools. All this for $30 USD.
WHAT TO EXPECT
Semuc Champey Guatemala is open 7 days a week from 8:00 am to 4:00 pm.
When you arrive at the ticket office, you'll first have to pay 50 Quetzals entrance fee before heading down the trailhead.
It's no more than a 10 – 15 minute walk from the entrance to reach the natural turquoise-colored pools with just a slight incline up the valley. The trail is clearly marked so you can't get lost.
Along the way to the pools, you can find a wooden staircase on the left-hand side of the trail that leads up to the Mirador (viewpoint).
It's a very steep climb that takes around 30 minutes to reach the viewing deck and where you'll be rewarded with a birds-eye perspective.
Reaching El Mirador is a bit of a physical challenge but the view from the top is absolutely phenomenal and not to be missed!
Once you've enjoyed the view at El Mirador, continue along the circuit trail for another 20 – 30 minutes to get back down to the bottom of the cliffs.
The trail emerges at the top end of the natural limestone bridge and here you can find a dry spot on the rocks to set down your belongings before jumping in for a swim.
The BEST Affordable Camera For Travel
If you're on the hunt for a professional camera for traveling, check out the Canon G7 X Mark II.
This tiny camera fits in your pocket, captures high-quality photos and videos, and has Wi-Fi so you can instantly transfer to your phone!
SWIMMING IN THE POOLS
The cascading pools are quite large with multiple tiers so you can take your pick of where you would like to go for a dip.
The earlier you visit the better if you want to avoid the crowds and have the pools entirely to yourself.
Further downstream you can find another level of natural turquoise-colored pools and small waterfalls.
This particular area is surrounded by lush trees, making it more of a shady spot to go for a swim.
SEMUC CHAMPEY MAP
WHERE TO STAY
There are dozens of hotels and hostels to choose from and it can be overwhelming trying to figure out which one is best.
Luckily, there is a variety of accommodations to suit the needs of budget backpackers, luxury travelers, and families.
The majority of the nicer hotels are situated in the town of Lanquin and from here it's approximately a 45-minute drive to reach the cascades.
Whereas most hostels and eco-lodges are located much closer to the park and are within walking distance of the entrance.
See my recommendations of places to stay below and make sure to book online ahead of time.
Mid Range: El Retiro Lanquin
Mid Range: Utopia Eco Hotel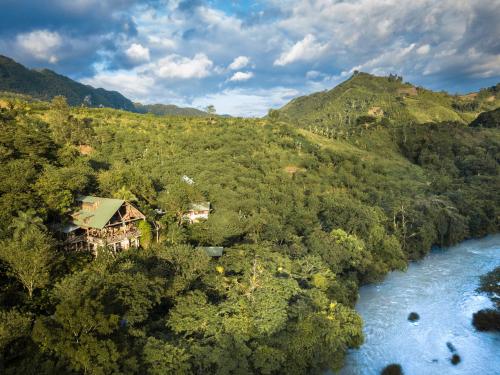 Budget: Pachamaya Eco Lodge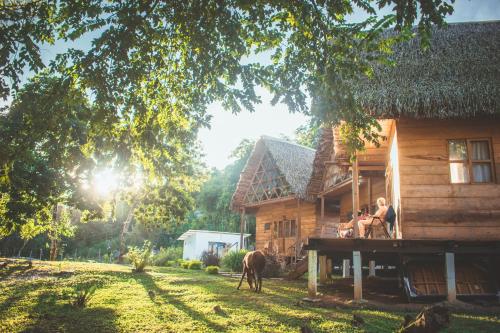 WHAT TO PACK FOR SEMUC CHAMPEY
When visiting Guatemala, here is a list of items I highly recommend bringing with you:
Must-Have Travel Essentials
Keep your cash and other valuables safe with this anti-theft hidden money wallet!
---
The GRAYL GeoPress is the best reusable bottle that allows you to purify water from anywhere!
---
---
---
FINAL THOUGHTS – SEMUC CHAMPEY EL MIRADOR
Semuc Champey is truly one of Earth's most remarkable vistas and something you don't get to see every day.
Even though it's a bit of a mission getting here, it's definitely worth the journey and I guarantee you will love it just as much as I have!
If you have any questions at all about visiting DIY or booking a tour, please drop me a comment below and I will get back to you as soon as I can.
For a quicker response, be sure to join Jonny Melon's Travel Tribe on Facebook and post your questions or recommendations to our awesome community.
TRAVEL RESOURCES FOR YOUR NEXT TRIP
Whether you're a seasoned traveler or it's your first trip overseas, here are some useful travel resources to help you kick-start your next adventure!
THANKS FOR READING
Hey friend, thanks for reading this guide!
Please know this post may contain affiliate links. When making a purchase through one of my links, I earn a small kickback at no extra cost to you and it's a big help to keep the site up and running. Rest assured, I only promote products and services that I personally use and recommend.
Many thanks!