Secret Beach Mirissa is low-key one of the best beaches in Sri Lanka and is not to be missed during your visit.
I have put together this guide to help you plan your visit to Secret Beach Mirissa including how to get there, how much it costs and what to expect when you arrive.
WHERE IS SECRET BEACH IN MIRISSA?
Now, where is this Secret Beach Mirissa that I speak of?
Well, it's a little hidden gem just around the corner from the main beach in Mirissa, which is located in the southeast corner of Sri Lanka that makes up Weligama Bay.
Click here to see the location on Google maps.
THINGS TO KNOW BEFORE YOU GO
Right now you are probably thinking, 'If it's a secret beach, why is it on the map?' Well, my only answer to that is, I believe that at some point, this beach was a spot that only the locals knew about, though they could only keep it a secret for so long.
Of course with the new influx of tourism in Sri Lanka, spots like this have become an opportunity for the locals to turn it into an attraction and ultimately make a little money from it.
Furthermore, they gave Google a call to get Secret Beach put on the map! So I guess now you could say it's a not-so-secret beach but it's definitely worth a visit.
I also recommend bringing your GoPro and waterproof phone case to take awesome underwater shots when snorkeling at the secret beach.
Capture All Your Adventures!
I'm sure y'all know by now that GoPro's are arguably the best action cameras on the planet!
The new GoPro HERO 11 boasts 5.3K video, 27MP photo, HyperSmooth stabilization, and waterproof up to 10m!
SECRET BEACH MIRISSA ENTRANCE FEE
The great thing about Secret Beach Mirissa is that you don't have to pay an entrance fee to visit.
Instead of the locals charging an entry fee, down on the sand is an established beach bar (Mirissa Secret Beach Bar) and they will promptly try to sell you drinks and food.
Secret Beach Bar Mirissa also has snorkel sets and day beds for rent for around 500 Rupees. This is their way of making a little bit of money and for you to enjoy the beautiful surroundings.
WHAT TO EXPECT AT MIRISSA SECRET BEACH
There are three beaches to be discovered at Mirissa Secret Beach:
1. Blue Lagoon
Directly in front of the Secret Beach Bar, there are hammocks and day beds overlooking the blue lagoon.
A tidal rock pool, perfect for a lazy swim without the disturbance of crashing waves.
2. Palm Cove
Around the corner from the blue lagoon is where the jungle meets the sea and here you'll find a picturesque cove with golden sand and coconut palms.
Palm Cove is the perfect spot to go snorkeling and exploring along the rocks, making it one of the best beaches in Mirissa!
3. Shelly Beach
This tucked-away paradise at Secret Beach Mirissa is a sight for sore eyes!
If you are in the blue lagoon looking out at the horizon, head to the right along the rocks and keep following it around until you come across Shelly Beach.
Swim in the crystal-clear rock pools and get sprayed by the blowhole!
Pssst! Check out this EPIC Hiking Backpack!
Perfect for shorter day hikes, the Osprey Stratos 24L is a tough pack made from sustainable materials.
With great internal organization, this is all you need for your next adventure, no matter the weather!
There is lots of exploring to do and it's a great spot to take some postcard-worthy photos. I visited on two separate occasions to see what else I could find in the area.
There is an abundance of wildlife around Mirissa Secret Beach, including black monkeys, squirrels, peacocks, fruit bats, birds, and land monitors.
Sri Lanka is also home to five out of seven species of turtles in the world, so keep your eyes peeled when you're swimming or snorkeling because chances are high that you will spot a turtle cruising around the shallow waters.
Weligama Bay is a very busy beach town and can get overwhelming at times, so go and discover this beach for yourself and spend half a day getting salty and soaking up some sun.
BEST TOURS IN SRI LANKA
WHERE TO STAY IN WELIGAMA
Weligama has countless accommodations to choose from, so I have narrowed it down to a few of my personal favorite places to stay to fit the needs of budget backpackers and luxury travelers.
See the list of accommodations below that I personally recommend:
The best 5-star resort on the south coast of Sri Lanka! The Marriott is a stone's throw from the beach offering beachfront rooms, an outdoor pool, sports facilities, and more.
The rooms are modern and spacious featuring a bathtub, balcony, flat-screen tv, private bathroom, air-conditioning, and free wifi.
Perfect place to stay for couples and families.
This 3-star lodge offers double rooms and family-sized rooms less than 1km from Mirissa Beach.
The rooms are air-conditioned with a flat-screen tv, private bathroom, seating area, and awesome views.
Other features include a shared lounge, garden terrace, room service, breakfast, and free wifi.
Perfect place to stay with friends or families.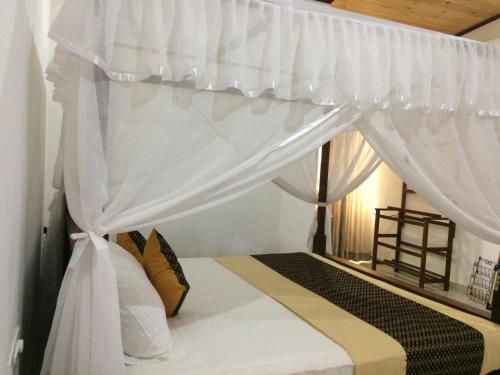 The best budget accommodation in Mirissa, Latheena Resort is centrally located and features spacious rooms, flat-screen tv, a dining area, and a private bathroom.
Perfect for solo backpackers or friends traveling together.
WHAT TO PACK FOR SRI LANKA
When visiting Sri Lanka, here is a list of items I highly recommend bringing with you:
Must-Have Travel Essentials
Keep your cash and other valuables safe with this anti-theft hidden money wallet!
---
The GRAYL GeoPress is the best reusable bottle that allows you to purify water from anywhere!
---
---
---
FINAL THOUGHTS – MIRISSA SECRET BEACH
If you have any questions about this stunning beach please drop me a comment below this post and I will get back to you as soon as I can.
For a quicker response, be sure to join Jonny Melon's Travel Tribe on Facebook and post your questions or recommendations to our awesome community.
TRAVEL RESOURCES FOR YOUR NEXT TRIP
Whether you're a seasoned traveler or it's your first trip overseas, here are some useful travel resources to help you kick-start your next adventure!
THANKS FOR READING
Hey friend, thanks for reading this guide!
Please know this post may contain affiliate links. When making a purchase through one of my links, I earn a small kickback at no extra cost to you and it's a big help to keep the site up and running. Rest assured, I only promote products and services that I personally use and recommend.
Many thanks!
PIN IT FOR LATER