Looking to rent a car in Puerto Escondido? Here's everything you need to know!
One of the hidden gems in the Oaxaca state is Puerto Escondido, and I highly recommend you come check it out.
But the thought of getting around using public transport or depending on taxi drivers isn't the most convenient.
This is exactly why I recommend renting a car in Puerto Escondido, the solution to all your problems and the key to freedom!
In this ultimate guide, I'll go through everything you need to know about Puerto Escondido car rentals, car rental rates, car insurance, and much more.
OVERVIEW – RENT A CAR PUERTO ESCONDIDO
Before jumping into the main topic, let me introduce you to Discover Cars, the ultimate car rental search and comparison service for Puerto Escondido.
Discover Cars offer unbeatable prices and free cancellation on most bookings, so you don't have to stress about any charge.
Whether you're looking for a short-term or long-term car rental in Puerto Escondido, Discover Cars have the perfect vehicle for your needs at an unbeatable price.
So why wait? Check them out here below.
Car Rental – Search, Compare & Save!
Discover Cars are one of the world's largest online car rental platforms with vehicles in 10,000+ locations.
Find the right car, in the right place, for the best price guaranteed!
QUICK ANSWERS: CAR RENTAL PUERTO ESCONDIDO
Below you'll find some quick answers to the most frequently asked questions from first-time visitors.
IS IT WORTH RENTING A CAR IN PUERTO ESCONDIDO?
Absolutely! Renting a car in Puerto Escondido is definitely worth it, especially if you're looking for flexibility and convenience during your trip.
With your own rental car, you can easily explore around at your own pace without having to rely on taxis.
Plus, there are a few Puerto Escondido car rental companies in town so you'll have different choices, from small cars to bigger ones.
HOW OLD DO I HAVE TO BE TO RENT A CAR IN MEXICO?
In Mexico, the legal age to rent a car is 18 years old, but many car rental companies may require drivers to be at least 25 years old.
Note that if you are under 25, you may be subject to additional fees or restrictions, such as higher daily rates or mandatory third-party liability insurance.
Be sure to check with your chosen car rental company in advance to understand their specific age requirements and policies.
IS IT EASY TO DRIVE AROUND PUERTO ESCONDIDO?
Driving around Puerto Escondido is relatively easy, even if you're not familiar with Mexican roads.
However, it's important to keep in mind that some roads can be difficult to navigate, so make sure to rent a bigger car if you're coming from Oaxaca as these are mountain roads.
Also, the road from Oaxaca to the coast can get hard to drive on during the rainy season due to the occasional landslides, so be prepared for that.
IS IT SAFE TO RENT A CAR IN PUERTO ESCONDIDO?
Renting a car in Puerto Escondido is definitely safe, however, for the best experience, I recommend driving during the day.
Poor visibility in some parts of the city can pose a serious risk to your safety.
Car-wise, vehicles are usually well-maintained and equipped with modern equipment, so this shouldn't worry you.
Lastly, if you plan to drive around Oaxaca state, be careful of animal crossings and speed bumps, which are generally higher than in other countries, including the US or Australia.
HOW MUCH DOES IT COST TO RENT A CAR PUERTO ESCONDIDO?
You can rent cars of moderate size for typically around $50 to $60 a day, while bigger and more expensive cars might cost up to $200 per day.
I usually rent through Discover Cars, and full coverage isn't always included, so I suggest you add it when you rent a car in Puerto Escondido. It only costs an additional $7 to $10 per day.
Note that the insurance in your home country will not cover expenses in case you get into a car crash, so Mexican insurance is the only one that'll get you covered.
IS IT CHEAPER TO RENT A CAR OR TAXI IN PUERTO ESCONDIDO?
Taxis are generally cheaper than renting a car, but they don't offer the same luxuries such as working seat belts or air conditioning.
If you need the flexibility and convenience of having your own car, then renting is the better option.
WHAT ARE THE BEST CAR RENTAL COMPANIES IN PUERTO ESCONDIDO?
Hertz, Thrifty, and Firefly are some of the popular car rental companies and you can book all their rental cars on Discover Cars.
They each offer a wide range of vehicles to suit different needs, as well as competitive prices and reliable customer service.
IS IT SAFE DRIVING FROM OAXACA TO PUERTO ESCONDIDO WITH A RENTAL CAR?
Driving from Oaxaca to Puerto Escondido with a rental car is possible, however, I don't particularly recommend it with a small car due to the treacherous mountain roads between the two.
Also, the drive takes around 7 hours along winding roads, so if you're prone to motion sickness this may not be the best option for you.
WHERE TO RENT A CAR IN PUERTO ESCONDIDO?
You can rent a car at Puerto Escondido Airport or in Plaza Zicatela.
If you're flying into the city, then the airport is probably your best bet. Plus, they have many more car rental agencies there so you'll have a lot more choices.
Here are the car rental companies you can find at Puerto Escondido Airport:
Hertz
Thrifty
Firefly
Dollar Car Rentals

Mex Car Rental Deals
While all of them are pretty decent companies (that might get you cheap car rentals), I have a preference for Hertz and Thrifty.
These are international brands with good reviews, and you can't go wrong with them.
BENEFITS OF RENTING A CAR IN PUERTO ESCONDIDO
There are numerous benefits to rent a car Puerto Escondido, including the freedom to visit off-the-beaten-path areas, convenience, and flexibility.
In this section, we'll delve into these benefits in more detail to help you make an informed decision about renting a car during your stay in Puerto Escondido.
NAVIGATING THE CITY AT YOUR OWN PACE
The first benefit of a Puerto Escondido car rental is that you can navigate the city at your own pace.
Sure, Puerto Escondido isn't a big place, but it'll still take you about 15 minutes to go from Playa Bacocho to Playa Zicatela.
And with Uber not being available, you can't just call one when you need it.
Plus, you'll be able to easily access some of the most iconic spots in Puerto Escondido, as well as remote beaches inaccessible by public transport.
COMFORT
When making plans for a trip to Puerto Escondido, renting a car is always a great option. It's much more convenient than relying on taxis, and you'll get where you want comfortably.
Many of the taxis that operate in Puerto Escondido don't have air conditioning or seat belts, so by opting to rent a car, you'll be much cozier.
Not only will you have A/C in the car, but the seat belts will also definitely work, which is key for safety on the road.
HASSLE-FREE
Lastly, when you rent a car in Puerto Escondido, you won't be stuck waiting for buses or mini-vans to get around.
With no shared rides, you don't have any risk of getting caught up in countless stops along the way either, which is a massive plus.
After all, nothing beats the freedom that comes with having your own vehicle!
Car Rental – Search, Compare & Save!
Discover Cars are one of the world's largest online car rental platforms with vehicles in 10,000+ locations.
Find the right car, in the right place, for the best price guaranteed!
MUST-KNOW FOR RENTING A CAR IN PUERTO ESCONDIDO
Before you even consider rental cars, there are some must-know tips and information that can make your experience much smoother.
From understanding the local driving laws to knowing which insurance options to consider, let me tell you everything here below.
DOCUMENTS YOU NEED TO RENT A CAR PUERTO ESCONDIDO
First and foremost, let's talk about paperwork. The documents you need to rent a car in Puerto Escondido and, more generally, in Mexico are the following:
Mexican car insurance
A valid driver's license
A valid credit card (debit cards work in most cases)
You be at least 18 years old to drive a car in Mexico (read below)
Despite being legal to drive at the age of 18 in Mexico, many rental car companies will not rent to you if you're not at least 25 years old.
When booking on Discover Cars, some car rental companies do take bookings for 18-21 years old drivers, but you'll want to check the policies beforehand, as they may charge you an extra fee.
On top of that, note that you'll need a valid credit or debit card to get your car, and companies usually hold a deposit of about USD $1,000 so keep that in mind.
INSURANCE COVERAGE IN PUERTO ESCONDIDO
You need insurance when driving in Mexico; this is mandatory.
All companies provide basic coverage when booking online, but full coverage must be purchased separately.
Normally, the cost is about $7 to $10 per day, regardless of the booking's total amount and the type of car.
Note that while it's called "Full Coverage," it does not cover any amount – bookings made on Discover Cars and other platforms only refund you up to a certain amount, generally USD $3,200.
RENTAL CAR SCAM IN MEXICO
When renting a car in Puerto Escondido or other areas in Mexico, it's not uncommon to encounter some unexpected bumps along the way.
And one prevalent issue travelers face is the "Mexican Car Rental Scam" that can sneak up on even the savviest of globe-trotters.
The Mexican Car Rental Scam is about hiding mandatory insurance charges from customers, often presenting an enticingly low initial quote.
Since it's illegal to drive without insurance in Mexico, you find yourself with little choice but to pay the inflated price or have a helpless argument with the car rental company.
HOW TO AVOID THE CAR RENTAL SCAM IN MEXICO
To ensure a hassle-free experience with the car rental agency, always read the policies carefully and reviews from previous customers.
Don't be swayed by the cheapest price alone (even from the cheapest rental car price); it could be bait for hidden fees.
Before booking and paying, see all mandatory charges, taxes, and fees. This way, you can accurately compare rental car deals and won't be caught off-guard.
To avoid any misunderstandings, get the rental agency's policies and your reservation in writing, including the agreed-upon insurance coverage and associated costs.
TIPS FOR CAR RENTAL PUERTO ESCONDIDO
With a car, you'll have the freedom to explore hidden beaches and scenic routes that aren't easily accessible by local transport.
But renting a car in Puerto Escondido can be tricky if you're unfamiliar with the area or the rental process.
Here are a few tips you should remember.
AVOID DRIVING AT NIGHT
Puerto Escondido is a beautiful place with lots to explore, but the roads can be dangerous at night.
When renting a car, it's important to remember that you should avoid driving at night.
The lack of street lighting and signage can make it difficult to find your way, and some stretches don't have easy access to help if something goes wrong.
If you really want to go ahead and drive at night, I suggest sticking to the main road or Cuota roads, the paid highways.
BE CAREFUL OF TOPES
As I mentioned previously, topes (or speedbumps) are pretty high in Puerto Escondido, and you should be careful with those.
Not only in Puerto Escondido, but topes are pretty much on every road in Mexico, including on highways, and they can sneak up on you if you're not aware.
SPEED LIMIT SIGNS ARE IN KM (NOT MILES)
Before you go and test your rental car's speed, there's something you should remember: speed limit signs are all in kilometers, not miles!
This small detail could save you from getting an expensive ticket – or worse – when driving around Puerto Escondido.
LEAVE A TIP AT GAS STATIONS
Unlike other countries like the U.S., when you fill up your tank at a gas station in Mexico, you'll typically be served by an attendant.
After filling up your vehicle and processing payment, it's polite to tip the attendant around 10 to 20 pesos (roughly $0.50-$1 USD) as tips are an important part of their income.
PREPARE FOR CAR CLEANERS
When you're stopped at a traffic light in Mexico, you may be approached by someone offering to clean your car's windshield.
Whether or not you take them up on the offer is up to you, but if you do, 10 or 20 pesos (roughly equivalent to $0.50 – 1 USD) is the standard price.
It's a cheap way to support the locals and you'll get your rental car cleaned up!
That being said, you can always say "No, gracias," if you don't want their service.
DON'T DRIVE AND USE YOUR PHONE
When behind the wheel, leave your phone alone.
Not only is it not safe to use it while driving, but it's also illegal in Mexico. Even merely holding your phone can result in a ticket, so please be aware of that.
BRIBES
That's right, this is Mexico, and this is part of the game.
As a tourist, you might get stopped at a police checkpoint, and you'll have officers finding an issue with your car or any other reason. This is when they might expect a cash payment.
And truth be told, just hand them what they request and move on with your trip, you'll definitely don't want to argue with a police officer while in Mexico.
NOTE: I do not recommend doing it nor defending the practice, but again, this is Mexico, and this is how things are dealt with many times.
Car Rental – Search, Compare & Save!
Discover Cars are one of the world's largest online car rental platforms with vehicles in 10,000+ locations.
Find the right car, in the right place, for the best price guaranteed!
THINGS TO DO IN PUERTO ESCONDIDO
Now that you've got your Puerto Escondido rental car, you may be wondering what to do and the best places to visit.
Lucky for you, I have put together a travel guide for Puerto Escondido to help you plan your trip!
WHERE TO STAY IN PUERTO ESCONDIDO
There are hundreds of accommodations to choose from so I have narrowed it down to a few of the best places to stay in Puerto Escondido to suit the needs of luxury travelers and budget backpackers.
See the list of accommodations below that I recommend:
One of the best luxury resorts in Puerto Escondido!
Located right on the beachfront with a private beach club, 2 restaurants, 3 bars, 2 outdoor pools, a tennis court, a mini-golf, a games room, and water sports facilities.
The rooms are air-conditioned with ocean and garden views, large comfortable beds, spacious living, cable tv, a coffee maker, and a private bathroom.
Perfect for couples, families, and friends.
I personally stayed at Casa Losodeli and can't recommend this place enough!
Centrally located and within walking distance of the beaches, bars, restaurants, and cafes. Featuring an outdoor pool, co-working space, free wifi, cafe, communal area, shared kitchen, bar, beautiful gardens, and free bicycle rental.
Choose from a dorm room, private room, or fully equipped apartment with a kitchen and flat-screen tv.
Perfect for solo travelers, couples, friends, and families!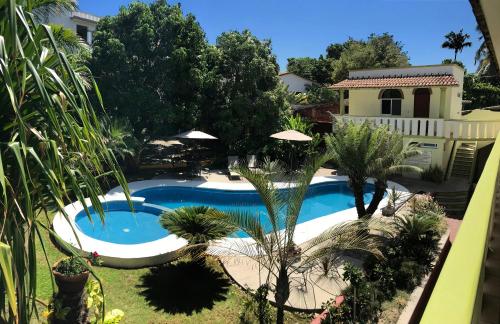 Casa Daikiri is rated as one of the best budget accommodations in Puerto Escondido.
Just a stone's throw from the famous Zicatela Beach, this vibrant hostel features an outdoor swimming pool, free wifi, a shared kitchen, a tour desk, a sun terrace, and well-kept gardens.
Choose from either a dorm room, triple room, or a double suite each with air conditioning, seating area, patio, and pool views.
Perfect place to stay for solo travelers, couples, and friends!
BEST TOURS IN PUERTO ESCONDIDO
WHAT TO PACK FOR MEXICO
When visiting Mexico, here are a few items I highly recommend taking with you:
Must-Have Travel Essentials
Keep your cash and other valuables safe with this anti-theft hidden money wallet!
---
The GRAYL GeoPress is the best reusable bottle that allows you to purify water from anywhere!
---
---
---
SUMMARY – PUERTO ESCONDIDO CAR RENTAL
I hope you enjoyed reading this article about rent a car Puerto Escondido, and if you have any questions, please drop me a comment below this post, and I will get back to you as soon as I can.
For a quicker response, be sure to join Jonny Melon's Travel Tribe on Facebook and post your questions or recommendations to our awesome community.
TRAVEL RESOURCES FOR YOUR NEXT TRIP
Whether you're a seasoned traveler or it's your first trip overseas, here are some useful travel resources to help you kick-start your next adventure!
THANKS FOR READING
Hey friend, thanks for reading this guide!
Please know this post may contain affiliate links. When making a purchase through one of my links, I earn a small kickback at no extra cost to you and it's a big help to keep the site up and running. Rest assured, I only promote products and services that I personally use and recommend.
Many thanks!